Gilbert Gottfried and the greatest joke ever told
His stand-up pulled no punches and left no social norm un-transgressed. RIP.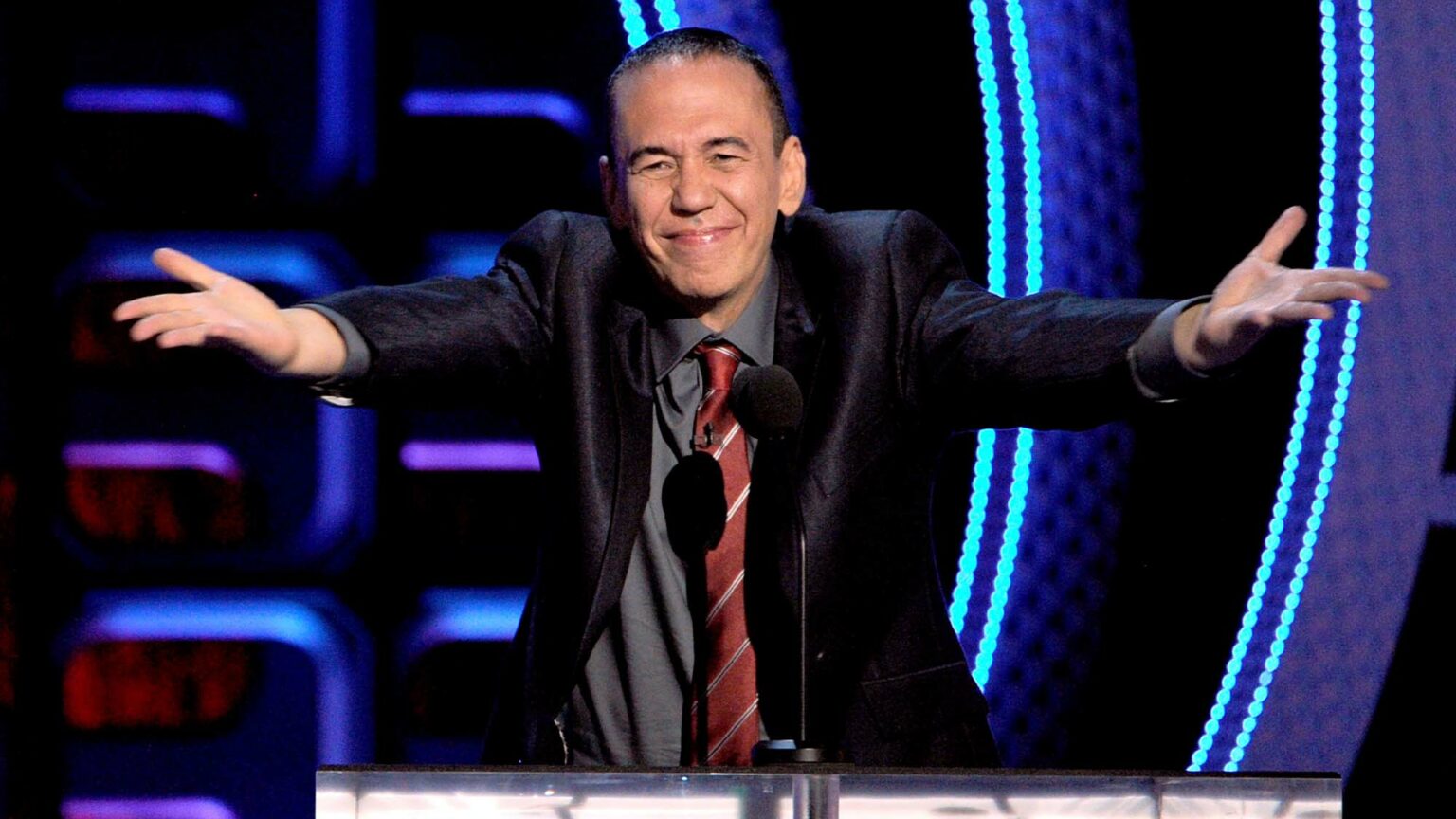 Gilbert Jeremy Gottfried, who died aged 67 earlier this week, was an American stand-up comedian and actor. Invariably known as a comic's comic, he was vulgar, brash and ruthless, especially when in 'roast mode'. Few sub-obsessive British comedy fans would know his face, though they might recognise his voice, perhaps as the parrot in Aladdin (1992), after whom a generation of children assumed the villain in Othello had been named.
For those of us in the biz, however, even for those who never met him or worked with him, Gottfried holds a special place in the Pantheon, for one particular performance that was truly the stuff of myth.
In 2001, Gottfried was booked for the New York Friars Club Roast of Hugh Hefner – just three weeks after 9/11. The taste of death and demolition were literally in the air. But Hefner was willing and the A-list crowd came, determined to enjoy themselves, to prove that the terrorists hadn't won.
Gottfried was on last. Short, pale, wiry and twitchy, he grasped the lectern, as if expecting choppy waters, and immediately went on the attack.
'It's so hard coming on after everyone else', he complained. 'Ice-T already did my whole act! But I'm going to do it anyway. "I'm going to follow you white motherfuckers home, and rape you fucking white bitches!"' Delighted laughter ensued, not least from Ice-T in the audience. 'You see, it's such a strong bit, it still works!'
This was strong, but the roast-savvy audience could take it – albeit after a quick glance to make sure that Mr T was still in his seat. Gottfried then began to goad Hefner. 'He doesn't just need Viagra, he needs cement.' And so on.
Then – appropriately, out of the blue – he kvetched that he was trying to get back to California but could not get a direct flight. 'They said they have to stop at the Empire State Building first.'
Silence. This, with the acrid smell of smoke, sulphur and worse still in the air, was too much. The booing and hissing began almost at once, and cries of 'Too soon. Too soon.'
Realising he had lost the audience, for real, at a very high-profile event, Gottfried made a split-second decision. All in.
For anyone who cares about comedy, watching what happened next is something approaching a religious experience. The fact it was also a kind of heresy only makes it sweeter. What Gottfried did was 'The Aristocrats'.
'Okay. Okay. A man… a talent agent… is sitting in his office…'
The Aristocrats is not so much a joke, as what might among jazz musicians be called a 'chart'. A set of instructions, chord sequences, around which a comedian can improvise. The layout is simple. A talent agent, a knock on the door. A man enters, with his family. He has an act he would like the agent to see. 'Go ahead', says the agent. 'What have you got?'
This is where the comedian begins to solo. The goal, as Wikipedia admirably understates it, is to 'significantly transgress social norms. Taboo acts such as racism, animal cruelty, incest, rape, child sexual abuse, coprophilia, coprophagia, bestiality, necrophilia, cannibalism and murder are common themes.' Other times, it gets dirty.
Some comedians start slow and build, others start with the man immediately grabbing his daughter by the hair and forcing her to fellate him, and go from there.
When the comedian telling the joke has finally exhausted his capacity to invent, scandalise and shock, the act ends and focus returns to the agent, sitting in horrified, stunned silence, cigar hanging from his open mouth. 'Well', he says, finally. 'That's quite an act. What do you call yourselves?'
And the entire family steps forward, up on their toes, spread their arms wide and declare 'The Aristocrats!'.
The punchline of course, is nothing. It is vestigial, as vestigial as the father's nipple which the son still has stuck between his teeth. But as a private demonstration of your chops, your ability to improvise, embellish and sell, The Aristocrats is a quasi-mythical test of strength and skill. A joke only told by comedians to other comedians. But you have to know when, and where, and to whom. Don't get above your station.
I originally heard it from impresario and flâneur Peter Grahame. He told it in the English dialect as 'The Debonaires'.
But for Gottfried to try telling it to a paying crowd, especially one he had just irretrievably alienated with a flip reference to the greatest mass murder ever committed on American soil? That has to rank as the sort of risk that Standard and Poor simply wouldn't quote for.
But as the story gathers pace, and Gottfried hits his stride, you realise he just might pull it off. Plenty of comics in the room know at once where he's going, of course. But the majority cannot believe what they are hearing, have no way to put it in context and are just buoyed along on the tsunami of filth.
Gottfried pulls no punches, leaves no social norm un-transgressed. Soon, comedians in the audience are literally sliding, helpless, off their chairs. It's like the end of The Wizard of Oz. The scenery, the sham, is collapsing. The room itself seems to be in danger. And then, to try to do justice to the final moment of triumph with the only imagery that is inappropriate enough to be appropriate, it is like watching the pilot of a fully laden jet airliner that moments ago had been grimly bearing down on a vast mass of humanity, somehow impossibly pull up at the last moment, correct his course, clear the roof by inches and sail off safely into the sunset and into the realm of legend.
That first public performance of the joke broke its own taboo in comedy circles, of course. But comedian Paul Provenza and magician Penn Jillette quickly saw the potential of the moment. They set about making a documentary about The Aristocrats – its history, variations and its capacity to reveal some elusive truths about the business of telling jokes.
The Aristocrats is the best such documentary ever made. In 2005, I was lucky enough to have been in Aspen, Colorado for a comedy festival and to have seen it premiered in an audience almost entirely made up of comedians, agents and the like. It is without doubt the hardest and longest I have ever heard an audience laugh at a movie, let alone a documentary. After the first few establishing shots and context, it is the great George Carlin who is granted the honour of delivering the first full-length telling of the joke. He does this with such deadpan delight in the foulness of the scene he depicts that you are quite sure there is nowhere left to go. The next 90 minutes or so prove you wrong again and again and again.
The whole movie is a hymn, a love letter – to sick jokes, yes, and to human creativity, but also, quietly, to camaraderie and trust. And to laughing so hard you think you've broken a rib. But there is no question, it is Gottfried's shining hour at the Friars Roast around which all the trimmings are arranged.
And if I may take one last risk myself – on a night when it maybe was still too soon to joke about such an atrocity, by the end of that joke Gottfried had somehow demolished the entire hideous, absurd construct of paying sombre respect at a gig. It's still the single most cathartic thing I've ever seen on screen and by the end of it, yes, the terrorists had absolutely, definitely lost. And Gilbert Gottfried had won.
RIP Gilbert Gottfried. And now – back to the laughs!
Simon Evans is a spiked columnist and stand-up comedian. He is currently on tour with his show, Work of the Devil. You can buy tickets here.
No paywall. No subscriptions.
spiked is free for all.
Donate today to keep us fighting.
Donate online
To enquire about republishing spiked's content, a right to reply or to request a correction, please contact the managing editor, Viv Regan.