Why Remainers hated Boris's Kyiv trip
They can't give the UK any praise – even where it's due.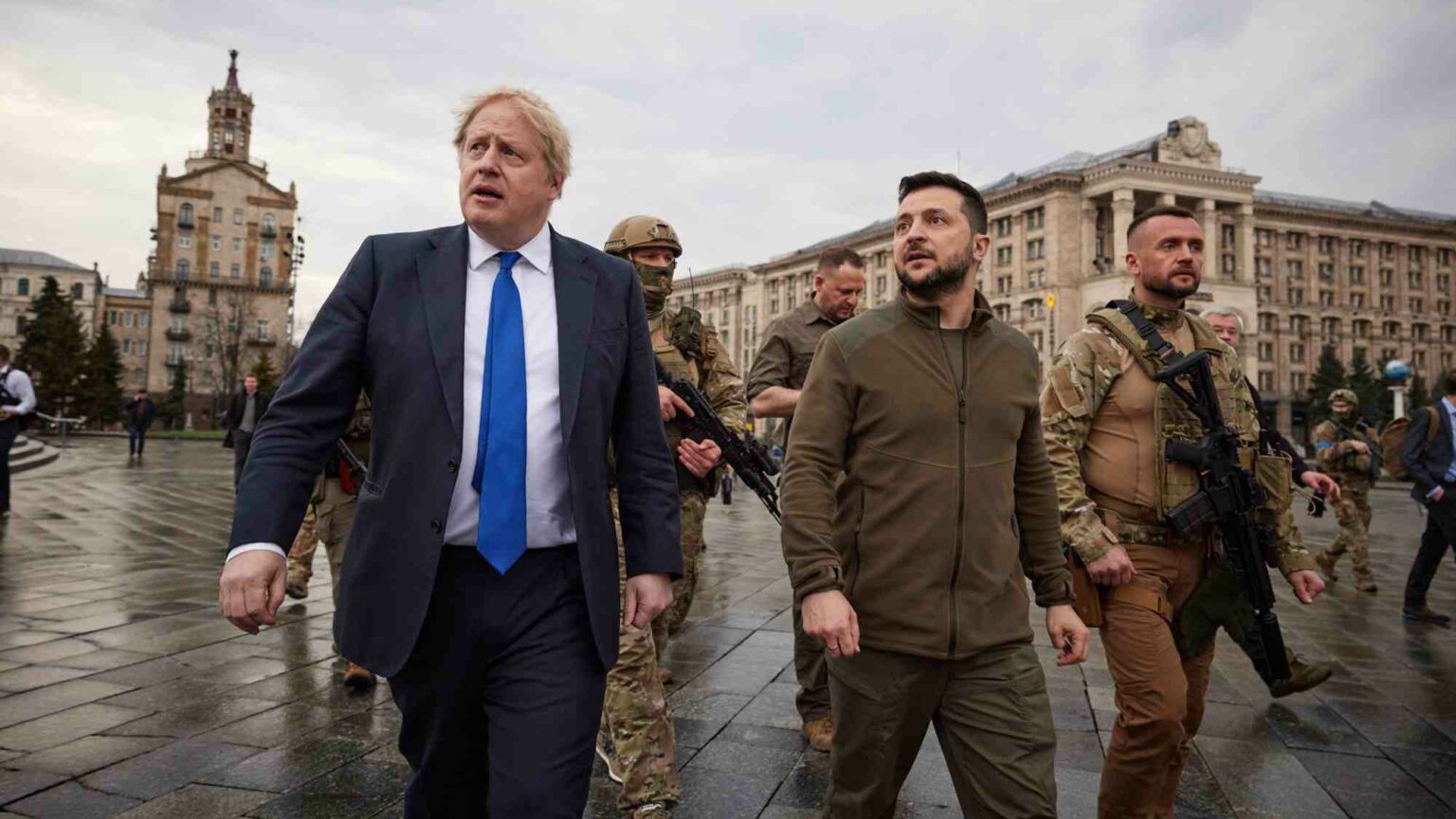 It's odd, isn't it? Britain's hardcore Remainers are not riled by the kinds of things you'd expect them to be. You know, trade barriers, border controls and all the other things they banged on about six years ago. No, what really boils their Twitter accounts is the sight of the British government doing something quite good.
That's what gets them hammering their keyboards furiously. A decent government decision. Or more outrageous still, prime minister Boris Johnson doing the right thing.
Take Johnson's trip to Kyiv this weekend to meet Ukrainian president Volodymyr Zelensky. By any measure, this was a positive move. It was a demonstration of solidarity with a beleaguered nation, an important gesture of support from one sovereign democracy to another.
There were practical aspects, too, of course – the small matter of an agreement for the UK to send over 120 armoured vehicles and anti-ship missile systems, and a hefty dollop of economic support to boot, with the UK promising total loan guarantees worth up to £770million. But the value of Johnson's visit lay in its symbolism. It signalled to the world not only that the UK stood 'unwaveringly' with Ukraine, as a No10 press release had it, but also that Ukraine remained open to the world.
Zelensky himself was certainly happy with Johnson's appearance. 'It was a great honour for me to welcome in our capital a sincere friend of Ukraine', he said afterwards. 'His visit to our country demonstrates as clearly as possible there are no obstacles to freedom and to leadership.'
But all this praise and positivity around a show of international solidarity was too much for the denizens of Remainerdom. So they did what they know best – they took to social media to make their one point. Johnson is still shit. Brexit is still shit. And Britain is still shit.
'Unconvinced by Boris Johnson's brief visit to Ukraine', tweeted one of the most pompous of the anti-Brexit crowd. 'His party was happy to take Russian cash, revelled in the favours of Russian-owned media and buried the Russia report. Just because he's suddenly on board re: Zelensky, doesn't make up for all that went before.' Such sentiments were echoed by another prominent Remainer: 'I'm not going to forget his appeasement of Putin for the past eight years.'
Eight years of appeasement? In bed with the Russians? You do wonder which part of Metropolitana these people live in. Presumably it's one with no access to the news. Because whichever way you spin it, Britain has hardly been cosying up to Putin over the past decade. Relations between Russia and the UK have arguably never been poorer than they have been in recent years. And, after Russia's invasion, the UK has contributed more weaponry to Ukraine than almost any other nation. To call this appeasement makes zero sense.
Others in the pro-EU camp have simply refused to accept that Johnson might not be a complete cretin. 'A visit [to Kyiv] does not make him any more suitable to be PM today than he was yesterday. He just isn't. And never will be', tweeted Iraq War architect Alastair Campbell. This was an 'opportunistic photo op', a 'PR stunt', moaned others.
Here's the thing. Johnson's trip to Kyiv was a 'photo op', and it was a public-relations exercise. That was precisely the point. It was meant to demonstrate to the public, using photographic imagery, that Britain stood alongside Ukraine. But what's wrong with that?
This is the problem with too much post-Brexit political commentary from those who never have and probably never will get over losing the referendum. They can't allow themselves to see anything positive about the actions of this most Brexity of governments. Because to do so would be to concede that the world didn't end on 23 June 2016. And that post-Brexit Britain might not be the worst of all possible worlds.
And so, when they see Johnson walking side by side with Zelensky, pledging Britain's support to Ukraine, they feel duty bound to denounce it. Perhaps, just this once, though, they might want to give praise where it's due. There is something more at stake in Ukraine than their six-year-old hurt feelings.
Tim Black is a spiked columnist.
To enquire about republishing spiked's content, a right to reply or to request a correction, please contact the managing editor, Viv Regan.