The beatification of Jamie Wallis
The Tory MP has become a secular saint after coming out as trans.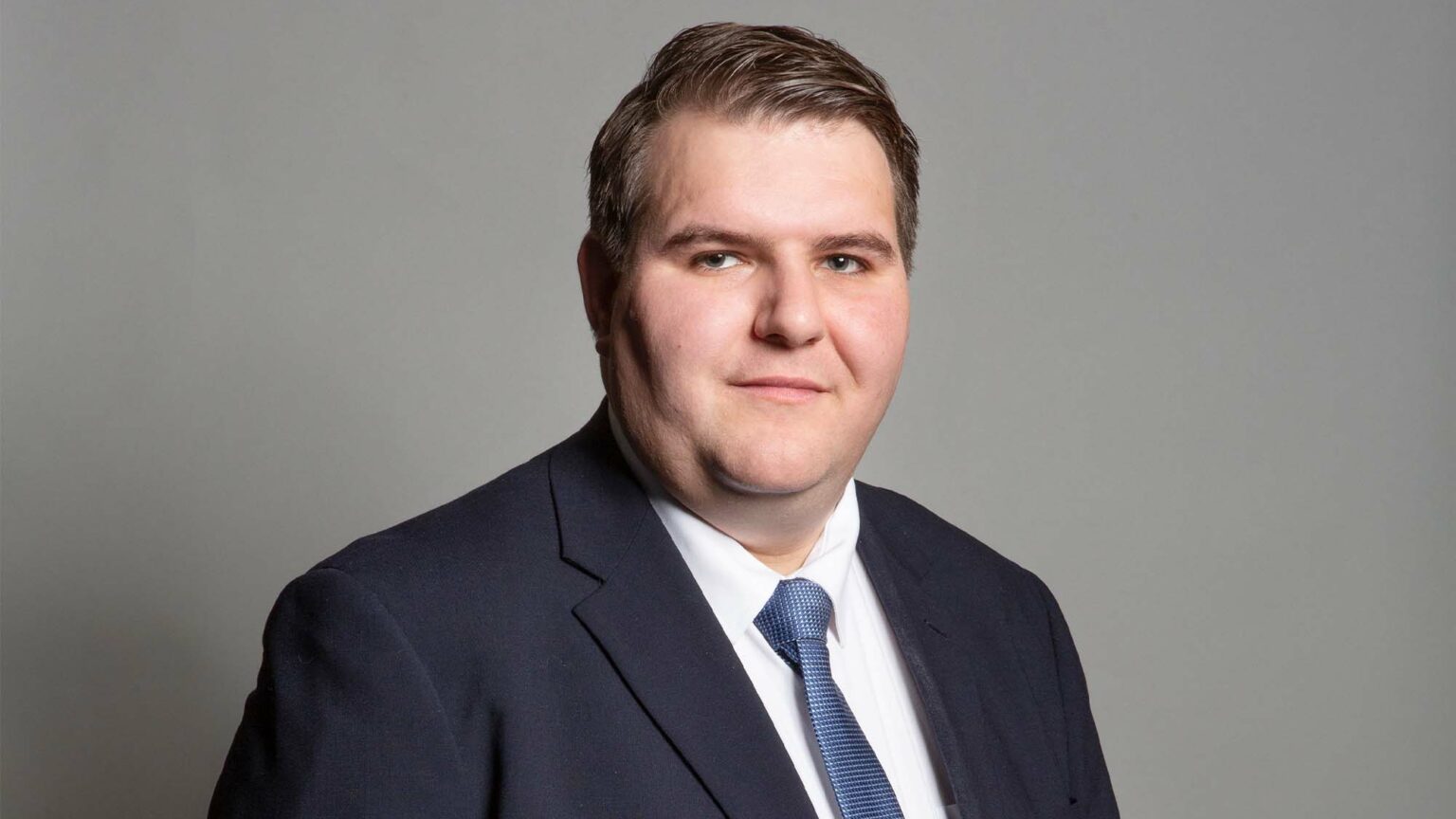 The reputation of Jamie Wallis, MP for Bridgend, has undergone quite the transformation. Just days ago, he was best known for being arrested and fined for crashing his car and fleeing the scene. Now he is being singled out for praise in parliament by the prime minister. Why? Because he has announced he is transgender.
In a statement issued yesterday, Wallis revealed he has gender dysphoria. He also revealed that at the time he crashed his car last year, he was suffering from PTSD, after having been raped: 'A few months back, in September, I "hooked up" with someone who I met online and when I chose to say "no" on the basis that he wouldn't wear a condom he chose to rape me.' And he has also been the victim of blackmail following a 'close call' in 2020, when he was 'outed' after someone sent compromising photographs to his father and other family members. Gender dysphoria, rape, blackmail. It's hard not to feel sympathy for Wallis.
The response to his statement is quite revealing. It shows how much society has changed in a very short space of time. Back in 2019, when Wallis was first elected to parliament, he was profiled in his local paper as a married man with two young daughters, then aged six and three. Go back a couple of decades and Wallis would be fending off the scandal of an extramarital relationship.
Wallis has been at the centre of other scandals, too. In 2020 the papers exposed his stake in a 'sugar daddy' website offering 'students', 'single parents' and 'people short of money' the chance to be 'sponsored' by wealthy 'executives, international businessmen and diplomats'.
But yesterday, praise was lavished on him. Boris Johnson applauded his bravery during Prime Minister's Questions. Conservative MP Tom Tugendhat declared: 'This is a very brave statement.' Fellow Tory Andrew Bowie said: 'Incredibly brave of you to post this mate. Proud of you. All power to you.' Labour's Wes Streeting was not to be outdone: 'Sending you love and solidarity from the other side of the Commons. This is hugely courageous of you to share.'
Brave? Courageous? Before becoming an MP, Tugendhat served in the army in Iraq and Afghanistan. Surely he must have witnessed real acts of bravery. If not, he could perhaps look to Ukrainians picking up arms and fighting for their country. Or to anti-war demonstrators taking to the streets in Russia, risking almost certain imprisonment. There are so many acts that are more worthy of the label 'brave' than revealing your troubles with your gender identity. How about not absconding from the scene of a car crash, for a start.
Wallis has been heralded as the first openly transgender MP. In Wallis's statement, parliamentarians have spied an opportunity to move the conversation on from disputes over how to define 'woman'. Commentators took to Twitter delighted at the prospect of Boris Johnson having to apologise for a speech he made the evening before Wallis's statement, which he opened with the lines: 'Good evening ladies and gentleman. Or, as Keir Starmer would put it, people who are assigned female or male at birth.' It was a good joke. It punctured the moral pomposity that normally accompanies MPs' discussions of gender.
But Wallis's statement doesn't just call into question what it means to be brave – it also challenges our understanding of what it means to be transgender. Tory colleague Michael Fabricant was quick to praise Wallis: 'We are all very proud of Jamie and we are all here for them.' A couple of hours later, Wallis clarified that he won't be changing his pronouns and still wants to be referred to as he / him. So, Wallis is a biologically intact male, who has a man's name, wears men's clothes (in public at least), and goes by male pronouns. As he himself says: 'I remain the same person I was yesterday.' Other than having newfound heroism thrust upon him, of course.
Once upon a time, activists had us believe that transgender people had a biological brain-based difference – a female brain accidentally grew inside a male body, and vice versa. They argued that this innate difference deserved both respect and costly medical treatment. This was always rubbish. The idea that, while in the womb, a fetus develops a brain with an innate sense of gender identity is, for want of a better phrase, bollocks. That a man can be transgender while still being male, looking male and referring to himself as male is equally rubbish. Although it has the benefit of honesty, at least.
To be fair to Wallis, he doesn't actually claim to be the nation's first openly transgender MP. He has left others to do that on his behalf. His statement says he wants to be transgender. Of course he does! All that praise and glory, without having to achieve anything.
'Bravery' has never meant so little.
Joanna Williams is a spiked columnist and the director of Cieo.
Picture by: UK Parliament.
To enquire about republishing spiked's content, a right to reply or to request a correction, please contact the managing editor, Viv Regan.