Raif Badawi and the brutality of Saudi Arabia
The liberal blogger was imprisoned for 10 years and publicly flogged just for criticising the religious authorities.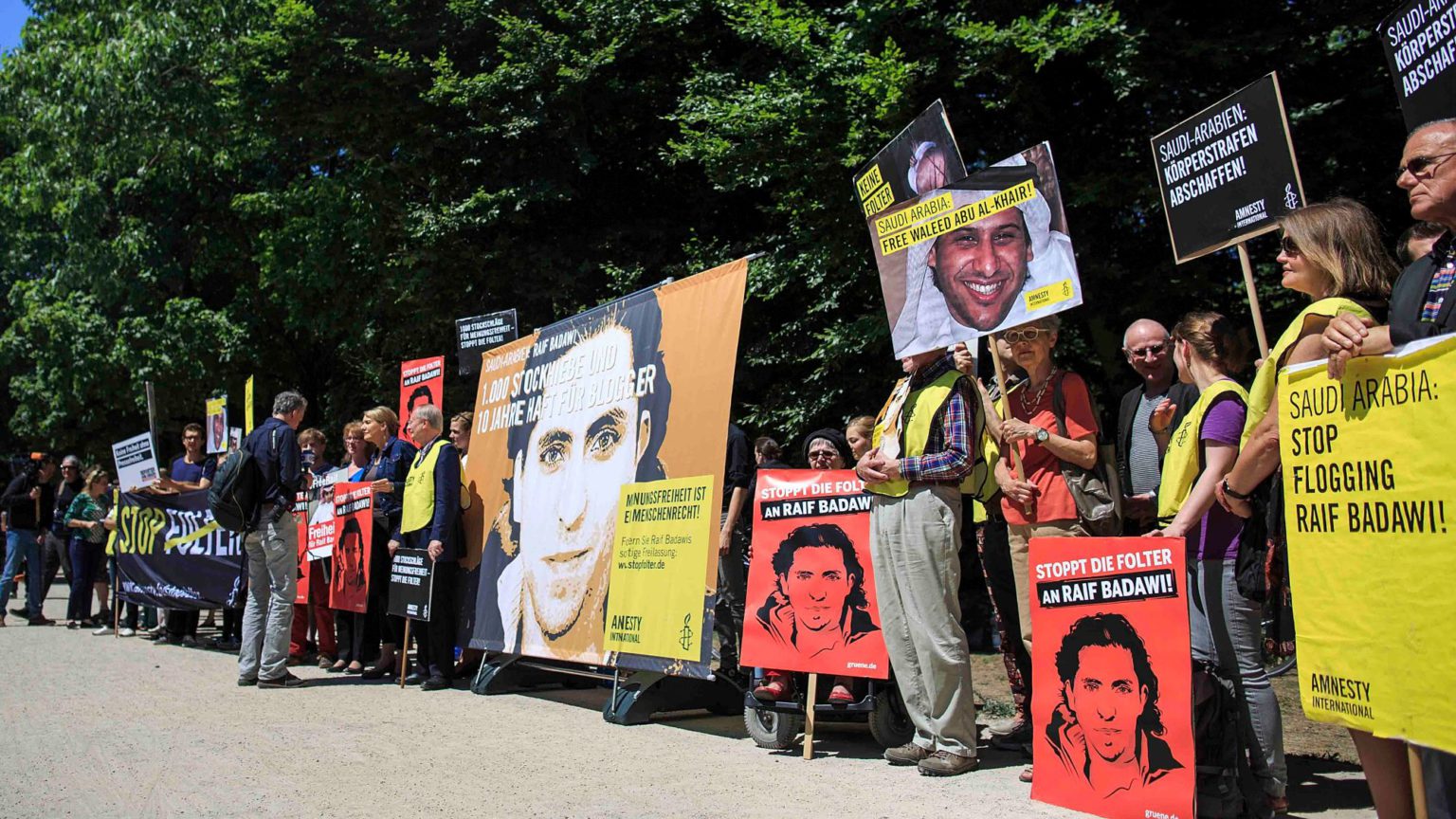 At the end of a week in which Western leaders desperately urged Saudi Arabia to ramp up its oil production, Raif Badawi was released from a Saudi jail after serving a 10-year sentence. His case offers a stark reminder of the brutality of the theocratic regime to which Western politicians are now heading, oil can in hand, for help with their energy woes.
Two decades ago, Badawi was an impassioned young activist. In 2008, aged 24, he co-founded the website Free Saudi Liberals. Here he gave vent to the kind of clear-minded liberalism that too many in the West have lost sight of. He railed against the stifling atmosphere of life under a state religion, in which some issues were deemed 'sacred' and unquestionable. Perhaps, he mused in 2010, Arab thinkers will have to 'migrate in search of fresh air and to escape the sword of the religious authorities'.
The other solution, of course, was to cleave church from state, and turn religion from a public into a private affair, a matter of conscience not a matter of law. This was Badawi's preferred solution. 'Secularism', he wrote in 2010, 'respects everyone and does not offend anyone… It is the practical solution to lift countries (including ours) out of the third world and into the first world.' In the same piece he attacked the 'political Islam' of Palestinian group Hamas, and pointed to the achievements of secular European nations in a manner that today would make many European 'liberals' blush: 'They built up human beings and [promoted] enlightenment, creativity and rebellion. States which are based on religion confine their people in the circle of faith and fear.'
The Arab Spring was clearly an inspiration. In February 2011, he, like many around the world, celebrated the fall of Egyptian dictator Hosni Mubarak as 'a decisive turning point… not only in the history and geography of Egypt but everywhere that is governed by the Arab mentality of dictatorship and security'. And a few months later, he gave shape to his liberal dreams – 'live and let live… a splendid slogan'. He ended with a quote from Albert Camus: 'The only way to deal with an unfree world is to become so absolutely free that your very existence is an act of rebellion.'
This was to be one of Badawi's final missives as a (relatively) free man. In 2012, he was arrested and imprisoned on charges of 'insulting Islam' using 'electronic channels'.
The authorities dropped the charge of apostasy, which would have resulted in his execution. But they still imposed a seven-year prison sentence and 600 lashes – all for the crime of championing religious tolerance and political liberty. Badawi appealed the sentence, and was rewarded for his efforts in 2014 with an even tougher punishment of 10 years in prison and 1,000 lashes, to be meted out in public over the course of 20 weeks. This, as many remarked at the time, would effectively amount to death by torture.
On 8 January 2015, a day after Islamists had slaughtered 12 people at the Charlie Hebdo offices for, effectively, 'insulting Islam', Badawi phoned his wife, Ensaf Haidar, to tell her his lashing for 'insulting Islam' was to begin the next day. 'Don't worry. I'm tough', he told Haidar. 'I can take pretty much anything.'
Badawi's punishment was as horrific as Haidar feared it would be. 'Raif's head was bowed', she writes, recalling the moment she saw it on social media. 'In very quick succession he took the blows all over the back of his body: he was lashed from shoulders to calves, while the men around him clapped and uttered pious phrases. It was too much for me.'
It was too much for many around the world, too. The publicity and subsequent international condemnation, with the UN calling the flogging 'cruel and inhuman', prompted the Saudi authorities to backtrack. Claiming that doctors had said Badawi could not survive further floggings, the authorities did not lash Badawi in public again.
Seven years and several hunger strikes later, Badawi, having served his sentence, has been freed. But his future remains uncertain. He is prohibited from leaving Saudi Arabia for a further 10 years under the terms of his original sentence – which therefore prevents him from reuniting with his wife and children, who now live in Canada. And no doubt he is being watched carefully by Saudi security forces for any signs that he is once again challenging this most Islamic of states. After all, Badawi's very existence, his refusal to submit to the strictures and edicts of life in a theocracy, poses a threat to the Saudi regime – it is perhaps only his international fame that saves him from the fate of others less well known, their decapitated bodies a grim testament to the kingdom's intolerance of dissent.
Indeed, on the day after Badawi was released, the Saudi authorities carried out one of their largest mass executions of recent years. Eighty-one people were put to death on Saturday for crimes ranging from armed robbery to 'disrupting the social fabric and national cohesion' and 'participating in and inciting sit-ins and protests'.
This is the brutal reality of one of the nations to which Britain and other Western nations are turning in their efforts to wean themselves off Russian gas and oil. A theocratic regime that cannot stomach any criticism of Islam. A militarised regime still visiting death and destruction on Yemen. An insecure regime that cannot tolerate the existence of someone like Badawi. One hopes, as Badawi once did, that its days are numbered. And then, as Badawi put it, its 'hold over people's minds and society shall vanish like dust carried off in the wind'.
Tim Black is a spiked columnist.
To enquire about republishing spiked's content, a right to reply or to request a correction, please contact the managing editor, Viv Regan.