What was the point of sanctioning Roman Abramovich?
The crusade against Russian oligarchs raises more questions than answers.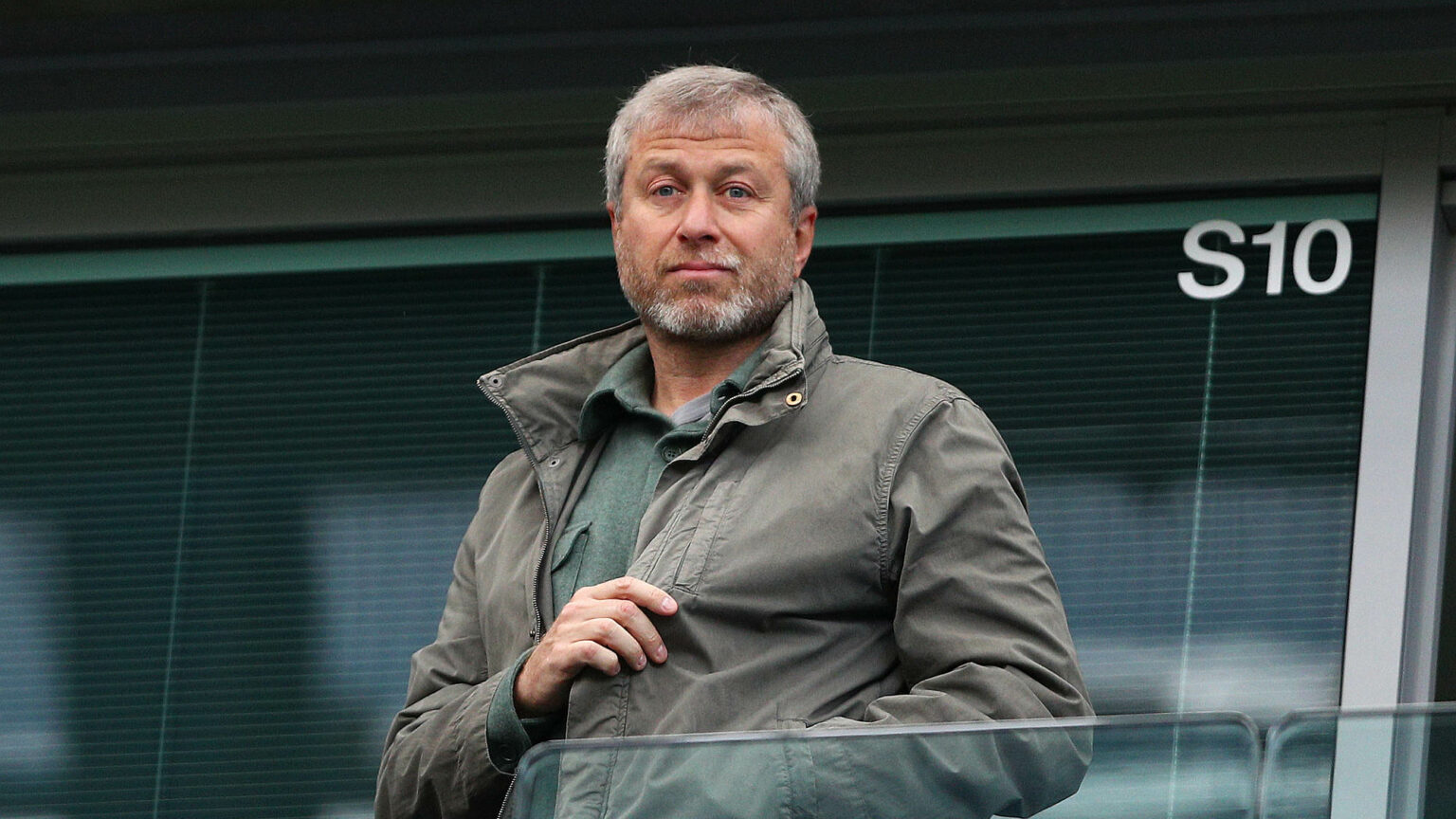 Few beyond those Chelsea fans, chanting his name on Thursday night, will mourn the British government's decision to sanction Roman Abramovich.
After all, the 55-year-old is arguably the most famous of all the so-called Russian oligarchs. The broad details of his life are now as familiar to us as his watery smile and oddly regretful expression. He's the one-time politician who is reported to be close friends with Putin himself. The multibillionaire whose immense wealth – estimated at some $12 billion – was allegedly grabbed and bribed into being during the chaotic privatisation of the Russian economy during the 1990s. And now it seems a steel company in which he owns shares may have provided the metal used to make the Russian tanks now visiting destruction on Ukraine.
Little wonder the government's decision to freeze Abramovich's assets and ban him from the UK – a punishment meted out this week to six other inordinately wealthy Russians on friendly terms with Putin – was greeted with near enough universal acclaim. Just about the only criticism aired over the past few days was that something wasn't done sooner. As the Guardian's David Conn notes, it's not as if Abramovich's proximity to Putin or the murky origins of his wealth were carefully hidden secrets. These 'naked truths' about Abramovich have been hiding 'in plain sight all along'.
Yet as obvious and as compelling as the case for sanctioning Abramovich seems, it does raise far more questions than answers.
For a start, there is the future of Chelsea, Abramovich's most famous frozen asset, to consider. The club Abramovich bought way back in 2003, when it was on the brink of bankruptcy, and then transformed into champions of England and Europe, has been granted special dispensation to continue operating this season. But it will be severely restricted while doing so. It has been banned from selling match tickets and merchandise, with the club shop ordered to close. And the private jet Chelsea players use to travel to and from games will have to go, as match-day travel expenses have been capped. So expect to see Romelu Lukaku and Thiago Silva on a National Express near you.
No doubt this will all be resolved in some form. Indeed, it is now being reported that the government will allow Abramovich to sell Chelsea, providing he receives nothing from the sale, nor the return of the £1.5 billion he has leant to Chelsea over the past couple of decades. And once the sale goes through, one would imagine Chelsea could return to business as usual, albeit in far more straitened circumstances.
Still, there is a whiff of haste and incompetence about all this. Just as there was about the Foreign Office tweeting a picture of former Russian president Dmitri Medvedev to accompany Thursday's announcement it was sanctioning businessman Dmitri Lebedev. It is as if the government is acting without thinking. It is as if it has failed to work through the potential consequences of sanctioning Abramovich for his most famous asset, plunging it into chaos. And to what end? Putin, as far we know, is not a Chelsea fan. It's unlikely he's going to be put off his imperial stride by the unavailability of CFC keyrings down the King's Road.
And this brings us to the broader question: what exactly is the point to this high-profile war on Russian oligarchs.
The appeal is obvious. The oligarchs are widely seen as a cartoonishly villainous caste, seated just below Putin in Russia's hierarchy of objectionables. But these figures are less politically influential than is often claimed.
They were arguably at the height of their power over 20 years ago – when, during the West-backed Yeltsin years of 'shock therapy', state-owned enterprises were rapidly privatised in an effort to kill off any potential return of Communism. This meant that a mix of Soviet-era bureaucrats, factory directors, and several black-market movers and shakers (including Abramovich), effectively carved up Russian industries among themselves. And they did so using dubious and sometimes outright coercive methods. Indeed, Abramovich, then working with Boris Berezovsky, made his money through Sibneft, an oil firm founded in the mid 1990s after one of its opponents, oil-refinery owner Ivan Litskevich, was found drowned in the river Irtysh.
This was the oligarchs' moment, then – during the 1990s. From that point on, however, the oligarchs' political power virtually disappeared.
Putin himself – backed by Yeltsin, Berezovsky and, to a lesser extent, Abramovich – actually won the 2000 presidential election on an anti-oligarch ticket. He promised voters, many of whom had been impoverished by the economic chaos of the 1990s, that oligarchs would 'cease to exist as a class'. And he set about their cessation by re-nationalising parts of certain strategic industries (like the media and natural resources), while letting the agreeable and compliant oligarchs to continue in their businesses providing they stayed out of politics.
During the 2000s then, the Kremlin effectively re-established control over the economy, and subordinated the remaining oligarchs. They could continue to manage certain businesses, and enjoy the profits, but they were left under no illusions that Putin was in control – as Berezovsky himself discovered when he challenged Putin in the early 2000s, and was promptly forced into exile and his media empire was repossessed by the Russian state.
As political scientist Olga Chyzh explains, today's oligarchs are entirely dependent on Putin and the Kremlin for their wealth (or what's left of it). The idea that sanctioning them might exert pressure on Putin – indeed, that the oligarchs themselves might exert pressure on Putin – is fanciful. If anything, sanctioning the likes of Abramovich, depriving them of their wealth outside of Russia, forces them closer to Putin. They are now more dependent on the Kremlin for their always precarious existence than ever before.
But it seems that little of this matters to the UK government, or those cheering it on in its pursuit of Bad Russians. What's important, it seems, is less the strategy than the spectacle. This high-profile punishment of no doubt unsavoury characters is a means to show the public that the government is doing something. That it is fighting the good fight (while desperately avoiding an actual military fight). It has even branded its bizarrely titled 'Oligarch Taskforce' as if it's a True Crime serial, rather than a serious state operation. But then what matters is the optics, not the content.
You do wonder if the government is thinking this through, or whether it is just playing to the gallery. 'None of our allies have yet sanctioned Abramovich', boasted the government on Thursday. But is that really the point? To best other members of the Western alliance? To show the government's media critics that it really is doing something? This is not a game. We need serious politics right now, not self-aggrandising gestures.
Tim Black is a spiked columnist.
To enquire about republishing spiked's content, a right to reply or to request a correction, please contact the managing editor, Viv Regan.