Joe Biden is in denial
Americans have lost faith in his leadership. But he shows no desire to win them back.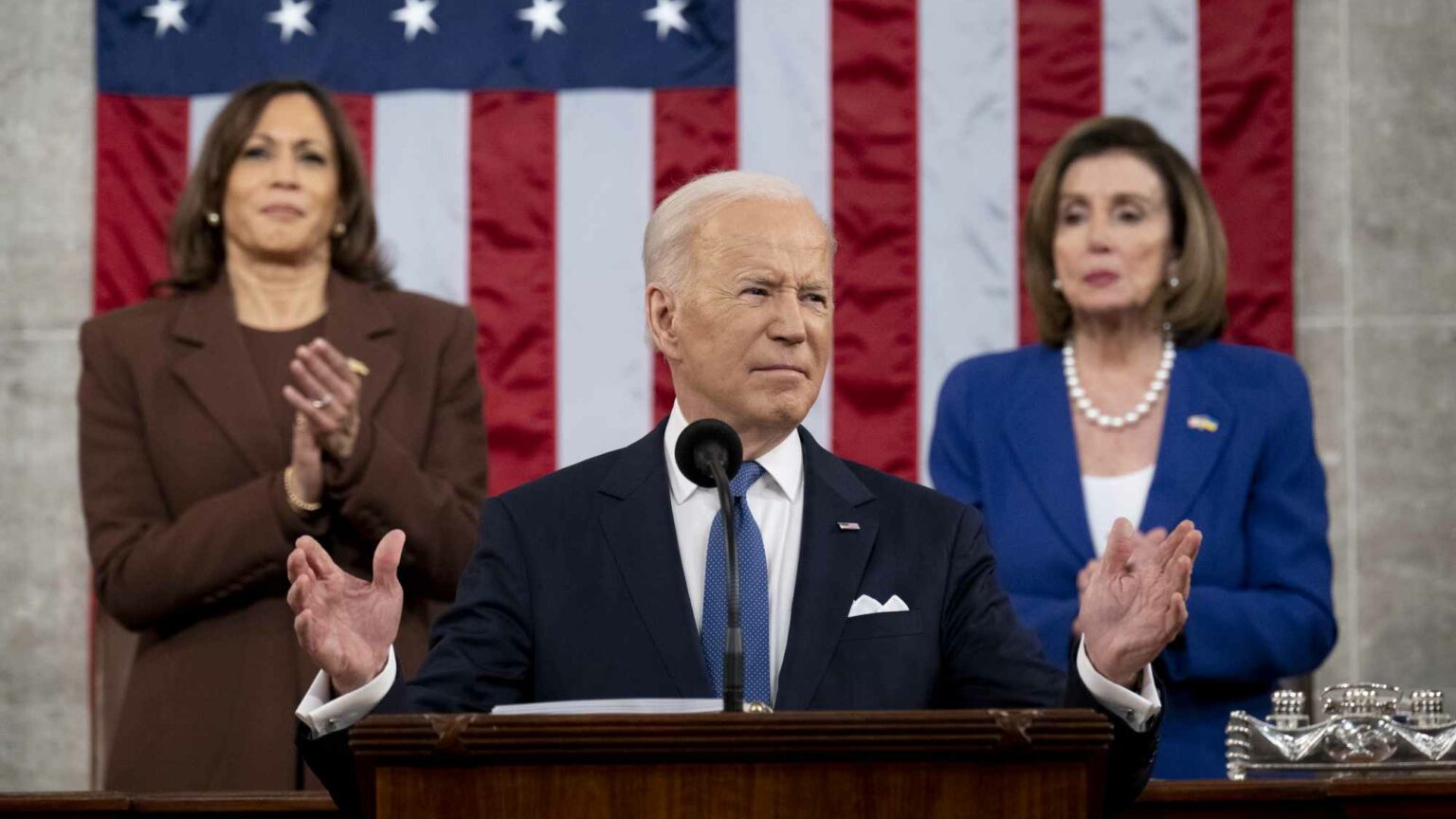 Heading into last night's State of the Union address, US president Joe Biden faced a grim political situation.
Some 70 per cent of Americans believe the country is going in the wrong direction, according to an Associated Press-NORC poll. Worse still for Biden, Americans have lost faith in his leadership during his first year in office. His approval rating has dropped to 37 per cent in a recent ABC News-Washington Post survey. Only Donald Trump had a lower rating (by one percentage point) at the same point in his presidential term. Some six in 10 say Biden is not a strong leader, and a majority says he doesn't have the mental sharpness to serve effectively.
The State of the Union was an opportunity for Biden to start to turn things around. But judging by his speech, it seems that Biden and his team have no idea of the degree of Americans' disenchantment with him. Biden hardly acknowledged the dismal state of affairs, and offered no course correction.
The Russian invasion of Ukraine understandably took up much of Biden's speech. He began with a rousing call to support President Zelensky and the people of Ukraine, rightly noting that 'their courage, their determination, inspires the world'. Biden also vowed that Vladimir Putin would 'pay a price' for invading Ukraine, and announced that he would seize the luxury yachts and private jets of Russian oligarchs. At times, he sounded optimistic and a tad self-congratulatory, even though the reality on the ground in Ukraine remains grim. As he delivered his speech, a 40-mile-long Russian convoy was approaching Kyiv, bombs were exploding in major cities and civilians were dying.
No attempt was made to connect this major world event with US domestic policy, even though there was an obvious connection staring Biden in the face: energy production. Unlike German chancellor Olaf Scholz, who has cancelled the certification of the Nord Stream 2 gas pipeline from Russia, Biden has not reversed course on his energy policies – even though these policies have held back US energy production, and have led to increased imports of oil from Russia.
Before the war in Ukraine erupted, higher electricity, petrol and gas prices had already driven up the cost of living for Americans and Europeans alike. This problem was entirely self-inflicted, reflecting how Biden and other leaders have pursued environmental goals at the expense of energy security and abundance. The invasion of Ukraine has made the need to increase energy output from all sources, including oil, gas and nuclear power, even more urgent.
Bizarrely, Biden claimed in his speech that his green policies would 'cut energy costs for families an average of $500 a year by combatting climate change'. In reality, the direct impact of his climate agenda is to raise energy prices by reducing the supply and increasing the cost of coal, oil and natural gas. Clearly, not even heightened conflict with Russia could shake Biden's faith in the green religion.
Biden's first 10 minutes on Ukraine ended up being the most memorable section of his speech. The remainder was a long and disjointed wish list. Much of it was a reassertion of his 'Build Back Better' agenda – but this time without that branding, as that approach has failed to gain enough support in Congress from both his own party and from Republicans. Biden struck a note of empathy for Americans feeling the pain of inflation, but he didn't take ownership of how his policies (including his $1.9 trillion in public spending) have contributed to higher prices. Instead, he promised to make more goods in America, calling his approach 'building a better America'. Increasing productive capacity in the US is a good idea, but Biden didn't address why there has been so little investment in this to date – perhaps because this would have to include the environmental and other regulations he has imposed on the economy.
Of course, the biggest restraint on production and economic life in recent years has been the shutting down of the economy in response to Covid. Some restrictions, in some parts of the US, are still ongoing. Just in time for his State of the Union speech, Biden proclaimed that Americans could now remove their masks and return to the workplace. Indeed, it was striking how nearly all of the lawmakers attending the speech were maskless. 'Our kids need to be in school', he said. But it has been his government, his health officials and fellow Democrats across the country who have been needlessly keeping kids out of school, causing them great harm in terms of learning, social development and even health. It has been parents who have pushed to get schools open – and for protests againsts school boards that refused to reopen their doors, these concerned parents were compared to 'domestic terrorists' by Biden's allies.
All in all, Biden's address showed a president and administration that is in denial. Despite all the polls showing that Americans largely hold him responsible for the various problems the country faces, he made clear that not much will change.
Perhaps Biden hopes his handling of the war in Ukraine will boost his image at home. But that seems unlikely. Returning to that conflict as he ended his speech, Biden went off script and implored Congress to 'go get him'. All were left scratching their heads, wondering what he meant.
Sean Collins is a writer based in New York. Visit his blog, The American Situation.
To enquire about republishing spiked's content, a right to reply or to request a correction, please contact the managing editor, Viv Regan.