Free speech is for morons, too
Slagging off Captain Tom should not be a criminal offence.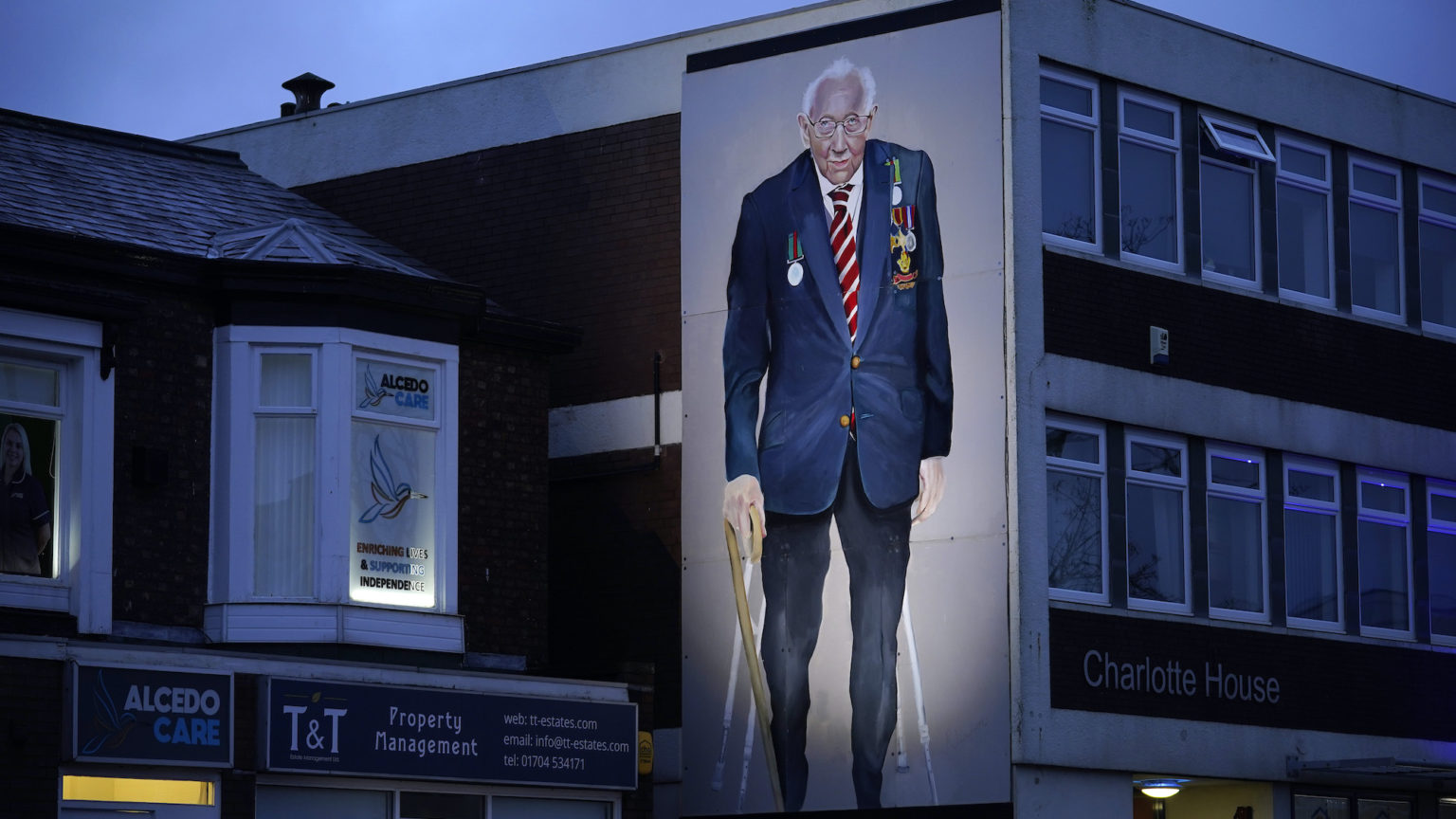 In years to come, when perspective has hopefully returned and common sense once more prevails, historians will look back at some of the more deranged responses to the Covid pandemic and wonder if there was something in the drinking water.
A culture of hysteria, paranoia and fretfulness seemed to have grabbed society by the throat and given it a good shaking. But there were some nice, pleasant and utterly beguiling stories which also emerged. The tale of Captain Tom Moore was one of those – a rather bizarre, heartwarming story that lifted the mood of the public.
Moore, then a 99-year-old Second World War veteran, went viral when he completed his goal of walking 100 lengths of his back garden. At a time when people were desperate for a good news story, he grabbed the zeitgeist. His exertions ultimately raised £30million for various NHS charities, while his amiable demeanour and general sense of derring-do utterly entranced many observers. He was a reminder of the good old-fashioned British tradition of the stiff upper lip and people loved him for it.
Well, most people loved him for it. But there's always going to be at least one halfwit who tries to spoil the mood. Step forward Glaswegian Celtic fan, Joseph Kelly, 36. He was rather less than enamoured by the old geezer's attempts to lift the national mood. In fact, upon the news of Captain Tom's death, Kelly tweeted: 'The only good Brit soldier is a deed one, burn auld fella, buuuuurn.'
The tweet was as obnoxious as it was illiterate. Kelly admitted to one of his friends that he had done some 'stupid things' in his life, but this was 'probably one of the worst'. He swiftly deleted the post, but as we all know there is hardly any point in bothering to delete something from that infernal website, because somebody, somewhere, will have seen it and decided to engage in some performative outrage.
That's the way social media works and everyone understands the rules of the game – say something inflammatory and moronic and then watch as the retweets flood in. It's a way for small people to make a big name for themselves, even if it is only in the moral and intellectual sewer that is Twitter.
But rather than simply being electronically battered by people who are probably as much of a loser as this guy is, the Scottish Rozzers decided to get involved and he has now been convicted of sending a 'grossly offensive' tweet and, under the draconian and, frankly, insane strictures of Section 127 of the Communications Act (2003), he now faces sentencing next month.
Is it a crime to be, as Kelly would probably say, a gobshite? Yes. Yes it is.
Frankly, I wasn't surprised at what Kelly posted. As an Irish man who rolls his eyes every time some Scots git who is nothing more than a Plastic Paddy professes his love for Celtic, I've become well used to such people's shenanigans. Predictably pro-IRA, pro-Hamas and anti-Israeli, many Celtic fans have been making fools of themselves for years as they fight a tediously Quixotic battle against England that nobody who is actually Irish even cares about.
But is Scotland now determined to convict and criminalise every eejit who says something stupid or unpopular on social media? Kelly had every right to display his nasty, bitter mindset to the wider world. Similarly, other people had every right to have a pop at him for what he said – although the amount of support his tweet received also reminds us that the rise of the idiots seems to continue unabated.
Frankly, one of the great benefits of unfettered freedom of expression is that it at least lets everyone else know who is a moron. Yet by using the same legislation which has already seen feminist Kate Scottow prosecuted for the crime of 'misgendering' a trans woman (ie, a man), the weirdly authoritarian authorities have now made Kelly a free-speech martyr.
This is where things get tasty.
Most of us could support Mark Meechan, aka Count Dankula, when he was done for training his girlfriend's dog to perform a Nazi salute. That was a flamboyant example of official idiocy and one which was far more amusing than the actual trick itself – although I doubt Meechan found his Kafkaesque ordeal particularly funny.
But should we offer equal support to an idiotic Celtic fan who stuck the boot into a frail old man who had become something of a national treasure? Absolutely. After all, the whole point of defending our rapidly diminishing right to free expression is that we have to defend everyone's right to that precious liberty – even the assholes.
In fact, particularly the assholes, because there's not really much point in only supporting the people you agree with.
Even the sight of him wearing a Celtic top while apparently dressed as a leprechaun is enough to make Irish blood boil, but that's neither here nor there – he is simply engaging in his right to be a dumb little cliche.
What is so interesting about this case, however, is the zealous enthusiasm for prosecuting what barely even qualifies as a thoughtcrime. If Kelly thinks the only good British soldier is a dead one, then maybe he can expect a tap on the shoulder from the many Glaswegians who serve in the armed forces the next time he ventures out for a pint.
But that is entirely different to the response from Adrian Cottam, the sheriff who convicted him. According to this tinpot, toy-town tyrant: 'The prosecution does interfere with freedom of expression but it is a necessary interference.' Translation – watch what you say or we will ruin your life in a bloated and disproportionate act of legalistic virtue-signalling.
Did Kelly deserve to receive opprobrium and condemnation from his fellow bed-wetters on Twitter? Well, who cares. But he certainly didn't deserve to have the long arm of the law smacking him around the place.
If we're to start convicting every person for being a bit of a prick, then we better start building more prisons.
I hate to say it, but we should all stand with Joseph Kelly. Because this assault on our freedoms (the Republic of Ireland is planning to introduce legislation based on this Scottish nonsense) is about far more than one man's stupid social-media post. It's about protecting everyone's right to criticise, to say the unpopular thing, to deliberately annoy and antagonise whenever the mood takes us.
Let's not forget – as reprehensible as Kelly's post undoubtedly was, we don't get to pick our martyrs. In this instance, Police Scotland have already done that for us. Yet again, they have made a martyr out of a moron.
Ian O'Doherty is a columnist for the Irish Independent.
No paywall. No subscriptions.
spiked is free for all.
Donate today to keep us fighting.
Donate online
To enquire about republishing spiked's content, a right to reply or to request a correction, please contact the managing editor, Viv Regan.