A Troubles-free tribute to Belfast
Kenneth Branagh's Belfast is a big-hearted love letter to the city of his childhood.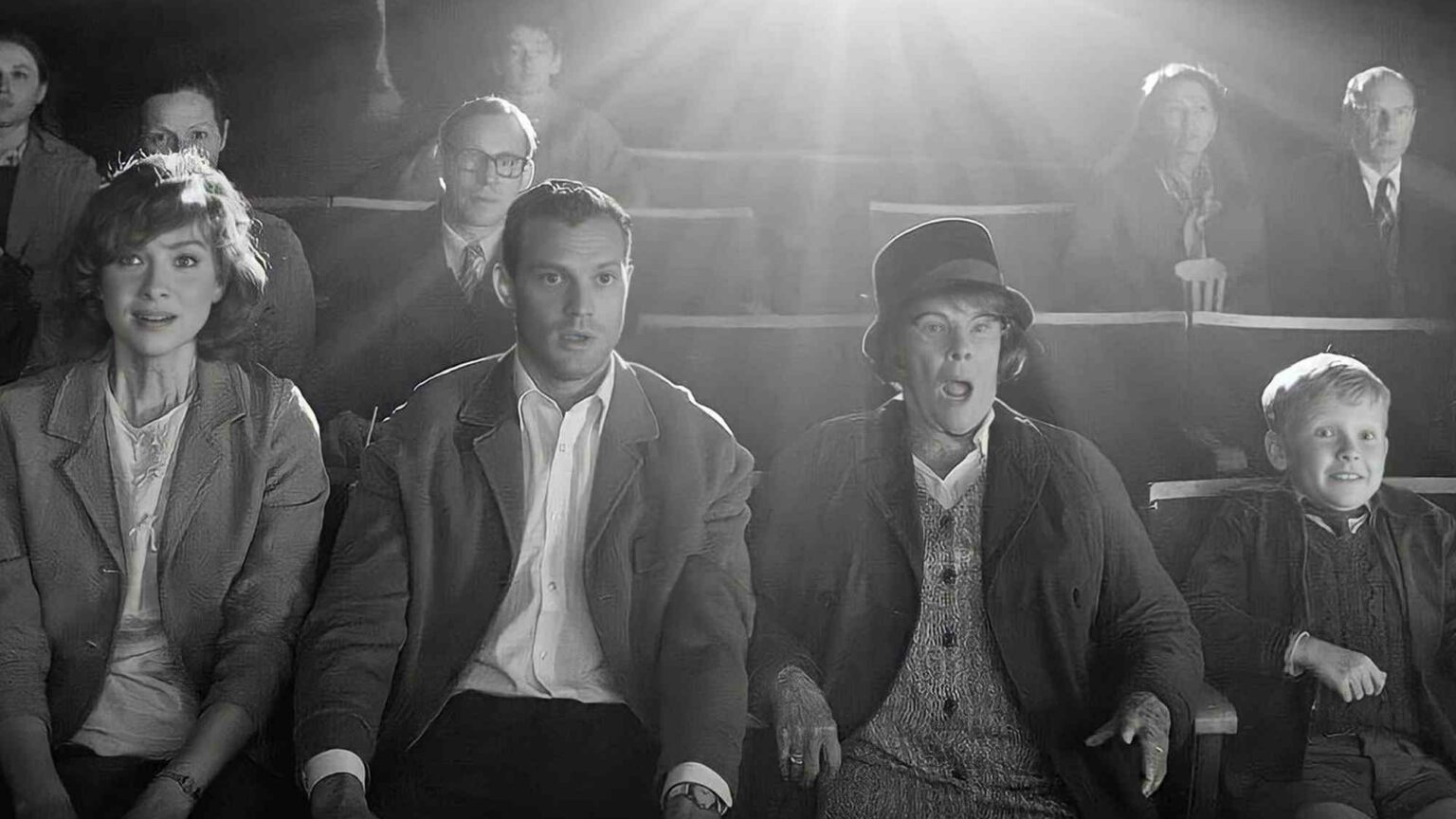 It's hard to imagine a person more different from the average working-class Belfast man than a London luvvie. Which is why it was so jarring to hear Kenneth Branagh give a shout-out to the 'home crowd', in a little introductory video that played before his new film Belfast started in the cinema near where I live in Northern Ireland. Does he not realise how a decent proportion of that home crowd will dismiss him as a ponce, and his movie as 'absolute dirt', as one Belfast resident described it to me. Another replied: 'It's about Belfast, it couldn't be anything else.'
Belfast is a hard city to love, particularly if you are from here. So it is admirable – even moving – for Branagh to compose a love letter to this hard northern town, especially as Belfast is set in August 1969, as sectarian pogroms were breaking out.
For the most part, Branagh pulls it off, albeit with patronising anomalies and jarring, anachronistic touches that seem designed to give working-class Protestant Belfast neighbourhoods a dash of woke multiculturalism that they almost certainly did not possess. There is a mixed-race teacher, an Indian friend and a Catholic girl classmate of the main character, a Protestant boy called Buddy. (Catholic and Protestant children did not go to school together back then – in fact, most still don't.)
The story is based loosely on Branagh's early life in north Belfast. The son of working-class Protestant parents, Branagh shows how working-class Catholic and Protestant families lived cheek-by-jowl in the tiny Victorian terraces of north and west Belfast until 1969. When the Troubles burst into the family's narrow street, the happy, carefree childhood of Buddy – a stand-in for Branagh himself – is over. The rest of the film takes us through the family's attempt to navigate dangerous new power dynamics created by the growing loyalist paramilitaries, which Buddy's noble and terribly good-looking parents both reject. As the menace grows, they then grapple with the difficult decision: should they leave everything they know behind and start over in England? Or do they tough it out with the terrorists and the barricades and the petrol bombs?
Belfast begins with what is effectively a tourist-board campaign video, featuring aerial shots of Belfast's most famous destinations, including the Titanic Museum, which opened in 2012 and is therefore well out of the timeline of the film. This shoe-horning of all the best that contemporary Belfast has to offer felt patronising and clunky, as if the filmmakers had to make up for the embarrassment of history by tacking on a brochure that says, 'but sure, it's bloody great here now'.
For all that, though, Belfast has some lovely moments, touching performances, and is visually interesting, with occasional switches from the stark black and white to rich technicolour. Branagh makes fantastic use of his actors' striking faces – and not just the young, gorgeous ones like that of former model Jamie Dornan, but that of stalwart Judi Dench as well. The film gives you so many loving close-ups of her deep wrinkles that the lines on her face could be listed as another cast member. She is a thing of beauty in this film, though some locals have questioned her accent.
I did not myself grow up in working-class Belfast, but my father did. And judging from the many stories of his own childhood and family, there was quite a bit that Branagh's film got right. For example, for all the grey drudgery and poverty, there was glamour and fun in working-class life.
My father's father was a boxer, a truck driver and a ballroom-dance instructor, and he and my gran were such great dancers that they were nicknamed Fred and Ginger. Ginger Rogers is namechecked in the film, in a winning scene in which Buddy's grandparents, played by Dench and Ciaran Hinds, have a dance as a smiling Buddy looks on. North Belfast-born Hinds, who was made for the role of a good man worn out by a life of hard labour, tells his old wife she's just like Ginger Rogers.
While Branagh goes in for a big helping of sentimentality, he also captures some of the cutting humour Belfast people inflict on one another to prevent anyone from getting a big head. Dornan's Pa is impossibly handsome and stylish – and he's mockingly called Steve McQueen by a neighbour.
Belfast also captures the crushing conformity of a place that drove away so many young people – my father included – even before the violence erupted. Pa, who steadfastly refuses to join the Catholic-hunting mob, is threateningly told by the local hood: 'You think you're better than the rest of us.'
The hard life of Belfast women is referenced, though Caitriona Balfe's fine features and frequently bare arms (Belfast is freezing!) distract a bit from the working-class grit she is going for. But she's assertive and hard-headed, and more than willing to stand her ground.
Dench steals the film, however. Not just through the aforementioned close-ups, but via her slow movements, her big grandmotherly bosom and housecoats, and her delivery of the film's best lines (dodgy accent notwithstanding). When reminiscing about seeing the 1937 film Lost Horizon as a girl, she ruefully adds: 'There are no roads to Shangri-La from our part of Belfast.' She recounts dyeing her legs with tobacco water and getting her sister to draw a fake seam up her calves, to give the illusion of nylon stockings which she could not afford to buy.
She delivers the devastating final words of the film, watching her son and his family depart the city forever. 'Go now', she whispers, as they drive away in a bus. 'And don't look back.'
It's a good thing, too, as right before that heartbreaking scene, the film was nearly ruined by Pa's final speech, telling his son that he didn't care if the wee girl he loved was Catholic or a 'vegetarian Antichrist' – as long as she was 'kind'. It sounded like it was written by Meghan Markle, not something that a working-class Belfast father in the 1960s would say.
But ultimately, Belfast's a big-hearted, beautiful and magnanimous movie, and it would be petty to focus on the inaccuracies in accents or anachronistic woke flourishes. The film seems to be Branagh's sincere attempt to both recreate the innocence of a 1960s, working-class childhood and at the same time heal or maybe redeem the battered old city of Belfast.
Besides, no one needs another tired Troubles movie, where hard men in leather jackets meet in graveyards, all flinty-looking, to whisper about their next attack on the Brits or the Fenians.
Belfast deserves a bit of happiness. Good for Branagh for trying to give it some.
Jenny Holland is a former newspaper reporter and speechwriter. Visit her Substack here.
Watch the trailer for Belfast here:
To enquire about republishing spiked's content, a right to reply or to request a correction, please contact the managing editor, Viv Regan.