Why I still love Morrissey, despite our feud
Unlike today's conformist pop stars, he remains utterly true to himself.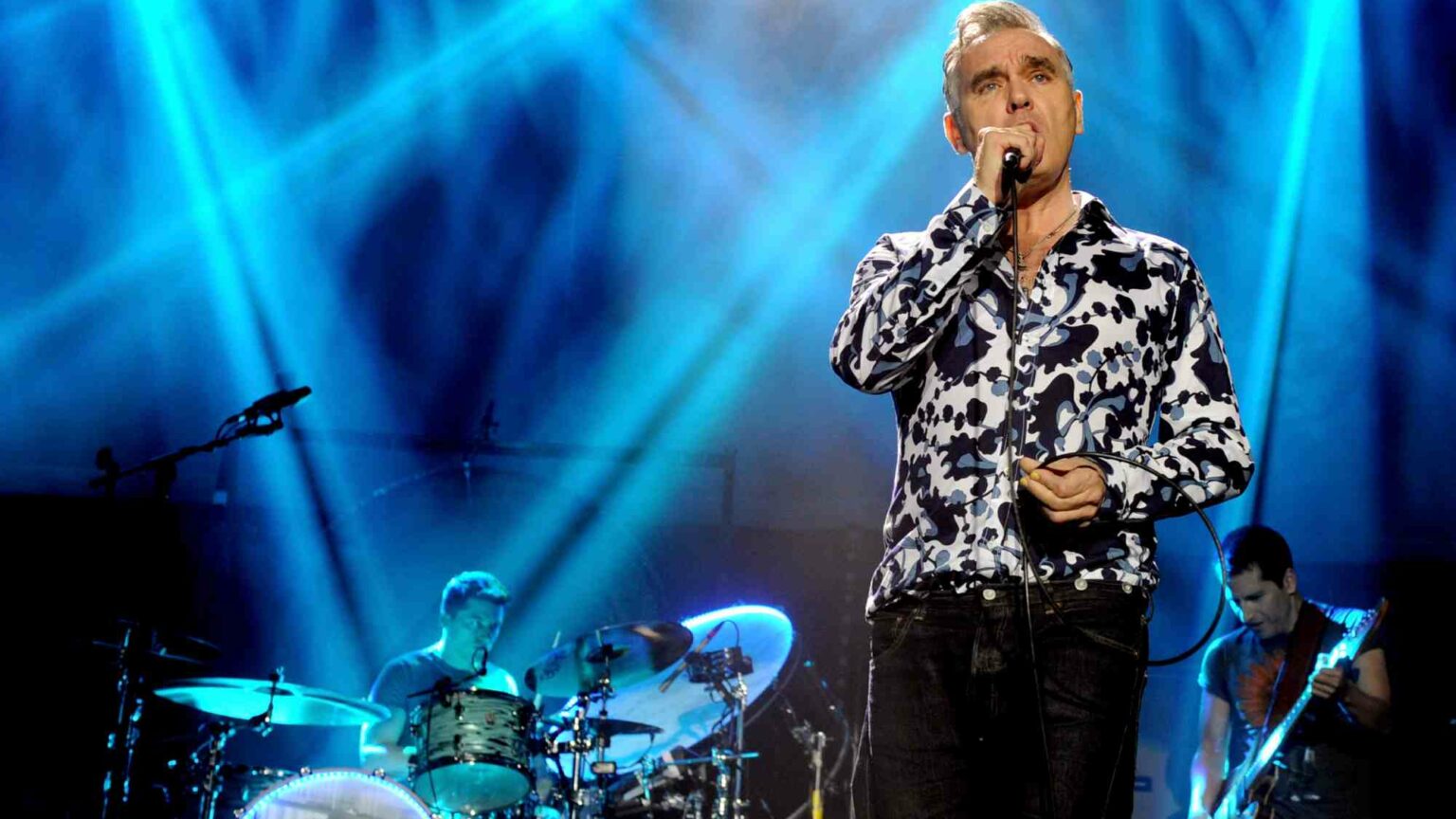 Steven Patrick Morrissey first crossed my path when I was a teenage hack at the then very influential New Musical Express in the 1970s. There was this boy in Manchester who since 1974 had apparently spent most of his waking hours attempting to further the career of cult American rock group the New York Dolls – among other obscure and flamboyant acts – by writing angry letters to the music press about their absence on television. You can read them here – a touching illustration of the way music can galvanise adolescents. It's hard to imagine any of today's easy-streaming youth simply caring about music that much.
In 1980 he started to write reviews of bands that were passing through Manchester for the Record Mirror – and then in the 1980s he disappeared, off to find fame and fortune as lead singer of the Smiths. In an interview with Mojo in 2006, he said of that time, 'I was a nuisance for a while. I'd write letters and long to be in the press but I was a complete failure. Of course, being a pop star when you're 11-and-a-half and covered in acne is also ludicrous [but] in those days it seemed such a powerful thing. I was incredibly clumsy, and determined, but knew, deep down, that I was reasonably glamorous, even if nobody else could see it.' I was surprised to get a personal letter from him in 1977 offering to make me 'French toast' – I wondered if it was a metaphor for something dirty, then put it out of my mind.
I somehow missed the Smiths when they were happening; I was living a full-on sexy-greedy 1980s life, with a cushy billet on The Sunday Times and Sade as my soundtrack, and I'd turned my back on rock music in relief at no longer having to pretend to like punk. But when I heard them, I was smitten. It was before the internet, and I remember saying to a teenage mate in 1994, 'Have you heard this brilliant band the Smiths?'. She replied, deadpan: 'Yes – they broke up last decade.' Undaunted, I asked my newspaper if I could write a piece about my erstwhile pen pal who was now conducting a solo career after 'creative differences' with his bandmates and they said yes. It got back to Morrissey's management and he was offered up to me to interview. Being a bad interviewer far keener on writing profiles which did not involve being in the same room as the subject, I sent a classic stuck-up retort by fax machine to his publicist, Murray Chalmers:
'Sir,
I do not *do* interviews
I grant them'
It was a Norma Desmond-style diss worthy of Mozza himself – but it was a good call. 'Never put two divas at one table' is a classic piece of party planning and I was not best pleased when, after a sleep-free night of partying (ie, every surface in my flat looking like someone had burst enormous bags of icing sugar everywhere), the doorbell rang just as I was about to collapse into bed. My husband answered it and said the immortal words, 'There's a guy here saying he's Morrissey'.
It wasn't a pleasant experience. It started badly with me slamming the door in Murray's face (we laugh about it now) and Morrissey glowering, 'You struck Murray!'. Then he carped at me for around half an hour about writing bad things about musicians he liked; looking back, it was touching, as it showed he was still that teenage boy, defending his musical heroes, but we parted on bad terms. To add insult to injury, I wrote it up anyway – and got sued for plagiarism after 'borrowing' too much from Johnny Rogan's excellent book, Morrissey and Marr: The Severed Alliance, on my subject. It was a poisoned chalice all round – and one that kept on giving shade.
When in turn Morrissey published his autobiography in 2013, he gave me a right going over. It didn't bother me that he described me as fat and plain – I did become fat and plain, but I certainly wasn't when he met me in my thirties, when I was well foxy – or even that he painted me as being a lonely spinster, whereas I lived in a gorgeous flat in Bloomsbury with my second husband and young son. Typically for a woman of working-class origin, it annoyed me most that he said my flat was dirty. It wasn't dirty at all, I was extremely house proud – there was just a lot of cocaine everywhere. I don't know if the 2014 song 'Julie In The Weeds' – 'Julie lie down in the weeds / And see something new / Julie from now on all the pain of youth / It will not trouble you' – was another dig, but I stopped taking an interest in his career after that. It had all got a bit high camp by then, and anyway I had loads of other feuds to attend to.
But reading his open letter to Johnny Marr this week, all my feelings for this awful, awkward, charming man came rushing back. While his contemporary contrarians, such as myself, have grown a hard carapace, he is still that tender Manchester teenager, dreaming of glory. He has remained utterly true to himself, like that other great working-class hero, John Lydon, with whom he shares a fondness for Brexit ('Magnificent!) and Israel ('In other climes, they bitch and whine / Just because you're not like them / Israel, Israel'). Morrissey is unpolluted by the bourgeois student politics of woke.
He is tremendously touchy, which can be funny. In 2021 his manager lashed out at The Simpsons after an episode in which Lisa meets the Snuffs' lead singer 'Quilloughby' but finds him to be an angry racist: 'I was [a vegan] until I found out veganism was invented by foreigners, [of] whom there are far too many on this planet.' Morrissey's manager, Peter Katsis, fumed: 'When a show stoops so low to use hateful tactics like showing the Morrissey character with his belly hanging out of his shirt (when he has never looked like that at any point in his career) makes you wonder who the real hurtful, racist group is here.' We all lose our charms in the end, and of course at 62 Morrissey is no longer the wand-like youth of the Smiths. So what? He's an artist, not a model.
In 2020 he parted ways with his record label after drawing flak for a number of opinions: 'It's still important to me to do music my own way, and I wouldn't want to be on a label that dictates so specifically how their artists should behave – especially when the word "talent" is notably never mentioned.' This has been my own experience with publishers and newspapers; it's funny to think that Morrissey and Lydon – and myself – grew up working class in England, being told by the establishment that our views were unacceptable and that we should shut up and let the educated dictate the parameters of debate. The faces have changed, but the wagging fingers remain the same. As Lydon put it: 'I never thought I'd live to see the day when the right would become the cool ones giving the finger to the establishment and the left become the snivelling self-righteous ones going around shaming everybody.' I found it hilarious when people were outraged to find that icons of rebellion such as John Lydon and Morrissey were Brexiteers – of course they were! It wasn't 'Consensus in the UK' and 'This Charming Mandate for Ever-Increasing European Federation', was it?
How dreary wokeness has made music! With a few exceptions – Noel Gallagher and Nick Cave – it is entirely possible now to read an interview with any crooner from Sam Smith to Billy Bragg and not be able to tell the difference, because 90 per cent of pop stars sing from the same hymn sheet now, inevitably referencing anxiety, denial of biological reality and Free Palestine clichés. Do I agree with everything Morrissey says? No. Does this make me want him vanished? No, because I am not a pathetic scaredy cat, frightened of views different from mine. Morrissey is a niggly, narcissistic diva – but he is also one of the greatest pop stars ever to have graced Planet Earth with his presence, and that's all that counts.
Julie Burchill is a spiked columnist. Her book, Welcome To The Woke Trials: How #Identity Killed Progressive Politics, is published Academica Press.
To enquire about republishing spiked's content, a right to reply or to request a correction, please contact the managing editor, Viv Regan.