How work took over our lives
The growth of the office gave employers unparalleled insight into their workers' private lives.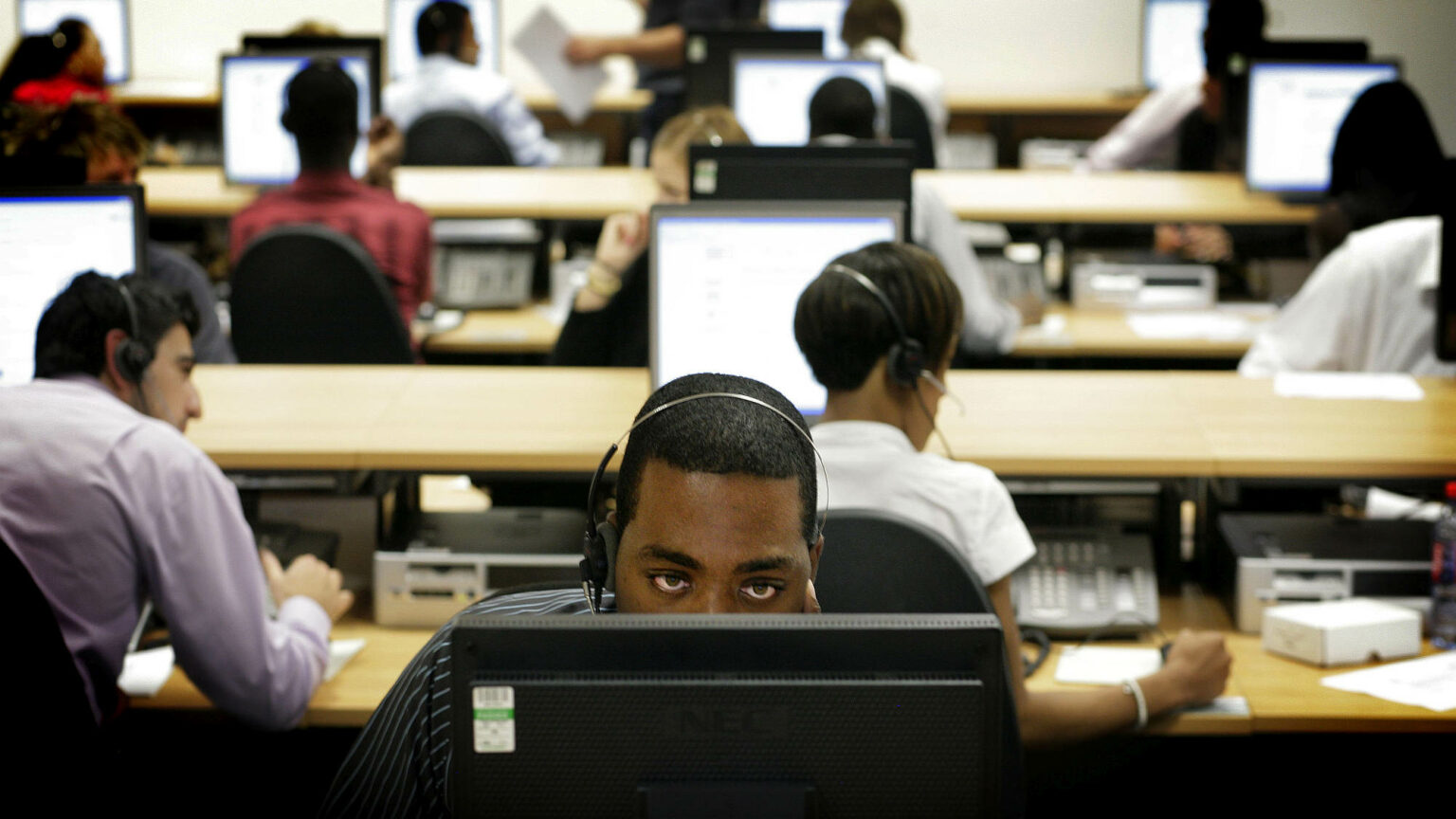 Not content with a big hub at Kings Cross, and a new headquarters also under construction there, Google has just bought a 15-storey office building in the West End of London for a cool $1 billion. According to the head of Google UK and Ireland, the decision represents 'our continued confidence in the office as a place for in-person collaboration and connection'.
But is the office really a place of collaboration and connection? The history of the office paints a different picture – one of exploitation, technocratic organisation and the oppressive supervision of workers. And above all, it is a history characterised by management's increasing tendency to invade workers' private lives.
This tendency has, if anything, intensified in recent years, especially with the rise of 'working from home' (WFH), and the even trendier hybrid office – a blurry mixture of WFH, the five-day-week office and everything in between. Indeed, Google's new office will itself be prepared 'for a new era of hybrid working that includes video calls and outdoor meetings'. The history of the office in the US, which we deal with here, shows how unlikely managers are to stop prying into workers' personal affairs.
Origins of the office
The emergence of the office was entwined with the development of capitalism. By the 1850s US railroad offices had more bean-counters than the government. Later in the 19th century, the flow of commodities leaving factories for rail networks became a deluge. As a result, American corporations needed a whole new formal bureaucracy of control, one that grew out of the bureau, or office (1).
The architectural development of the office reflected this need for a formal means of control. Safety elevators (Elisha Otis, 1852) and steel-framed skyscrapers (Chicago, 1880s) brought more verticality, openness and transparency to many offices, making direct oversight simpler than in industry. There, work is largely uninterruptible and done at ground level, while machinery can often obscure workers. In offices, by contrast, work is broadly interruptible, more visible – and the boss is only a partition away.
After the very first high-rise, open-plan office, designed in 1903, a rapidly expanding cadre of poorly paid, junior, often female staff found few private moments at work. In the new, high-rise offices that began to sprout in US cities, management could look down on workers – literally. Office workers were not quite under the microscope, but managers made it their business to know what they were doing.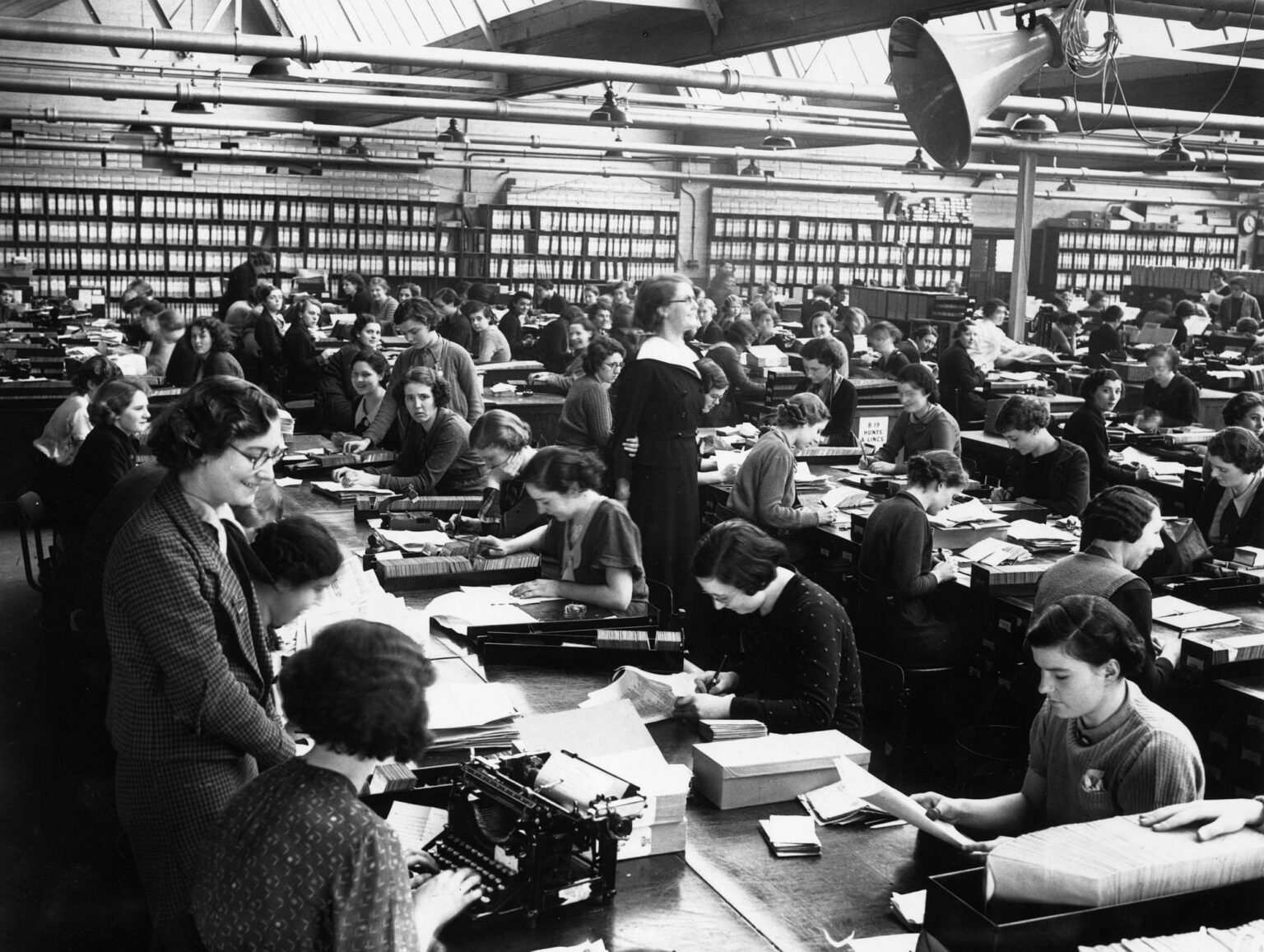 Female office workers in an open-plan office, circa 1935.
From 1888, in both factory and office, Bundy 'time recorders' – clocking-in systems – extended employers' dominion over workers' lives. And in America's booming company towns, employers already knew a lot about those lives. In 1917 General Electric's Works News began to feature photographs of workers at their leisure, or playing competitive sports organised by… General Electric. This was not a case of corporate benevolence. As one critic put it, it was to ensure that 'conflicts were displaced from the factory to a neutral arena' (2). Indeed, from General Electric's baseball leagues then to awaydays with paint guns now, the touchy-feely side of the office has always been part of an employer-led attempt to reveal workers' real selves and manage them accordingly.
The worldwide surge in state intervention during the First World War further established offices as command centres for capitalism. They were different from factories. Productivity was harder to measure, and often required more supervision; hiring, firing and promotion were more arbitrary; personal and sexual power relations, as well as empire-building, more prevalent. Offices were no paradise.
Employers could not telephone workers at home, like they can with WFH today. Yet it was a given that workers' dress, discipline, bearing, stability, mood, conversations, intonation, breaks and general commitment were on display to the boss – whereas his were often concealed behind a closed door.
A more personalised surveillance
In the US, the rise of psychology and so-called change management in the Second World War (3) renewed management interest in employees' private lives. In his classic The Organisation Man (1956), William H Whyte noted that the basic idea of non-directive counselling – interviewing employees to get problems at work 'talked out' – had swept US corporations, along with regular personality tests not of staff aptitude, but of attitude and loyalty (4). Later, in 1964, journalist and social critic Vance Packard denounced corporate undercover agents in office conferences, corporate private eyes investigating 'the size of dad's account and any outstanding loans', and corporate snooping among next-door neighbours (5).
As, however, team-based project management spread in the US during the 1960s (partially in response to the success of the Apollo space programme), managers came down from their private, 'cellular' rooms, or strongholds, to work cheek-by-jowl with employees, and manage them in a personal manner.
The focus of the office was becoming less about increasing efficiency or profitability and more about employees' workstyle or even lifestyle. Office activity tended to be directed towards meeting people, impressing them and baring the soul in search of some kind of personal validation – in everyday routine, in the brainstorm, on the golf course and at Friday-night drinks, too.
From 1977 onwards, as work invaded home and home invaded work, discussion grew over what later became known as 'work-life balance'. In the popular 1980 movie 9 to 5, life outside the US office was hilariously presented as all too linked to life inside it. Above all, 'performance' began to relate not just to staff contribution, but also to the performative acts done by staff and – perhaps especially – by management.
US airport bookstalls groaned with management classics about charismatic leadership, as managers themselves plumbed new depths in the long American tradition of putting on a show. Desks became more decorated by personal items. 'Openness' was not just about office layouts. It was about attitudes and values. Its performative aspects were even recognised in a 1999 management bestseller, The Experience Economy: Work is Theatre and Every Business a Stage.
In the 21st century, work is often talked of as less a place where one gets paid, and more a personal passion, a place where one can make friends or find a partner. In myriad ways, the office now demands intimacy rather than the old discipline. It demands openness, too – nothing shall be hidden.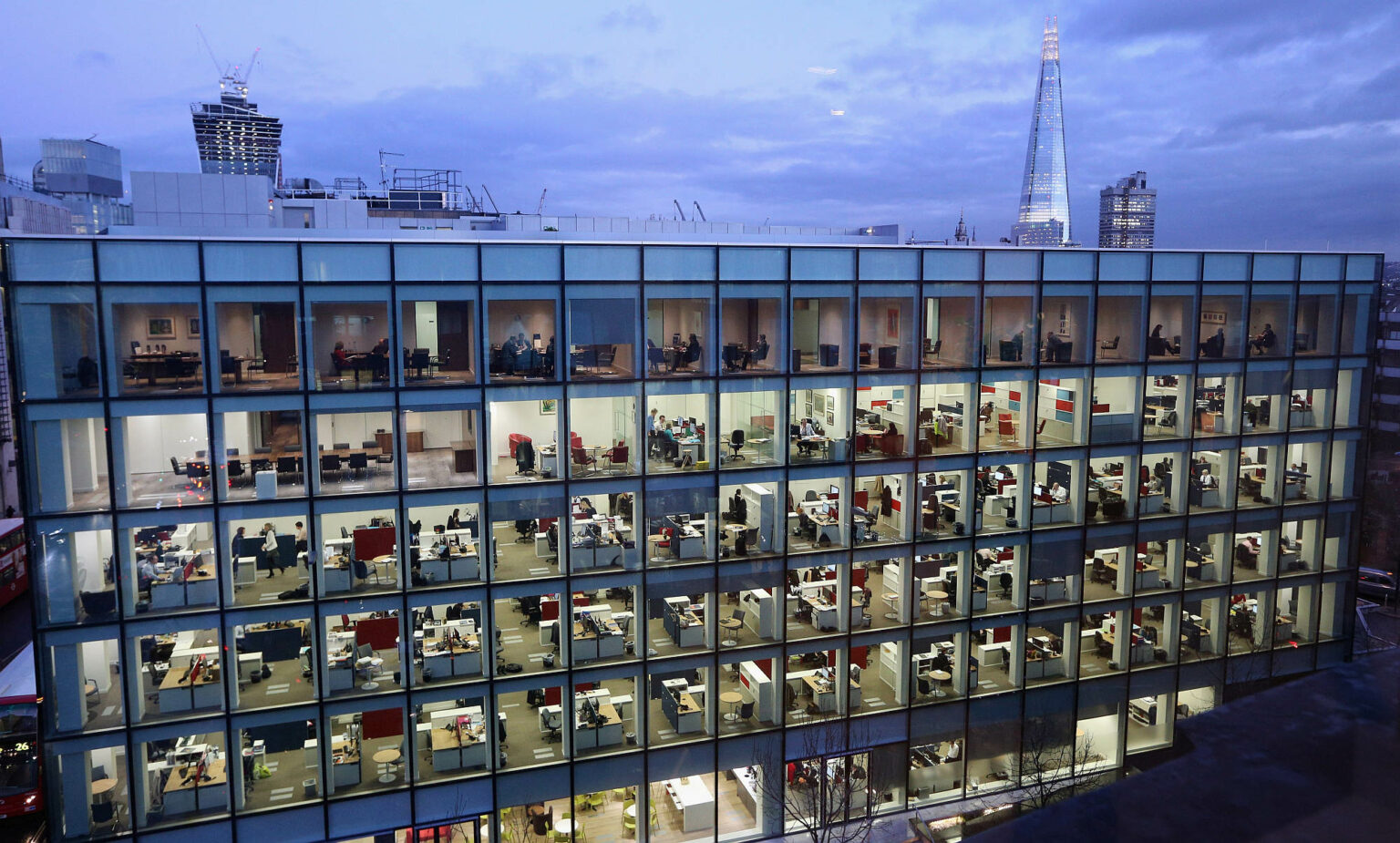 People at work in a modern office development, near St Paul's Cathedral, London, 6 February 2013.
The role of the human-resources department is key here. In 1986, the US Supreme Court determined that sexual harassment at a bank created a hostile work environment and thus contravened the 1964 Civil Rights Act. In the wake of this ruling, the demand for openness about one's conduct in the office grew, and, significantly, 'the modern human-resources department came alive'. Indeed, HR departments are today the Temple of Openness within the office – and the mortal opponent of workers' privacy. They insinuate themselves into the lives of office staff, through their focus on wellbeing and wellness, mental health, behaviour, the employee 'experience' and the 'onboarding' of new recruits. Today, HR staff want workers to reveal as much as possible about themselves, and then some.
Reclaiming ourselves from our employers
The boundaries between one's work and one's private life have never been so blurred. Today one can bring pets into many US offices, while the sight of children, hugging and 'athleisure' clothes has also become more common. But does all this lead to genuine reductions in workload, to progress and to wealth creation? That would seem unlikely.
The defects of open-plan offices, WFH and hybrid working go further than office politics, boring meetings, exasperated individuals, the commute, or Zoom fatigue. We are dealing with a much wider surrender of home, office, stations, trains, cafés, hotel rooms and personal thoughts – sometimes, a surrender of sleep itself – to employers who are endlessly demanding.
History shows that the fashionable quest for openness about the self has coincided with the concentration of enormous power in the hands of the employers and their HR departments. Wherever work ends up taking place in tomorrow's service economy, in the office or at home, we should never forget that.
James Woudhuysen is visiting professor of forecasting and innovation at London South Bank University.
Pictures by: Getty Images
(1) The Control Revolution: Technological and Economic Origins of the Information Society, by James Beniger, Harvard University Press, 1986.
(2) Image Worlds: Corporate Identities at General Electric, by David E Nye, MIT Press, 1985, p83.
(3) For the rise of wartime psychology in the US, see the Academy Online: Vance Packard's The Hidden Persuaders, from 10m23s, on.
(4) The Organisation Man, by William H Whyte, Pelican, 1969, pp40, 160, 171.
(5) The Naked Society, by Vance Packard, Penguin, 1970, pp15, 19.
To enquire about republishing spiked's content, a right to reply or to request a correction, please contact the managing editor, Viv Regan.