No, Russia hasn't 'invaded' Kazakhstan
Moscow craves security and stability, not territorial expansion.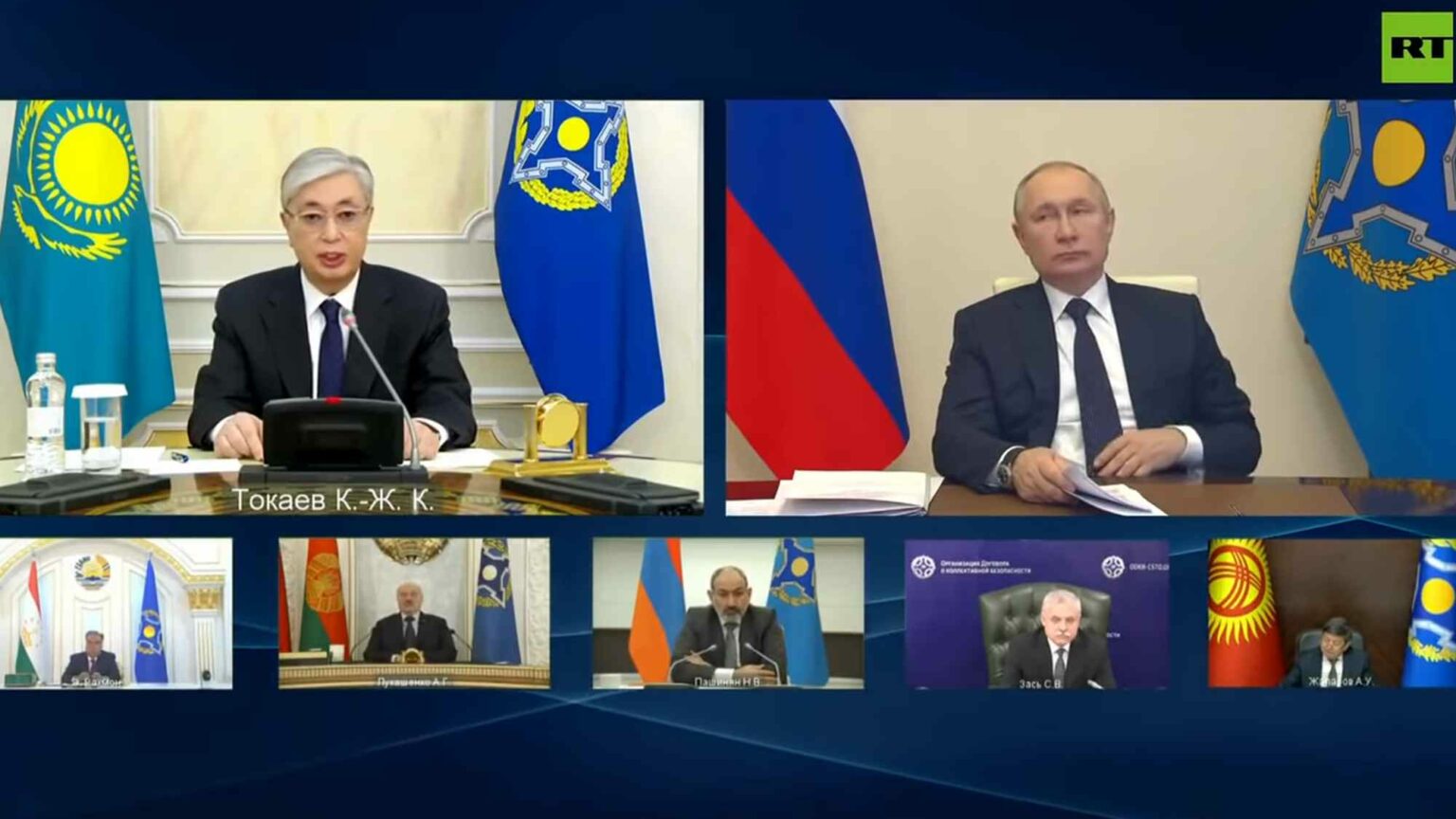 The story was at once familiar – and wrong. After violent protests had erupted in the Central Asian state of Kazakhstan after New Year, a large Russian military force was flown in on the pretext of restoring order, but actually to reassert Moscow's control over a former Soviet, now independent, state. In some accounts, the intervention represented the latest stage in President Vladimir Putin's long-standing ambition to restore the Soviet Union, or if not the Soviet Union, then the Russian Empire.
The US secretary of state added his halfpennyworth. 'One lesson in recent history', said Antony Blinken, was that 'once Russians are in your house, it's sometimes very difficult to get them to leave'.
So there we are. Yet again the picture has been drawn of an aggressive Russia, hungry for more territory, and an invasion force being deployed of the sort Moscow sent to Georgia in 2008, used to annex Crimea in 2014, held in reserve to shore up the repressive regime in Belarus in 2019 and has supposedly prepared for eastern Ukraine in the coming weeks.
That this image of Russia – Russia's 'pattern of behaviour', as the US and UK governments like to say – was reimprinted on Western minds just as US, NATO and Russian officials are meeting for high-level strategic talks in Geneva may or may not be a coincidence. But as always, it is important to separate what has happened from what has not.
Russia has not 'invaded' Kazakhstan. It did not initiate any military intervention, nor is there any evidence at all that it is angling for more territory. Something rather more interesting has happened.
In response to violent demonstrations in Kazakhstan, which began on 2 January, the president, Kassym-Jomart Tokayev, appealed to the Russia-led Collective Security Treaty Organisation (CSTO) for help in restoring order. The request was approved by Armenia, which currently holds the CSTO's rotating presidency. Three-thousand paratroops, mainly but not only Russians, were airlifted to the main centres of the violence – Almaty (Kazakhstan's biggest city and former capital) and the new capital, Nur-Sultan (formerly called Astana, but renamed after the former president, Nursultan Nazarbayev).
The troops are said to have been deployed in a limited peace-keeping role, to guard strategic buildings and installations. So far, apparently, with the desired effect. The violence has ceased, and the internet, cut off for five days in Almaty, is being restored.
Now, there will of course be objections that the CSTO is just another front for Russian intervention. But two considerations should be borne in mind. The first is that in past bouts of unrest in the former Soviet states of Central Asia and the Caucasus, Moscow has steadfastly refused to intervene, even when asked to do so (by Kyrgyzstan in 2010 and 2020, and by Armenia last year). The second is that this intervention is the first time since the CSTO was set up in 1992 that it has been used in this way. It has invoked Article 4 of its statutes, which states that 'in case of aggression… against any member state, other member states shall immediately provide necessary support and aid' – something clearly modelled on NATO's Article 5 principle of collective defence.
Could it be that Russia wants to extract itself from the image of hegemon, and is looking for more collaborative arrangements for regional security? Could Russia even be preparing for the CSTO – that has hitherto seemed to exist more on paper than in practice – to develop into a NATO equivalent for its own environs?
It is also worth noting – which hardly any Western media have done – that the (Belarussian) secretary general of the CSTO, Stanislav Zas, gave a highly unusual interview to the – yes, all right, Russian – international radio station, Sputnik, setting out in considerable detail the terms and objectives of the Kazakhstan mission. One aim might have been to reassure Russians, who remain wary of all foreign intervention. But the chief aim was surely to set out the collective and limited nature of the mission for the benefit of international opinion.
Again, you may take what Zas says at face value or not. But the fact that the nature of the mission, the numbers and the timescale are set out in black and white means that any change from this will be clear – because there are now benchmarks by which Russia's actions can be judged.
More than a week on, it is still not at all clear what actually happened – or is happening – in Kazakhstan. The violence seemed to have come out of nowhere, precipitated apparently by protests in the west of the country over fuel prices. It spread almost immediately to Almaty, in the south-east of the country, and then to Nur-Sultan, in the north, becoming overtly political along the way.
Some say the violence was spontaneous, others that it seemed organised.
The latest speculation focuses on a possible conflict within Kazakhstan's elite, though the lines of such a conflict are unclear. Among those detained is the former head of intelligence, Karim Massimov, who has reportedly been charged with treason. And in the first days of the protests, President Tokayev announced that he had taken over the chairmanship of Kazakhstan's security council, the last formal position still held by his predecessor, Nazarbayev. So was Tokayev trying to end the Nazarbayev clan's hold on power? Did Massimov try to mount a coup against Tokayev and Nazarbayev? Or – as some have suggested – was there perhaps an attempt backed by regime-opponents outside Kazakhstan to stage a 'colour revolution' on the model of Georgia or Ukraine?
The CSTO's intervention may have kept Tokayev in power for the time being and persuaded the armed forces and police to remain loyal. As such, it appears to have done its job – so far. However, any idea that Russia stands to benefit, either from the intervention or from events in Kazakhstan, could not be further from the truth. Russia craves security and stability above all. The last thing it wants is more uncertainty on its borders, in addition to Belarus and eastern Ukraine – especially not from a country that has given it no trouble for the best part of 30 years, has a significant (circa 16 per cent) population of ethnic Russians, and shares with Russia one of the longest land borders in the world.
As always with Western narratives about Russia, things are not always as they seem.
Mary Dejevsky is a writer and broadcaster. She was Moscow correspondent for The Times between 1988 and 1992. She has also been a correspondent from Paris, Washington and China.
To enquire about republishing spiked's content, a right to reply or to request a correction, please contact the managing editor, Viv Regan.