How Viz lost its teeth
This once-fearless comic mag now ducks controversial topics.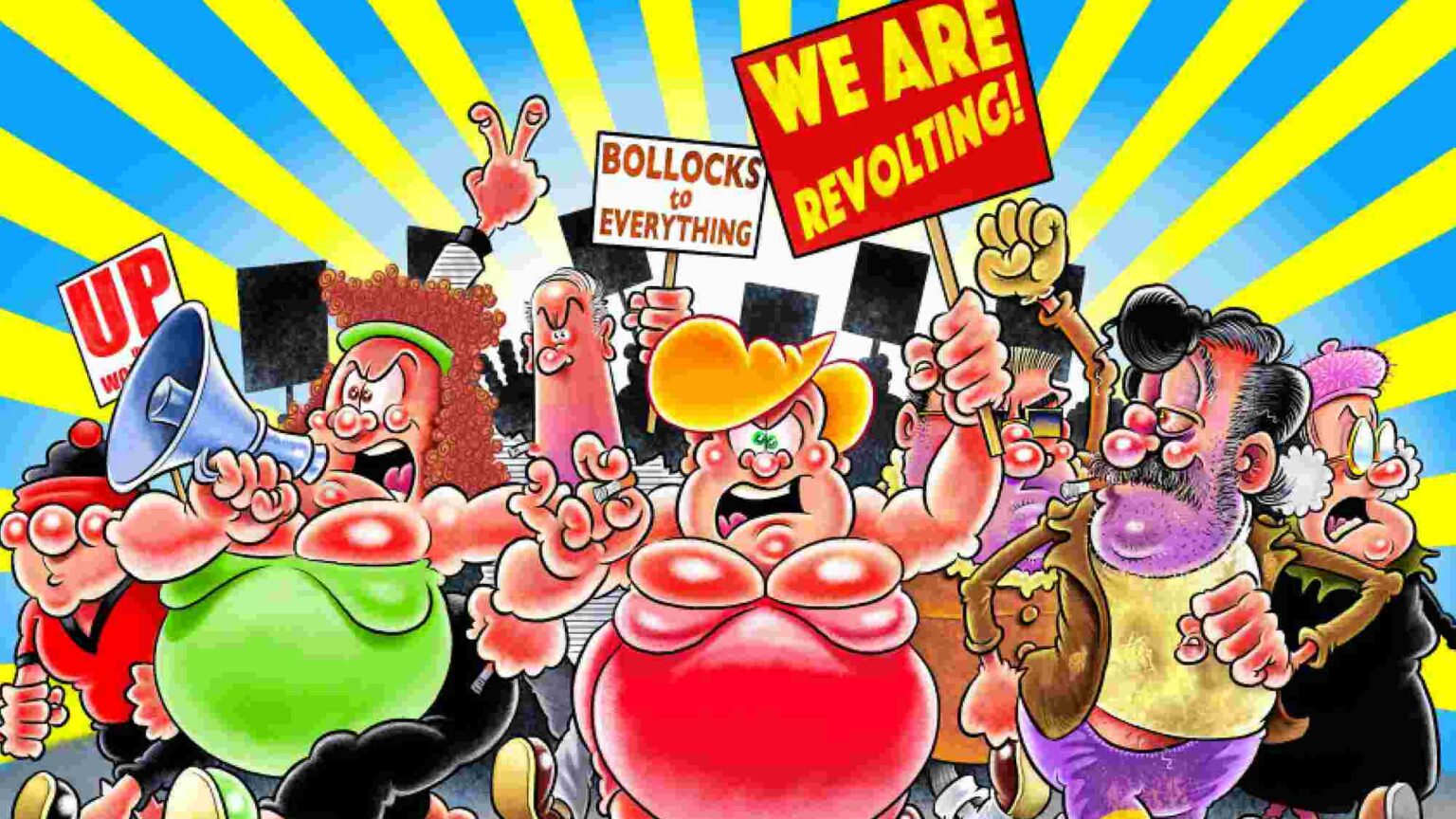 The creator of Viz, Chris Donald, once observed that nobody ever learned anything by reading it. It was an honest, funny comment that was quite in the spirit of his brainchild, the adult comedy magazine now in its 43rd year of existence. The glorious thing about Viz was that it never took sides, never lectured, never proposed solutions. It was – to use the language of today – 'inclusive'. It blew raspberries in all directions, with everyone and everything fair game – including, crucially, itself.
But is this still true? Leafing through the latest Viz annual, The Copper's Torch, I get a sinking feeling that this supposedly fearless organ may have finally succumbed to the pressures of our censorious times. This great magazine was once rebuked by the UN in the 1990s for a cartoon about Travellers and society's attitudes towards them, titled 'The Thieving Gypsy Bastards'. (Viz issued a 'cut-out-and-keep sincere apology' in response.) But now it seems to have joined the long list of culture-war casualties.
Viz still directs plenty of right hooks and custard pies at the great and the good. In the latest annual, Nigel Farage is labelled a xenophobe, of course. Steve Bannon is called a 'shady cunt'. Katie Hopkins is depicted as Hatie Popkins ('Notre Dame destroyed? – très bien, says Hatie'). Meanwhile, Jacob Rees-Mogg is portrayed as a wicked, racist toff stealing rare bird's eggs. Religion comes in for a shellacking, with the pope and the Archbishop of Canterbury, Justin Welby, prime targets. And much fun is had at the expense of the royals – 'The Broon Windsors' is a bawdy farce in which the queen's family speak in broad Dundonian vernacular.
This is all well and good, in the finest traditions of the comic and absolutely no cause for complaint. Anyone who takes a Viz send-up seriously is missing the whole point. But it is not the list of targets that is disturbing, but rather the names that are absent from it. Viz once had a roster of comic characters that spanned the entire spectrum of British attitudes, from the far right (Billy Britain and Cockney Wanker) to the identitarian left (uber-feminist Millie Tant and her 'radical conscience'). It featured the insufferably smug, study-shy activist, Student Grant. And it included John Fardell's liberal new-age snobs, the Modern Parents, as well as the intellectual pseuds, the Critics. The excesses and absurdities of each were grotesquely lampooned without fear or favour. But things have changed.
There seems to have been a quiet purge. The left-wing characters have all departed the stage, as has Tranny Magnet (no loss). There is no mention of the most high-profile 'progressive' movements of recent times, which surely offer rich comic potential: Black Lives Matter, #MeToo, cancel-culture enthusiasts and the statue topplers. And there is no comment on Nicola Sturgeon, Mark Drakeford or Sadiq Khan – big, juicy targets all, yet seemingly carefully avoided. There is nothing much on the pandemic, either – no witty critique of masks or social distancing or lockdowns, and no mention of SAGE. There is nothing on COP26, Extinction Rebellion or Insulate Britain. In fact, there is no mention of the environment at all, except for a piece depicting Daily Mail readers as nutty climate-change deniers.
There is plenty of material on the crappiness of modern Britain, but no attempt to prick the swollen balloon of pride and reverence attached to our 'wonderful' NHS. Indeed, a recent Viz editorial, in a rare and queasily uncharacteristic moment of earnestness, praised the health service for 'playing a blinder' over the past year. It even pledged to donate all profits from the sale of mugs to the NHS. Eugh!
Viz now reads like just another relentless assault on a particular, carefully edited image of British culture. It is an image that is both partial and decades out of date – or even centuries, in the case of Victorian Dad. Meanwhile, modern trends that are crying out to be mocked are left untouched. In other words, Viz seems to be self-censoring – the raspberries are only being blown in one direction.
Does this matter? Well, yes – because Viz, at its origin, was an anarchic publication unlike any other. As Donald once explained, it was a magazine for outsiders, yet everyone felt it was somehow their own. It was as radical as agitprop but without the call to arms. It was uncensored and uncensorable. As such, it helped to instil a healthy scepticism and independence of spirit in the impressionable. Viz did not tell you what to think. It told you to be eternally cynical and to use humour, rather than anger or violence, to challenge orthodoxies. It thus satisfied young people's natural desire to attack the establishment, without imprisoning them within an alternative establishment.
We need that spirit now more than ever. Today's campuses, puritanical citadels of wokeness and incubators of intolerance that they are, were foretold in Viz, years in advance, as Spunkbridge University, Student Grant's alma mater. What was once a comic exaggeration looks troublingly accurate today. But like so many other characters, Grant has been erased and with that another important voice has been silenced.
Satire that is selective is not worthy of the name. In an open society, someone needs to say the unsayable, with humour if possible – because the unsayable can sometimes contain some truth. This is why it is so sad that Viz, which used to do just that, seems to have muzzled itself.
Philip Patrick is a lecturer at a Tokyo university and contributing writer at the Japan Times.
Viz Annual 2022: The Copper's Torch: A Casebook of Dazzling Flashes of Brilliance from Issues 282-291, is published by Dennis Publishing. (Order this book here.)
Picture by: Viz / Facebook.
To enquire about republishing spiked's content, a right to reply or to request a correction, please contact the managing editor, Viv Regan.