Masks in schools are damaging and pointless
Children should not bear the brunt of our response to the pandemic.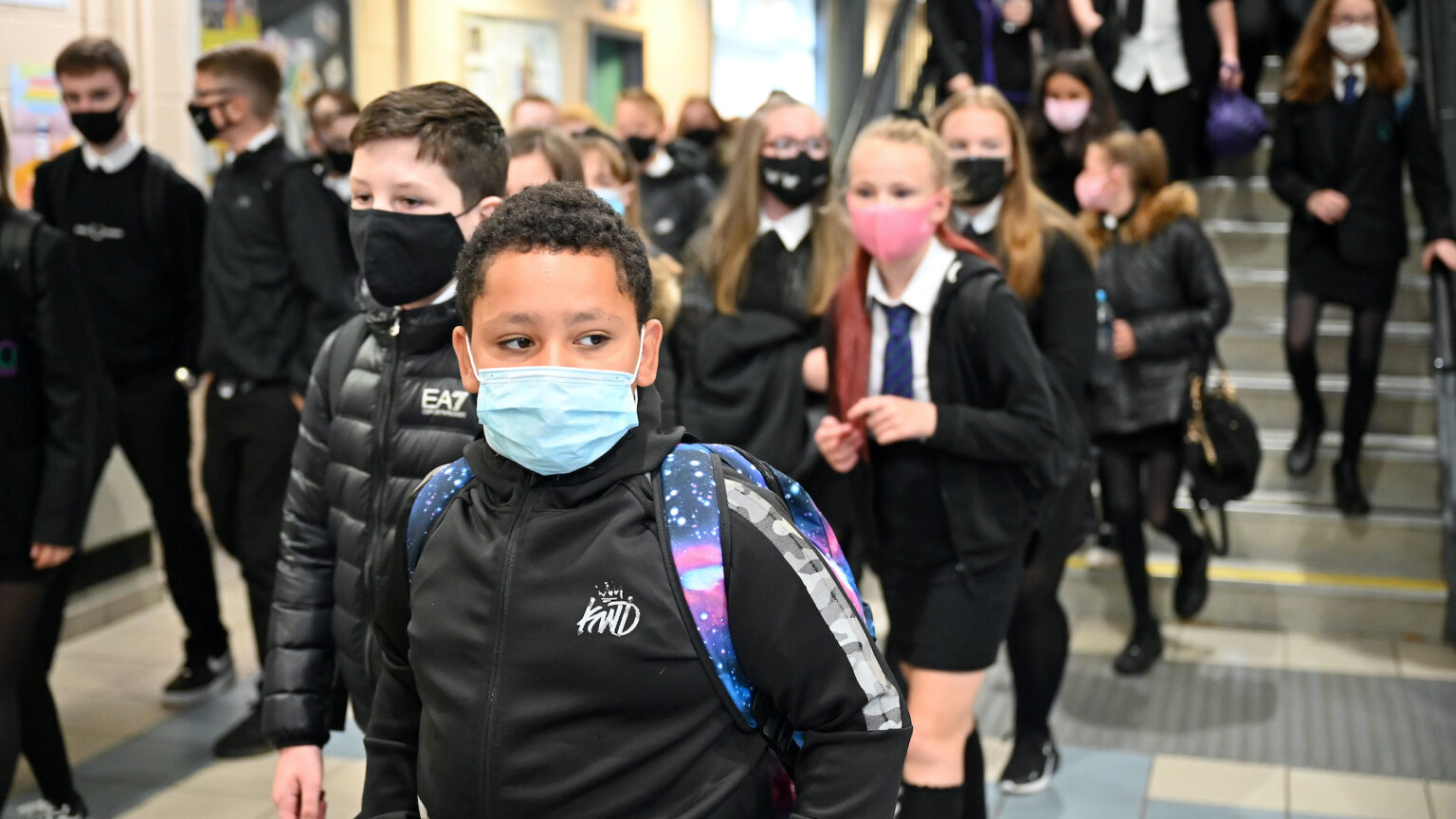 On New Year's Eve, health secretary Sajid Javid declared that the UK would need to learn to live with Covid and that 'curbs on our freedom must be an absolute last resort'. Javid's stance was welcome, reassuring and, for many of us, long overdue.
Yet it swiftly became clear that this newly minted pragmatic approach applies only to adults and not the nation's children. Just a day after Javid's intervention, education secretary Nadhim Zahawi announced that masks would once again be 'recommended' for all children in English secondary-school classrooms. In government-speak, 'recommended' means de facto 'mandated', with 11- to 18-year-olds now compelled to wear masks for up to eight hours a day, with only a short break for lunch. Such measures will result in subdued classrooms, over-zealous mask-enforcement and a climate of anxiety in schools.
It's a remarkable way for our education secretary to ring in 2022 for the nation's youngsters. Having had to put up with so much educational disruption for nearly two years, their lives will now be more curtailed than most adults. Happy New Year, kids!
Sadly, this decision didn't come as much of a surprise. There have been rumblings about the prospect of further school closures since before Christmas. And true to form, the National Education Union and its social-media acolytes have been loudly clamouring for masks in classrooms for weeks. It appears that Zahawi has caved into the pressure. That the new mask guidance applies only to children in classrooms, not to school staff, tells us everything we need to know about the adults-first approach at play here. Why is it that in every public-health trade-off, kids always seem to be the losers?
This decision makes little sense. Adults have all now been offered substantial protection from Covid, with three doses of a vaccine if they want to avoid severe disease, hospitalisation and death. And 95 per cent of over 18s in England have SARS-CoV-2 antibodies.
Moreover, there is limited evidence of the efficacy of mask-wearing, especially in educational settings. This was even acknowledged by children's minister Will Quince, during an Education Select Committee meeting in December. After all, anyone who has ever met a teenager will realise that whatever minimal benefits masks may confer on wearers in a controlled laboratory setting, involving medical-grade equipment, these will not be replicated in a real-world classroom.
While benefits to mask-wearing in schools are unclear, the downsides are not. Above all, masks impede communication, which is the bedrock of education. As recently as November 2021, deputy chief medical officer Jonathan Van-Tam noted that 'I can see that they could be quite inhibitory to the… natural expressions of learning in children… I think it's difficult for children in schools with face masks.'
The response to Covid has already wrought huge damage in UK schools. Indeed, during the pandemic, our schools have remained closed for longer than anywhere else in Europe, other than Italy. Charity I CAN, estimates that 1.5million children are now at risk of being left behind in terms of their speaking and language skills. And one in six children is reported to now have a mental-health disorder. One would think that, with a full-blown youth crisis unfolding, the government would be doing all it can to ensure that the school environment remains stable and free of impediments to communication and learning. It's unconscionable that two years into the pandemic, and with a host of other tools at their disposal, our leaders are still imposing burdens on children and disrupting their lives.
The imposition of masks in secondary schools has little to do with data, and still less to do with what's best for children. As has been the case throughout the pandemic, children are the soft targets for a government responding to the clamour to 'do something', no matter how futile that 'something' may be. Our young people are collateral damage in a fire fight between militant teaching unions, the Department for Education and a public-health system almost entirely organised around the threat of Covid. I fear that unless our education secretary begins to show some strength in the face of union agitation, our children will be wearing masks every winter.
Far from following 'The Science', we are following 'The Politics', which has consistently sidelined the needs of children in favour of adult interests. It is a topsy-turvy and dysfunctional society that lets hypocritical adults demand and construct rules they do not need to follow themselves, while demanding open-ended sacrifices from children. The new mask rules have got to go.
Liz Cole is co-founder of the campaign group UsForThem.
To enquire about republishing spiked's content, a right to reply or to request a correction, please contact the managing editor, Viv Regan.