The year Stonewall lost its halo
This once-mighty gay-rights charity has sacrificed its reputation on the altar of trans.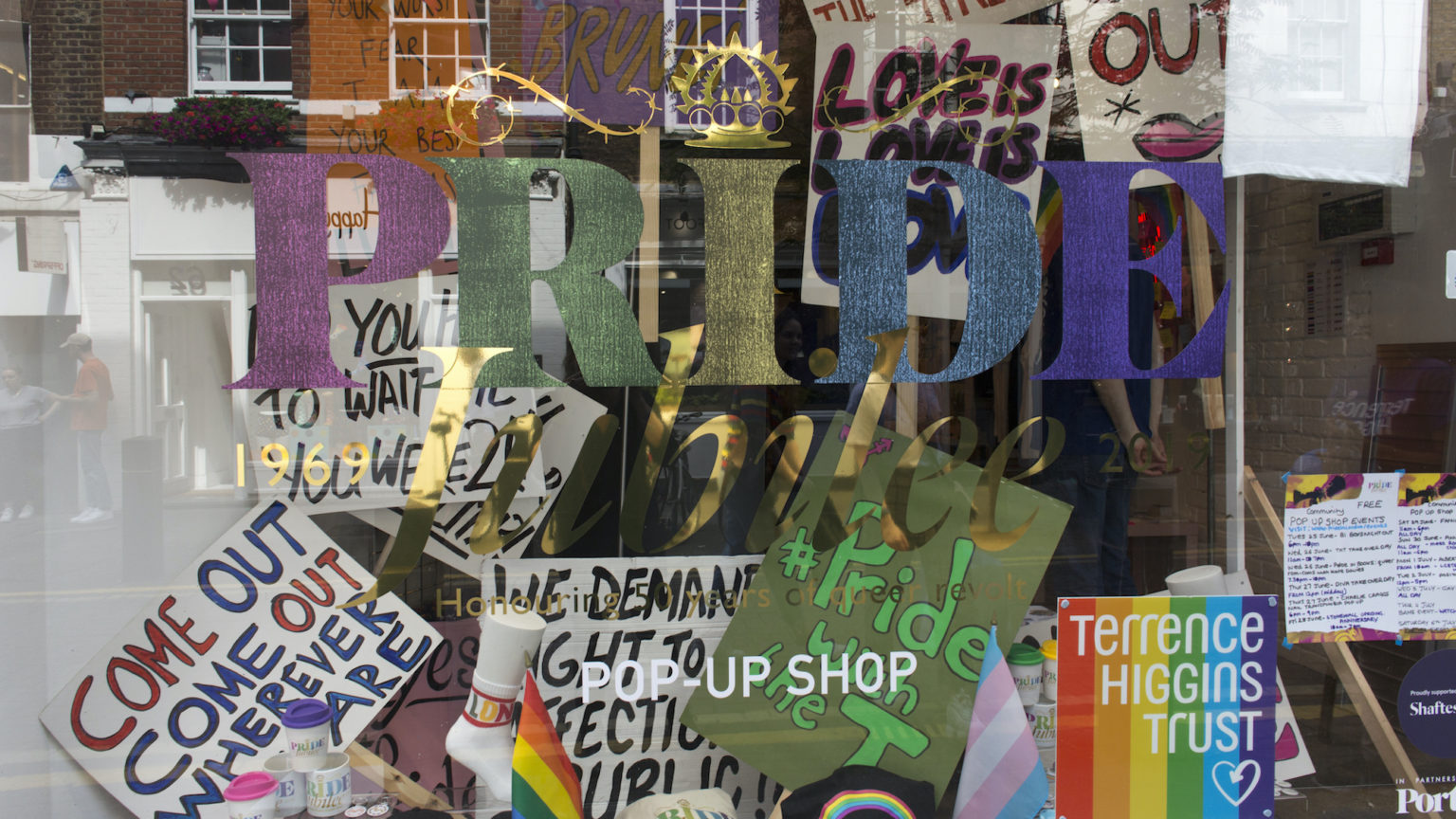 Are you a regular spiked reader? Then please consider making a Christmas donation. You can do so here. Thank you!
'Tis the season of goodwill, a time to think of the less fortunate. So, dear reader, I ask you to turn your attention to poor Nancy Kelley, the chief executive currently balanced at the top of Stonewall's rickety Christmas tree. 2021 has been something of an annus horribilis for Kelley as the big beasts in journalism and politics have begun to follow the trail against Stonewall laid by gender-critical campaigners.
As head of Stonewall, Kelley has been expected to perform a miracle more astonishing than the virgin birth. She has been tasked with convincing the British public that straight men can turn into lesbians by saying the magic words 'I identify as'. This is because Stonewall's insistence that 'transwomen are women' has opened the door for everyone from bepenised pantomime dames to Eddie Izzard to claim to be lesbians.
Having exited the stage with perfect timing back in 2019, Kelley's predecessor, Baroness Hunt, is now secure in a new role running a management-consultancy firm. It was under Hunt's leadership that Stonewall added the 'T' to the LGB acronym, pledging to 'integrate trans-specific work' into its campaigns. During Hunt's tenure, the charity enjoyed a rise in income from £5.4million to £8.7million and staff numbers more than doubled to 160.
But what goes up must come down. This year Stonewall's reputation has crashed to the ground, and the noise has reverberated across Whitehall and throughout civil society.
The first major blow to Stonewall came in May, with the publication of the Reindorf report, an independent investigation into the No Platforming of feminist academics by the University of Essex. Along with over 100 universities, Essex had been paying money to Stonewall for guidance on its equality policies. But the report found that Essex had adopted policies which reflected 'the law as Stonewall would prefer it to be, rather than the law as it is'. Significantly, the report advised that should the university continue with its membership of the Stonewall scheme, it had better 'devise a strategy for countering the drawbacks and potential illegalities'.
This brought national attention to the Stonewall Diversity Champions programme, whereby organisations pay upwards of £2,000 to allow the charity to vet their internal equality policies. Stonewall had proudly boasted of having 850 members of the scheme. But it removed the membership list from public view on its website earlier this year (though an email inquiry revealed that there were 695 members as of January 2021). Later in 2021, after several high-profile organisations quit the scheme, a Stonewall spokesperson said: 'Contrary to some reporting, our leading Diversity Champions programme continues to grow, and we now work with more than 900 organisations.'
The first public body to quit Stonewall was the Equality and Human Rights Commission. Other quangos and government departments rushed to follow suit, including the Cabinet Office, the Department of Health, Ofcom and the Crown Prosecution Service. Equalities minister Liz Truss advised that all government bodies should officially withdraw from Stonewall. This put her at odds with Boris Johnson's special adviser, Henry Newman, who is known to be best buddies with Carrie Johnson and a keen advocate for Stonewall.
Criticism has not just come from campaigners and politicians. This year a number of the charity's founders spoke out against its focus on transgender rights and its intolerance of dissent. Co-founder Simon Fanshawe accused Stonewall of being 'entirely devoted to political conformity'. Columnist Matthew Parris, another co-founder, added his voice, arguing that the 'organisation is tangled up in the trans issue, cornered into an extremist stance on a debate' that it 'should never have got itself into'. Though others, including co-founder Lord Cashman, have vigorously defended Stonewall, branding its detractors as 'shrill sirens opposed to equality'.
As pressure has built up, increasingly hyperbolic statements from Stonewall spokespeople have complained that the charity is the victim of unjustified and coordinated attacks. Stonewall still refuses to acknowledge that there is any debate to be had over its stance on 'trans rights'.
When Kelley was finally asked questions by journalists on trans issues, the answers to which ought to have been within the wit of a six-figure salaried chief executive, she was pitifully underprepared. Her most memorable media performance was an interview with BBC LGBT correspondent Jessica Parker. Kelley compared 'gender-critical beliefs' (ie, that there are two sexes and that sex cannot be changed) to hatred and prejudice against Jewish people: 'With all beliefs, including controversial beliefs, there is a right to express those beliefs publicly, and where they're harmful or damaging – whether it's anti-Semitic beliefs, gender-critical beliefs, beliefs about disability – we have legal systems that are put in place for people who are harmed by that.'
She repeatedly resorted to this tactic of comparing gender-critical beliefs with bigoted extremism. A leaked email Kelley sent to a BBC boss revealed that she had argued that being exclusively attracted to someone of the same sex was akin to 'sexual racism'. The email was part of an apparent attempt to prevent the publication of a BBC article that focused on the experiences of lesbians who had been sexually harassed and, in one case, raped by men who identified as both 'transwomen' and lesbians.
Perhaps the most damaging episode for Stonewall was a 10-part BBC podcast series, Nolan Investigates: Stonewall, which explored the influence of the charity on policies within a range of British institutions. Released in October, the series sparked renewed interest in the relationship between Stonewall and the BBC. A month later, the BBC announced it was severing ties with Stonewall, citing the risk of 'perceived bias'.
Next year a court case could smash a wrecking ball through the remains of Stonewall's reputation. Barrister Allison Bailey is suing the charity. Her case accuses Stonewall of colluding with her employer, Garden Court Chambers, and encouraging it to investigate her for expressing gender-critical beliefs. One suspects anyone left at Stonewall with sense will be spending the festive season job hunting.
Today, Stonewall has all the appeal of a gin-soaked, handsy uncle puckering up under the mistletoe. Those watching the charity's pantomime antics throughout the year are now ready for the curtain to come down.
Jo Bartosch is a journalist campaigning for the rights of women and girls.
To enquire about republishing spiked's content, a right to reply or to request a correction, please contact the managing editor, Viv Regan.