Keep campus open
Why universities must never return to online learning.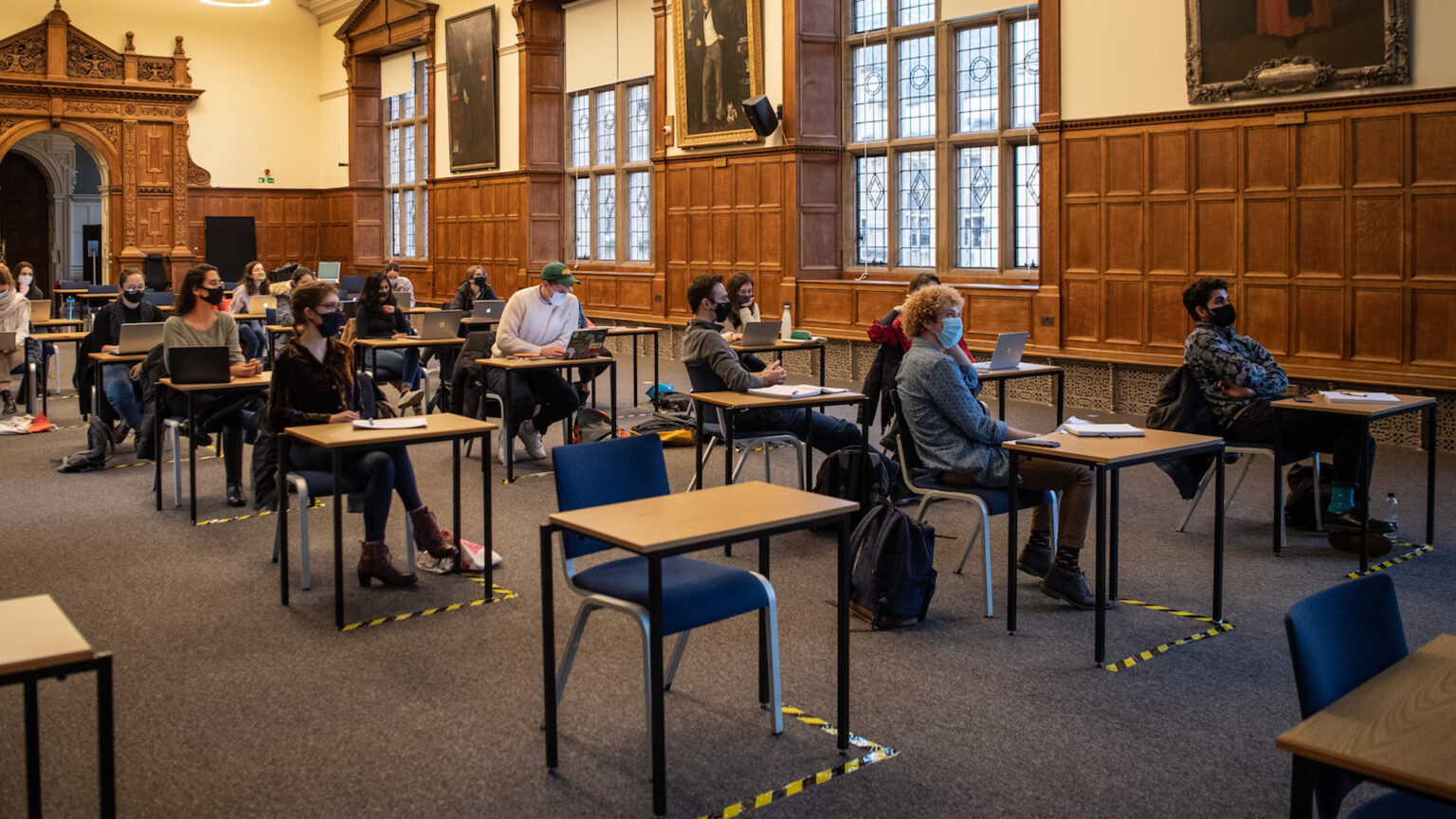 This week, Jo Grady, the general secretary of the Universities and Colleges Union (UCU), urged the government 'to move universities online right now'. She demanded, 'suspend in-person [teaching] now', and puzzled, 'It's baffling this hasn't happened'.
As a member of the UCU – indeed, as someone who voted for Dr Grady to be the general secretary – I feel very badly let down by this intervention. Since March 2020, university students have had a raw deal. Like all of us, their lives have been upended by lockdowns. Their ability to grow and learn has been inhibited by restrictions on travel, socialising and much else.
Last year, universities in Britain made the decision to teach online. With the fleeting exception of a few in-person educational activities on campus, the extent of my interaction with my students was seeing them once a week through a computer screen.
For a variety of understandable reasons, students almost uniformly did not switch on their cameras. The absence of visual cues made teaching harder. Students may not realise how expressive they can be when sat in a lecture theatre or seminar room. A furrowed brow or blank look can be an indication that I need to spend a bit more time clarifying a concept. Smiles and nods are signs of comprehension and permission to move on.
I found the experience of talking to this wall of blank screens personally very difficult and alienating. Being a university academic is one of the best jobs in the world. Teaching curious and engaged students is one of the greatest parts of the job. Seeing students grow and develop intellectually is extremely rewarding. One of my favourite times in the teaching day is just after a lecture, when I overhear students debating what they learned, enjoyed or disagreed with. Those informal conversations are all part of the learning experience, too, and are impossible to replicate properly online.
This state of affairs was punishing to students in a variety of ways. The gregarious and socially extroverted were deprived of the chance to make friends and thrive. Some suffered terribly from a sense of isolation and stultification.
For introverted and shy students, the impersonal online seminar format became yet another barrier to engagement. They drifted into the background. As an educator, there are little tricks one can deploy in a seminar format to draw out students who often have excellent ideas but are reluctant to speak. I felt I could not reach these students in the same way I normally do.
Students with poor internet connections or living in crowded family situations found it challenging to participate fully in their education. This was particularly concerning at Queen Mary University of London, where I work, which has a higher proportion of students from working-class backgrounds than any other Russell Group university. Many live at home, sometimes competing for space with siblings. The campus is a haven for these students in many different ways.
Fortunately, my colleagues are aware of these problems. QMUL is recognised as the best university in the country for social mobility. It is because of this ethos that there has been substantial commitment to keep teaching in-person.
This was partly why I found Dr Grady's intervention so jarring. It seemed completely detached from the experience of so many UCU members. I am surrounded by colleagues who are desperate not to go back to the dark days when campuses were ghost towns.
We know online learning was an inferior experience for staff and students. We made the decision to teach fully in-person this term, and it has been an utter pleasure. It was definitely the right thing to do. The one exception to teaching in person was when I gave students the option to meet me for drop-in office hours online or in-person; nearly all have opted for the latter. This is very telling.
I am not a Covid denier. The pandemic is serious and has led to a terrible loss of life. I have followed the rules throughout. I have dutifully taken my three jabs this year. But the closure of university campuses has extraordinarily damaging ramifications for staff and students. These costs – to quality of education and mental health – must not be blithely dismissed. We cannot shut down universities every time a new variant emerges. Now that we have mass vaccination, we must accept that the risks of Covid infection might well be outweighed by other more important considerations.
Richard Johnson is a lecturer in US politics and policy at Queen Mary, University of London.
To enquire about republishing spiked's content, a right to reply or to request a correction, please contact the managing editor, Viv Regan.