Free Aung San Suu Kyi
The incarceration of Myanmar's democratically elected leader is an outrage.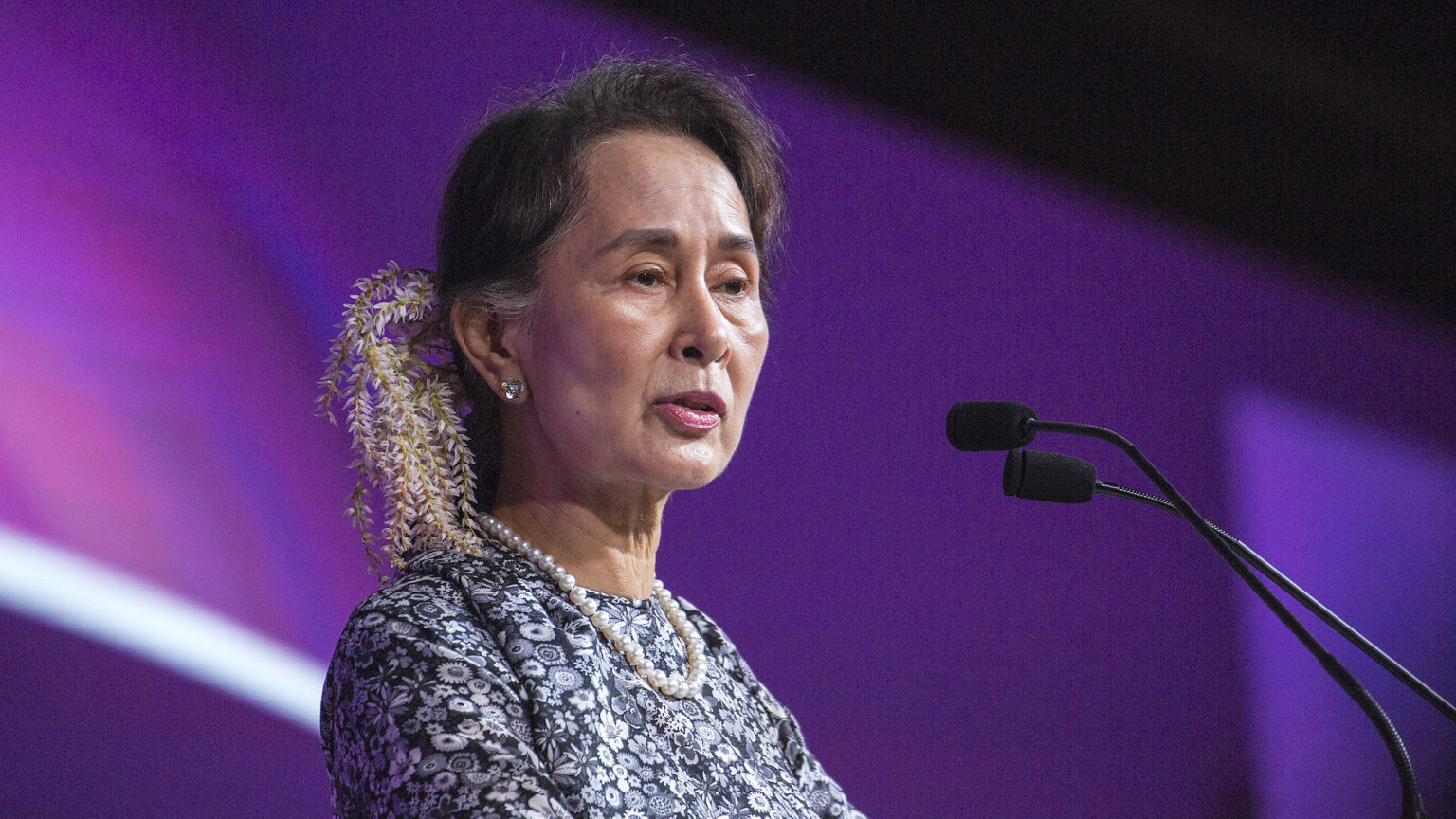 Former Myanmar leader Aung San Suu Kyi has been sentenced to four years in prison. The charges, trumped up as they are, are largely irrelevant. Once her military prosecutors are done with her and her co-defendants, with many further confected charges coming their way, Suu Kyi is likely to spend the rest of her life in jail.
There is a dismal predictability to it all. Her fate was effectively sealed from the moment that the Tatmadaw, Myanmar's armed forces, staged a coup against Suu Kyi's National League for Democracy government on 1 February this year. After that, the military were always going to try to ensure she and Myanmar's other one-time political leaders never saw the light of day again.
What is remarkable, however, is the Western response. A few years ago, Suu Kyi's treatment would have dominated international headlines. It would have been presented as an impossible outrage, an assault on all that we in the West ought to value.
After all, at the start of the 2010s, Suu Kyi wasn't seen as a normal politician – she was an icon. Having only then just emerged from two decades of intermittent house arrest, she was lionised and sanctified in the West like no other since Nelson Mandela. To talk of Aung San Suu Kyi was to talk of a hero of democracy, a stoic victim of Myanmar's military despots and an elegant, shimmering promise of human rights in human form.
Her cultural significance far outstripped her political achievements. She was the source of several plays. There were even two Hollywood treatments. First she appeared tangentially in John Boorman's 1995 film, Beyond Rangoon. And second, she was central to Luc Besson's 2011 hagiography, The Lady. She even had her own U2 song, 'Walk on'. So otherworldly had Aung San Suu Kyi become that Labour peer Baroness Kinnock declared in 2010 that Suu Kyi had 'more serenity and humanity than anyone I have ever met'.
If that Suu Kyi had been arrested in the dead of night, incarcerated in an unknown location for months, and then slowly sentenced to a life in prison, the international outrage would have been deafening. There would have been pages of handwringing op-eds, celeb-fronted Twitter campaigns and whole news shows all dedicated to this gross injustice.
But that wilfully naive image of Suu Kyi has long since been dispelled. Her time, first as president and then as state counsellor of Myanmar, ruling a nation still dominated by a military junta, has left her irretrievably sullied in Western eyes. She stood by as the military protected its interests and enforced its ethnic vision of Myanmar at the expense of other minorities. And, in particular, she appeared to be complicit in the military's horrific persecution of the Rohingya Muslims.
And so now Suu Kyi's defenestration barely registers in the way that it might once have done. Sure, the EU and the UN have criticised her imprisonment as 'politically motivated', (which must really have stung the Tatmadaw). And yes, the Western news media have reported Suu Kyi's sentence with a mournful air. But there is none of the heartfelt stridency, moral opprobrium or overwhelming political heat that there might once have been. Indeed, the BBC even ends its online report with a segment entitled, 'An icon's fall from grace', as if she was a football manager deserving of the sack.
Except she is not and never was an icon. She is, however, the democratically elected leader of Myanmar. Imperfect, yes. And complicit in the actions of Myanmar's military, certainly. (This was inevitable given the compromised nature of the Tatmadaw-authored constitution of 2008, which allowed the partial democratisation of Burmese political life in return for the military retaining a large degree of its power.)
But, nevertheless, in three elections – in 2012, 2015 and 2020 – each slightly freer and fairer than the previous, Suu Kyi's National League for Democracy won the support of Myanmar's electorate.
That's why we have seen ongoing protests against the military from February onwards. Because the overthrow of Suu Kyi's democratically elected government was an assault on the political freedoms of the people of Myanmar. And so they have responded with courage and bravery – and they've often done so in the face of severe military intimidation. Indeed, since the coup, the junta is reported to have arrested more than 10,000 people and killed over 1,300.
And yet the protests and the struggle goes on. Because many in Myanmar recognise what too few in the West do – that an imperfect democracy delivering a far-from-perfect leader is preferable to no democracy at all.
So there is no need for caveats. No need for throat-clearing talk of the NLD's potential human-rights violations. What must be done is simple. Free Aung San Suu Kyi.
Tim Black is a spiked columnist.
To enquire about republishing spiked's content, a right to reply or to request a correction, please contact the managing editor, Viv Regan.