Woke media is bad news for democracy
Batya Ungar-Sargon provides a devastating takedown of the US media.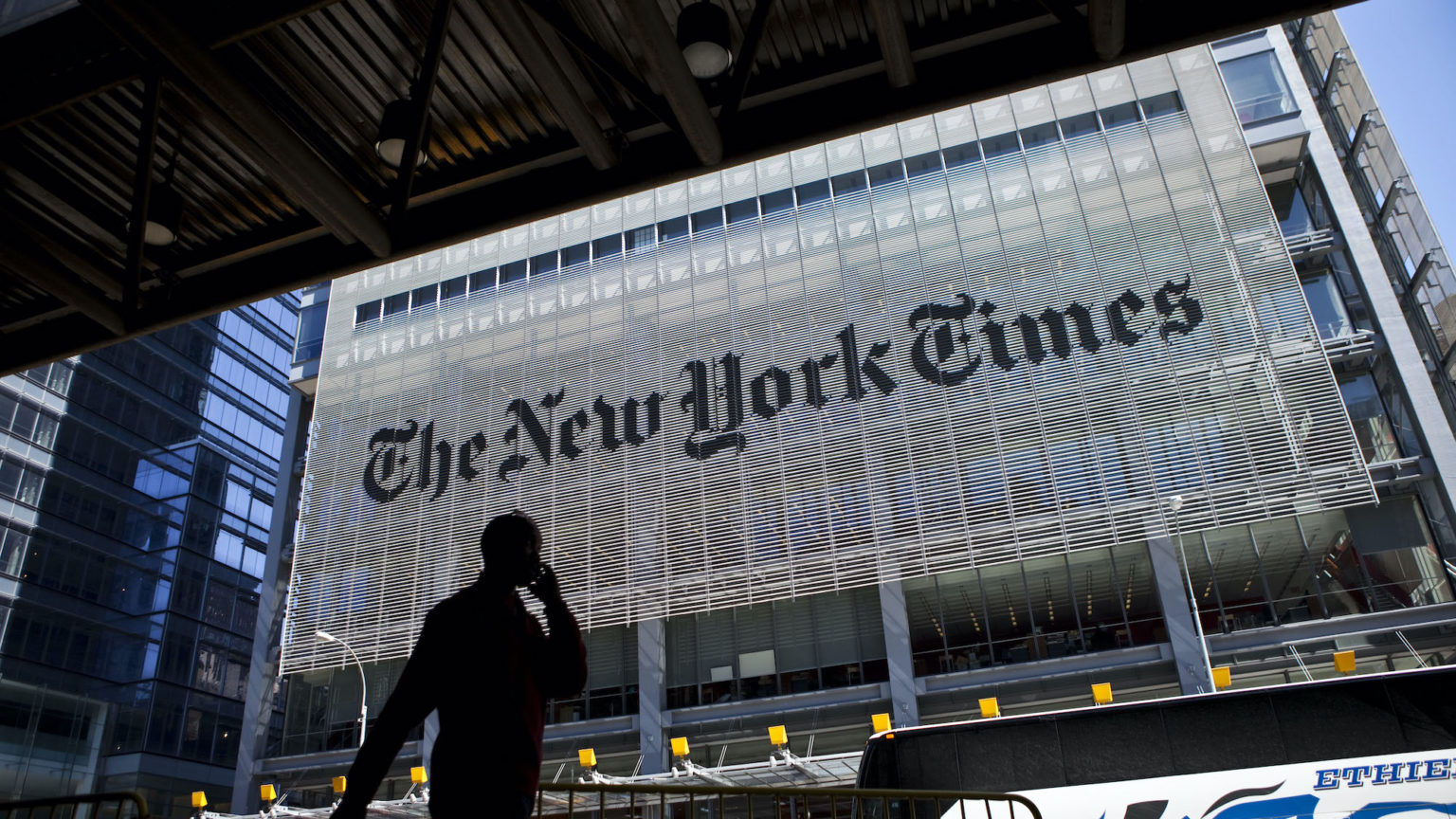 When I was in my mid-twenties and working at the New York Times as a clerk, I met a grizzled old New York Post reporter called Steve Dunleavy in a bar off Times Square. He had a fearsome reputation and was loathed by the city's liberals, but when he heard what I did for a living he was sympathetic, even kind. I don't remember the conversation word for word, but it was along the lines of: 'Sorry kid, you've arrived too late to the newspaper party.' The days of working your way up from the bottom were gone, he suggested, and they weren't coming back. Journalism was a game for the wealthy and the well-connected.
Batya Ungar-Sargon, in her new book, Bad News: How Woke Media Is Undermining Democracy, confirms what Dunleavy said all those years ago. And she builds a devastating case as to why this is terrible, not just for idealistic young reporters, but also for America as a whole.
I worked in the US media from the late 1990s until the mid-2000s. While I had many great experiences, and learned a lot from some of the best journalists in the business, I also noticed certain flawed tendencies among some of my peers. In particular, they seemed to invent fantasy scenarios in which they cast themselves as heroes in a sophomoric battle of justice versus injustice. At the time, I thought it was mostly just a problem among a small number of young, immature reporters. But in the decades since, I watched from the sidelines as this tendency morphed into what seemed like an industry-wide personality disorder.
So it certainly looked as if American journalism had been captured by a cadre of emotive, myopic and sanctimonious shills. But Ungar-Sargon has the receipts to prove it.
Bad News is a tour de force of research, historical contextualisation and sheer gumption. Ungar-Sargon punctures the noxious bubble that so many elite journalists have been operating in, and provides a devastating takedown of American media. If you still believe in the ideal of the noble, crusading journalist, this book will disabuse you.
And, as the subtitle states, the problem here is wokeness. This, Ungar-Sargon argues, is a tool by which the rich and powerful can maintain their elite economic status while simultaneously forgiving themselves for perpetuating the inequalities from which they benefit.
Most damning is Ungar-Sargon's analysis of the economic motives behind this swing toward wokeness. This is what elevates Bad News from spicy, anti-PC screed to required reading for anyone wondering why our public discourse has become so racialised and so toxic. It's because drama sells.
She pinpoints the New York Times as the biggest drama hustler on the block. It is well-known that the internet proved disastrous for the advertising-based business model of pre-digital media. To save itself, the Times moved to a subscription-based business model, which just so happened to coincide with a huge uptick in stories about race and social justice. Ungar-Sargon notes that between 2013 and 2019, the frequency of the words 'white' and 'racial privilege' grew by an astonishing 1,200 per cent. This, combined with the arrival of Trump on to the political scene, meant the Times' move to a subscription model worked like a dream. 'In 2017 the paper brought in $340million in online subscriptions', writes Ungar-Sargon, '46 per cent more than the previous year'.
In other words, the Times and all of its cohorts in the corporate press are no longer in the business of reporting the news. They are in the business of selling the illusion of moral exoneration to a pampered elite, like the Catholic Church selling indulgences in the Middle Ages. But I read the New York Times – I can't possibly be racist!
'Wokeness perpetuates the economic interests of affluent white liberals', writes Ungar-Sargon. It allows them to preserve their own and their children's status while still allowing them to feel 'like the heroes of a story about social justice… vastly superior to their conservative and even slightly less radical friends'.
Bad News is full of illuminating nuggets. In 2014 just seven per cent of journalists identified as Republican. In 2015 96 per cent of journalists who made donations to a political campaign contributed to Hillary Clinton's run for president. And despite the Times making race a central feature of the paper in recent years, it has failed dismally to gain readership among black Democrats. 'For all its woke posturing', notes Ungar-Sargon, 'the Times was only able to secure the readership of 12 per cent of black Democrats in 2019, at the height of Trump's reign'.
When I worked at the Times, it was a place where the adults seemed very much in charge. Recent events – like the debacle over Republican senator Tom Cotton's op-ed, which led to three journalists losing their jobs, and the departure of veteran science reporter Donald McNeil, who offended a group of teenage girls – have shown that is no longer the case.
'This younger generation', writes Ungar-Sargon, 'armed with their judgments and accusations of racism and sexism, became the ones wielding immense influence over their older colleagues. Insiders at the Times describe an atmosphere in which an older generation of editors and staff has completely capitulated to a younger woke generation.'
The capitulation happened, argues Ungar-Sargon, in part because it generated revenue and buzz: 'Young journalists, dazzled by the potential to be famous and anxious to be the good guys in a drama starring themselves, discovered they could push the ideology they'd picked up at their Ivy League universities and peddle it to the acclaim of Twitter activists with millions of followers… They simply could not have found a better way to drive traffic.'
Class is the major focus of Bad News, which is forthrightly populist in its sympathies. As Ungar-Sargon correctly points out, journalists who now work in mainstream media are truly high up in the social hierarchy. 'The recent obsession with identity has allowed journalists to pretend – indeed to believe – they are still speaking truth to power, still fighting on behalf of the little guy, even after they have themselves ascended to the ranks of the powerful.'
The newspaper business has a working-class history going back a couple of centuries. That was when a few entrepreneurial men from humble backgrounds built fortunes selling papers that specifically catered to the maids, factory workers and dock workers of 19th-century New York City.
Those newspapers no longer exist. The New York Times – which was specifically launched to cater to the powerful – now reigns supreme in US media, as it has done so for over a century, getting many important stories wrong along the way. In fact, Bad News shows that the paper's moral track record is so off it should cancel itself. It has defended wrongs, like returning escaped slaves to their masters, and it even downplayed the threat of Hitler. (For an even more devastating critique of specific Times' journalistic misdeeds, check out The Gray Lady Winked by Ashley Rindsberg. Rindsberg digs up the Times' original reporting of the outbreak of the Second World War, which it claims Poland started by invading Germany!)
Any pleasure I might get from these justified criticisms is fleeting. I loved working at the Times and, up until recently, had the utmost respect for the press as an institution. But even 20 years ago there was a wistfulness among my colleagues, an understanding that something had been lost with the gentrification of newsrooms and the disappearance of the hard-drinking Dunleavy types, who ceded ground to kids from the Ivy Leagues. Some would make a light-hearted but real distinction between the term 'reporter' and the term 'journalist'. When I left the paper, my soon-to-be former workmates put together as a gift for me a mock front page complete with a feature about my time at our hectic workplace, 'where reporters are known to drink two, even three cups of herbal tea a shift'.
Ungar-Sargon helps us to understand how we got here, breaking down the social history and the market forces driving media old and new. And she shows how, as a result, the media have dramatically raised the temperature in society – sowing discord among friends and families and exacerbating tensions between neighbours and colleagues. Moreover, almost a year after Trump left office, the media show no sign of slackening their campaign of rancour.
The new media landscape rewards clickbait and fame-seekers, not diligence and truth-seekers. Maybe the US will turn the tide of bitterness and pull back from what looks like a fast-approaching point of no return. If not, when we look back on this time, it will be very clear where the blame lies.
Jenny Holland is a former newspaper reporter and speechwriter. Visit her Substack here.
Bad News: How Woke Media is Undermining Democracy, by Batya Ungar-Sargon, is published by Encounter Books. (Order this book here.)
To enquire about republishing spiked's content, a right to reply or to request a correction, please contact the managing editor, Viv Regan.