This is not how you should tackle anti-vax sentiment
Austria's 'lockdown of the unvaccinated' is authoritarian and counterproductive.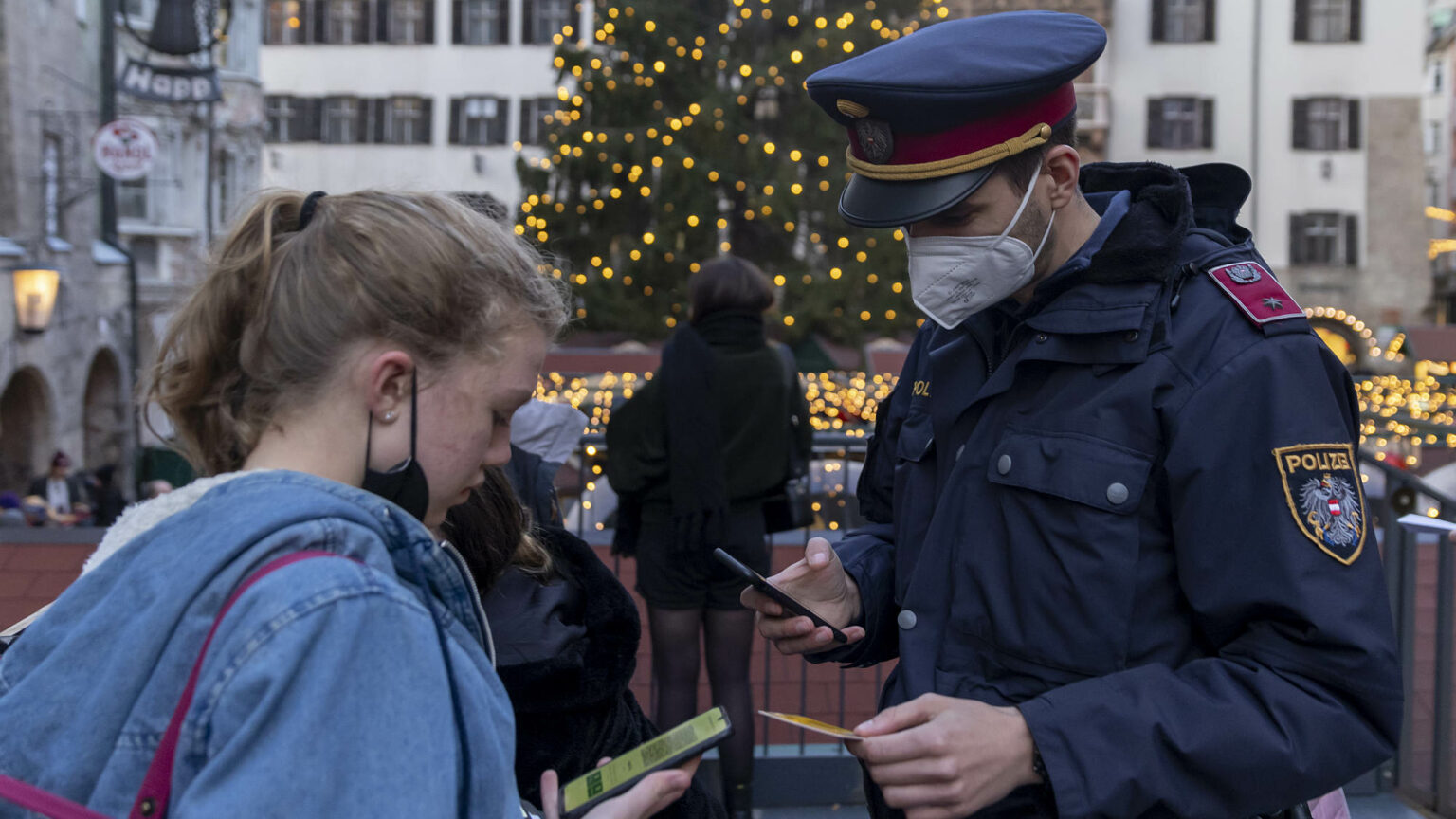 The Austrian government has come up with a novel solution to the fairly low Covid vaccine uptake among its citizens. No, not vaccine passports. It's worse than that. As of today, Austria has locked down the unvaccinated.
For the next 10 days at least, unjabbed Austrians will only be allowed outside for work or to shop for essentials. As Austrian chancellor Alexander Schallenberg put it at a news conference on Sunday: 'We have told one third of the population – you will not leave your apartment anymore apart from for certain reasons.'
It is true that Austria does face a significant Covid challenge at the moment. It currently has one of the highest Covid case rates in Europe, with 851 infected per 100,000 people, putting it behind only Slovenia (1,058 per 100,000), Gibraltar (1,056 per 100,000) and Croatia (918 per 100,000). To put Austria's figures into perspective, on the 'rainy plague island' of Britain, as the Zero Covidians insist on calling it, we currently have a case rate of 391 per 100,000. Last week the province of Upper Austria (population 1.5million) recorded more new Covid cases than Spain and Portugal combined (total population 60million).
More troubling still, Austria, like its largely German-speaking neighbours, Switzerland and Germany, has relatively high levels of vaccine hesitancy. As the Financial Times reported last week, this trio has by far the highest proportion of people in Western Europe who have not received a single vaccine dose. In Austria, 25 per cent of all people aged over 12 remain unjabbed. In Switzerland, it is 24 per cent and in Germany, 22 per cent. There is then a significant drop-off until the next most vaccine-resistant nation, with Sweden at 16.1 per cent unvaccinated.
So there is a problem. But the Austrian government's solution is wrong and authoritarian. It is effectively going to force people into vaccination centres on pain of losing their most basic freedoms. To catch these unvaccinated trespassers, the police are going to be stopping people at random and demanding to see proof of vaccination. Those unable to produce any will be fined €500.
The problems with Austria's approach are manifold. For a start, it is wilfully divisive. Overnight the unvaccinated have been turned into pariahs, people to be purged from public space.
But more importantly, perhaps, it doesn't really tackle the resistance towards vaccination that exists among a significant section of Austrian society. Because there is no doubt that many Austrians do genuinely object to taking the vaccine. For instance, the far-right Freedom Party, which is the third largest in the Austrian parliament, regularly casts doubt on vaccination. Indeed, party chief Herbert Kickl even talked up the 'terrifying' (and non-existent) links between Covid vaccines and tumours last month. And at an election for one of Austria's largest regional parliaments in September, the brand new People, Freedom, Rights (MFG) party – established precisely on an anti-vaccination platform – picked up over six per cent of the vote and three seats.
Both the Freedom Party and MFG are the party-political expression of a worrying anti-vaccination sentiment. But that sentiment will not be addressed by coercive measures. If anything, the lockdown of the unvaccinated will intensify that sentiment. It will convince those already distrustful of the government that they have good reason to distrust it. It will reinforce the paranoia of those already inclined towards conspiracy theories. And it will confirm the suspicions of all those who think something is amiss with the vaccine.
The Austrian government's use of force looks, effectively, like an admission of defeat. The government is effectively admitting that those refusing the jab cannot be persuaded, that their worries about the risks cannot be mollified. In short, it is unwittingly saying that the case for vaccination is weak. Which is music to the paranoid ears of the anti-vaxxers.
Of course, the case for vaccination is actually incredibly strong, even if those in authority are not willing or able to make it. If governments are to overcome vaccine hesitancy, they need to make a better case for vaccination. They need to argue for its efficacy, address concerns and assuage anxieties. If a government has to resort to coercion and force, as Austria's is now doing, then it has not just given up on the argument for vaccination – it has given up on reason.
Tim Black is a spiked columnist.
Picture by: Getty
To enquire about republishing spiked's content, a right to reply or to request a correction, please contact the managing editor, Viv Regan.