Why I showed up at Netflix to support Dave Chappelle
Comedian Vito Gesualdi on his viral counter-protest outside Netflix's offices.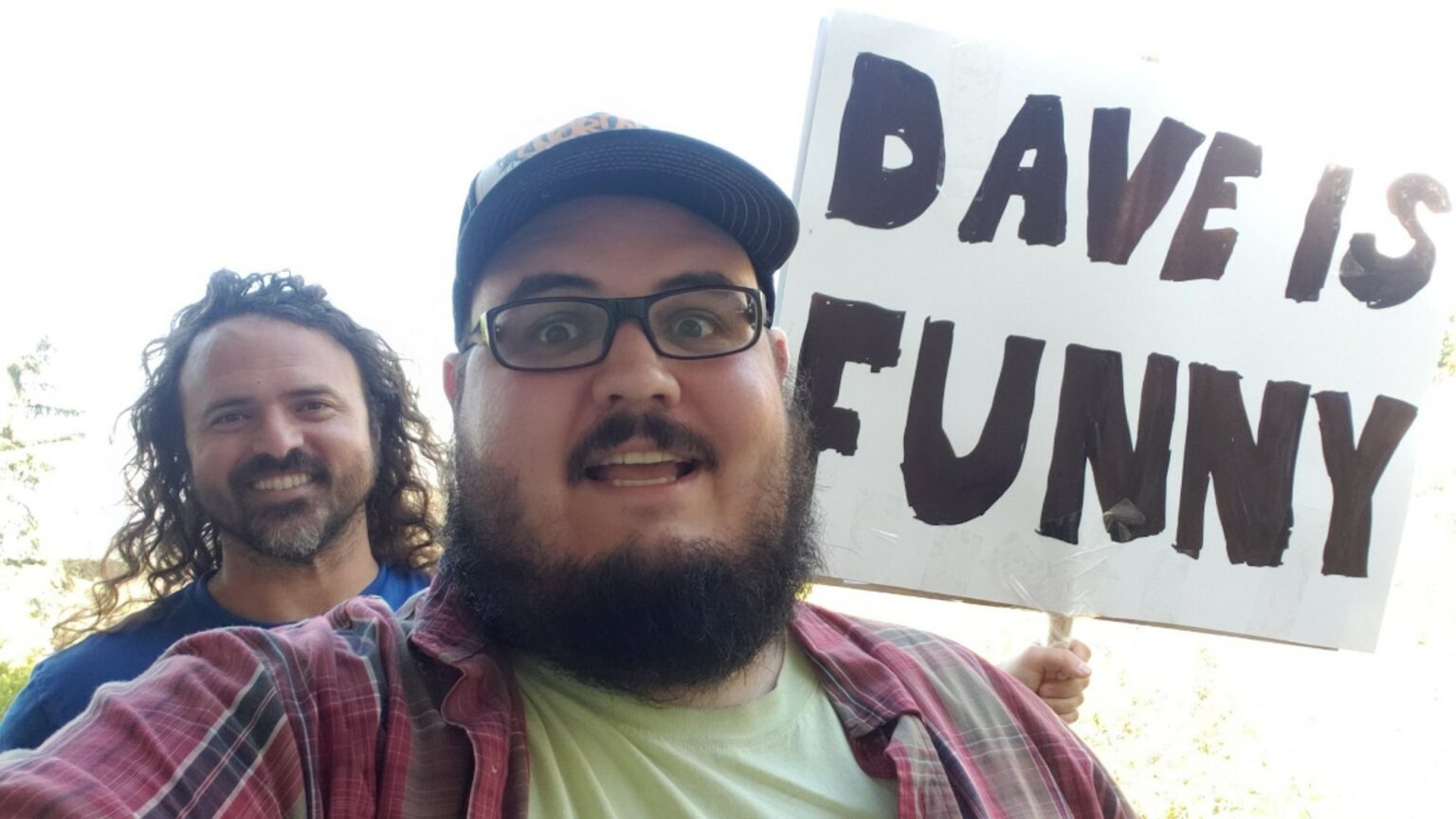 The Dave Chappelle controversy shows no signs of calming down. It has been weeks since Chappelle's latest Netflix special, The Closer, was released and yet it is still dominating the news and infuriating trans activists for daring to feature jokes about gender identity. Last week things escalated when Netflix staff staged a walkout in California. When two local comedians, Vito Gesualdi and Dick Masterson, showed up to counter-protest, holding signs saying 'We like jokes' and 'Dave is funny', things turned nasty. They were shouted at and assaulted in a clash that has since gone viral. spiked caught up with Gesualdi to find out what happened.
spiked: Why did you go to the protest?
Vito Gesualdi: I heard that Netflix employees were planning a walkout. They said the Chappelle special was bigoted against transgender people. I saw the special and I disagreed. I am also a comedian. Comedy is my livelihood. So I felt it was necessary to show up and represent the other side – the side that says comedy is an important part of life and the American experience, and that just because some people are offended that is not a good reason to clamp down on free speech.
spiked: What happened when you got there?
Gesualdi: When we first showed up not all the protesters had come out yet. But we were greeted immediately by some transgender activists who were clearly unhappy that we were there on the side of comedy. We had brought signs with us that had slogans on them that we thought were absurd, because we thought that this protest was absurd. They said things like 'We like Dave' and 'We like jokes'. The idea that these very basic, frankly stupid statements were controversial was funny in itself.
spiked: How did the confrontation end up becoming physical?
Gesualdi: We were not exactly standing on the sidelines. We were there to make our opinion known. That is our right under the law – each side of this protest had the right to have its message heard. You could say we were being disrespectful or obnoxious. But this was a public space. If you want to have a protest and have it go unchallenged, there are plenty of private spaces where you can do that.
One of the protesters grabbed my 'We like Dave' sign and decided it was his job to smash it to pieces. Not only that, but after he had finished destroying my sign, and I was left holding a broken stick to which the sign was previously attached, he yelled out, 'He's got a weapon!'. We later learned that the guy who broke my sign was actually a comedy writer. To me, this is the greatest of ironies – that a man who calls himself a comedy writer is stomping all over a sign that says 'Jokes are funny'.
After I had my sign destroyed, and with the crowd pushing me backwards, one woman decided it was her job to exorcise the demons from my bigoted heart. This woman stepped forward bravely with her tambourine of truth and began violently shaking it in my face while screaming 'repent, motherfucker!' at the top of her lungs.
spiked: Your friend and fellow comedian, Dick Masterson, was assaulted at the protest. What happened?
Gesualdi: Dick was standing behind the protesters with the hope that his sign would be visible in news footage. He was quietly minding his own business when some of the protesters accosted him. The comedy writer moved in and tried to rip Dick's sign away from him. Dick held on to his sign tightly. The crowd started wrongfully accusing Dick of trying to choke someone. At that point, a masked Antifa goon charged in and shoved Dick into a concrete planter. He sustained a serious head wound.
spiked: In the media, you were accused of 'screaming profanities' and 'pushing against' the protesters. Is there any truth to these claims?
Gesualdi: Absolutely not. I am not a violent guy. I have no interest in putting my hands on anyone. In fact, that would be counterproductive to the message I'm trying to get out there, which is standing up for comedy. It's not funny to start beating the crap out of people. So I just quietly and peacefully allowed them to break my sign in half and backed up a couple of steps because I was worried about them tackling me to the ground.
Unfortunately for me, I am a big, bearded white guy, which seems to fit into some preconceived notions about what a bigot looks like. At the protest I had a big smile on my face the whole time, but Variety managed to find the one moment where I looked like a scary, yelling psychopath. And that was the narrative it pushed forward. Variety said I was pushing against protesters, but if you watch the footage they were breaking my property and shoving me back. The Associated Press said I was shouting profanities when really I just yelled stuff like 'I love Dave Chappelle'. It said the protesters were peaceful when they broke my stuff and shoved my friend's head into a rock. It was a very illuminating experience, showing the bias in the press.
spiked: How would you respond to those who say that Chappelle's new special is transphobic? And to the accusation that you are transphobic for defending it?
Gesualdi: I sympathise with the transgender-rights movement. There are people out there who want to deny the transgender community the right to housing, jobs and a variety of other important things. But those people are not comedians.
Chappelle is talking about one of the most important topics of the day. The idea that someone can change their gender is a radical and confusing new concept that people are trying to wrap their heads around. And I think comedy can help to normalise that discussion – people can, through jokes, start to understand what might make someone want to transition.
I have dated transwomen. I really have no hatred in my heart for them. But you can't keep ruining people's lives when they make jokes. It's crazy.
spiked: How much of a threat does cancel culture pose to comedy?
Gesualdi: Cancel culture is not just a threat – it has already succeeded. Comedy is basically in its death throes. Comedians are afraid to say anything that might upset a mob of college-age morons. All the sitcoms currently on network television are the most boring and stale programmes I have ever seen in my life.
It is frankly saddening that me and my buddy were the only comedians who showed up at the protest to stand up for Chappelle. But I understand that a lot of people are worried that if they rock the boat even slightly, their careers could be over in the blink of an eye. Luckily, I have my own dedicated online community, which is able to fund me independently. I think people should live their lives like they have already been cancelled. It is liberating, in a way.
So many people are reaching out to me privately – film stars, game developers, writers – to say thank you for being willing to go out and do this. I really hope that what has happened serves as an example to people that it is time to fight for our craft and for our right to say proudly that we like jokes.
To enquire about republishing spiked's content, a right to reply or to request a correction, please contact the managing editor, Viv Regan.