Even anti-vaxxers deserve the right to protest
Banning them from protesting outside schools will only lend credence to their mad claims.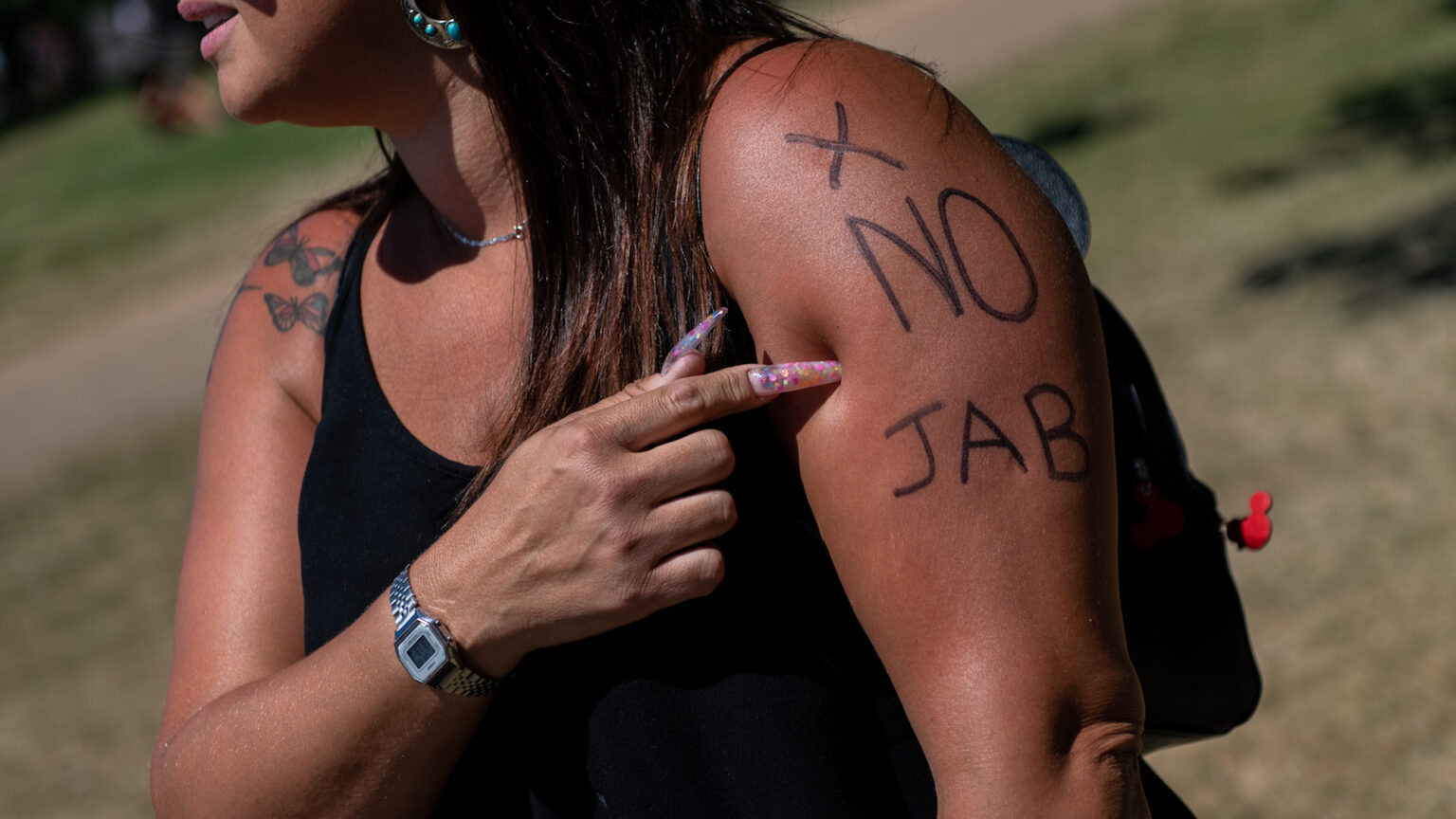 At some schools near me, the new academic year kicked off with more than just children and parents outside the school gates. A couple of secondary schools briefly became the site of anti-vax protests. When I say 'protests' I mean a handful of bedraggled-looking individuals held up a banner and distributed leaflets a few times before getting bored and going home. But the local press covered the story and parents were warned about the dangers of misinformation. Now it seems that this bizarre spectacle has spread beyond Kent.
The aim of these demonstrations is not at all clear. Headteachers do not decide to launch a vaccine programme on a personal whim. These decisions are taken by the departments of health and education. Schools have been used to vaccinate children for decades. It's a highly efficient way of protecting huge numbers of children from potentially life-changing illnesses. And it normally happens without the involvement of protesters, media or police. What is different now is that vaccinating children against Covid has become a political issue – and this is not solely down to school-gate nutters.
We've long since known that Covid has minimal impact on children. Teenagers are highly unlikely to become seriously ill, end up in hospital or die from Covid. Nor are children responsible for widespread transmission – Covid rates in schools reflect rates in the community and teachers are less likely to become seriously ill than other workers. This is why the UK's vaccine advisory group refused to green light the mass vaccination of healthy children.
As we now know, this decision was overturned by the UK's chief medical officers, who argued that Covid vaccination was necessary to keep schools open and protect children's mental health. But it wasn't Covid that announced school closures, it was the prime minister, egged on by social-media epidemiologists and lockdown-loving journalists. It wasn't a virus that invented school 'bubbles' and sent hundreds of thousands of children home to isolate for days at a time despite having nothing wrong with them, it was Gavin Williamson, then education secretary. These were political decisions. And vaccinating teenagers in order to stop these things happening again is also political.
Of course there are good medical reasons why some teenagers should have the Covid jab. It would seem sensible for those with underlying health conditions, or those who live with someone who is clinically vulnerable, or those who regularly come into close contact with people who are elderly or immuno-compromised. But these are personal decisions to be taken by parent and child.
Morons holding up banners outside school gates not only reflect the politicised discussion over vaccinating teenagers, but they also ramp it up several notches further. They force a response from schools and often prompt police involvement. To some headteachers, protesters are a time-consuming nuisance. To others, they are dangerous propagandists who must be counteracted through lectures on the benefits of vaccinations and the dangers of falling prey to conspiracy theories. From every direction, teenagers find that personal decisions about their health have become major political talking points.
National attention is now turning to school anti-vax protesters. Home secretary Priti Patel wants the police to 'do more' to crack down on these demonstrations. 'Freedom to protest is a fundamental part of our democracy', Patel says, 'but it is completely unacceptable for children, teachers or parents to be intimidated and harassed outside their school by protesters peddling misinformation and dangerous lies about the life-saving vaccine programme'.
Labour leader Keir Starmer wants the government to go further. He wants local authorities to have the power to establish 'exclusion zones' outside schools preventing anti-vax protests from taking place. This would turn schools into sites where protest is outlawed, like abortion clinics. But unlike abortion clinics, where applying for an exclusion zone can be a lengthy process, Starmer wants schools to bypass current procedures so orders can be issued rapidly.
Both Patel and Starmer need to get a grip. School Covid protests are idiotic and a major inconvenience, but they do not necessitate granting sweeping new powers to local authorities. One survey reports that just 13 per cent of school leaders have reported seeing protesters immediately outside their school. The overwhelming majority of school children are not running a gauntlet of placard-waving protesters just to get to class. The recent outcry seems more driven by concern over the low take-up of the vaccine among teenagers than a sudden increase in protests.
More importantly, clamping down on these protesters risks lending legitimacy to their claims. Talk of introducing special exclusion zones suggests the protesters' arguments are so powerful that they must be banned. Do we really have such little faith in teenagers that we think reading a poorly written leaflet is all it takes for them to become committed anti-vaxxers? Are the arguments for vaccinating children really so weak that they fall down after a quick glimpse of a placard?
School protesters are idiots and their pathetic displays are an annoying waste of time and energy. But confronting teenagers with arguments that challenge the consensus is not 'harassment' or 'intimidation'. Teenagers need to know that morons waving leaflets can be challenged. Instead of holding another boring PSHE lesson on how to spot fake news, schools should invite the protesters in and let pupils argue against them.
Joanna Williams is a spiked columnist and the director of Cieo.
Picture by: Getty.
To enquire about republishing spiked's content, a right to reply or to request a correction, please contact the managing editor, Viv Regan.