What happened to the Labour Party of Barbara Castle?
The party could do with rediscovering her left-wing, Eurosceptic internationalism.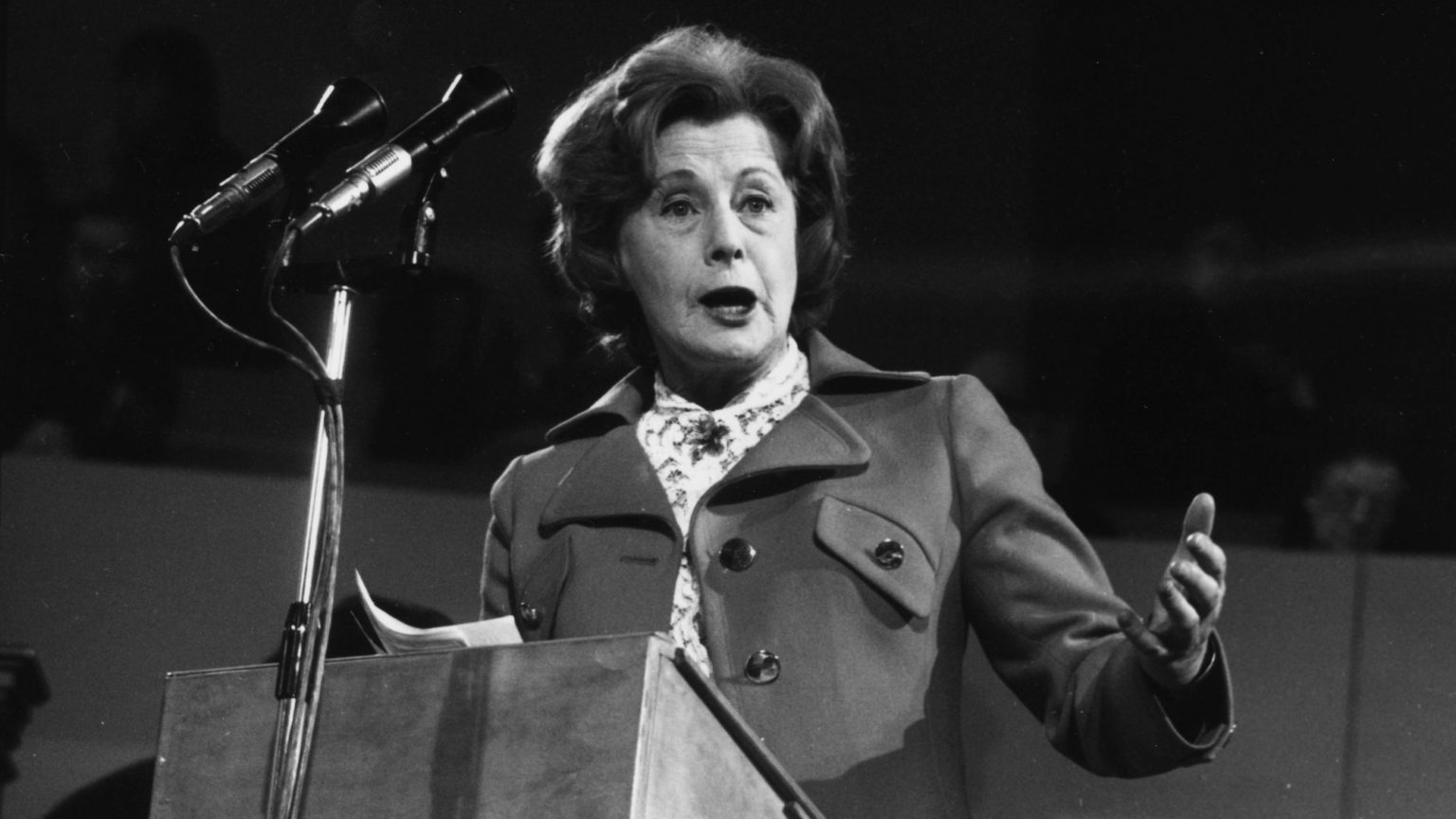 A new statue of the late Labour MP, Barbara Castle, has been erected in Blackburn, the constituency she represented for 34 years. Castle's many achievements as a cabinet minister, especially equal pay and road safety, have been rightly trumpeted. But far less attention has been paid to Castle's time as a member of the European Parliament (1979-89) and as leader of the Labour group of MEPs (1979-84). This is unfortunate, because doing so would shed light on an alternative to Labour's strident embrace of the EU, which has led it into the electoral doldrums.
In the 1960s and 1970s, Castle was one of the most prominent Eurosceptic voices in Britain. When 69 Labour MPs broke rank to vote for Tory prime minister Ted Heath's plan to join the European Economic Community (EEC) in 1971, a seething Castle went up to one of the rebels and denounced him as a 'traitor to the Labour Party' for wanting to join 'a capitalist conspiracy'. As she was later to recall: 'I described the pro-market [ie, Common Market] fanatics as sanctimonious, middle-class hypocrites, and I meant it.'
How could someone who so passionately argued for leaving the EEC in the 1975 referendum stand for the European Parliament just four years later? Had Barbara Castle, famed for her strong principles, 'sold out' to join the organisation she had once described as a 'rich men's club'?
The answer is no. In fact, Castle said being an MEP made her more convinced of her Euroscepticism: 'My belief in the… criticism of the [EEC] hotch-potch of free-market economics and agricultural protectionism has been strongly reinforced by my first-hand experience of how it works'. Castle remained a Eurosceptic all of her life, including when she was an MEP, but she respected the 1975 referendum result which kept Britain in the Common Market (some could learn from her). She was a creature that would later become unrecognisable: a Eurosceptic Labour MEP.
Castle's Euroscepticism was not unusual. Nearly all the Labour MEPs were Eurosceptics. They took the view that, if Britain was going to be a member of the EEC, a left-Eurosceptic voice needed representation. As leader, Castle praised her group for their pragmatism: 'The thing about my British Labour boys is that they are not cynical. They are not saying "let's take our money and go home because this place stinks".' However, Castle believed that a future Labour government should feel entitled to defy European law where it interfered with its national priorities. 'Let them throw us out', Castle dared.
Castle's Euroscepticism was rooted in three core objections. First and foremost, she objected to the EEC on internationalist grounds. She was one of the leading anti-colonial figures of the mid-20th-century Labour movement. She was a prominent anti-Apartheid campaigner, whose efforts helped lead to South Africa's expulsion from the Commonwealth, earning her the presidency of the British Anti-Apartheid Movement. She campaigned in Britain and internationally against racial inequality, telling the 1959 Labour conference to 'denounce the hideous colour bar… [and] liquidate the last remnants of colonialism'.
For Castle, the project of European unity was deeply conservative. It involved some of the most privileged countries in the world clubbing together for their own interests. When the Wilson government toyed with entry into the EEC in 1967, Castle erupted – she said that it would mean giving preferential treatment in trade and immigration to (mainly white) Europeans, rather than residents of the much more diverse Commonwealth, with whom, she believed, Britain had much deeper ties. In a famous speech at the Oxford Union in 1975, Castle asked:
'What kind of internationalism is it that says that henceforth this country must give priority to a Frenchman over an Indian, a German over an Australian, an Italian over a Malaysian? This isn't the language of internationalism… It is Euro-jingoism.'
Secondly, Castle objected to the EEC's wastefulness. This was exemplified by the Common Agricultural Policy (CAP), which subsidised European farmers while restricting the import of cheaper food from overseas. She argued that, 'the Common Agricultural Policy, as everybody recognises, is contrary to the healthy development of world trade and to the interests of the developing countries, which we, as socialists, are supposed to have so much at heart'.
Moreover, Castle found the EEC unwieldy, overly bureaucratic and remote from the populations it was meant to be serving. Castle argued that a Europe-wide democracy was impossible: 'Europe has not got, and in my personal view will never have, a source of democratic strength separate from the strength of the… movements in our different countries.'
Barbara Castle's first impressions as a new MEP in 1979 were not good. 'To the British MP, used to the benign authority of Mr Speaker and the strict control of the debating timetable, the conduct of European parliamentary business has been incomprehensible', she complained. Castle was disgusted by 'the wheeler-dealing between party leaders of different nations [that] has gone on behind the scenes'. When asked as an MEP whether she thought the costs of running the EEC were worth it, she replied: 'No, frankly, I don't.'
Castle even found that the European Parliament literally made her feel unwell. '[We] always knew it would be a headache to try to represent… British voters in a far-away meeting place. But we never realised the headache would be quite so literal… It has been like doing a complicated crossword in nine languages', she complained. 'My seat for an aspirin', Castle joked, would be the 'heartcry of the new European MP after his or her first week in the European Parliament'.
Finally, Castle objected to the EEC on socialist grounds. In her view, the European treaties hampered national governments' abilities to plan their own economic futures. 'The Treaty [of Rome]', she argued, 'places enormous obstacles in the way of any government which seeks to plan the use of resources to deal with the problems of the new technological age and which is determined to bring down unemployment and end waste'. Castle went on to warn: 'I have no doubt at all that the Treaty of Rome, if rigorously applied, would make it impossible for a Labour government to carry out its alternative economic strategy.'
Key national policy competences, including capital and labour controls, were removed, and other areas of planning, such as state aid and regional-development, were at the mercy of the European Commission. Castle believed that the EEC's regional development funding reflected the EEC's priorities, rather than what was wanted by the democratically elected governments which actually footed the bill.
Even in later life, Barbara Castle was not assuaged by those who argued that the EEC had reformed. 'I think they have become the victims of their own sloganising', she reflected. At the 1990 Labour Party conference, the year after she stood down as an MEP, she was still giving speeches denouncing efforts at further European integration. By this point, her words fell on deaf ears. But in the wake of Labour's recent electoral upheavals, they echo more presciently than ever.
Richard Johnson is a lecturer in US politics and policy at Queen Mary, University of London.
To enquire about republishing spiked's content, a right to reply or to request a correction, please contact the managing editor, Viv Regan.