Do we really need Bond films that say something?
Daniel Craig was a fine 007. But the franchise could do with lightening up a bit.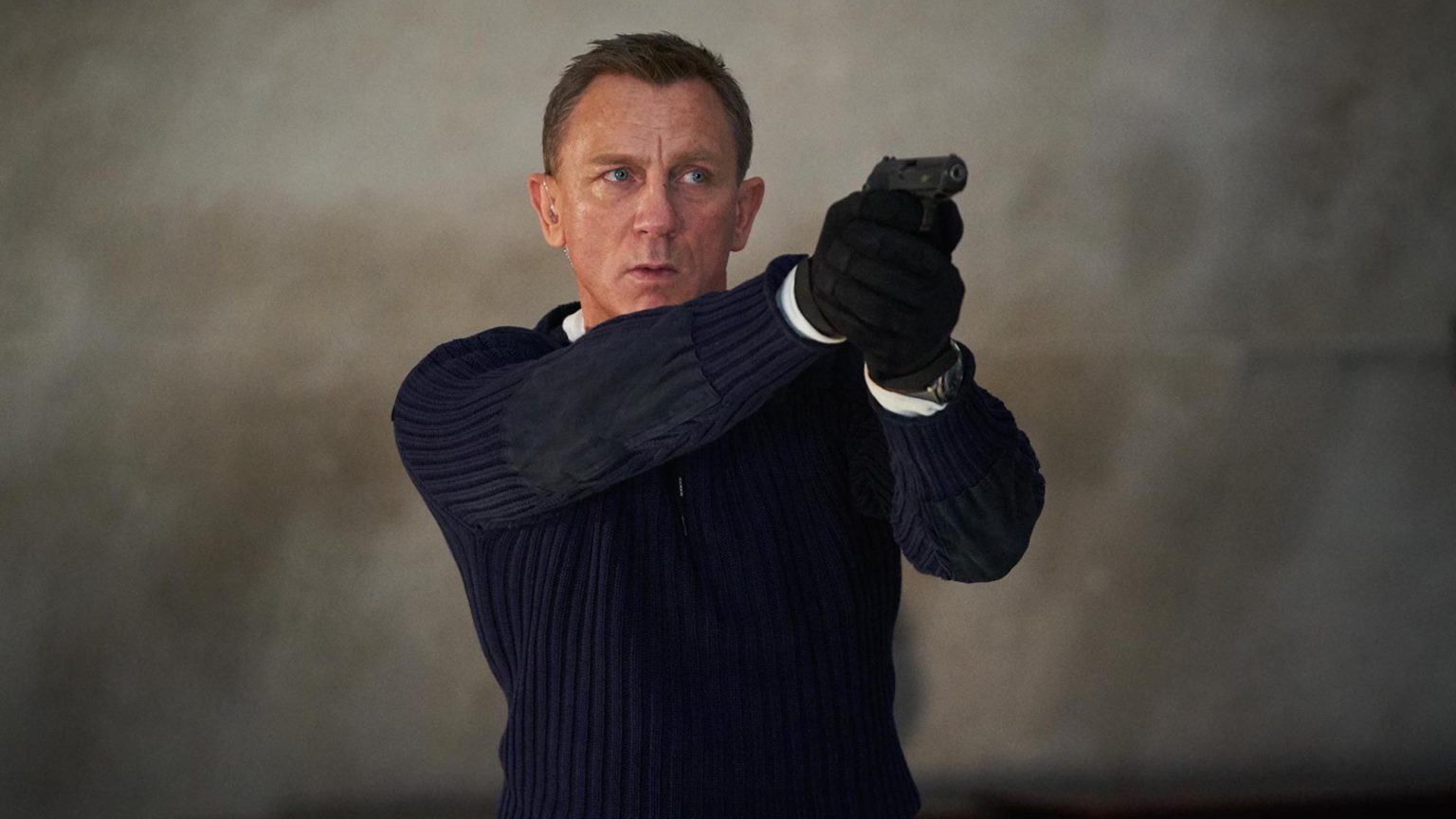 Spoiler alert! (No spoilers.)
This column is about the new (ie, three years old) James Bond movie. If you haven't seen it yet – relax. The movie itself has plenty of spoilers – aerodynamic tweaks, often ugly bolt-ons, usually in the form of some dry banter or trivially malfunctioning device, intended to keep the thing grounded. No such device will be employed in this column, however. Nor will I give away the ending, except to say Love is Love and this column respects the rights of all sovereign nations to set the age of consent as they see fit. Also, I may have misunderstood.
However, there are things to say. Not only because the film has arrived later than a package on Her Majesty's Second Class Service, like a letter sent before the war that finally catches up with us on the way back from the Front. But also because the present show-runners have willed it that way. No Time To Die arrives freighted with way more than the obligation to entertain. It is there to be discussed.
Much as the Church of England has long since delegated responsibility for heralding the true, moral underpinnings of Christmas to the John Lewis TV commercial, a new Bond movie is now our de facto State of the Union address, to be inspected like a chicken's innards for omens of health or despair.
Certainly, any international phenomenon sailing under the Union Jack offers unparalleled opportunities for a barnacle clusterfuck of commentary to attach itself to the hull as it puts out to sea. Much of this is as old as the franchise – Bond's fashion flexes have long been scrutinised and often slavishly adopted. Roger Moore's interest in tailoring was immensely influential, not always to the wider public good, while back in 2006, adopting Daniel Craig's bum-skimming suit jackets exposed a million men of my generation to an unwelcome draught and the even more unwelcome scrutiny of their own sadly neglected glutes.
Weightier debates, such as those on sexual politics in the classified workplace, Russophobia, and the endless speculation over the preferred age, gender and race of the next Bond, are more recent innovations. Myself, I'd like to see an English bull terrier take the role. Genderfluid, by all means.
But most importantly this time, it seems, the issue is 'Britain's capacity to look her diminished global stature in the eye, and cut her cloth accordingly'. Critics have clearly forgotten that Roger Moore did not have to look Jaws in the eye to know that Eton and service as a Royal Naval Reserve commander leaves one uninclined to put too much store in mere elevation. On the other hand, it must mean something when Ralph Fiennes' M summons up all his reserves of gravitas to evoke the urgency of the situation, as he orders 'get me the prime minister', and the cinema collapses in giggles at the image of BoJo being on the other end of this call, and expected to swiftly grasp what threat these off-shore nanobots present to world peace.
I don't envy these guardians of the Bond myth. I mean, obviously I do, the locations alone make the life of a jobbing stand-up look pretty degraded. But you know what I mean. I don't envy them their task, the line they must walk.
There was a time when Bond's job was simply to entertain, solidly, like an air horn of male fantasy, exotic locations and dual-purpose nail clippers, blasted in the face for 90 solid minutes and then, with one last outrageous innuendo, off. These days, the films seem to want to say something, about stuff.
To be fair, very few cultural artefacts stay the same size over repeated iterations. Some, like Bruce Springsteen albums, shed their surface complexities, their lyrical ambition, orchestral scale and jazzier inflections, and become more streamlined, more radio friendly, as the years go by, as though those earlier excess appendages get simply blown off as the career achieves escape velocity. In the early Seventies, Bruce was the new Dylan. By the mid-Eighties, he was as radio friendly as a nine-volt battery.
Bond on the other hand started short and sweet, and has now grown beyond palatable dimensions, like escaped asparagus.
Bond films used to be like a tin of Quality Street, but with anything remotely boring taken out, and only your favourites left in. You'd watch a Connery or a Moore at Christmas going, this scene! No, this one! This bit! This is my favourite!
Now they are like proper movies, long, and with scenes – whole plot strands – that are about character development. About personal choices. About what amounts, when it comes down to it, to work / life balance. 'Boo! I've got the green one with the weird nougaty stuff in! This sucks!'
Life isn't really like a box of chocolates, but action movies should be.
It would be tempting to ascribe this to wokery, or to Bond being 'captured', perhaps by a small but superbly disciplined special-forces elite auxiliary of The Long March Through the Institutions. That mysterious yet unmistakably active element that has moved into our national institutions since the Blair revolution, and hollowed them out like so many Halloween pumpkins. Bond on this reading has become the fourth plinth of British moviemaking. Or as @IowaHawkBlog put it on Twitter:
'Identify a respected institution. Kill it. Gut it. Wear its carcass as a skin suit, while demanding respect. #TheLeft.'
But I don't think it's that. I think it's our much older and deadlier foe, mission creep. What was once merely the Christmas afternoon treat-in-waiting, is now intended to be The Great Postcolonial British Novel. In five sodding volumes.
Of course, Bond himself is still tough, in the gristly sense. You wouldn't want to chew him, and you wouldn't want to accidentally spill his pint either, although he has lost that psycho look, that eye gleam of sadism, of relishing the first punch. That was a look that even Roger Moore could pull off, as he coolly assessed just how far out of his depth any given goon was going to wade, before he neatly put his lights out between shooting his cuffs and lighting a fag.
But many felt Craig restored masculinity to the role and he is still a bloke, despite the worst intentions of all involved – including, I suspect, himself. When he was first cast, his oddly duck-billed physiognomy was cruelly abused by the critterati. Not handsome enough, they said, more melted than chiselled, petulant, chippy, wrong. It was almost a dry run for Charles Moore's notorious remark that Olivia Colman's face was just too left-wing to play the Queen.
All it took was a casual stroll along a beach in the kind of bathing shorts that all men used to be able to pull off, back when smoking was still an acceptable appetite suppressant, and suddenly he could have literally looked like Plug from the Bash Street Kids above the neck and no one would have cared. The ferret was reversed faster than a DB4 backing up a one-way donkey track in the hills of Capri and Craig was crowned king.
And after a short series of Majors and Mays, he has been without a doubt a Thatcher- or Blair-tier Bond. Respect.
But there is now a palpable determination to want to say something about masculinity, to have that conversation that inevitably leads with the word 'toxic', that is just ever so slightly tiresome, and ever so slightly death, to entertainment. For this Bond, it seems, The World really is not enough. He wants an inner life, too.
Cinema's greatest love letter to its own best chance of improving the lot of mankind is Preston Sturges' immortal Sullivan's Travels. To do it the disservice of a huge over-simplification, it is the story of a successful comedy film director who desperately wants to make movies with a social conscience, only to discover that what the world really needs right now, and for the foreseeable future, is a damned good laugh.
That is once again on the cards. The present iteration of Bond is over. The cables have been cut and the full weight of their accumulated narrative has landed, heavily, on the stage. The tangle of multiple plot lines running through fully five movies – like the wiring in a house you've bought that turns out to have previously been a care home, a workshop and an abattoir – has been hacked out at the roots, lies dusty and disgusting in the skip, and will soon be off to the tip.
No Time To Die is not a bad movie, at all. It has some great stunts, some elegant tailoring and some beautiful waterside twilight. I perhaps felt slightly fewer of the emotions intended for me, but I am a grumpy old bugger – old enough, indeed, to be retiring as Bond.
One emotion I did feel, however, was relief. The king is dead. Soon, there will be a new king, or queen, or dog, and a new set of things to remember, to keep track of. But for now, the stage is clear and all of those plot lines, those characters, their vendettas and loyalties and resentments and motivations, are gone, gone, like tears in the reign.
And it's the most wonderful feeling, if you let it be. Breathe it in, take your time – You Have All The Time In The World.
Simon Evans is a spiked columnist and stand-up comedian. He is currently on tour with his show, Work of the Devil. You can buy tickets here.
To enquire about republishing spiked's content, a right to reply or to request a correction, please contact the managing editor, Viv Regan.