The relentless apocalypticism of Remainers
They are treating the petrol crisis as if it is our Brexit-fuelled End Times.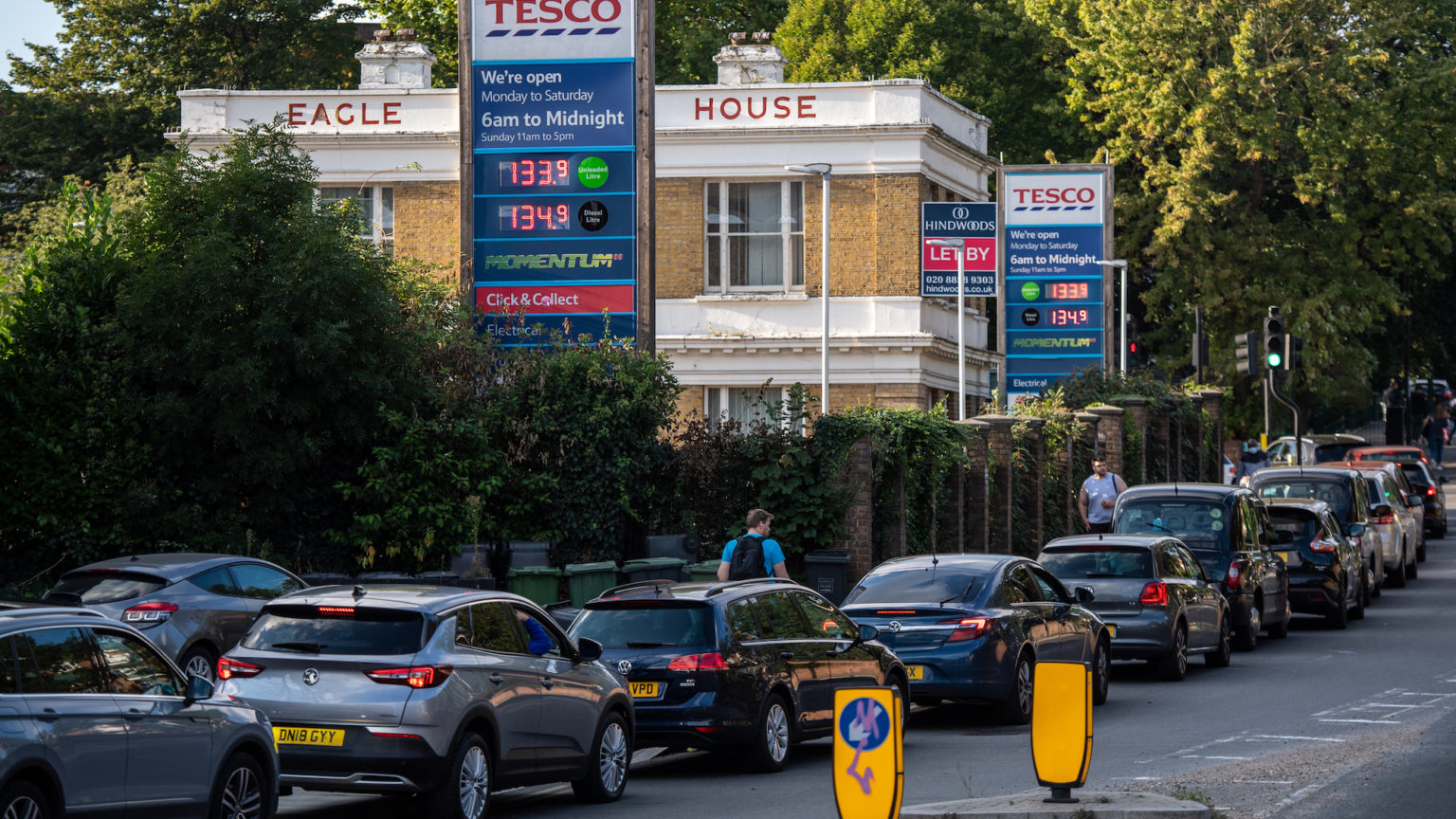 As surely everyone in the UK is now aware, there is a shortage of heavy-goods-vehicle drivers – over 100,000 if the Road Haulage Association is to be believed. This has impacted on the delivery of fuel to petrol stations, leading to all sorts of predictable problems, from stockpiling and mile-long queues to stations themselves simply running dry.
It is a serious problem. But that's all it is – a problem. It is not beyond the wit of man, or even of transport secretary Grant Shapps, to come up with solutions – both to meet the current shortfall in drivers and to mitigate against a future shortfall down the line. Perhaps bringing over drivers from outside Britain will help in the short term. And, in the long term, we will have to train up many more drivers, and pay them proper wages, too.
This is not rocket science – it is an eminently solvable problem.
Or at least it ought to be. But it seems that too many in the commentverse, be they politicos or pundits, see a shortage of qualified drivers as something more than it is – they see it as a sign of things to come, as a portent of our impending doom. Their mindset is not rational – it's apocalyptic.
'It's all a bit dystopian', said an LBC radio presenter at the weekend, as callers phoned up with unexciting tales of crowded garage forecourts. 'The Tories are losing control of the country', chirruped Polly Toynbee, no doubt while surveying her orderly Hampstead world. '[It] is a taste of a more uncertain, jittery future', concluded Gaby Hinsliff.
They can't seem to help themselves. Their vision is always fringed with catastrophe, their tone never less than hyperbolic. We're only ever going one way at the moment, and that's down. How else to explain why a Guardian columnist like Hinsliff could see a workforce shortage as a sign we're entering 'a new era of uncertainty and unpredictability'?
This isn't doom-mongering exactly. There's no especially conscious intent to ratchet up the fearful rhetoric, and see 'chaos' and 'collapse' approaching from every side. It's more subtle than that. It's the intellectual product of a political and media elite so used to the thick air of cultural pessimism in which it now breathes, that its members no longer need to think about anything. They already know – everything is going to shit.
Some almost seem to revel in our perceived descent, as if they want things to go wrong. Ever since the double whammy of Brexit and Boris Johnson's General Election victory, our media elites have been gripped by unshakeable pessimism. These democratic revolts were experienced as blows to their power and self-image. And so everything that goes wrong, be it the hapless response to Covid or a fuel supply-chain failure, is experienced as a form of sadistic vindication, as further proof that they were right all along – as proof that Brexit is a disaster.
It doesn't matter that Brexit is neither the sole nor even the most important reason for the driver shortfall. The pandemic and, in the longer term, poor wages and low domestic-recruitment levels have played a far greater role in today's labour shortage. But who needs facts when you can blame a five-year-old democratic decision you dislike.
Hence, smug Remainer tosspot James O'Brien tweeted in response to the HGV-driver shortage, 'I honestly never thought that "Project Fear" would turn out to be an understatement'. Elsewhere, Jonathan Freedland was convinced that the driver shortage, like 'too many of our other woes, can be traced back to that fateful decision [Brexit] and the way it was handled'.
The catastrophising is relentless. Its purveyors hope for the worst in the worst of all possible Brexits. They interpret every problem and every challenge not just as a sign of our coming doom, but also as a sign of the 'shitstorm' that Brexit was, in their eyes, always likely to become.
While this Brexit-fuelled apocalypticism no doubt meets some psycho-social need on the part of our bruised elites, it is doing the rest of us no favours at all. It is clouding public judgement, distorting reality and turning entirely surmountable challenges – like a driver shortage – into devastating blows.
So, right now, it's important to remember one thing in all this – that while Brexit may have been the end of their world, it is still the beginning of ours.
Tim Black is a spiked columnist.
To enquire about republishing spiked's content, a right to reply or to request a correction, please contact the managing editor, Viv Regan.