Someone please put Labour out of its misery
The never-ending grudge match between boring Keir and mental Corbynistas means almost nothing to anyone else.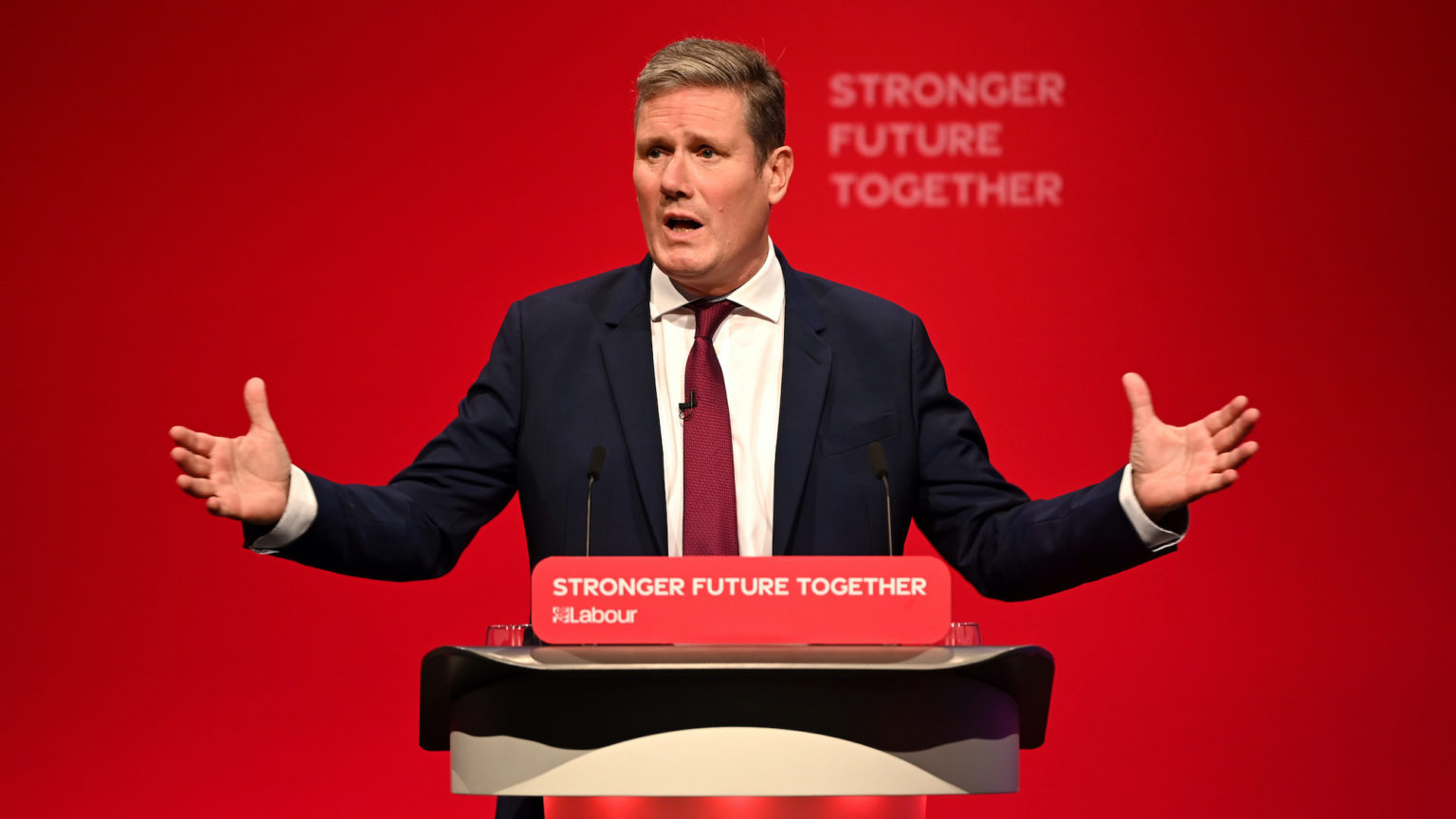 When hecklers, going on too long and a strange digression about robots are among the main takeaways from your big leader's speech, it is hard to chalk it up as a success. But that's where we are with Keir Starmer, Labour's embattled leader, who put in a predictably balsa-wood performance at Labour Party conference today.
For a man whose entire pitch is electability, he appeared today as he did in his similarly yawn-inducing, 12,000-word Fabian pamphlet as almost incapable of saying anything bold or interesting. He gives off the impression of a man so aware of all the political trip wires he may set off, so conscious of his own no doubt painstakingly plotted-out 'position' on things, that his lines don't so much land as evaporate on impact.
Among the more eye-catching pre-tailed and, in some cases, already announced policy announcements was the Earth-shattering proposal of an Office for Value for Money. So bamboozled is Starmer's Labour by its new big-spending Tory opponents that it has apparently resigned itself to the role of punctilious accountant.
What's striking about Starmer's almost offensive inoffensiveness is the fact that so many in his party still manage to take offence to him. And not just over his gerrymandering fiddles with rule changes, in an attempt to lock out another Corbynista leadership, or his apparent backtracking over nationalising utilities or a £15 minimum wage.
When Starmer's pamphlet setting out his vision – as sure a sign yet that he has no vision to speak of – landed last week, its 10 'principles', such as they were, appeared designed to be objectionable to precisely no one. Highlights included 'We will always put hard-working families and their priorities first' and 'If you work hard and play by the rules, you should be rewarded fairly'.
And yet somehow Corbynistas still managed to find them objectionable. One Labour left galaxy brain alleged on Twitter that talk of working hard and playing by the rules is essentially a racist dog-whistle, devilishly devised by Priti Patel in order to justify her hardline immigration policies. As one commentator noted in The Sunday Times, this would be news to Barack Obama and Gordon Brown, who used the phrase long before Patel was anywhere near the despatch box.
The heckling of Starmer today betrayed a party deeply divided, but largely over things the broader public would struggle to care about, or even bother to take the time to understand. At one point, 'Where's Peter Mandelson?!' rang out through the conference hall. What I'm sure feels like life-or-death political warfare to all those involved largely strikes the rest of us as two aggy factions of bald men fighting over a comb.
And for all the shouting, on the big political cleavages of our time, and on some of the key issues that have made Labour feel utterly irrelevant to the lives of ordinary people, the Starmerites and the Corbynistas are completely at one. Starmer's denunciation of those who say 'only women have cervixes' this week was a case in point. As Brendan O'Neill put it on spiked over the weekend, Starmer has finally entered the culture war – and on the wrong side.
Then there's the issue of Brexit, the subject of perhaps the only effective heckle of Starmer today. Despite Corbynistas' attempts to rewrite history, the fact remains that they filed in behind Starmer's second-referendum policy, many of them with zeal. This tantrum-like rejection of the votes of millions of working-class people for Brexit, many of them in the former Red Wall, was of course what sealed the fate of the former party of the working class at the last election.
Going on the thrills and spills of this week, neither side has the faintest idea how to go about winning those people back. Meanwhile, the Tories, erstwhile party of the establishment, is sitting on a double-digit poll lead among working-class voters, and has so far managed to weather a pandemic, unprecedented suspensions of civil liberties and now a fuel crisis to boot.
Keir Starmer has been telling every TV camera he can find this week that there is no point in a Labour Party that cannot win an election. But there is also no point in a Labour Party that can no longer command the support of those who labour. The never-ending grudge match between boring Keir and mental Corbynistas might fill column inches, but it means almost nothing to anyone else – particularly those this increasingly irrelevant party was originally set up to represent.
For all the talk of who can save Labour, perhaps we need to pose a different question: can someone please put it out of its misery? Ideally before Keir gets on to the robots again.
Tom Slater is editor of spiked.
To enquire about republishing spiked's content, a right to reply or to request a correction, please contact the managing editor, Viv Regan.