'We need to get people talking – not silence different voices'
LGB Alliance supporter Alexander Bramham, who was hounded out of a Manchester Pride protest, gives his side of the story.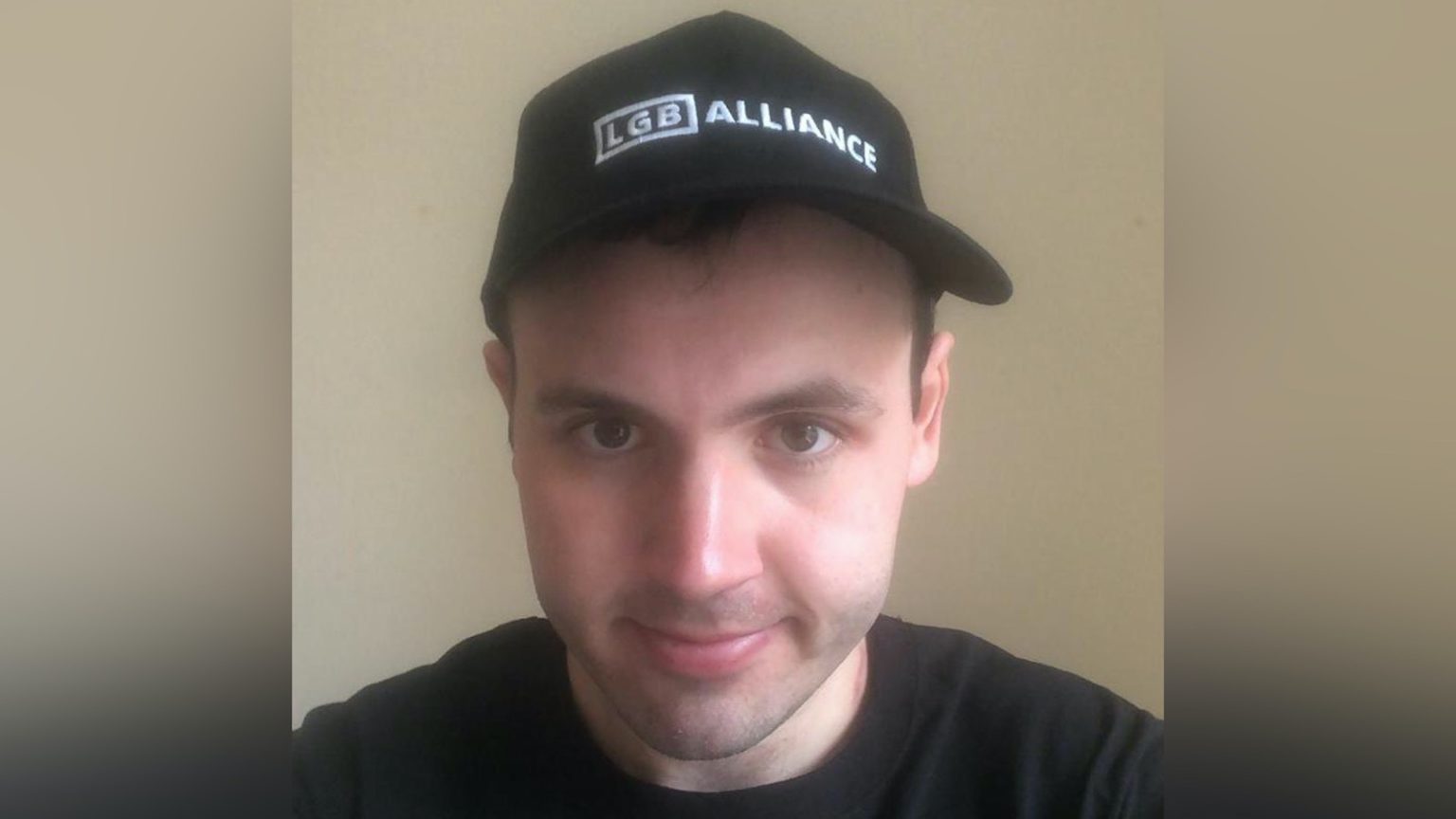 Alexander Bramham went viral this weekend. The software engineer from Manchester attended a protest against the mismanagement of Manchester Pride. As a gay man, he wanted to show his support. But he was later rounded on by the crowd because he was wearing a hat and t-shirt promoting the LGB Alliance – a gender-critical group which fights for the rights of lesbians, bisexuals and gay men. As a clip circulating online shows, he had to be escorted out of the protest by police. Since then, some leading LGBT commentators have celebrated the confrontation and smeared Bramham as a transphobe. spiked caught up with him to get his side of the story.
spiked: What was the protest about and why were you there?
Alexander Bramham: The protest was against the mismanagement scandals by Manchester Pride. This year, only three per cent of the £4million revenue made its way to any charities. A parade was cancelled due to Covid concerns. But we were still crammed into the streets for the Pride Live festival.
So those in the community who wanted to have a parade wanted to stand up against that. I supported them and that was my reason for joining the march. I wasn't protesting the protest. I wasn't disrupting it in any way. I was there on the same side, shouting the same slogans. I wish all the other people protesting the best and I stand in solidarity with them.
spiked: You attended the protest wearing a hat and t-shirt from the LGB Alliance, which led to the confrontation. Could you tell us what happened?
Bramham: People were curious about the t-shirt and hat and approached me. Some were hostile, but not physically threatening. Until the march ended, there was no danger for my personal safety. There was heated but healthy discussion. I found that all the people I met, particularly those who identified as trans, were intelligent, passionate, interesting and committed to having a dialogue.
When the march reached its end, I was approached by a young man who was extremely threatening, loud, invading my personal space, rude and shouting abuse. He grabbed me by the t-shirt and made physical contact multiple times. He grabbed my hat and stole it, revealing a bald patch that I wear a hat to disguise. It's embarrassing. This was videoed and it's deeply humiliating to see it on Twitter. I would feel equally, if not much more, disgusted if that had happened to a trans woman who chose to wear a wig for a personal reason.
As the situation was escalating, I didn't fight back. I chose to walk away and repeatedly called for a police escort. A news reporter was in front taking photographs at this point. I was encircled by a crowd that was screaming louder and louder boos. I felt extremely frightened and threatened. And at that point, I was very concerned for my safety. Then two police officers appeared and led me away.
When we approached the adjacent streets, I asked the police if they needed any details or had any questions. They were very clear that they removed me for my personal protection. It was not declared a non-crime hate incident. I was not asked to give any details nor was I detained for questioning. I was thoroughly impressed by the split-second judgements of the police. They didn't take sides, but they protected my personal safety.
spiked: There is this perception among some LGBT activists that the LGB Alliance is a hate group. What would you say to that accusation?
Bramham: There's no evidence we're a hate group. I hold no hate towards trans persons, or against anyone with a protected characteristic under the Equality Act. You can look it up on the LGB Alliance's website. We stand for preserving the Equality Act, which includes protecting persons who have had gender reassignment. A big motivation for me wearing the t-shirt and the hat was to demonstrate that the LGB Alliance is vocal on LGB matters, that we don't exist purely to comment on trans issues.
spiked: The crowd chanted 'trans lives matter' at you as you were led away, as if you disagree with that message. How did it feel to be on the receiving end of that?
Bramham: It was threatening, abusive, grossly inappropriate and against the values and spirit of the Pride movement. Pride is about being provocative, protesting, standing up to be seen, sparking debate, expressing ideas. To censor ideas and forcefully remove people who fall under the LGBTQ umbrella, but who have different leanings in terms of ideology, goes against what Pride is about.
spiked: Why do you think that the debate on trans issues has become so heated – and is there any way to lower the temperature?
Bramham: Tolerance of different viewpoints; recognition of free speech; political action; discussion in parliament and through think-tanks; actually engaging and listening to people's real life stories and experiences; listening to medical experts and our heroes in the NHS; and engaging with, for example, the police and prison services over the practicalities of how gender-identity concepts can be implemented in what are currently male and female separated prisons.
We need to be getting people talking, not silencing different voices and not resorting to violence or hate. I encourage people to read both the LGB Alliance website and also to look at other organisations like [transgender children's charity] Mermaids and to draw their own conclusions about where they stand. We need to listen to trans people's life experiences and never resort to hate, abuse or discrimination.
Alexander Bramham was talking to Paddy Hannam.
To enquire about republishing spiked's content, a right to reply or to request a correction, please contact the managing editor, Viv Regan.