Whatever happened to Noughties hedonism?
Giddy Stratospheres shows us what youthful freedom and risky behaviour once looked like.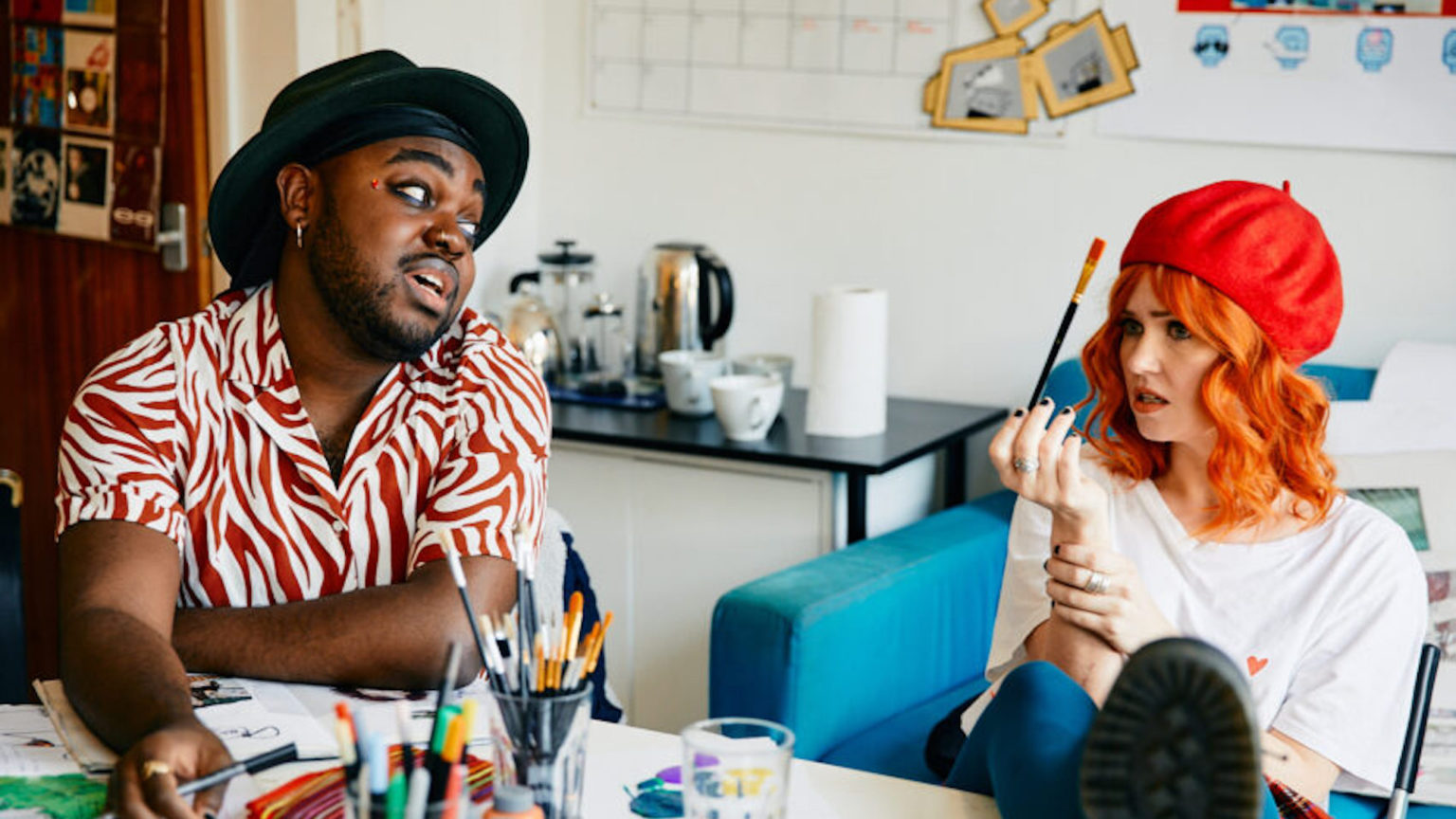 The farcical 'Freedom Day' on 19 July ended with the government announcing the introduction this September of vaccine passports for clubbers. Guest-list places used to be the hip currency for club entry. Now it will be official paperwork. This sounds like a surefire way to kill off the spontaneity that used to be a key ingredient for a good night out.
A new film by Laura Jean Marsh, Giddy Stratospheres, reminds us what youthful freedom once looked like. Set around north London in 2007, it's a fictionalised attempt to capture the scuzzy hedonism of Camden's indie scene from the mid-Noughties. This was the era of The Dolly Rockers Ball, Nambucca on the Holloway Road, Dizzee Rascal at Proud, and a lot of wiry-sounding indie bands.
The indie scene was far less acclaimed than the Britpop of the previous decade. And it certainly doesn't enjoy many nostalgic references in popular culture – bar an amusing piece in Vice last summer. And that works in Giddy Stratospheres's favour, making it seem novel and intriguing.
Although a great pitch for a film, it is hampered by a low budget and stagey acting. It is second-tier, straight-to-streaming fare. But it does get the era exactly right.
Marsh plays rudderless party-girl Laura opposite male confidante Daniel (Jamal Franklin), as they enjoy misadventures around Camden. Marsh's direction is fast-paced and captures the jolting thrill of live music in a dingy venue.
Giddy Stratospheres also provides the viewer with a strikingly unvarnished portrayal of selfish young people with personal hygiene and personality issues. Many of the film's charmless characters capture the bitchiness and competitiveness prevalent among young hipsters.
Yet, while there are some appalling people who make rubbish choices in Giddy Stratospheres, the film – and the era – allows them moral autonomy in a way that's frowned upon today. The film director Carol Morley, discussing her 2000 film The Alcohol Years, argued that there are not always 'reasons' for young people's poor behaviour. This is why a more forgiving attitude to youthful misdemeanours is required by a grown-up society. Marsh invites us to do the same here.
Although Giddy Stratospheres is set in the 21st century, it looks and feels as if it is from another age. And that's nothing to do with the absence of iPhones or Spotify. It's because this was a period when public spaces, in which people could experiment artistically or just have fun, had not yet been entirely destroyed. And it's because the film features cocky young people full of boozy bravado, rather than today's isolated and lonely youth. By comparing then and now, Giddy Stratospheres shows how young people now have internalised the risk-averse, safety-first outlook promoted by schools and wider society.
Nevertheless, Giddy Stratospheres doesn't shy away from depicting the dysfunctional and tragic aspects of that era (think of the gut-wrenching demise of Amy Winehouse). This was a time when drunken behaviour was exaggerated for daft effect. Instead of attempting to act sober, young people seemed to relish playing the drunken goon. Partly due to the snowballing influence of reality TV, personal degradation became a public spectacle. This reached ghoulish proportions when tabloid newspaper the Sun egged on Pete Doherty's heroin addiction. There was little sense of what was acceptable and what was not. As Morley also mentions in The Alcohol Years, it took the informal disapproval of her peers to rein in her own destructive behaviour. Giddy Stratospheres also shows us what happens when informal social controls are absent.
It's a pity Marsh didn't have the funding and experience to develop Giddy Stratospheres into a definitive statement on Noughties hedonism. But it is released at a crucial time. As public life for the young diminishes further, and laptop-bound isolation is the norm, it provides a reminder of what social bonding and spontaneity really look like.
Neil Davenport is a writer based in London.
Giddy Stratospheres is available to stream via Prime Video. Watch the trailer below:
Picture by: Giddy Stratospheres Film / Bulldog Film Distribution.
To enquire about republishing spiked's content, a right to reply or to request a correction, please contact the managing editor, Viv Regan.