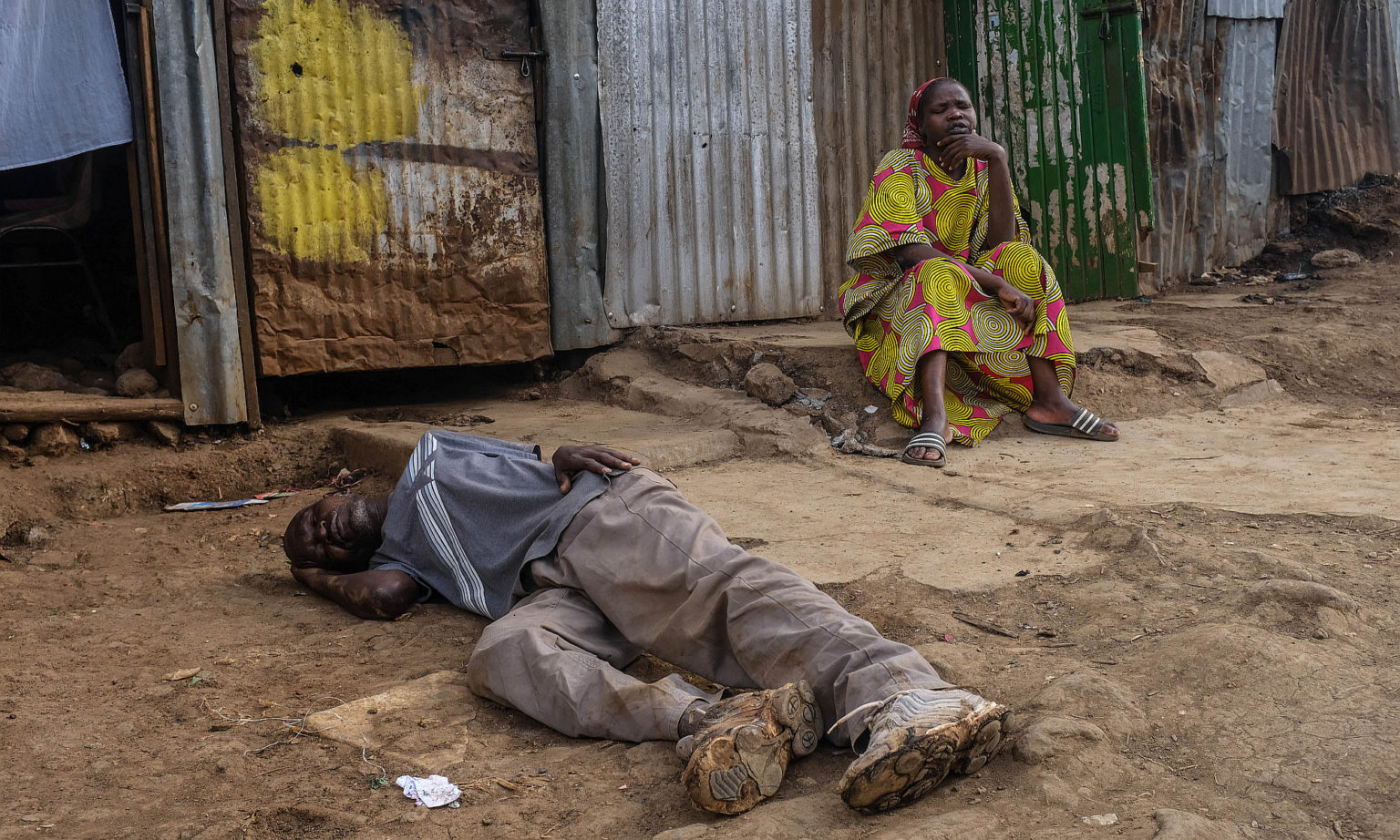 Long-read
The coming collapse of the developing world
Covid has pushed vast swathes of humanity to the brink of extreme poverty.
In Europe, North America, Oceania and East Asia, the Covid-19 pandemic has been a tragic, wrenching experience, creating more depressed and divided societies. Yet, as we have been gazing obsessively at our own problems, a spectre infinitely worse is emerging in the most populous, fastest growing and least resilient parts of the world.
Covid has caused a deep crisis in the already suffering developing world, which contains nearly half of all humanity. And this will have serious implications for the future of the world economy and political order.
Initially, Covid was something of a rich country's disease. It started in industrial China and spread to places like the United States, Italy and the United Kingdom. But now none of the wealthiest countries falls within the top 10 worst-hit countries in terms of Covid deaths per capita. In the US, Covid has gone from the leading cause of death to seventh place in just over a year.
According to Bloomberg, the countries now most resilient to Covid and its variants are all among the richest – the United States, New Zealand, Israel, France, the UK and Spain, along with some wealthier East Asian countries, including China. In contrast, the pandemic rages on in Latin America and the backwaters of Eastern Europe. Impoverished Peru has been particularly hard hit, recording a Covid fatality rate twice that of any other country.
At the bottom of the list, according to Bloomberg, lies Argentina, the Philippines, India, Malaysia, Indonesia, Colombia and Pakistan, where on average just five per cent of the population have been vaccinated. We may be seeing the fruits of what the Nation describes as 'a gargantuan north-south vaccination gap'.
A vaccine apartheid
By June this year, the US and Britain had jabbed half of their populations, and the rest of the EU had jabbed a third. In contrast, the Democratic Republic of Congo, Ethiopia, Nigeria, South Sudan, North Sudan, Vietnam and Zambia had vaccinated between 0.1 per cent and 0.9 per cent of their populations. This is a world lurching towards vaccine apartheid.
Indeed, given the fear Covid-19 instils in people, developing countries in which infections are rife could become like no-go areas for Westerners – places that Western businesses avoid, except to acquire raw materials, such as the minerals that are critical to meeting the climate goals of Western countries.
Even before the pandemic, many economies in the developing world were experiencing difficulty accessing world credit markets, and that access will likely now worsen. Vaccination apartheid will exacerbate pre-existing problems. For example, according to 2019 data from the World Bank, youth unemployment was approaching 25 per cent in Turkey, India and Iran. In South Africa, it was over 55 per cent. Already high levels of youth unemployment will become much higher.
In the mid-2000s, before the financial crisis, there was widespread hope for developing countries. In 2006, Nigeria became the first African country to pay back its debt entirely, while the South African economy, after the end of Apartheid, had been growing at an annual rate of 3.1 per cent. Yet even in the growth years, many African nations did not develop their broad economy. Instead, they became dependent on the Chinese mineral boom. Today, 24 out of the 54 African countries still depend on mining for over 75 per cent of their export earnings.
With the Chinese demand for African resources peaking in 2015, well before Covid, African countries took on large amounts of debt – most notably Zambia, which has now defaulted on Chinese predatory loans. Today Botswana stands as the only African country with a strong credit rating, according to credit agency Standard and Poor. The African Development Bank warns that the continent's risk of a debt default is increasing.
Covid has had a disproportionate impact on poor people everywhere. But the biggest impacts are being felt in largely impoverished developing countries. As in past pestilences, these impacts are connected to poor sanitation and lower levels of access to healthcare.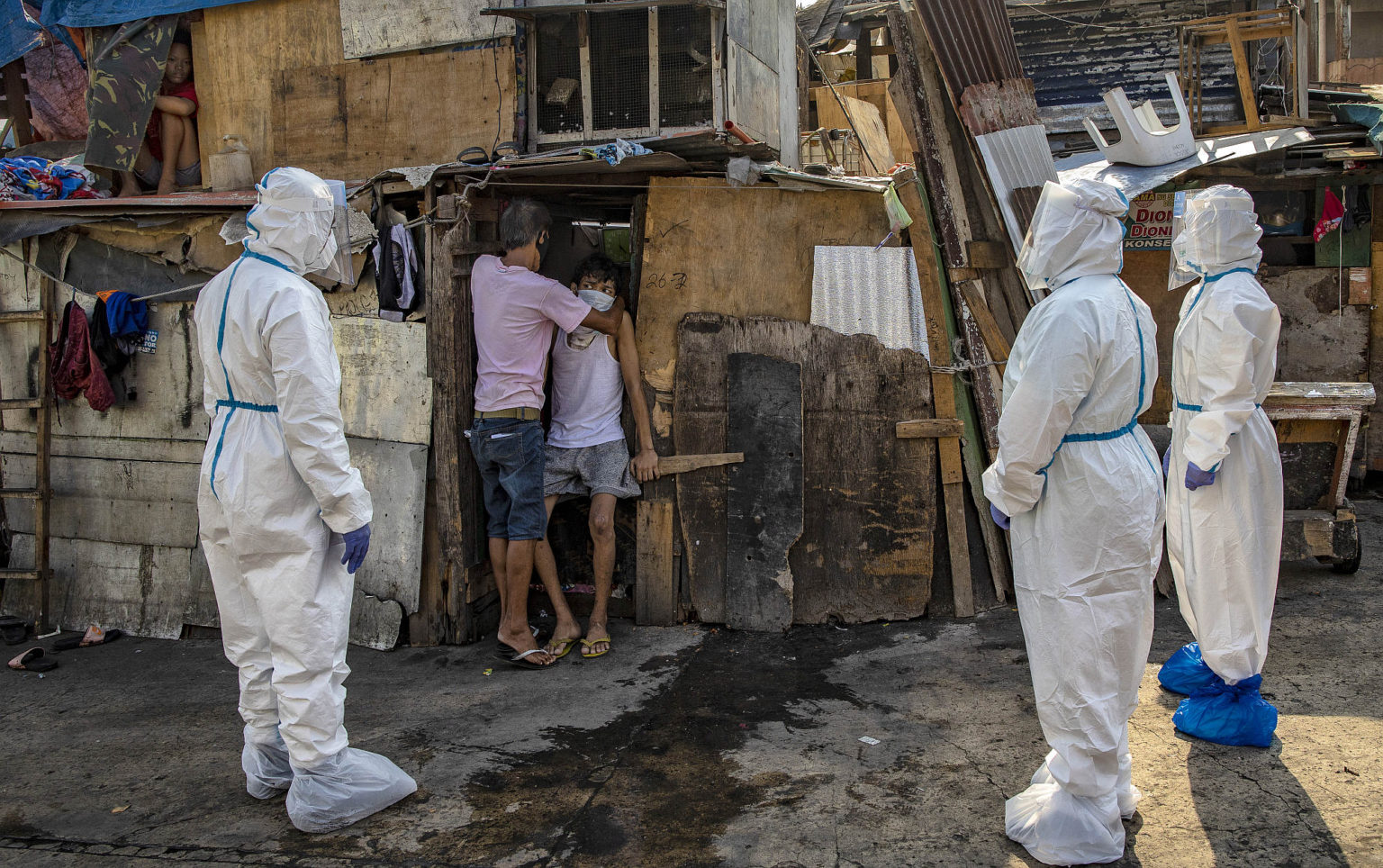 Police officers fetch a resident suspected of having Covid from his home in Manila, on 15 April 2020.
Moreover, since the pandemic started, the income of developing countries has fallen for the first time in 60 years. The United Nations predicts that the pandemic recession could plunge as many as 420million people into extreme poverty (which is defined as earning less than $2 a day).
In Latin America, Covid fatality rates are now eight times the global average. The poverty rate had fallen by 45 to 30 per cent over the past two decades, but now the ranks of the impoverished have swelled by nearly 45million, according to the UN. In Mexico alone, Covid has caused at least 16million more people to fall into extreme poverty, according to a study by the National Autonomous University of Mexico (UNAM). In many countries, such as Colombia, the pandemic has also led to a rapid rise in murder rates, and an increase in general disorder.
In the West, meanwhile, businesses tied to professional, financial and technical industries survived the pandemic, with many white-collar professionals keeping and even growing their incomes. The number of billionaires actually surged in the rich countries.
Things are different in the developing world. Whereas upwards of 40 per cent of all work in high-income countries can be done remotely, in developing countries most work takes place in the informal economy, where 'face to face' contact is necessary. Indeed, only 10 per cent of jobs can be done remotely. In India, informal workers represent over 80 per cent of the working population; in Africa, they represent 66 per cent; and in Egypt, the most populous country in the Arab world, they represent over 60 per cent.
So, as Westerners closeted themselves in their dwellings, many urban residents of the developing countries rode out the pandemic in the most crowded places on Earth – Manila, Baghdad, Mumbai, Dhaka, Port au Prince – with little in the way of sanitation or adequate healthcare. These cities, noted Laurie Garrett three decades ago in The Coming Plague, are ideal breeding grounds for infectious diseases. In the past few decades, the rise of 'urban thirdworldisation', including in China, has helped generate SARS, MERS, swine flu and now Covid-19. Anthony Fauci, a widely quoted medical adviser to the US president, has already identified potential new viruses incubating in China, and warns that more pandemics may arise in the near future.
The ability of developing countries to respond to such assaults remains tragically limited. Covid and its variants can be contained with vaccinations, but most developing countries suffer from pathetically low vaccination rates. Despite the West's global vaccination pledges, nine out of 10 African countries, according to the UN, are set to fall short of their vaccination targets. In South Africa, as of 2 June, only two people in every thousand had been fully vaccinated. Perhaps the most heart-breaking statistic is that 228,000 children were killed in South-East Asia – not because of the disease, but because of the effects of lockdowns, from unemployment to rising malnutrition.
The longer the pandemic persists, the greater the separation will become between high-income and poor countries. Fear of infection has a chilling effect on investors, who fear visiting impacted countries. In some countries, the massive decline in tourism, as well as the impact of lockdowns, has proven catastrophic. The International Monetary Fund has predicted that in the Caribbean, where tourism accounts for between 50 and 90 per cent of income and employment, revenues will 'return to pre-crisis levels only gradually over the next three years'. This decline will also be felt in larger developing countries, such as Mexico, Turkey, Thailand and the Philippines – as well as more traditional travel hubs, such as Spain and Italy.
Then there is the impact of the loss of remittances – the money that migrant workers in the West send home to their families. With many migrant workers out of work, cut off from their jobs or unable to move to wealthier countries in search of work, developing nations' economies have lost billions in income. Remittances sent home account for 10 per cent or more of the GDP of countries like Bermuda, Nepal, Somalia, the Philippines, Lesotho, El Salvador, Guatemala and the Palestinian West Bank. Most of these places have suffered significant levels of infection and had only limited success in curbing it. Western countries, and China, will continue to covet the raw materials of the developing world, but they remain indifferent to its people.
Medical diplomacy
China, Russia, America, as well as lesser powers like Cuba, have been trying to use their vaccines and public-health programmes to advance their interests abroad.
The early big winner has been China – where the virus first appeared and rampaged but now, thanks to very strict policies, seems to have largely dissipated. What the Guardian has labelled a 'brutal but effective strategy' has helped China's economy mend more quickly, as factories, stores and restaurants have re-opened. The methods of achieving success may seem abhorrent to Westerners, but China is making a powerful case for social control as the way to deal with the pandemic and get back to economic growth.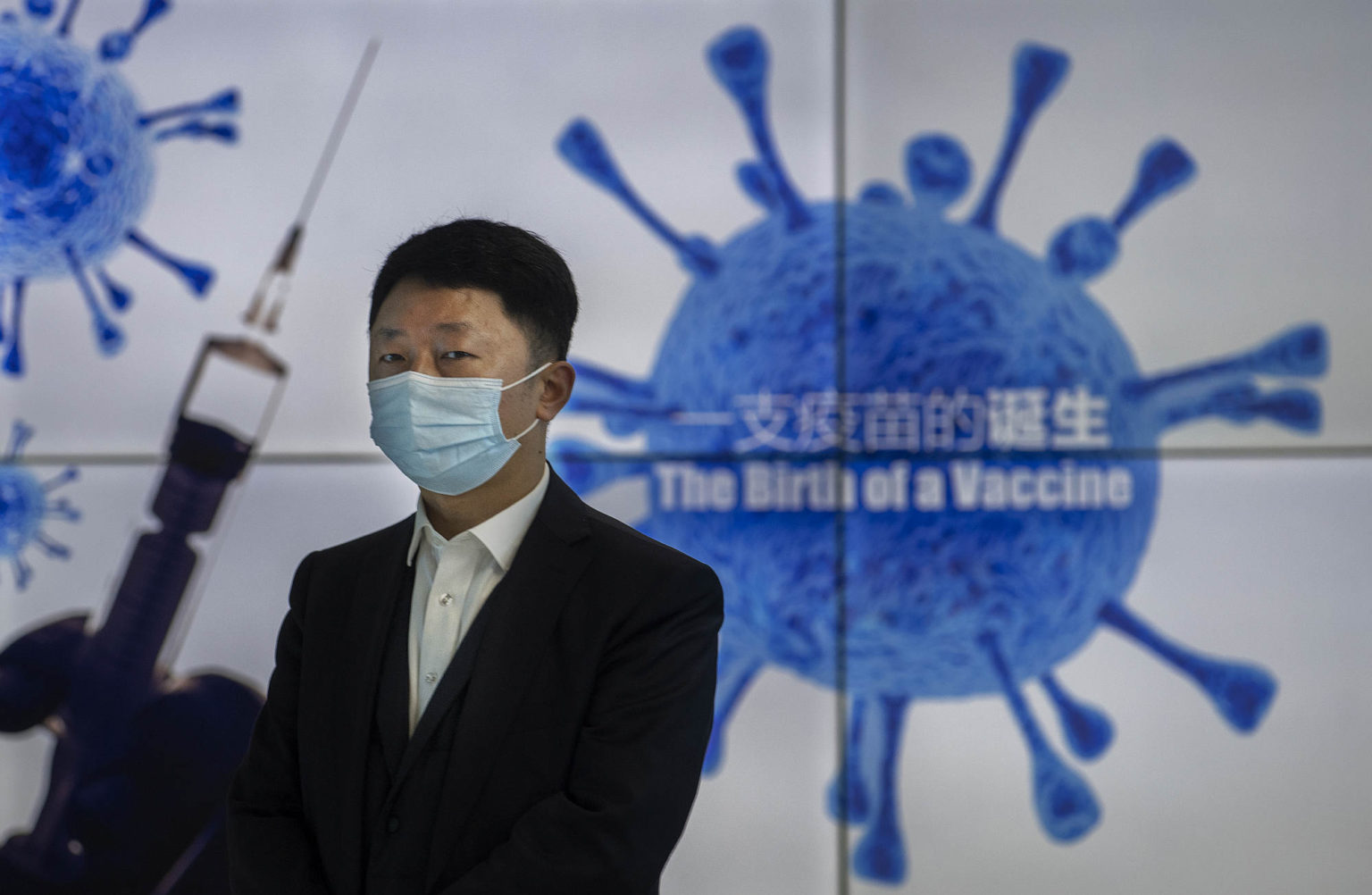 A Sinopharm representative promotes the Chinese-produced vaccine in Beijing, 26 February 2021.
China has also used its vaccine as a political tool. Several Latin American countries were encouraged to cut their trade ties to Taiwan in exchange for Chinese vaccines. In Peru, the political elite has been accused of accepting bribes from Chinese businessmen.
Yet, in the end, 'vaccine diplomacy' may well work against China's interests. Beijing has often been the first to offer medical equipment, but its vaccines have proven far less effective than those developed in the US, Britain or Germany. There has been a surge of post-vaccination infections in countries using the Chinese vaccine, including Mongolia, the Seychelles and Bahrain. And there are now signs that Latin American countries are reconsidering their initial embrace of the Chinese vaccines. Indeed, Peru has relied almost exclusively on Chinese vaccines, but still suffers from one of the worst Covid outbreaks in the world. China itself reports low rates of infections, but fewer than one in five Chinese has received the jab. Given the Chinese jab is less effective, this could prove problematic later.
China's faltering medical diplomacy presents a great opportunity for the West – to mount the kind of vaccination drive that would restore the developing world's faith in the world's democracies. If this opportunity isn't seized, developing nations will likely look to China as the only logical partner, and become more authoritarian.
The financial crisis followed by the pandemic has increased geopolitical instability, providing ideal conditions for the rise of strongmen. Before the pandemic, Africa seemed to be headed towards greater liberalisation, but now in Angola, Kenya and Uganda people have been killed by security officials enforcing lockdown, and others have been beaten and shot. In South Africa, it is now a criminal offence to do anything the authorities deem to be 'defying' lockdown. More worrying still are the reports that President Ramaphosa's government is toying with the idea of postponing the next election as it continues to push for a land-reform bill. This bill would expropriate property owners 'without compensation', mirroring the actions of neighbouring Zimbabwe.
China has also indulged in 'medical diplomacy', using its increasingly dominant position in producing protection gear and other critical equipment. It has offered both advice and medical supplies to developing countries in Africa and Latin America, as well as hard-hit European countries such as Italy and Spain.
In Latin America, too, there is a pandemic-driven return to authoritarianism. In Brazil, a country which has already suffered one of the highest global death tolls, right-wing leader Jair Bolsonaro has threatened to let the military on to the streets after a congressional inquiry found him guilty of committing 'crimes against life'. The Brazilian leader initially ignored the problem of Covid-19, comparing it to the 'sniffles'. In Mexico, another country hard hit by the pandemic, left-wing populist Andrés Manuel López Obrador has consolidated power, and changed the Mexican constitution to allow the military to patrol the streets and detain civilians. He is widely considered the most dictatorial Mexican president in the past 30 years.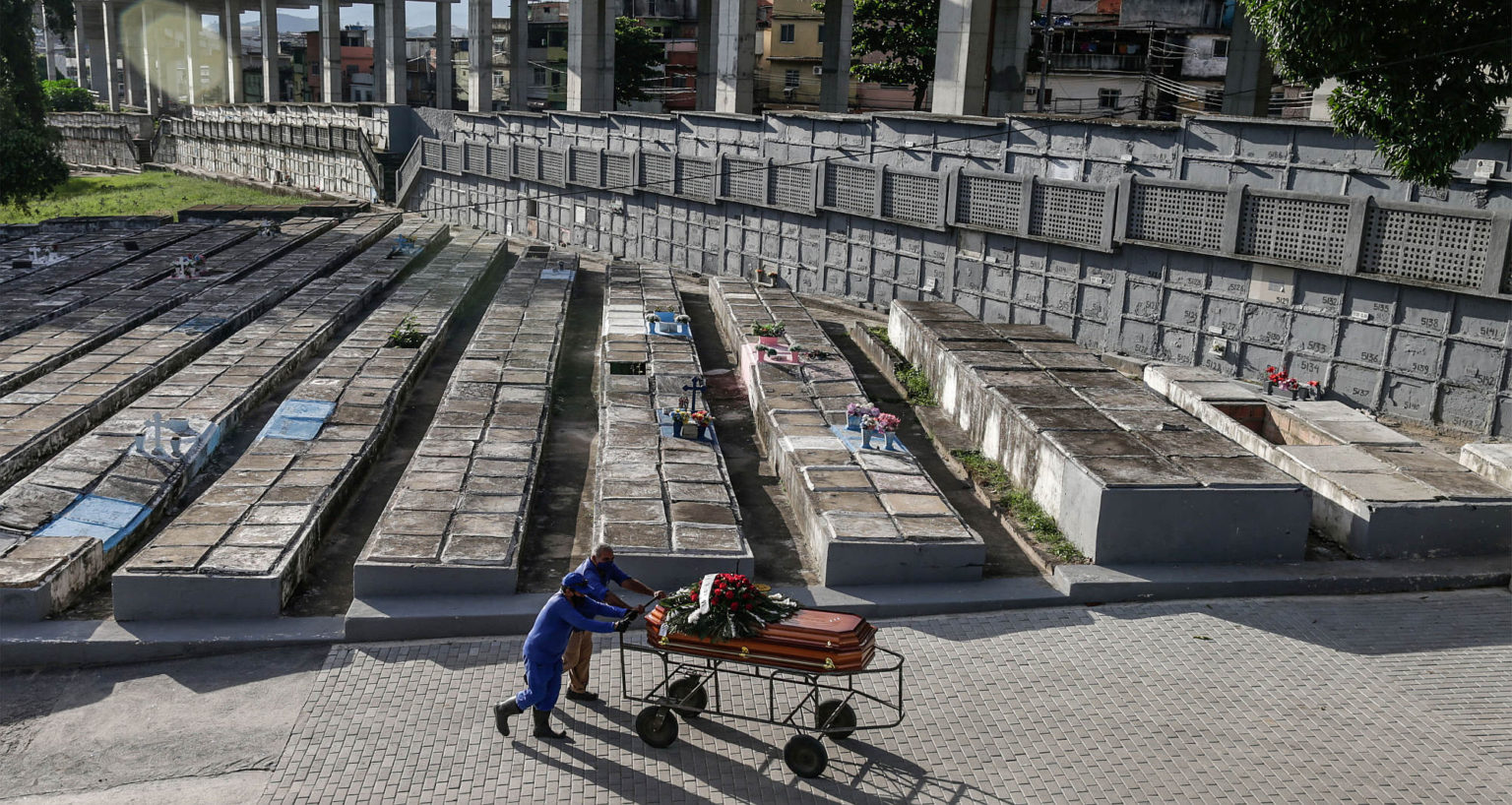 Gravediggers carry a coffin of a Covid-19 victim at the Sao Francisco Xavier cemetery, Rio de Janeiro, on 7 January 2021.
In India, extreme elements blamed the Muslim minority for the Covid-19 virus, and the Hindu nationalist government refused to condemn this. Meanwhile, the government has proven itself inefficient at handling the crisis. As in many developing countries, civil order is weakening. Rail and bus services were shut down for a while, leaving thousands of migrant workers stranded, disrupting essential food supplies. The Indian government also expanded censorship and approached the Indian supreme court to order all media outlets to shut, so that only the government's 'official version' of the health crisis could be published.
Iran and Turkey, already authoritarian, have also responded in typically brutal fashion. Iran's initial response was to deny that a crisis was occurring. Imams refused to ban large prayers in the holy city of Qom, even as the authorities dug mass graves that could be seen from satellite photos. In part due to the harsh impact of American sanctions on its healthcare system, Iran lacks critical medical equipment for frontline doctors. Many nurses and doctors have subsequently died. Incredibly, Iran's supreme leader, Ayatollah Khamenei, refused international help and promoted a conspiracy theory that the US had produced a special version of the virus that disproportionately affected Iranians.
For his part, Turkey's president, Recep Tayyip Erdoğan, has refused to work with the opposition-controlled municipalities on the pandemic. Instead, he has cracked down even more on the opposition, with 150,000 healthcare workers purged from their positions. While proving itself painfully inept at dealing with the virus, Erdoğan's regime has successfully exploited the pandemic to tighten its grip of power. It has passed legislation to widen state censorship, and journalists have been jailed for spreading 'fake news' about the pandemic on social media.
Covid itself may soon fade from the memories of Western nations. But the increasing political and economic dislocation caused by the response to it could present a huge global challenge for years to come.
The pandemic has reordered the world and expanded the once-diminished gap between developing and developed countries. Unless the Western world wakes up, and helps out the developing world with vaccines and treatments, we may be facing a situation in which millions, or even billions, of people will feel compelled either to embrace Chinese authoritarianism or to migrate.
The pandemic is shaping a world in which half of the world's population, standing on the wrong side of the vaccination and treatment divide, may be unable to change its circumstances. The West and China will continue coveting developing countries' raw materials. But they may no longer see them as potential neighbours and necessary partners in building a better world.
Joel Kotkin is the presidential fellow in urban futures at Chapman University and executive director of the Urban Reform Institute. His latest book, The Coming of Neo-Feudalism, is out now. Follow him on Twitter: @joelkotkin
Hügo Krüger is a structural engineer with experience in the nuclear, concrete, and oil and gas industries. He frequently contributes to the Rational Standard and Rapport.
To enquire about republishing spiked's content, a right to reply or to request a correction, please contact the managing editor, Viv Regan.