What they really mean when they say 'dog whistle'
Working-class people are racist beasts in the minds of the new elites.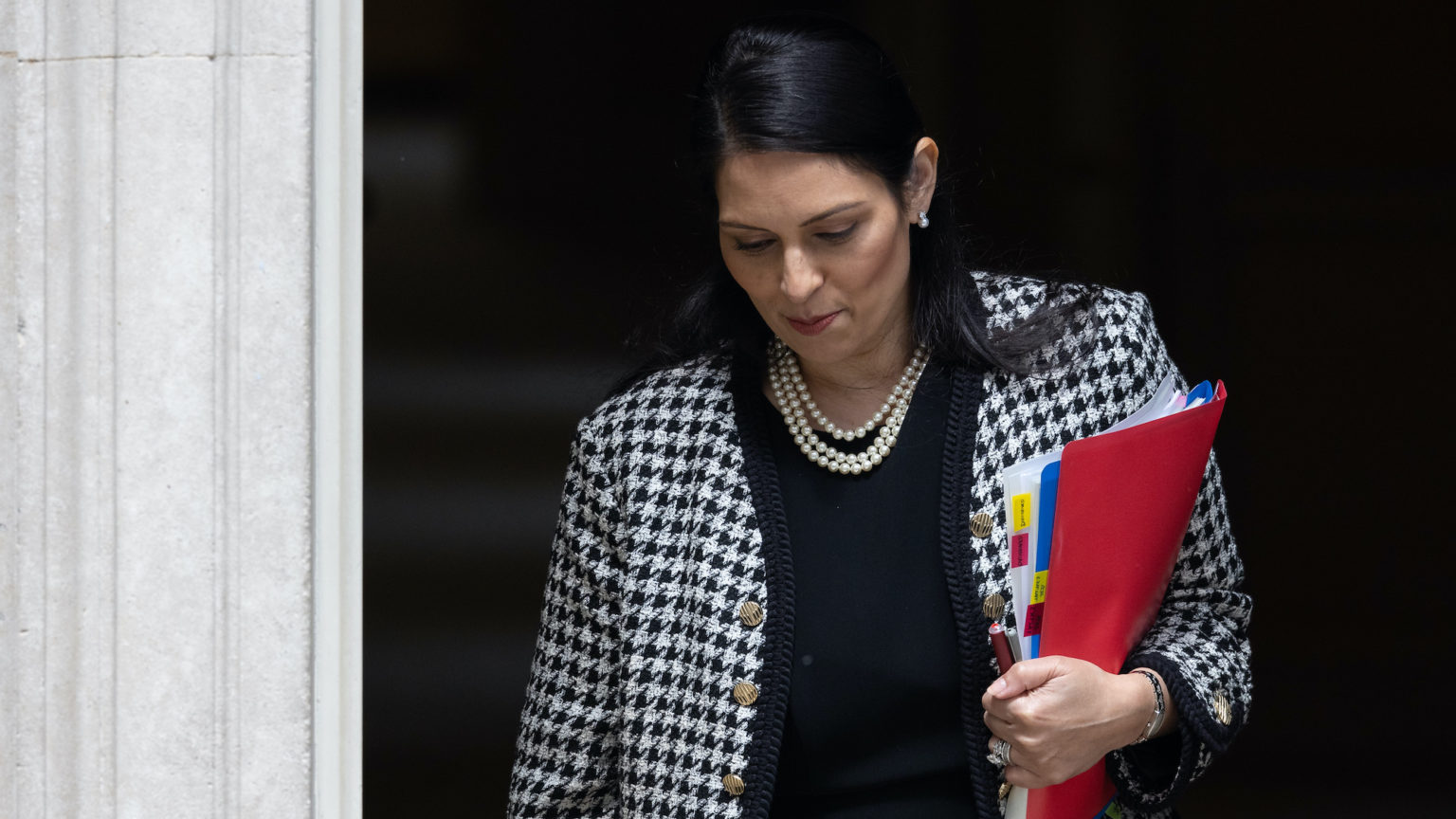 Not for the first time, the government is being accused of engaging in racist 'dog whistle' politics. And also not for the first time, the charge is complete nonsense and reveals far more about the fetid imaginations of the government's critics than it does about the government itself.
You might remember that, in December, MPs and commentators were up in arms after a government source said Angela Merkel would rather make the UK 'crawl across broken glass' than give concessions in the Brexit negotiations. This, they screeched, was a clear invocation of Kristallnacht, which it quite clearly wasn't.
Now, in the seemingly never-ending row over knee-taking in football, we might just have an even more absurd example. This is the idea that Boris Johnson, in failing to condemn those fans who booed footballers taking the knee, and Priti Patel, who criticised the BLM-inspired pose as 'gesture politics' at the start of the European Championship, are responsible for the racist online abuse suffered by black players in the wake of England's loss in the final on Sunday.
Tory baroness and long-time government critic Sayeeda Warsi went after Patel on Twitter. 'If we "whistle" and the "dog" reacts we can't be shocked if it barks and bites', she said. Labour deputy leader Angela Rayner similarly said: 'When you blow the dog whistle, then you're to blame for the dogs that are barking.'
England player Tyrone Mings even took issue with Patel's condemnation of the racist tweets sent to black players Jadon Sancho, Bukayo Saka and Marcus Rashford after Sunday's match. 'You don't get to stoke the fire at the beginning of the tournament by labelling our anti-racism message as "Gesture Politics" and then pretend to be disgusted when the very thing we're campaigning against, happens', he said.
This particular intervention has led the news bulletins and today got namechecked time and again at Prime Minister's Questions. Labour leader Keir Starmer said that, 'Far from giving racism the red card, the prime minister gave it the green light', and took aim also at Patel for failing to back the England team in their 'anti-racist' protest.
There is a lot of nonsense to unpack here. First on the agenda is this idea that Priti Patel, our Indian-heritage home secretary, is beloved by the nation's racists, that the feeling is apparently mutual, and that she is always on the lookout for opportunities to nod and wink at them. Once again Patel seems to have been denied her ethnic-minority identity because she happens to dissent from the identitarian view of things.
Then there's the suggestion that criticising a particular 'anti-racist' stunt or tactic equates to siding with racism – as if there is no debate to be had about how best to stand up to prejudice, and no possibility that some methods are more meaningful and less divisive than others. This is a particularly slippery argument given much of what passes for 'anti-racist' activism today is actually just racial identity politics, pushing a bleak, racialised agenda.
But let's dwell for a moment on that phrase 'dog whistle', because it reminds us of the most acceptable prejudice in elite circles today – that is, hatred of the working class. For it is those people, ordinary football fans, who are undoubtedly the 'dogs' in this metaphor – portrayed as rash, animalistic people just waiting to have their prejudices pricked by tabloid newspapers or, in this case, leading Tory politicians.
The assumption that the booers were just racist, and that therefore Patel and Johnson were siding with racists, has always been based on little more than prejudice. Times columnist and Tory lord Danny Finkelstein summed it up nicely in his column yesterday, in which he dismissed the idea that some of the fans who booed the knee-taking did so because of its association with Black Lives Matter, an organisation whose leaders claim to be Marxists:
'The jeering was racial abuse wearing the clothes of political argument. The jeerers hadn't read the BLM website or studied Das Kapital any more than the players had. In the aftermath of Sunday's defeat we learned who was doing the booing, and the ugly culture of hatred and violence it is part of.'
One wonders how Finkelstein can square this with the fact that, according to YouGov, a full 39 per cent of England fans disapprove of players taking the knee. Are all of them swaddled in this 'ugly culture of hatred' he describes? And what do the government's critics make of the fact that an estimated 70 per cent of the racist abuse suffered online by players in England comes from overseas? Are they being ginned up by Priti and Boris as well?
Once again, in their pious grandstanding against racial hatred, the metropolitan set has revealed its own prejudices.
Tom Slater is deputy editor of spiked. Follow him on Twitter: @Tom_Slater_.
To enquire about republishing spiked's content, a right to reply or to request a correction, please contact the managing editor, Viv Regan.