Heidi Carter should not judge pregnant women's decisions
Aborting a fetus with Down's syndrome says nothing about how society views disabled people. It is a matter of choice.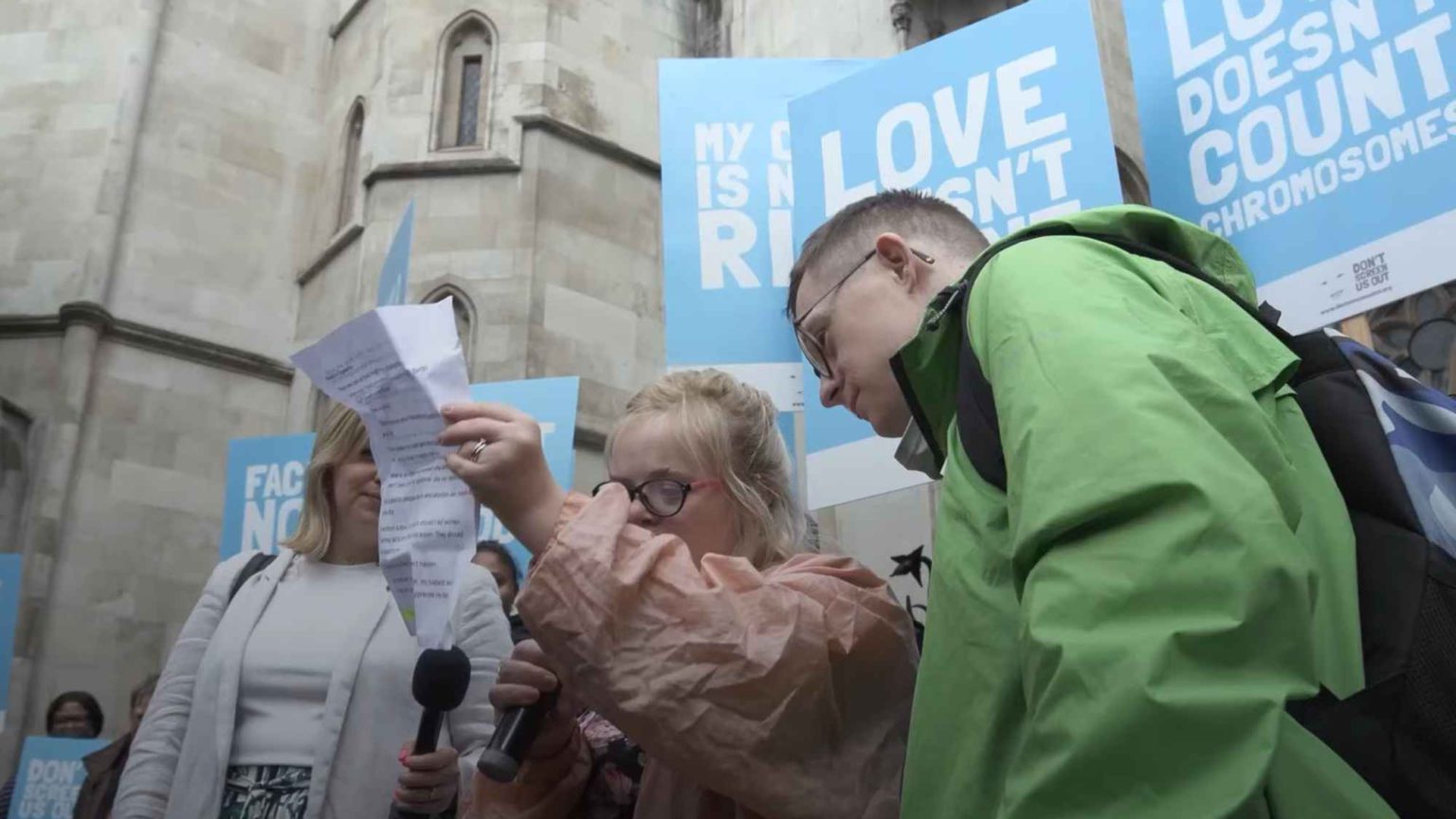 Heidi Carter is a talented and able young woman. She also has Down's syndrome. This week she launched a legal challenge which, if successful, would lower the time limit for abortions when there is a high risk of serious disability. Carter believes that it is morally wrong for any woman to decide to end her pregnancy to avoid the birth of a child with disabilities or genetic conditions.
In 2020, almost 300 women who had abortions stated Down's syndrome as the primary reason. For these women, and for others where a serious fetal anomaly is indicated, there is no time limit. Heidi Carter believes this is offensive to people with disabilities – and she is entitled to hold that view. As a person with a disability she has insight into what it feels like to have that disability. But it gives her no authority to stand in judgement on pregnant women's decisions.
I happen to hold a different opinion. I believe that whether, why and when we have children is a private and deeply personal matter, and that only a pregnant woman is in the position to know whether it is morally best for her to continue or end her pregnancy. She will live with the responsibility for that decision for the rest of her life. The rest of us are merely bystanders. The decision rests on her conscience not mine, nor Heidi Carter's, nor that of any judge – and that is why each woman must take that decision for herself.
That other people may be offended by a woman's decision to terminate her pregnancy is beside the point. Women choose abortion for all manner of reasons, but during 17 years running abortion services, I have never come across anyone who had an abortion to cause offence. A woman makes that choice because it is a route to solve a problem that confronts her personally.
Heidi Carter feels that, under different circumstances, she could have been aborted. 'I find it extremely offensive that a law doesn't respect my life, and I won't stand for it', she says. This seems a rather self-centred way of looking at the world. I may as well say: 'I find it extremely offensive that a law does not respect the lives of pregnant women and I won't stand for it.' Carter and her campaign allies should lift their eyes away from their own lives and consider the lives of others.
Choosing to abort a fetus because it has a disability says nothing about how a pregnant woman regards people with Down's syndrome in general. Abortion is all about context. Women take their decision weighing up the given circumstances. There is no time limit on abortions on the grounds of serious fetal anomaly for good reason. It gives women much-needed time to adjust to the news that their baby will be different to the baby they imagined and to decide how best to manage the changed circumstances.
Heidi Carter tells the BBC that she wants to challenge people's thinking about Down's syndrome and say, 'This is just a normal person'. But in truth, a baby with Down's syndrome is not 'just a normal person', but a baby with a chromosomal abnormality which may have little impact, or a lot of impact. Only the pregnant woman making that choice, aware of all the other demands on her, can decide what is best.
To stand in judgement of a woman's morals and condemn her actions as offensive, when you know nothing about her apart from the condition that will affect her baby, seems singularly immoral and offensive.
Abortion is not an expressivist act. A woman who ends a pregnancy when she receives a Down's diagnosis is not trying to set an example or demonstrate how others should behave. She is taking control of her own life. Abortion in the case of abnormality is different in many ways from the abortion of an unwanted pregnancy – typically, these are deliberate conceptions, loved and wanted from the start. But in one way it is the same – it is not a judgement about the value of the fetus. An abortion of an unplanned, unwanted pregnancy says nothing about the many children born and wanted after an unplanned, unwanted pregnancy.
Abortion really is all about the woman. The choice must be hers. The scandal is not that pregnancies affected by fetal anomaly can be aborted after 24 weeks – it is that others can't be.
Ann Furedi is author of The Moral Case for Abortion. Follow her on Twitter: @AnnFuredi.
To enquire about republishing spiked's content, a right to reply or to request a correction, please contact the managing editor, Viv Regan.