Why the Putin-Biden summit wasn't a disaster
For all his reputation as a disruptor, Putin wants a stable relationship with America.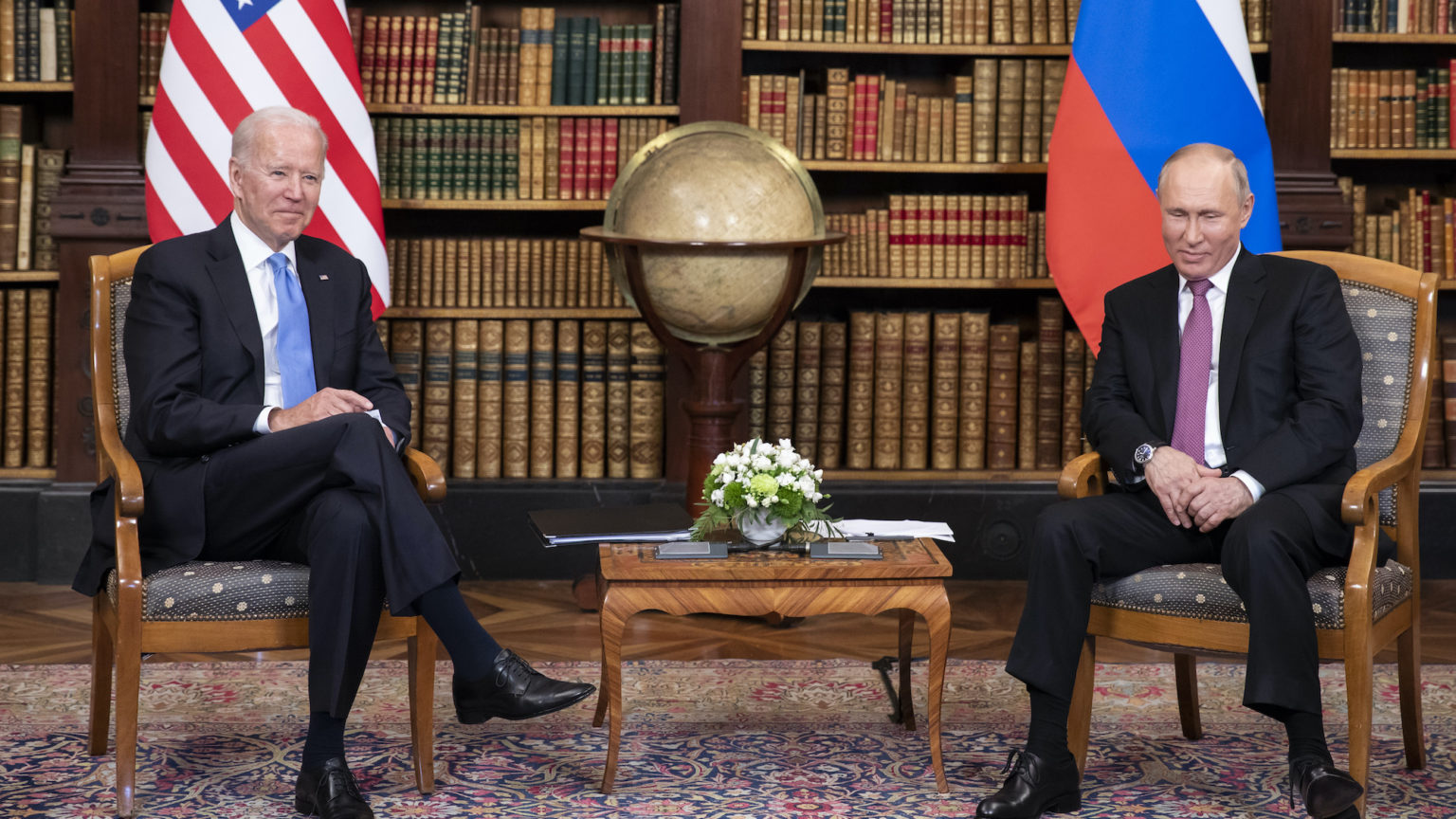 No one shouted. No one walked out. Nobody died.
This despite US president Joe Biden having, in the past, agreed with the description of his Russian counterpart, Vladimir Putin, as a 'killer'. Indeed, such were the modest expectations for the US-Russia summit meeting in Geneva – with the Americans, in particular, preparing opinion around the world for only the tiniest rise in the sub-zero temperature of bilateral relations – perhaps we should judge the nearly four hours the two leaders spent at the Villa La Grange a rip-roaring success.
This was not quite how Biden wanted to present it afterwards, of course. While Putin, looking as relaxed as he ever does, waded right into his press conference, inviting questions, Biden opened his with a blunt and assertive statement about dissent and human rights. His message was designed for an American press corps alert to what they had seen as Donald Trump's treasonous sell-out at Helsinki three years ago. I was tough, he told them, I gave no quarter; there was no meeting of minds.
This was all in line with one of the most dispiriting – and telling – comments before the summit. Kurt Volker, a one-time US ambassador to NATO and more recently US special envoy on Ukraine, made the point that the worse the summit went, the better it would actually be for Biden – for his standing in Washington, that is. There was a sense in which, for the US anti-Trump establishment, failure would be success.
But there was a sort of meeting of minds, albeit of a minimalist variety from the US point of view, which betrayed two things. First, that Joe Biden knows his way around US-Russia relations – far better, in fact, than Barack Obama did, or George W Bush before him. This was not a summit that was going to 'fail'. A smile or two on either side would be a plus, but not essential.
As a senator, Biden was a long-serving member of the Foreign Relations Committee, and his time there, and as vice-president, included all Putin's 20 years as Russian president or prime minister. At his press conference, Putin said – with a certain satisfaction – that, in talking to Biden, he knew that he was dealing with a seasoned politician. When Biden was asked why they had finished earlier than expected, even though the first of their two sessions went on longer than scheduled, he said it was because they got through so much at their one-on-one session that there was less to discuss in the second.
This was a professional operation (on both sides). The agreements, such as there were, were largely bureaucratic: ambassadors back in the two capitals; and expert-level talks to start about arms control and cyber security. There was acknowledgement too that, on dissent in Russia, on the imprisonment of Alexei Navalny, and on the state of human rights, Biden would make his points – more loudly perhaps in public than in private – and Putin would bat back observations about social ills in the US.
In fact, from the location to the press-conference questions to the nature of the agreements, there were ways in which this was a summit straight out of the late Soviet playbook. (Except that the Russians now have infinitely better suits, and Putin came with a much, much classier car.)
The other thing betrayed by the summit was how relatively simple it was, for both sides, to revert to the state of relations pre-Trump. Biden clearly saw that resuming relatively normal diplomatic and expert-level communications was the way to prevent the rift becoming worse to the point of being dangerous. And it is to his credit that he decided to do it so early in his presidency. Given the hostility towards Russia that remains in Washington, that was a political risk. But maybe better now than closer to the mid-term Congressional elections.
The timing was advantageous for Putin, too. With parliamentary elections in the autumn that are never quite as much of a foregone conclusion as is often assumed outside Russia, he appeared – in the summit iconography at least – as the equal to the US president that every Russian leader aspires to be. Nor did he have to make the concession of the initial move (that came from Biden). He has also gained at least 'a glimpse', as he put it, of more predictable and stable relations with the US – predictability being something that Putin, long misread in the West as a 'disruptor', has always prized.
It is now over to the US State Department and Russia's Foreign Ministry, to the diplomats and the experts, which is where everyone feels a lot safer, even if nothing significant transpires. Any progress here, though, may be a bonus. The point is that over four summits in almost as many days – the G7, NATO, the EU and now Russia – Joe Biden has put the Trump presidency comprehensively to rest, at least in the transatlantic arena.
Mary Dejevsky is a writer and broadcaster. She was Moscow correspondent for The Times between 1988 and 1992. She has also been a correspondent from Paris, Washington and China.
To enquire about republishing spiked's content, a right to reply or to request a correction, please contact the managing editor, Viv Regan.