What does 'build back gender-neutral' even mean?
Boris Johnson's bizarre platitudes won't reverse the devastation of lockdown.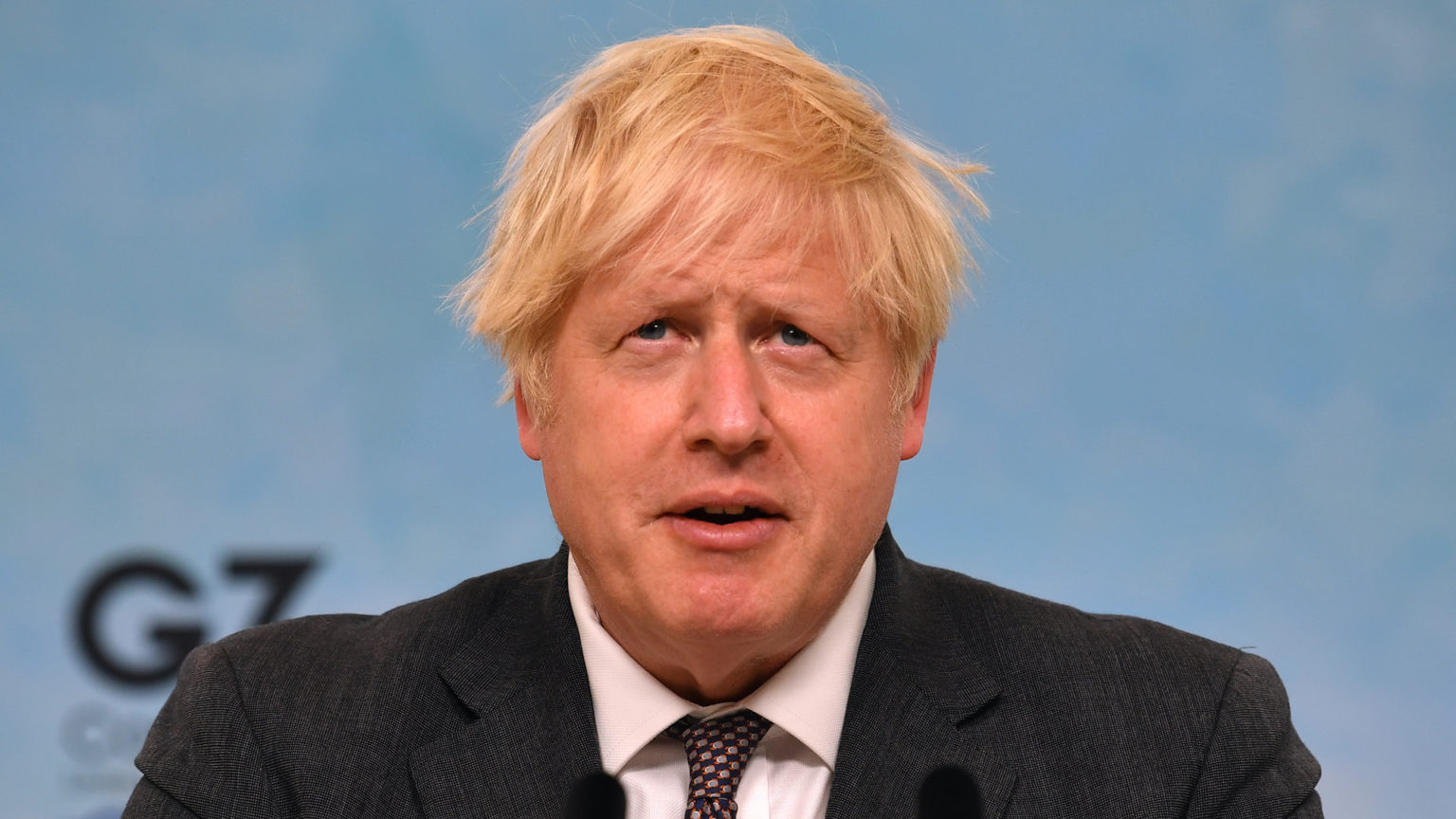 Boris Johnson says he wants to create a 'more feminine' world. Speaking at last week's G7 summit, he said that, post-Covid, countries should be 'building back greener, building back fairer and building equally, and – how should I put it? – in a more gender-neutral and perhaps a more feminine way'.
Just days later, nightclub and restaurant owners, people who work in theatre, travel, weddings and events, learned they wouldn't be building back at all – better or otherwise – for the time being. Many businesses simply want to be up and running, and no doubt couldn't care less whether they are allowed to do so in a feminine, masculine or gender non-binary way.
Hopefully, Boris knows what he means by building back in 'a more feminine way', because most of us haven't got a clue. Regardless, Nimco Ali – best friend of Carrie Johnson and self-appointed 'chief fanny defender' – is definitely 'all for it'. 'Across every sphere, from health to the economy, security to global protection, the impacts of Covid-19 have been exacerbated for women and girls simply by virtue of their sex', she writes. Is it churlish to point out that significantly more men than women have died from coronavirus in almost every country on Earth?
It is taken as a matter of faith that women have borne the brunt of lockdown and the pandemic. Women are assumed to have been more likely than men to have left work to homeschool their children. It looks as if more women than men have been sacked from retail and service-sector jobs when the economy was shut down. Women have also reported more mental-health concerns as a result of social isolation during lockdown. We won't get a full understanding of the economic impact of lockdown until the furlough scheme ends and all restrictions are finally lifted. But it seems likely that it is those who were in the most precarious positions to begin with – whether male or female – who have been most badly hit.
This doesn't stop Ali being excited about 'a post-Covid world that places women and girls at the core'. The Fawcett Society is similarly excited by this. 'The virus could spur change if flexible working became the norm and dads spent more time with their kids', it says. Do these middle-class campaigners forget that parents tend to live in families, not single-sex silos? Flexibility sounds great but too often it is shorthand for working anti-social hours, being badly paid and becoming easily disposable. If this is what a more feminine society means, I'll park my enthusiasm.
For Boris, a more feminine society is a more equal one. In his G7 speech, he warned against repeating the mistakes of the 2008 financial crisis, telling his fellow world leaders that the post-crash recovery was 'not uniform across all parts of society'. Equality is good, of course. But Boris is looking at the wrong kind of inequality.
Post-2008, inequality grew along class lines, not according to gender. It was low-skilled workers whose employment prospects suffered most. This led researchers to conclude that it was not the 'middle-class recession' that many people predicted. When it came to gender, it was young men who were hit hardest. Between 2008 and 2014, full-time employment fell by 10 per cent for men aged 20 to 24, and eight per cent for women of the same age.
It turns out that what Boris actually means by a 'more feminine post-pandemic world' is not about the UK at all. Downing Street followed up the PM's comments by explaining that the 'gender-neutral and feminine recovery' referred to a £430million commitment to improve education for girls in the world's poorest countries. The G7 approved plans to get 40million more girls into school.
Educating girls in poor countries has long been an obsession of Western political elites. Never, sadly, as an end in itself. No, educating girls is seen as important by the West because it is linked to later marriage, delayed pregnancy, having fewer children and greater environmental awareness. Are the G7 leaders worried that educated boys might demand more than a sustainably small family?
All the talk of 'building back better' at the G7 ignored the main thing that has been doing so much damage to the developing world. Lockdowns in the West, particularly thanks to travel restrictions and depressed demand for raw materials, have devastated the world's poorest economies. As the Brookings Institution notes, 'the long-term concentration of poverty in countries that are middle-income, fragile and conflict-affected, and located in Africa' has been exacerbated. One tragic consequence of this is an increase in child labour. Over the past year, the number of children aged five to 17 in work has risen to 160million – the first increase in two decades. UNICEF claims that global lockdowns, school closures, economic disruption and shrinking national budgets have forced families 'to make heart-breaking choices'.
Let's be clear: it is economic growth and not getting girls into school that reduces poverty. Global recessions, on the other hand, lead to an increase in poverty. Schooling reflects a country's prosperity, it does not create it. What's best for poor countries – and what's best for the women and girls in those countries – is a booming global economy. But instead of ending lockdown restrictions and opening up travel once more, Boris is busy exporting our home-grown woke obsession with 'gender neutrality' to developing countries.
The Conservative Party seems happy to let voters think it has declared war on woke. From criticising footballers taking the knee to defending free speech in universities and calling for statues to be retained, they talk a good culture war. But it is baloney. When push comes to shove, Boris simply can't help himself. Unable to make a convincing case for economic growth, woke is all he has to fall back on.
Joanna Williams is a columnist at spiked and director of Cieo, where she recently published How Woke Conquered the World.
To enquire about republishing spiked's content, a right to reply or to request a correction, please contact the managing editor, Viv Regan.