There is no case for this destructive delay to Freedom Day
The data are far rosier than the government ever expected when it announced the roadmap.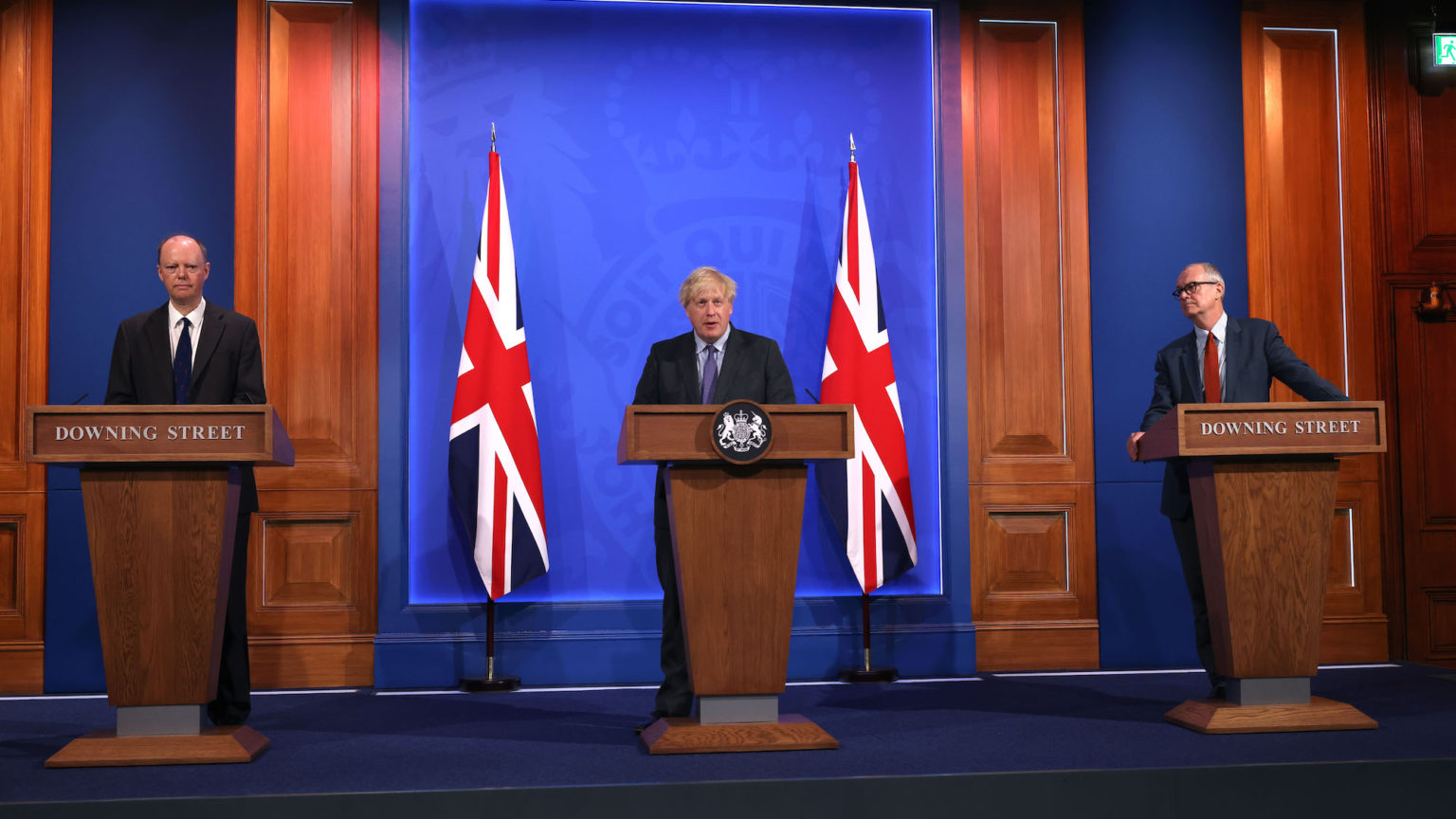 Prime minister Boris Johnson has announced that Freedom Day, when all coronavirus restrictions will be lifted, will be delayed by four weeks. He said that we have not met the tests that would allow the next stage of lockdown easing to go ahead. Clearly, the goalposts have shifted.
Back in December 2020, after England's third national lockdown was imposed, health secretary Matt Hancock set out the government's conditions for easing all restrictions. 'Once we have protected those who are likely to end up in hospital and those who are likely to die from coronavirus, then we can rely on people's personal responsibility to protect themselves rather than the current rules that we have in place', he said.
This approach was confirmed in the government's roadmap out of lockdown. This set 21 June as the target date for 'Step 4', by which point all legal limits on social contact would be removed. The main conditions for unlocking were the success of the vaccine rollout and the efficacy of the vaccines in reducing hospitalisations and death. The roadmap did not say anything about rising infections or hospitalisations alone – only a rise in infections so large as to put 'unsustainable pressure' on the NHS was considered grounds for delay.
Just before the roadmap was set out, back in February, SAGE published a set of models projecting the numbers of hospitalisations under different dates for easing the lockdown. SAGE's 'Scenario 3' was the closest to the dates that were agreed in the roadmap. In this scenario, the total number of Covid-19 hospital patients in England was projected to reach a low of 3,412 by mid-April. Then it was predicted to increase as things gradually reopened. By 14 May – aka 'Step 3' in the roadmap, when indoor mixing was allowed to return – SAGE expected there to be 5,334 Covid-19 patients in hospital. By 14 June, over 7,000 patients were expected to be in hospital – an increase of over 30 per cent in just a month. The model envisaged hospitalisations increasing to a peak in the autumn of a little under 20,000 patients, well below the peak number of 34,336 from last January.
If we use the SAGE projections as a yardstick, we can tell whether we are in a better or worse position than the government expected when it announced the roadmap – and whether, therefore, there is any case for delaying Freedom Day.
So what do the current data actually show? On 14 May, there were 818 patients in English hospitals – just 15 per cent of the number SAGE projected. As we know, since May, cases have increased quite significantly. Yet, according to the latest figures, there are still just 933 Covid-19 patients in hospital. Clearly, we are in a dramatically better position than the government expected back in February.
So what is the government's case for delaying? One argument is the increased transmissibility of the Delta variant. Certainly, positive tests have gone up fairly quickly since May. But positive tests peaked in Bolton, one of the hardest-hit areas, several weeks ago. Despite this rise in cases, Bolton has never had more than one death per day since the onset of the Delta variant (compared to an average of nearly five per day back in January). In Blackburn with Darwen, positive tests have also passed the peak.
The King's College / Zoe app's estimates of symptomatic infections offer a good insight into the nationwide trends. Its current data suggest that cases are still going up nationally, but that the rate of increase has already dropped significantly. Another source for hope is that the numbers of calls and online enquiries to the NHS that potentially involve Covid-19 have already started to decrease nationally.
Taken in the round, the data suggest that although cases have increased fairly rapidly since May, the rate of increase is now beginning to level off, especially in the hardest-hit areas. Hospitalisations have also gone up, but by much less than the government expected. So far there is no indication that the current increase in cases could overwhelm the NHS. And there is no indication of any significant surge in deaths.
A final point: the government simply assumes that further easing of restrictions will inevitably lead to surging infections. Crucially, however, that has not been the experience of US states like Iowa, Texas and Mississippi. These states removed all their legal restrictions over three months ago. Despite this, infections and hospitalisations continued to decline. This is consistent with the academic evidence, which finds lockdown restrictions have only a very limited impact on infections and deaths.
The delay to the reopening is a devastating blow to many businesses and sectors, such as the events industry, sports, music, theatre and hospitality. There ought to have been compelling evidence for any delay. But there is nothing in the data to justify it.
David Paton is professor of industrial economics at Nottingham University Business School. He tweets as @CricketWyvern. He is a member of the Health Advisory and Recovery Team (HART).
To enquire about republishing spiked's content, a right to reply or to request a correction, please contact the managing editor, Viv Regan.