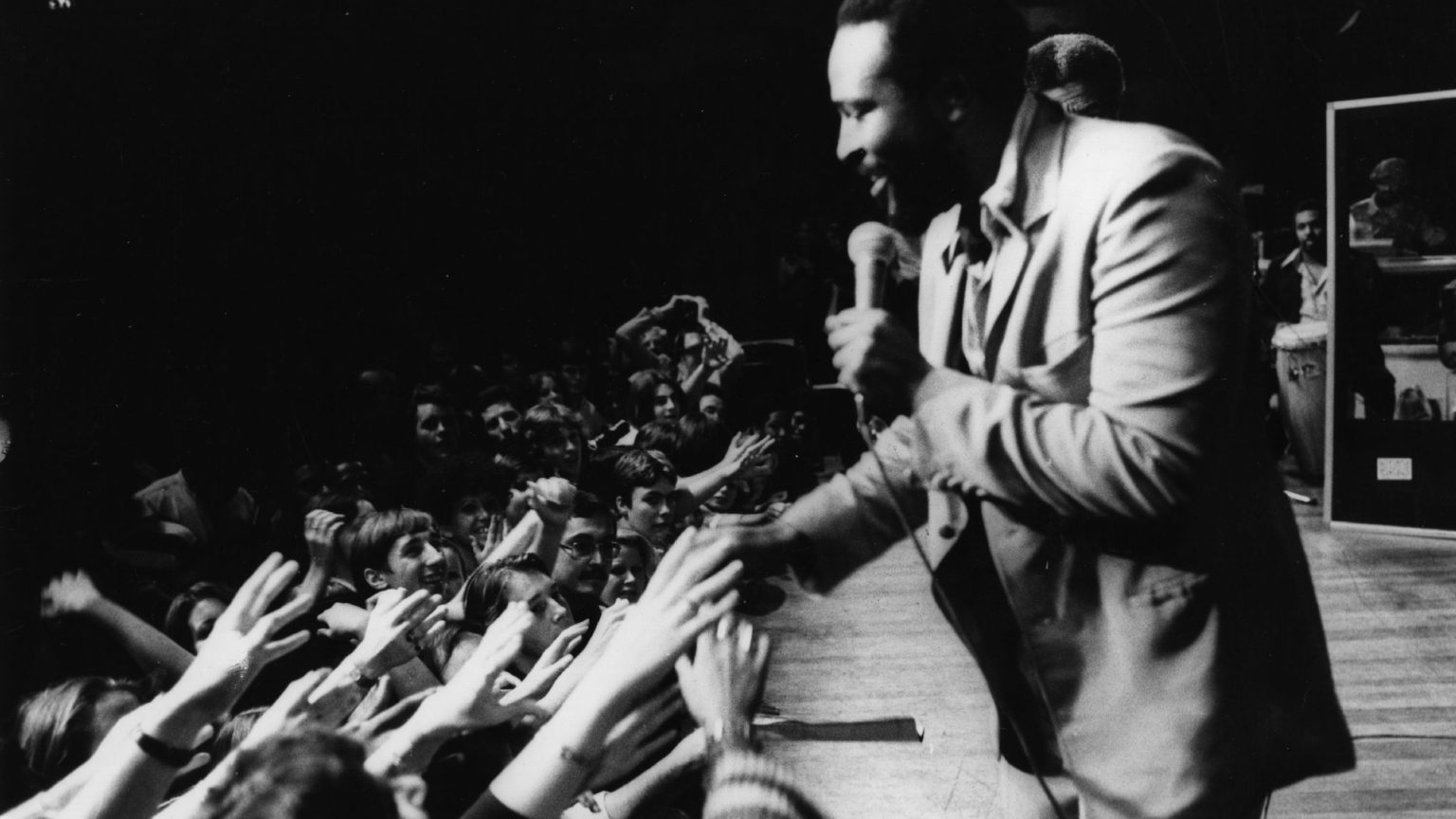 What's Going On: a triumph of mediocrity
It wasn't even Marvin Gaye's best album, let alone the best of all time.
There's no right answer to the question, what is the greatest album of all time? But there is definitely a wrong answer, and that is: What's Going On by Marvin Gaye. Not that you'd know that, to judge by the reaction to its 50th birthday. In 2021 it's a sacred cow, but that wasn't always so…
In June 1974, the New Musical Express, in those days a self-styled arbiter of taste with a vast circulation and considerable influence, published '100 All-Time Greats', a centre-spread depicting the best albums of the era. Rock music, now having reached legal adulthood, was beginning to take stock of itself as an 'artform', and this was probably the first attempt to create a canon. There would subsequently be many more, and rock-list books would become a thriving cottage industry in the decades that followed. At the time, though, it was new and sparked much interest and debate. (The list was actually numbered one to 99, with the final spot to be chosen by the winner of a competition to nominate number 100 – and there was a deluge of replies.)
Looking at the list today, it seems rather odd – but then, it seemed slightly eccentric at the time as well. It was compiled from lists drawn up by the paper's 'scribes', as its writers were known in the arch slang of the NME, and was a typically eclectic selection. It also had a very 'white middle-class male' tone. Despite the lip-service paid to the role of blues and gospel in the roots of rock, there were just 11 selections by black artists, and four of these albums were by what would have been seen as honorary white acts (Chuck Berry, Love, and the Jimi Hendrix Experience) rather than those who were part of the blues and soul genres. Of the remainder, three were non-compilation LPs by Stevie Wonder and Sly Stone (and thus regarded as 'proper albums' by musicians accepted by the rock scene); three were greatest-hits collections (by Aretha Franklin, the Impressions, and Smokey Robinson and the Miracles); and one was a posthumous collection of 1930s recordings by the legendary Robert 'Crossroads' Johnson (a godlike figure to Eric Clapton, the Rolling Stones and others who had emerged from the British blues boom of the mid-1960s, and thus another honorary rock man).
The meagreness of this black contingent is partly explained by the fact that soul music remained predominantly singles-oriented, producing 45rpm records for dancing. But even taking this into account, one omission by a black artist will surprise a lot of people. As one squints through 21st-century eyes at the top left-hand corner, Sgt Pepper and Blonde on Blonde are sitting there together in the number one spot, followed by more of the same. That's right… What's Going On by Marvin Gaye, an album released three years before the list, and which we are continually told is the greatest record ever made, is missing! In fact, it's not in the 100 at all. Nor, as I recall, was it selected by any of the competition finalists who had their essays published in the following weeks. Its impact upon the white album-buying British public was apparently zero. Writer and DJ Paul Gambaccini conducted a similar poll of music writers for a 1978 book, and once again WGO wasn't in the top 100.
Yet when Gambaccini repeated the exercise a decade later, WGO was at number four – 'a major re-evaluation by the critical establishment', as he put it. And when the NME did the same in 1985 (with a very different crew aboard), it hit number one. Since then, it has remained there or thereabouts in pretty much every poll. To give a few examples from the dozens available: first ('100 Best Albums Ever', Guardian, 1997); first ('Greatest Album of the 20th Century', Guardian, 1999); sixth ('500 Greatest Albums of All Time', Rolling Stone, 2003); and back up to first in last year's Rolling Stone 500 (September 2020). So why this dramatic rise in status? The answer lies in the changing relationship between black artists, white audiences and the music press.
A time before What's Going On
In Britain in the 1960s, first R&B and then soul music had a strong following, and American acts were amazed when they played to halls packed with white teenagers and saw their records hit the charts. In the US, it wasn't until the so-called British Invasion of 1964, led by the Beatles, Stones and Animals, that America's white youth began to be exposed to blues and R&B on a systematic scale. In many cases, they first heard the music of their own black compatriots when it was played through the filter of these white English beat groups.
In the late 1960s, pop music began to split into two camps: pop and rock. This development was encouraged by the emergence of albums – which in the first part of the decade were still listed in the singles chart – as a distinct commercial and artistic force. The new 'alternative' scene of students and hippies regarded rock as a progression from rock'n'roll, and the album was the natural medium for their music, allowing longer discursive tracks that, with the help of dope, appeared more important and cerebral than short, attention-grabbing singles. (In the UK this difference was particularly pronounced along class lines, where soul music was the traditional music of choice for smartly attired short-haired working-class youth who epitomised everything that hippies despised, and vice-versa.)
This alternative scene spawned its own so-called underground press, which created a new generation of critics who would go on to become stalwarts of the 1970s rock papers. Many (though not all) of these writers were happy to revere ancient bluesmen, but were less interested in current 'commercial' (ie, popular) black music. Soul, based as it was on singles, showmanship, smart clothes and sharp dancing, didn't fit in with Afghan coats, patched jeans and sitting on the floor stoned while a band tuned up for 20 minutes. Worse still, black acts who attempted to break into 'light entertainment' were despised even more, for 'selling out'. Inevitably in this context, as the music papers catered more for their rock audience, soul music became ghettoised, usually with its own small section containing a perfunctory round-up of new releases, while the features and analysis concentrated mainly on more 'serious' music.
Of course, popular black musicians had been addressing serious issues all along, but usually in a coded way. Even the more overt exceptions in the mid-1960s – Sam Cooke's 'A Change Is Gonna Come'; the Impressions' 'People Get Ready' and 'Keep On Pushing'; and Nina Simone's version of Billy Taylor's 'I Wish I Knew How It Would Feel To Be Free' – were relatively gentle. War was given either a patriotic treatment (Marvin Gaye's 'Soldier's Plea') or a gloss of strained optimism (Dee Clark's 'I'm A Soldier Boy').
As racial tensions erupted, however, the message became more outspoken and direct. James Brown, as ever, was at the forefront, with his 1968 smash, 'Say It Loud – I'm Black And I'm Proud' (although his political views would frequently bring him into conflict with radical black activists). Then in 1970, the Last Poets blew the whole scene apart with their eponymous first album. The same year, Gil Scott-Heron's 'The Revolution Will Not Be Televised' and 'Whitey On The Moon' announced his arrival as a distinctive new voice. Curtis Mayfield began releasing socially aware albums such as Superfly and There's No Place Like America Today. And Bobby Womack followed suit with Across 110th Street, as did the Staples Singers with Respect Yourself.
Motown was famously conservative, but it too got in on the act. The immaculate Diana Ross and the Supremes had touched on social issues – albeit mawkishly – with 'Love Child' and 'I'm Living In Shame' (both 1968). In 1969, Smokey Robinson and the Miracles and Marvin Gaye each recorded versions of Dion's hit 'Abraham, Martin and John', and the Temptations released their Psychedelic Shack album, which included the track, 'War (What Is It Good For?)'. In 1970, label mate Edwin Starr topped the charts with that same song, and Motown also released 'I Should Be Proud' (a sarcastic anti-Vietnam song recorded by Martha and the Vandellas); 'Ball of Confusion' (a state-of-the-nation howl of despair by the Temptations); and Bob and Marcia's version of 'Young, Gifted and Black' on its Tamla label. Most significantly, the no-longer-'Little' Stevie Wonder released 'Heaven Help Us All' – a tentative step in a new, socially aware direction that would result in 'Living For The City', 'You Haven't Done Nothing' and 'Village Ghetto Land', all three of which knock anything on WGO into a cocked hat. This is the context in which WGO should be considered.
The fracturing of Motown
In the 1960s, Marvin Gaye was Berry Gordy's golden boy: a handsome, suave figurehead for his Motown operation. The fact that Marvin had a superb voice and wrote songs was a bonus. He conveyed a barely restrained sense of anguish and lust in a series of brilliant solo records such as 'Baby Don't You Do It', 'One More Heartache' and 'Ain't That Peculiar', as well as exhilarating duets with Tammi Terrell. Gordy liked good music as much as anyone – as long as it sold lots of copies. His philosophy, as has been noted before, was perfectly summed up by the first hit on his own label, Barrett Strong's 'Money (That's What I Want)'.
Gordy made plenty of money and was always on the lookout for ways to make more. In particular, he was keen to sell his artists to a lucrative white adult audience, hence the steady flow of concert albums from upmarket venues (The Supremes at the Copa; Diana Ross and the Supremes 'Live' at London's Talk of The Town; Marvin Gaye at the Copa; The Temptations Live at London's Talk of The Town; Stevie Wonder Live in Person at London's Talk of The Town; etc). The potential to turn Gaye into the Sidney Poitier of the supper-club circuit seemed obvious.
This led to tensions between Gaye and Gordy, and things came to a head in 1970. Gordy had been gradually moving his operations from Motown's headquarters at Hitsville USA, in Detroit, to new premises in Los Angeles. Motown was fracturing, and Gaye was adrift. According to the legend, he felt constrained by his image, and wanted to express himself and talk about the world, thus putting him on a collision course with Gordy, who wanted nothing of the sort. There is some truth in this, of course, such as when he expressed a desire to respond to the 1965 Watts riots, to Gordy's horror. He had also spoken of his distress after discussing Vietnam with his brother, who had served there. But Gaye was by no stretch a political firebrand taking on the system in order to prevent his political message and artistic vision from being suppressed.
The real story is more prosaic. The song 'What's Going On' wasn't conceived as part of a concept album. In fact, it wasn't conceived by Marvin Gaye at all. It began with a half-formed jazz tune by the Four Tops' bassist, Obie Benson, who developed it with lyricist Al Cleveland to reflect the police brutality that Benson had witnessed in 1969 at an anti-war demo in Berkeley. The Tops turned down the chance to sing it, as did Joan Baez, of all people.
Benson and Cleveland thought the music would be a good fit for Gaye, but he wasn't interested either. Eventually, after a lot of persuasion, he agreed to record it and take on production duties himself. In Benson's words: 'We measured him for the suit and he tailored the hell out of it.' Gaye altered the lyrics and tune, and after some eccentric and somewhat chaotic recording sessions during the summer of 1970, a laid-back track emerged that would be the blueprint for Marvin Mk II.
It was released as a single in January 1971 before Gordy (in LA) could clear it. When he finally heard it, he hated it, and pronounced it (according to the polite version) 'the worst thing I ever heard in my life'. That all changed, though, when it became a hit – whereupon he did a u-turn and demanded an album to capitalise on its success. Gaye hurriedly recorded some new songs, and after an initial mix in Detroit, went to LA and mixed it again. In the process it lost its Motown sound and acquired a sleeker veneer. In comparison to Gaye's previous recordings, the music was bland and the sound thin, and Gordy was baffled at what he saw as Marvin's attempt to be Dizzy Gillespie.
Plenty of filler
Keith Richards once described pop albums in the pre-Beatles era as 'two hits and 10 pieces of shit', and many Motown albums were guilty of continuing this tradition through the 1960s. The principle certainly applied to WGO, which contained plenty of 'filler', and even its hits are poor compared to Gaye's other work. The tracks are much of a muchness, to the extent that they all meld into one – which was apparently Gaye's intention, as he wanted to create the feel of a party. Most of the distinctive musical and sonic features of the album were contributed by a team of people who are barely mentioned. Even the title of 'Inner City Blues' – the third (and best) hit single from the album – was coined by a lift operator. And talking of titles, has there ever been a worse one than its second hit, 'Mercy Mercy Me (The Ecology)'?
As for the political and social credentials of WGO, we have already listed other superior specimens of the genre from Gaye's contemporaries. Fans of the album will argue that the lyrics are simple and truthful. Non-fans might say they are trite at best and nauseating at worst. The nadir is unquestionably 'Save The Children' – a song described by Gaye's biographer, David Ritz, as 'a socio-religious work of astounding originality'. Copyright law prevents extensive quoting, so here are some snippets. Judge for yourself…
Who really cares?
Who's willing to try?
To save the world,
That's destined to die
What a shame,
Such a bad way to live.
Live life for the children (live life for… the children. Oh, for the children)
You see, let's… let's save the children
Let's… let's save all the children, (save the babies, save the babies!)
To misquote Paul Simon, 'The words of the prophets are written on the primary-school classroom walls'. We would have to wait nearly a quarter of a century for another pronouncement of such stature: Michael Jackson's 'Earth Song'.
When the three singles were released, a sizeable black audience bought them. It was a new, sophisticated sound, and the sentiments were relatable rather than revolutionary, so it wasn't surprising that the accompanying album sold too, at a time when most new albums were bought unheard. White critics at the time generally regarded WGO as a sign of the 'maturing' of black music, much in the way they regarded the development of rock as a progression from rock'n'roll. It enjoyed a respectable reputation for the decade following its release without ever being talked about as an all-time great. So how did a cobbled-together cash-in album become a conceptual masterpiece?
The making of a 'masterpiece'
Marvin Gaye died in 1984, and it's a show-business truism that dying is a great career move. Deaths prompt reflection, and his was no exception. 'Since he was killed by his father, Marvin Gaye has been appreciated far more fully', wrote Gambaccini in 1986, although it would be more accurate to say that one Marvin Gaye album has been appreciated more fully, while the rest of his work is largely ignored. So why is WGO singled out for sanctification?
It is usually described as a ground-breaking record, but that's not really true. It wasn't the first black concept album. Lyrically it is bland. Its musical approach was different, but realised better elsewhere, including by Marvin himself. In truth, its current exalted reputation has little to do with its intrinsic qualities and a lot to do with changing times.
With the passing years, WGO fitted ever more comfortably into the mainstream. As black music became increasingly forthright and uncompromising, WGO became increasingly appealing to a white, middle-class, middle-aged audience. Imagine Tom Wolfe's 1970 Radical Chic (when New York's high-society liberals rubbed shoulders with Black Panthers at parties) with all the edginess removed. As Corinne Bailey Rae, who has herself performed 'Mercy Mercy Me', says, 'This isn't a polemic, aggressive record that makes people feel guilty'. WGO is a low-energy liberal's dream: a black man singing about social problems in a sad, passive, unthreatening way. And he mentions ecology! Unlike those angry political rappers and misogynistic gangstas, the music isn't aggressive or noisy, so you can have it on in the background at a dinner party and leave the sleeve lying around! It's ironic that an album that sprang from Gaye's rejection of the supper-club circuit would come to fit perfectly into the late-20th-century equivalent. WGO was as soothing and reassuring as Nat 'King' Cole had been in the 1950s (although even Cole was more politically engaged than Gaye ever was).
WGO became a right-on shibboleth, and once it started topping the critics' all-time polls, its preeminent position became the new accepted wisdom. A myth grew around it, like moss on a stone, and it has been given another boost by the 50th-anniversary commemorations, which added a woke patina to all this moss. If Radio 4 were an album, it would be WGO.
Today's advocates for WGO will say that Gaye was a spiritual person who reached out to everyone, regardless of race, and preached a message of love, not hate. They will argue, too, that the album was ahead of its time in its light, shimmering, sensual sound, and in the conception of the album as one continuous piece of mood music. Yet both the 'spiritual' and aural qualities of Marvin Mk II would be showcased far better on his 1973 love-and-sex-themed album, Let's Get It On, and subsequent smash singles, such as 'Got To Give It Up' and 'Sexual Healing'. As the critic David Hepworth remarked, Marvin was more at home in the boudoir than on the barricades.
Those who haven't heard it, be warned: WGO is not only not the best album of all time – it isn't even Marvin Gaye's best album. In fact, I'd say it's his worst. What's more, it's no more 'authentic' than any of his 'conveyor belt' singles from the Motown factory, and far less interesting than the less saintly and more personal albums he would record subsequently (try Here, My Dear). Ultimately, though, his albums are the wrong place to look. Head for the hits on which he built his reputation, preferably on glorious vinyl 45s. Remember him this way.
Ed Barrett is a writer based in London.
To enquire about republishing spiked's content, a right to reply or to request a correction, please contact the managing editor, Viv Regan.