Starmer, Osaka, Harry and the mental-health Olympics
'Opening up' and 'being vulnerable' are how you gain cultural authority today.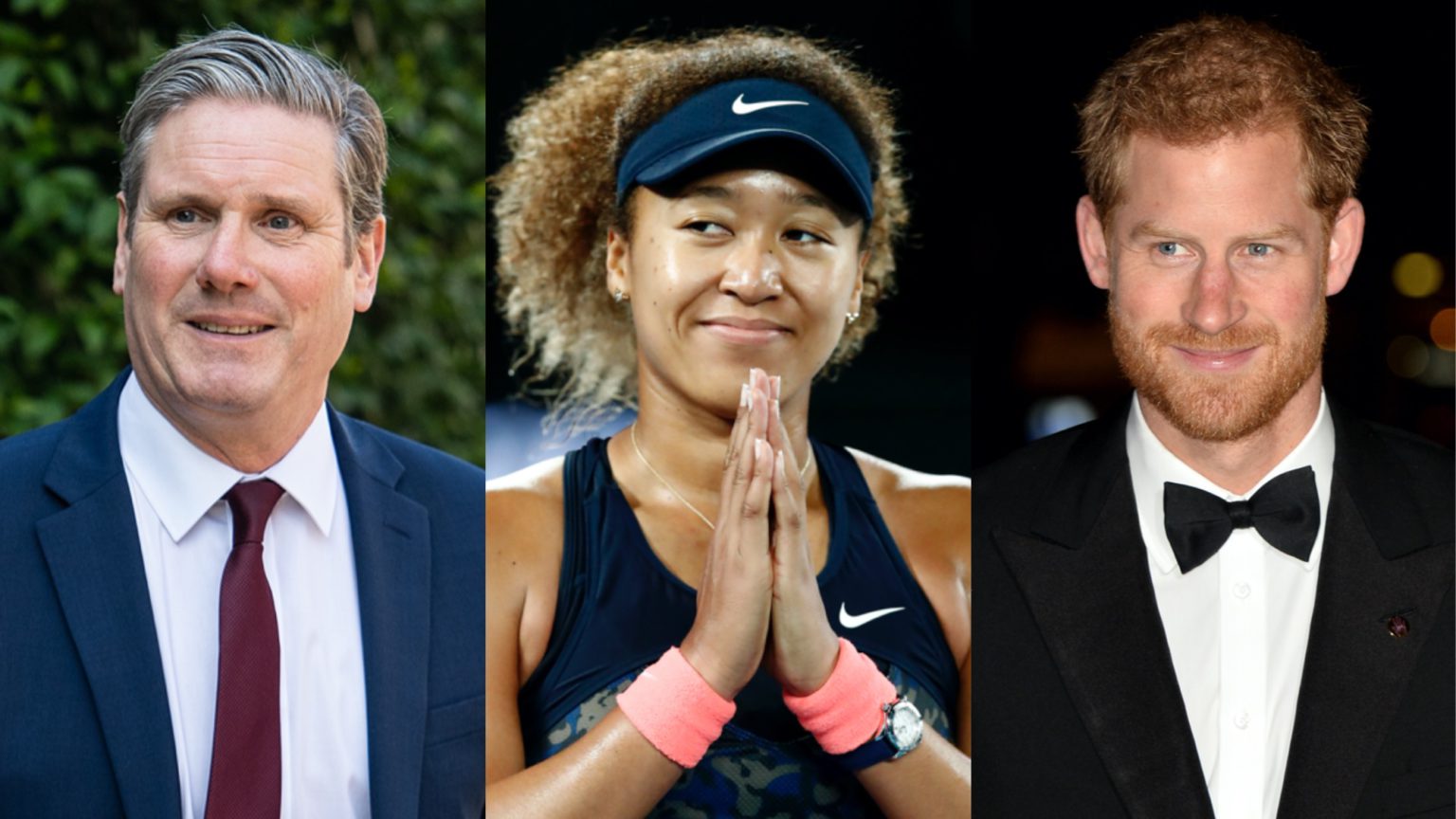 Watching the leader of the Labour Party, Keir Starmer, fighting back tears during his TV interview with Piers Morgan last night, I asked myself: is he doing a Naomi Osaka?
Naomi Osaka, like Starmer, has also recently flaunted her vulnerability to the global media. Osaka, one of the best tennis players in the world, refused to take questions from the media at the French Open on the grounds that news conferences have a negative impact on the mental health of tennis players. She has since dropped out of the tournament.
Osaka, the highest-paid female athlete in the world, has stated that she has faced 'long bouts of depression' since she won the US Open in 2018. When I read her tweets about the importance of taking the mental health of athletes seriously, I asked myself: is she doing a Prince Harry?
These days it seems that one public figure after another is keen to flaunt their emotional problems and mental-health issues and join the ranks of an ever-increasing army of celebrity victims.
Harry is a one-man advertisement for the mental-health industry. Together with his partner, Meghan, he has succeeded in transforming their mental-health issues into a glamorous global brand. In the current era, the mere reference to mental health immediately incites media acclaim. As one Daily Mirror headline stated, 'We should praise Prince Harry for being brave enough to speak out – it will do so much good'. Harry's acts of public therapy on podcasts and TV shows were 'simply wonderful'.
Now, unlike Harry, Osaka has actually achieved fame through hard work and effort. She has also positioned herself as a celebrity who is known for promoting the Black Lives Matter movement. But in addition to her prowess on the tennis court, and her condemnation of police brutality, she also ticks all the boxes required to be a woke culture-war heroine.
A piece in the New York Times suggested that Osaka's decision to drop out of the French Open was 'a power move', 'sending a message to the establishment of one of the world's most elite sports: I will not be controlled'. This, the writer went on, 'packed more punch coming from a young woman of colour'. As a celebrity woman of colour, struggling with mental-health issues, Osaka seems to enjoy unprecedented moral authority.
In recent years, therapy has ceased to be merely a clinical technique. It has become an omnipresent cultural force. Virtually every negative dimension of everyday life has been recast as a potential psychological problem. The normal anxieties, disappointments and pressures of life have been medicalised, and the meaning of mental health has expanded to the point that it can encompass virtually any type of negative emotion.
The therapeutic turn has gone hand in hand with a tendency to perceive vulnerability as the defining feature of personhood. In recent times, vulnerability has acquired the status of a sacred identity. And embracing this identity has become an essential ingredient of celebrity authority. Note that the New York Times praised Osaka for 'making herself vulnerable'.
There is a performative element to all this. Current cultural norms dictate that, for those aspiring to celebrity status, sharing is not an option – it is mandatory. Celebrities who talk about their inner lives are described as courageous and brave.
The problem with endowing vulnerability with so much cultural meaning is that, after a while, a sense of fragility can come to influence people's behaviour. Young people who have been educated in accordance with therapeutic values become obsessed with their inner life, to the point that a Safe Space becomes their natural habitat. Now that even the world of sport is valourising vulnerability, society really is in trouble.
Of course, any one of us can suffer from psychological problems. But we do not have to define ourselves by it. Our concern here is not with the behaviour of a sports star like Osaka, but with the cultural influences that incite her – and Starmer and Harry and everyone else, it seems – to turn vulnerability into a performance.
Frank Furedi's latest book Democracy Under Siege: Don't let Them Lock It Down is published by Zer0 Books.
To enquire about republishing spiked's content, a right to reply or to request a correction, please contact the managing editor, Viv Regan.