'Equity' is just racial discrimination by another name
In Biden's America, treating people differently based on the colour of their skin is back on the agenda.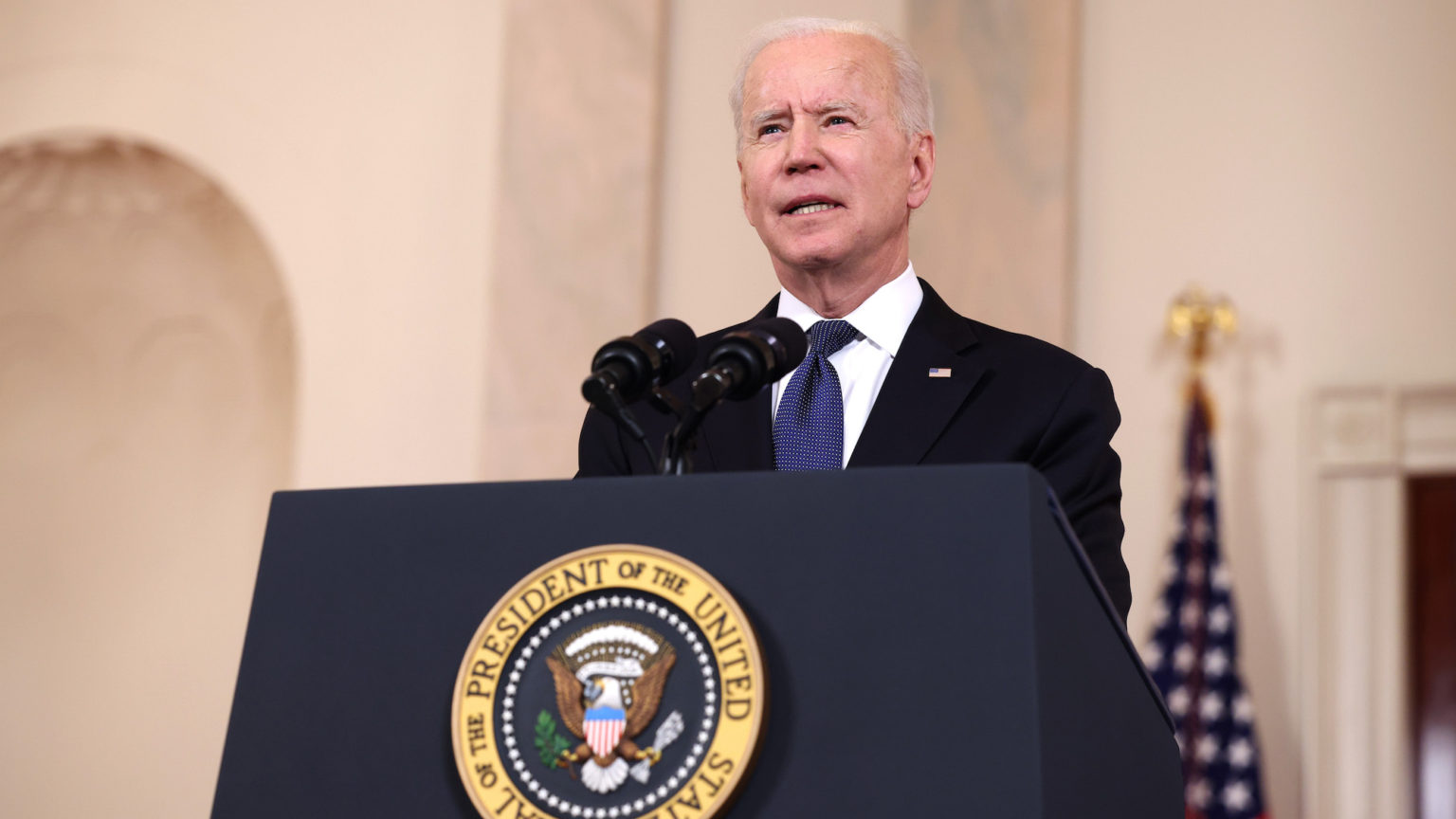 Since entering the White House, Joe Biden and his fellow Democrats have talked incessantly about racial 'equity'. On his first day in office, in fact, Biden signed an Executive Order on 'Advancing Racial Equity'. For those not paying close attention, it is possible to think that this notion of equity is synonymous with equality. But it is becoming clearer by the day that equity means the opposite of equal treatment and opportunity – it's a new form of racial discrimination.
Lori Lightfoot, the mayor of Chicago, provides the latest example of a Democratic politician deploying 'equity' to reward some racial groups and punish others. Last week she said she would not conduct interviews with white reporters. 'I will be exclusively providing one-on-one interviews with journalists of colour', she said. Lightfoot said this is a protest against 'the overwhelming whiteness and maleness of Chicago media outlets, editorial boards, the political press corps, and yes, the City Hall press corps specifically'.
Politicians granting access to favoured journalists is nothing new. But granting access to particular racial groups is something else entirely. What if a white politician announced that he was only going to talk to white journalists? All hell would break loose, and rightly so. It is repellent to think that skin colour should be the basis of how we treat people in society and professional life. But thanks to the Democrats' promotion of 'equity', racial discrimination is making a comeback.
Worse still, this is being cheered on by the media. Maudlyne Ihejirika, a reporter for the Chicago Sun-Times, defended Lightfoot: 'If a mayor of the third-largest city wants to step up at this time in history and say, "Here is my effort, here was my reparative measure to address the media sector", what is the big deal? I say kudos.' The TRiiBE, a black-oriented media platform based in Chicago, said the real outrage was the criticism of Lightfoot. 'With this outrage, y'all are implying that black and brown journalists aren't capable of asking the hard questions', it tweeted.
You would have thought Lightfoot would have bigger issues to address than journalists' skin colour, given the parlous situation in Chicago. Killings were up by more than 50 per cent in 2020, and are accelerating at a similar pace so far this year. Last weekend, at least 43 people were shot across Chicago, 12 of them fatally. The dead included a 15-year-old boy who was shot in the head while sitting on the front porch of his home.
While Lightfoot may be keen to change the subject, we shouldn't doubt her sincerity on promoting equity. After all, she is joining many other Democrats in wielding equity as a divisive weapon, pitting Americans of different racial groups against one another. In March, the city of Oakland, California introduced a programme to give ethnic-minority families monthly payments of $500 for at least 18 months. Poor whites are excluded. The state of Vermont gave people of colour priority in receiving Covid-19 vaccine shots. It doesn't take a social scientist to see how this could increase racial conflict.
Signs of a backlash can be seen in the court challenges to Biden's equity initiatives. White ranchers in Florida, Texas and other states have sued the Biden administration over its $4 billion debt relief fund, which only 'disadvantaged farmers' – that is, non-white farmers – can apply for. In Texas, a US district judge found that the Biden administration's Restaurant Revitalisation Fund, which gives priority to businesses owned by women, minorities, veterans and other 'socially and economically disadvantaged' groups, was a form of racial discrimination.
But stemming the tide of equity-based discrimination will require more than legal opposition – it will require a battle of ideas. Despite what advocates of equity assert, not all racial disparities are evidence of on-going discrimination. Yes, there are areas of social life where black Americans have suffered in the past, and find themselves still at a disadvantage today. But discriminating in favour of black and other non-whites is not the way to redress this. Collective guilt and collective victimhood are wrong and will only risk paving the way for the creation of a white identity politics. It's dangerous.
Martin Luther King dreamt of a day when his children would 'not be judged by the colour of their skin'. But today, almost 60 years on from MLK's famous speech, we see Biden, Lightfoot and other Democrats using the government to do exactly that – to judge and treat people according to the colour of their skin. This is terribly regressive. Rather than seeking to transcend race and move towards a post-racial society, these politicians are using their power to create and entrench racial divisions.
If we are to realise equality, we need to ditch equity.
Sean Collins is a writer based in New York. Visit his blog, The American Situation.
To enquire about republishing spiked's content, a right to reply or to request a correction, please contact the managing editor, Viv Regan.