Why are liberals sharing fake news about Priti Patel?
The Twitterati have denounced the home secretary over a misleadingly captioned photo.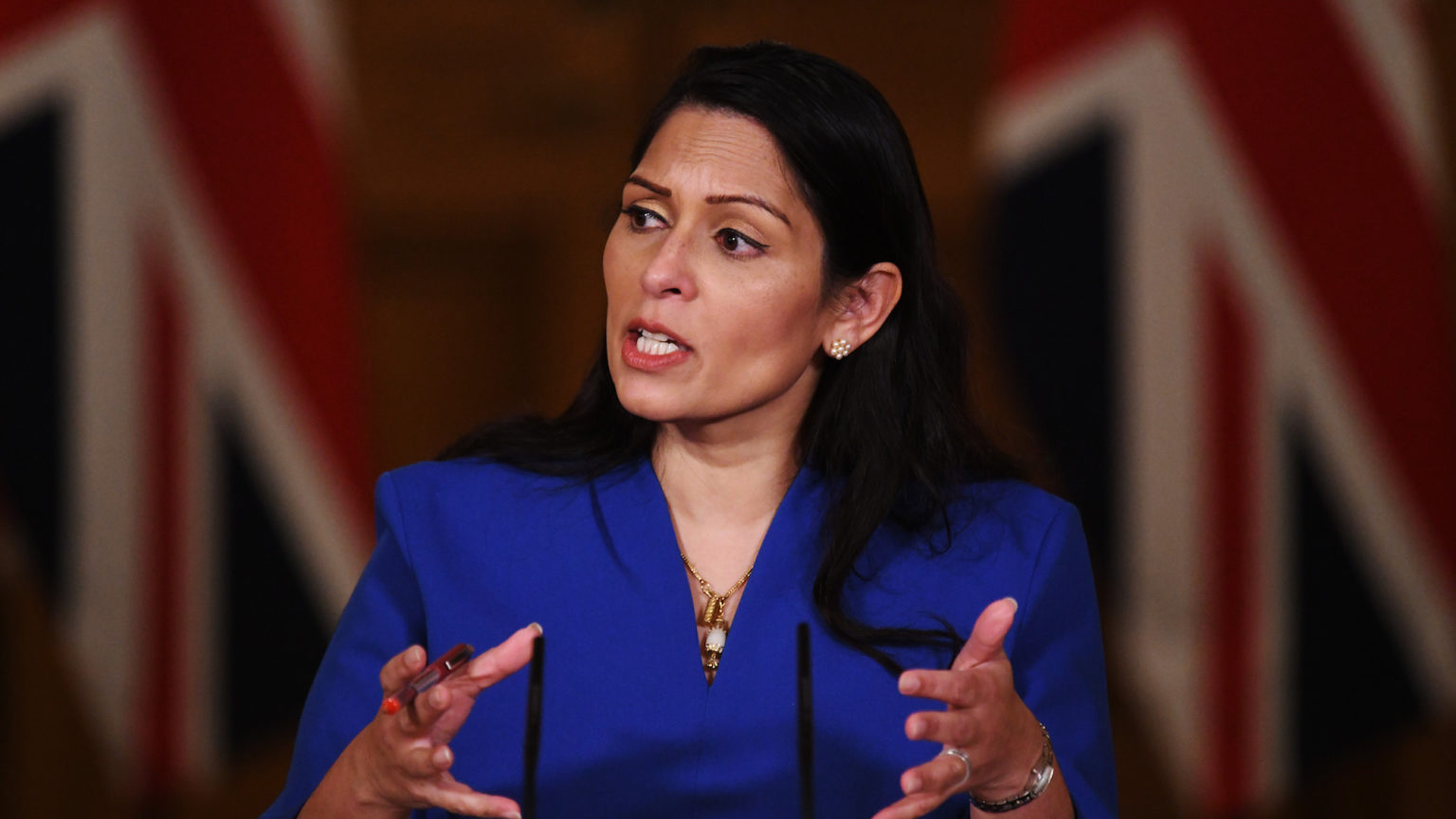 Not for the first time, prominent British liberals have fallen hook, line and sinker for some pretty obvious fake news.
In recent days, Tory home secretary Priti Patel was pictured with the National Crime Squad while they were making an arrest. It was the kind of photo-op politicians do every day.
But when a random user misleadingly claimed Patel was 'now attending immigration raids in person', social media went ablaze.
For Good Morning Britain presenter Adil Ray, it was a monstrous sight. He was dismayed that Patel, a daughter of Ugandan Asian refugees, was ruthlessly turfing out an innocent migrant.
Priti Patel's parents & mine were told to leave Uganda & Kenya, in some cases to save their lives. After much protest (at one point they wanted to dump them on the Falklands) UK let them in. To think years later a daughter of that generation would pose for a photo opp like this. pic.twitter.com/v3I9PpRQDx

— Adil Ray OBE 💙 (@adilray) May 20, 2021
'Anti-racist' activist Dr Shola went further, accusing Patel of being a 'racial gatekeeper' and 'brown executioner' for her hardline stance on immigration.
Priti Patel the Racial Gatekeeper & Brown Executioner of Tory racist & xenophobic hostile environment attending in person to see the job done 👏🏾👏🏾👏🏾 https://t.co/JVNgZbgviH

— Dr Shola Mos-Shogbamimu (@SholaMos1) May 20, 2021
CNN journalist Aleesha Khaliq even called Patel 'the spawn of Shaitan' (the Islamic devil).
Wallahi idk a more hateful & spiteful person than Priti Patel. This woman is like the spawn of shaytan. https://t.co/D8syklpw6k

— Aleesha Khaliq #SaveSheikhJarrah 🇵🇸 (@a_leesha1) May 20, 2021
Remoaner lawyer Jessica Simor QC was incredulous. She 'literally [couldn't] believe it'. She had good reason to find it unbelievable, it turns out.
Is this real? I cannot actually believe it. I thought I had reached the limits of my incredulity. https://t.co/DDWnw7CJgO

— Jessica Simor QC (@JMPSimor) May 20, 2021
You see, the caption told a completely fake story. Patel's cruel act of inhumanity was to be present as a man was arrested for… human trafficking.
Maybe these liberals, luvvies and lawyers trafficking in fake news should learn to think before they tweet?
To enquire about republishing spiked's content, a right to reply or to request a correction, please contact the managing editor, Viv Regan.