Calling Tories scum is not a vote-winner
Labour has relied on shrill anti-Tory posturing for too long.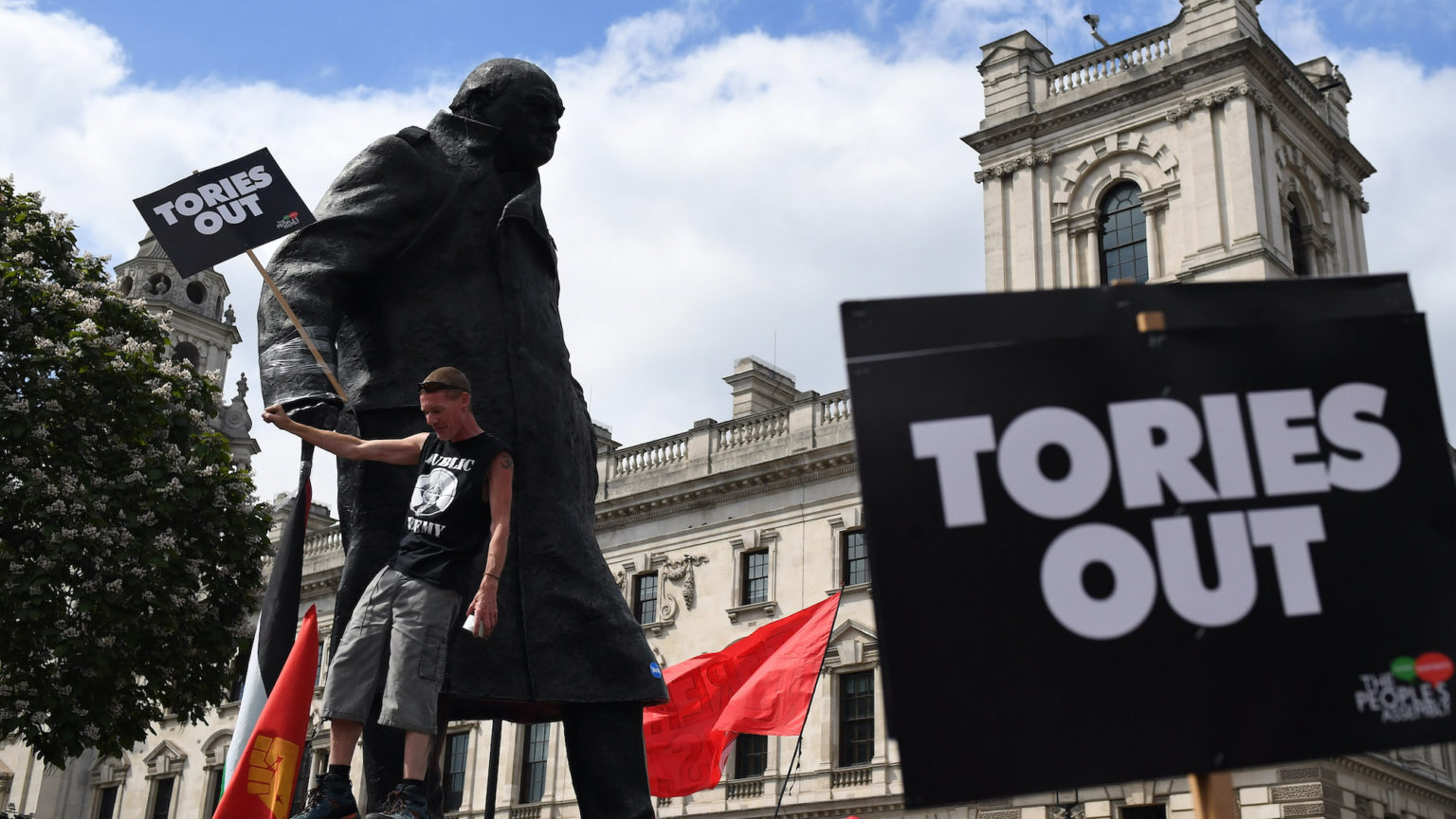 Ahead of the Conservative Party conference in September 2019, left-wing activists effectively called for the deaths of Tory MPs. They unfurled a huge banner which read '130,000 killed under Tory rule – time to level the playing field'. Underneath it, two dummies were seen hanging from a noose.
This was a prime example of the visceral anti-Toryism that has come to define Labour, especially the Labour left. Supporters routinely refer to 'Tory Scum'. Tories are 'lower than vermin', according to a popular t-shirt, which quotes Nye Bevan
This positioning of Labour as the Anti-Tory Party has generated and sustained electoral support for several decades. Indeed, for much of the 20th century, constituencies in northern England and Scotland could be relied on not to vote Tory as a matter of course.
But over time anti-Toryism has become a substitute for a substantive political vision. It has become a crutch. A way for Labour to avoid having to confront its inability to offer anything more positive to the electorate. And as the recent General Election and local-election results demonstrate, this is no longer enough for Labour. Anti-Toryism is no longer working.
In fact, the Labour Party's embrace of anti-Toryism partially explains why it is in such a mess. Relying on voters to choose 'anyone but the Tory party' in certain constituencies meant that activists did not have to bother discussing voters' concerns and ambitions. It also meant Labour could pursue more middle-class-friendly policies, despite their minimal traction with working-class voters. This is one of the reasons why support for Labour in Scotland has completely collapsed. Many Scottish voters felt Labour ignored them and began voting for the SNP instead.
The embrace of anti-Toryism has also inhibited criticism of Labour's policies and track record among its supporters and the left more generally. Many of the bans and restrictions associated with New Labour's time in power are still uncritically endorsed and even advocated by the Corbynista left. Today's Labour activists are as wedded to managerialism and nanny statism as the party of Tony Blair was two decades ago. This is why the internal Labour schism between the Blairite right and the Corbynista left is more apparent than real. They both share a condescending desire to change people's behaviour.
Too many in and around Labour took old Labour voters in northern England for granted. They thought it was enough for Labour not to be the Evil Tories for voters to keep voting for it. And they thought Labour voters wouldn't notice that Labour policies were all about policing them.
But those long-standing Labour voters, many of them working class, were taking note. They saw a party that was turning against them. Labour's attempt to overturn Brexit was the final nail in its coffin. It confirmed that Labour was now openly hostile to the interests and beliefs of voters in its one-time industrial heartlands. That is why voting for the Tories is no longer viewed as the betrayal it might once have been. Because, as far as these former Labour voters were concerned, Labour had already betrayed them.
This doesn't necessarily mean that these voters are now enthusiastic about the Tories. In many cases, it was a purely pragmatic decision based on the fact the Tories at least promised to respect the Brexit vote. While the wider political class and outraged middle classes were attempting to thwart Brexit, Boris Johnson's willingness to defend it was seen as bold and even radical.
Make no mistake, the era of anti-Toryism is at an end. One-time Labour voters, tired of being patronised and insulted by their party, have broken away. The dam has been breached. Even in Scotland, voting Tory is no longer stigmatised in the way that it was for much of the 1980s and 90s. It is Labour that now finds itself in third place, behind the Tories and the SNP.
It seems that Labour's inability to make a positive case for its policies and beliefs has finally caught up with it. Voters, seeing beyond the anti-Tory posturing, now find its paternalistic politics and contempt for democracy deeply off-putting. Of course, the Tories are far from beyond criticism. They are equally prone to paternalism and authoritarianism when it suits them. Nevertheless, it is Labour that has discovered that if you treat voters with contempt they will exact their revenge at the ballot box.
Neil Davenport is a writer based in London.
To enquire about republishing spiked's content, a right to reply or to request a correction, please contact the managing editor, Viv Regan.