Even Cameron's corruption scandals are inept
He was a bad prime minister. But he's an even worse lobbyist.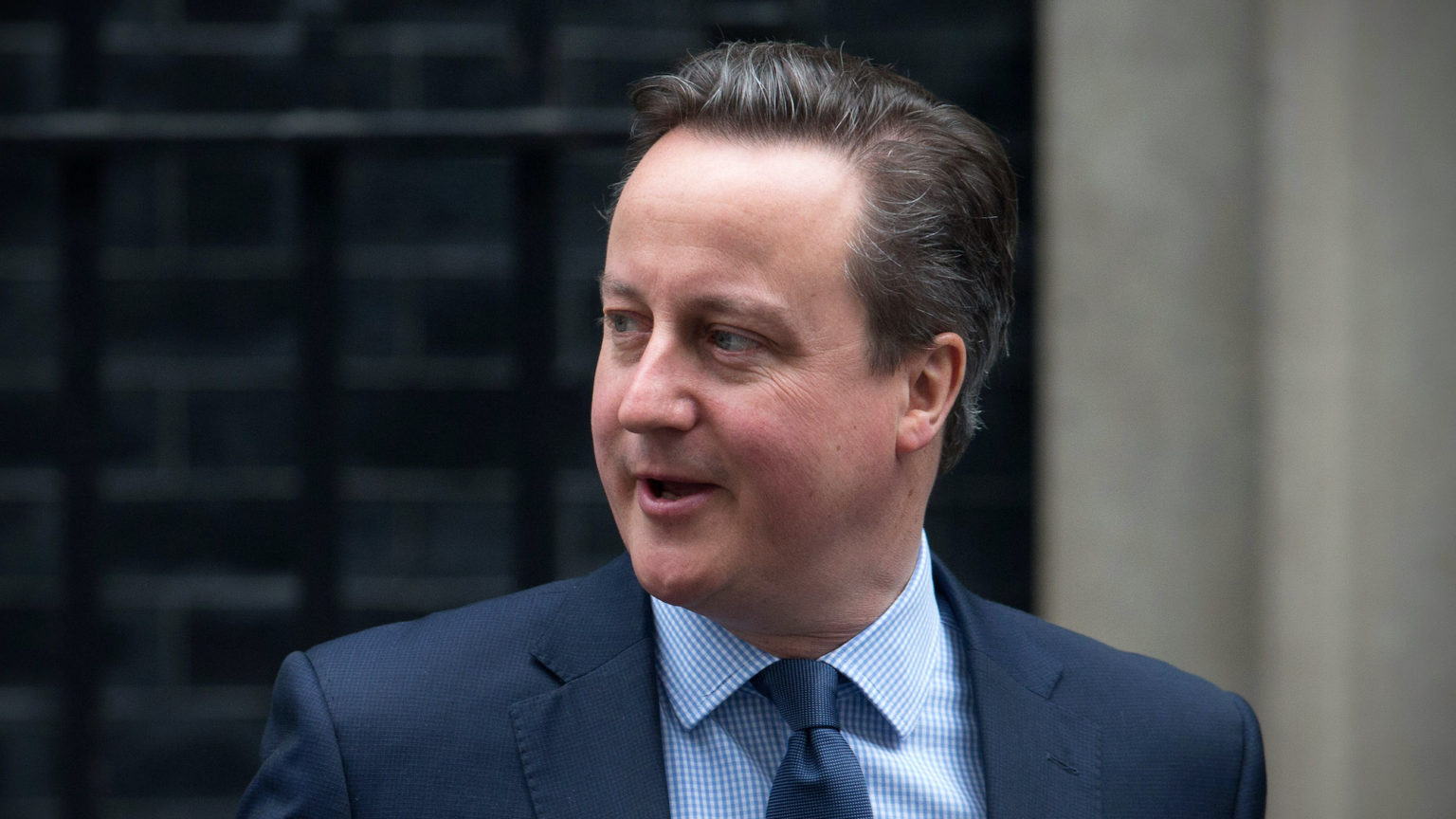 It is difficult to get too worked up about former UK prime minister David Cameron's attempts to pressure the Treasury into helping out Greensill Capital, the now defunct financial-services firm he was employed as an adviser to, and in which he owned potentially millions of pounds' worth of shares.
This is not because it's unclear what rules he might have broken. And it's not because the 'biggest lobbying scandal in a generation', as the media are excitedly dubbing it, doesn't expose something off in the British state. On the contrary, it raises plenty of concerns: about the quasi-governmental role of Greensill Capital founder Lex Greensill, which stretches back to Cameron's first term; about the long-term tendency of governments to outsource state functions to private firms; and about the palm-greasing networks of power long built over the public's head.
But there's a problem with the whole furore. A reason why it's hard to care as much as political correspondents and left Twitter do. And that is precisely because of the man the media is determined to put at its centre. Yep, old Cameron himself. Focusing on him makes it look less serious. Less indicative of a wider problem. Less grave. Because, let's face it, Cameron did what he always does. He failed.
Just try following the 'exciting' part of the scandal, as The Sunday Times tells it, to its unremarkable conclusion. So, early last April, when the government was rolling out its pandemic response, the Treasury rejected a request for financial help from struggling Greensill Capital – a parasitic banking operation providing short-term loans for a fee. As the Treasury explained, the government's Covid Corporate Financing Facility (CCFF), was meant for 'blue-chip companies', not operations like Greensill Capital.
Enter Cameron, a shareholder in, and paid adviser to, Greensill Capital. Having knocked around with some of chancellor Rishi Sunak's team when he was PM, he figured it was time to put in some calls. After quite a bit of effort he eventually managed to get through to veteran special adviser Sheridan Westlake, to whom he described Greensill's exclusion from the CCFF scheme as 'nuts'. He then asked if there was something the Treasury could do. He even texted Sunak himself, but Sunak fobbed him off, replying: 'I am stuck back to back on calls.'
Cameron never did take the hint. And so this toing and froing continued for months. Cameron and later Lex Greensill himself pestered members of Sunak's team, asking, effectively, for the Treasury to step in and bail Greensill Capital out. Sunak's team responded politely – too politely – to the former prime minister and his friend and granted the latter repeated audiences – as The Sunday Times puts it, Treasury officials 'were sceptical but felt obliged to listen to Greensill's proposals'. And each time, the round of pester and proposal ended in a rebuff from the Treasury.
On and on this went until 26 June, when the Treasury finally put Greensill Capital and Cameron out of their misery. Senior civil servant Charles Roxburgh told Greensill that the team had 'genuinely put in a lot of time' to explore Greensill's ideas but, on CCFF, 'have run out of road'. Nine months later, Greensill Capital filed for insolvency, and Cameron's shares became utterly worthless.
This is the 'biggest lobbying scandal in a generation'? This is what has been exercising political reporters for the past fortnight? Yes, I haven't mentioned the 'private drink' Cameron had with Greensill and health secretary Matt Hancock in October 2019, but there's only so much the heart can take.
What's remarkable about all this is not the extent of Cameron's influence, but its limit. This was a man who, just five years ago, was prime minister. He personally knows those in government. He was their boss until 2016. And yet it ultimately counted for nought. Sure, Greensill used up a disproportionate amount of the Treasury's time. But he didn't get to use up any more public money.
Not only that – Cameron also failed to win special favour at a time when, by all accounts, the government was dishing out contracts and financial support like there was no tomorrow. A PPE contract to a pest-control firm. A medical-vial contract to Matt Hancock's neighbour. But nothing to Dave. He seems to have been the one chum who didn't benefit from the alleged chumocracy being run out of No10 last year. That tells you a lot about Cameron. This is a man so useless that he failed in a cronyistic endeavour when Downing Street was meant to be a nest of favouritism and cosy backroom deals. Note to brewers: don't let Cameron organise your next work piss-up.
Now the government has launched an independent inquiry – 'A Review into the Development and Use of Supply Chain Finance (and associated schemes) related to Greensill Capital in Government'. There's a chance this inquiry might address the issues that matter. Maybe it will look at why the government used a company like Greensill Capital at all, such as it did from 2012 onwards, as an intermediary creditor, allowing pharmacies to take out loans while waiting for the NHS to pay them. Maybe it will ask why the late and widely praised cabinet secretary Jeremy Heywood thought it wise to bring Greensill in to perform a role the state should have been able to perform itself. Maybe it will address the broader problem of the state's outsourcing of service provision to private interests for no clear public benefit.
But that seems unlikely. The broader media and political-class focus is all on the plonkerish Cameron and the arcanery of lobbying procedures. Westminster office-politics watchers are already excited at the thought of Cameron effectively coming up again against his old Brexit nemesis Boris Johnson. But it's a sideshow. And it's one that will leave most of us uninterested, and the real problems obscured.
Tim Black is a spiked columnist.
Picture by: Getty.
To enquire about republishing spiked's content, a right to reply or to request a correction, please contact the managing editor, Viv Regan.