Lammy versus Lammy
David Lammy once held very similar views to Tony Sewell. What changed?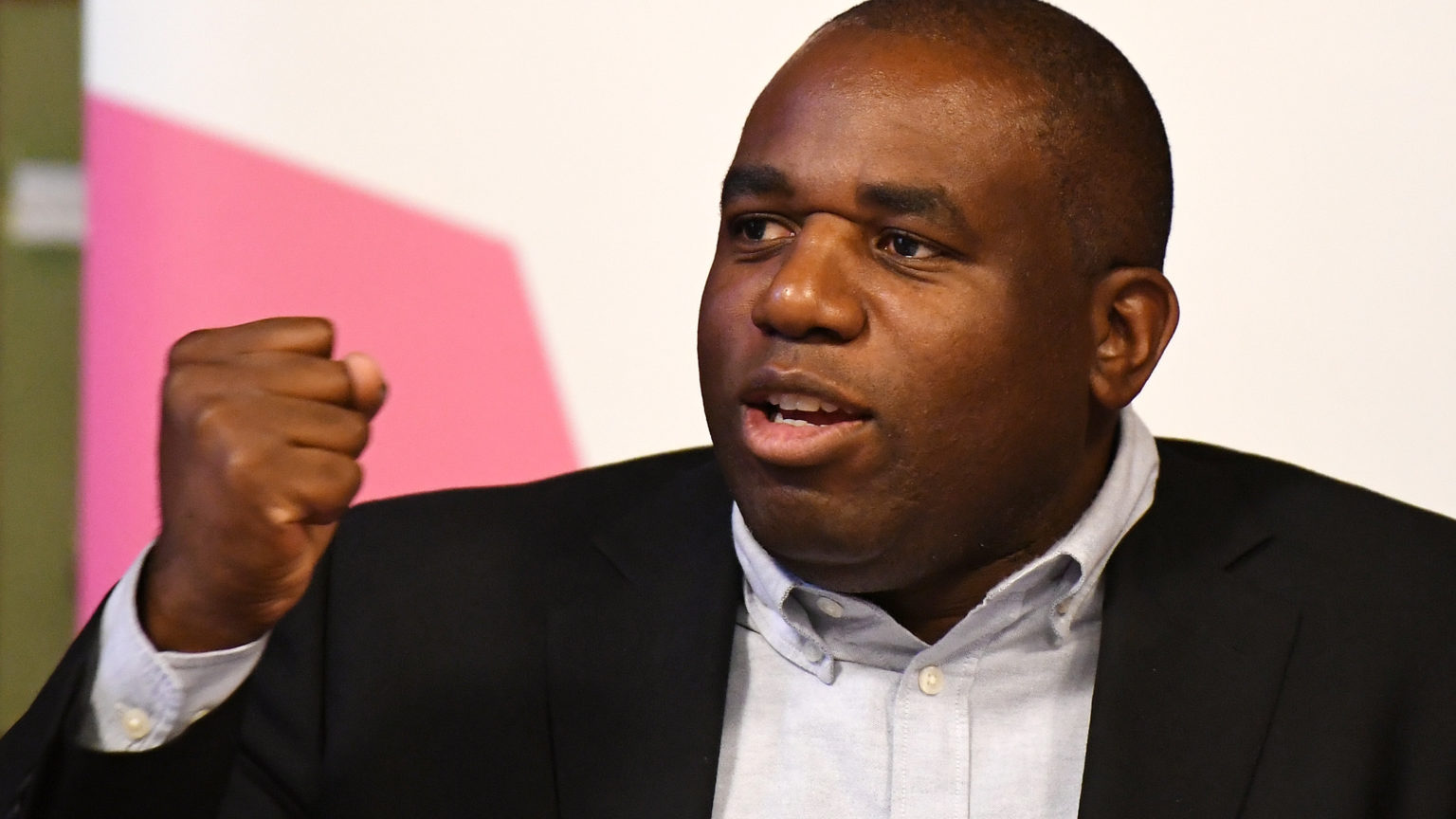 On the day that the Commission on Race and Ethnic Disparities (CRED) published its report, Labour MP David Lammy tweeted: 'For my own mental wellbeing I am not doing media interviews on the race commission today. Like so many in Britain's Black community I'm tired!…' Since the killing of George Floyd, the protests that followed and what seems like 10 years of debate about racism crammed inside as many months, anyone could be forgiven for feeling tired. But this isn't what Lammy means. His tweet continues: '[I'm]… tired of the endless debate about whether structural racism exists.'
Accusations of 'racism denial' have become the king of conversation-enders. Early in 2020, activist Dr Shola Mos-Shogbamimu 'schooled' the presenters of ITV's This Morning on the correct way to understand the royal crisis involving Meghan Markle. 'It is exhausting when you hear people deny that racism is at the heart of [it]', she said.
Casting deniers as tantamount to delinquent children caught red-handed but refusing to admit it, the new 'anti-racism' views dissent with the exhausted despair of a parent. In 2020-speak the instruction to racism deniers is 'go educate yourself!'. But questions will not be tolerated. 'What examples do you have?', asked hapless This Morning host Phillip Schofield, to which Mos-Shogbamimu retorted: 'You see, that is another problem…! When people keep asking "What examples?"' She offered the sullen-looking Schofield no examples, and he knew he had better not ask again.
The 'I'm exhausted' homily was supercharged when a 2017 book by Reni Eddo-Lodge – Why I'm No Longer Talking to White People About Race – became a bestseller again last June. Its opening paragraph elaborates on its title: 'Not all white people, just the vast majority who refuse to accept the legitimacy of structural racism and its symptoms.'
Yet Lammy's day off from media interviews when the CRED report was published was odd. Because in the past he has expressed very similar ideas to those held by the report's author, Tony Sewell. In London over the past two decades we have witnessed working-class neighbourhoods battling with poverty and criminality. In these areas, African Caribbean boys live alongside their white counterparts in families that have a shared experience of the adversities associated with poor housing and run-down services. Two black campaigners came to prominence, both of them focusing on the importance of family structure to good social outcomes. One was Tony Sewell, the other was David Lammy.
In 2010, Lammy spoke about what he, Sewell and many others described as a crisis of black fatherhood. It was an issue, he said, that had been on his mind since 1985 – 'the year my father walked out on my mother and our family… He didn't just leave the family home, he left the country and I never saw him again.' Back then, Lammy and Sewell were making the same points. The Runnymede Trust held awareness-raising events titled 'Black Fatherhood' and ran articles by both Sewell and Lammy.
Lammy spoke movingly about his late mother Rose, who, after his father left, had to cope with the lonely, frightening responsibility of looking after him and his siblings. 'She had to carry the burden for the whole family, doing sometimes three jobs to make ends meet. And at the end of the day this tireless woman would come home to her children and do the job of two parents, feeding us, reading to us, listening and helping with our homework.'
Sewell wrote of the link between family life, peer pressure and school-exclusion rates among black boys. Like Lammy, Sewell warned of the potential consequences of absent fathers when adolescence kicks in. Pointing to the lure of gang culture, he wrote: 'No child is without a father. In the absence of such a figure he will seek out an alternative.'
Lammy emphasised the need for working-class communities – black and white – to promote fatherhood. This would help to tackle issues that are especially acute among young black men, he said – problems like educational underachievement, disproportionate exclusion levels, and high crime rates.
The decisive role played by class in so much of what is currently attributed to racism was frequently pointed out by Lammy in the past. The working-class boy from Tottenham, 20 years an MP for the borough, was once keenly aware of the adversities shared by the majority of his constituents. Tottenham has one of the highest unemployment and poverty rates in London, and it is as white as it is black.
The truth that Lammy intimately knows about life in working-class neighbourhoods still jumps out occasionally. As recently as 2018, in an interview with GQ, Lammy pondered on Oxbridge and who gets there: 'This is not about colour but class. Even when kids do get the grades they don't apply…' In an interview last year, he said: 'Let's imagine a young man in a housing estate – white or black – he lives with his mum and three siblings in a two-bedroom flat. He's going to go down the stairwell to smoke his joint. He's going to get stopped and searched by the police. He might get a criminal record. There might be an assumption that he has intent to supply. He won't be able to get a job, because he'll have a criminal record…'
And so we come back to last week's publication of the CRED report. In noting that 63 per cent of black Caribbean children are growing up in lone-parent families, the report touches on the very issues Sewell and Lammy once saw eye-to-eye on. It doesn't demean lone-parent families, but it does say they can sometimes cause strain: 'There are many different family structures that can provide a happy childhood, including millions of single parents doing a loving and effective job in difficult circumstances… Lone-parent families may face greater strain but, if they have the right resources and support available, they can provide just as good a start in life.' These are things Lammy knows about and talks about – so why won't he take the report seriously?
Critics of the Sewell report say it lacks intellectual rigour. But similar could be said about Lammy's review of the criminal-justice system, commissioned by the government in 2017. The Lammy review is continually cited as a report that 'clearly showed' bias and discrimination in the criminal-justice system towards BAME citizens. But the report pirouetted around factors like poverty and class. Lammy was very selective with his statistics, preferring those that compare 'black' with 'white'. Social class – and a multitude of things that go with it – were not seriously factored in. And despite this, the Lammy review still fails to convince that the criminal-justice system is shot through with institutional racism. It found that jury decisions and charging decisions made by the Criminal Prosecution Service are not significantly shaped by anything to do with race.
In the figure of David Lammy, what we have is another Labour politician turned woke priest who seems to have ditched what he once knew in favour of sermonising according to the ideologies of BLM and critical race theory. On Lammy's media day off, as he checked the cacophony of tweets and news interviews condemning Sewell's report, one wonders if the real reason he took a back seat is because someone might have reminded him that he once held very similar beliefs to Sewell's.
To enquire about republishing spiked's content, a right to reply or to request a correction, please contact the managing editor, Viv Regan.