Women don't need protection from pro-life ideologues
A student society is under investigation for attacking abortion. But silencing anti-choicers achieves nothing.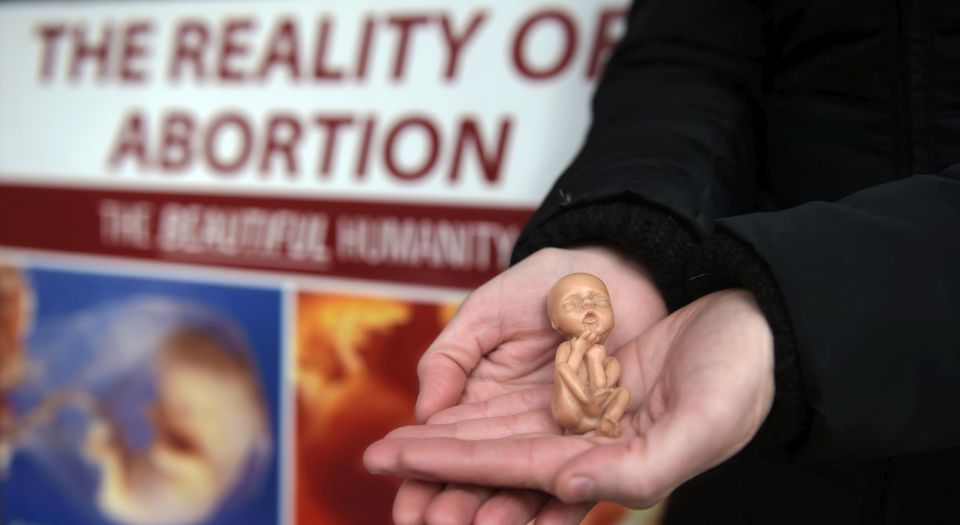 Queen's University Belfast's Pro-Life Society is under investigation by the students' union over social-media posts. It stands accused of failing to respect the 'spirit' of the SU and its posts allegedly had the potential to bring the university 'into disrepute'.
The two posts featured images. The first compared abortion to slavery, with a man in chains captioned 'Am I not a man and a brother?' alongside a fetus with the line 'Am I not a baby and a sister?'. On Holocaust Memorial Day, the society posted a second image which compared abortion to both slavery and the Holocaust.
There are few things more grotesque than the penchant among anti-choicers to compare a woman's decision to terminate a pregnancy with the Holocaust or slavery. QUB's Pro-life Society claims that it contacted the UK ambassador for a Holocaust remembrance organisation, who assured it that the post 'was not disrespectful in any way to Holocaust victims or survivors'. I know a few Jews who would disagree. Undermining the specific horror of the Holocaust by relativising it to score political points against abortion is degrading, to say the least. In the same way, using Josiah Wedgwood's abolitionist image of the 'supplicant slave' alongside a fetus in utero says something about the society's understanding of racism. The organised enslavement of black people for economic gain, like the institutionalised murder of Jews under the Nazis, is clearly incomparable with abortion. To suggest the two are the same shows historical ignorance and a worrying lack of moral clarity.
Most people outside the rather zealous world of pro-life societies would shake their head at such images. So the question remains: why did the students' union consider these posts so dangerous as to warrant an investigation? There is a growing trend among students' unions to ban, bar or restrict pro-life societies from being present or contacting students on campus. The idea is that anti-abortion views (or insensitive posts about the Holocaust or slavery) are too upsetting for students to come into contact with. QUB's Pro-Life Society claims it is being held in limbo by the SU – despite having removed the posts – and has not been told whether the investigation has concluded. The society's members were pulled in front of the SU for a meeting to discuss 'whether the Pro-Life Society approached the Holocaust and slave trade with due consideration'.
In principle, a students' union is supposed to represent students' interests in disputes with the university. Today, SUs act almost exclusively as a check on student behaviour, instituting policies to limit speech, mandate sensitivity training or host awareness-raising events. Rather than arguing for things that students might need, like more contact time, better resources or lower fees, most students' unions spend their time worrying about how students feel. It's unclear whether the investigation has been sparked by student demand (thousands of people signed a petition to get the Pro-Life Society banned from campus in 2019) or whether this is simply the SU taking matters into its own hands. Either way, the suggestion is that students are unable to debate with the society or criticise its posts, and instead need the SU to police social media on their behalf.
I debated against QUB's Pro-Life Society previously and terms like 'genocide' and 'mass murder' were used in its arguments. It can be upsetting, as a woman, to realise that there are people out there who believe that supporting women's freedom to make decisions about their own lives makes you comparable to a Nazi. But what is perhaps more alarming is the fact that pro-life (or rather, anti-choice) groups across the UK are being allowed to pose as freedom-loving, in response to spineless opposition from pro-choice supporters. By definition, QUB's Pro-Life Society is against choice and freedom, because it wants to restrict women's lives and institute laws that coerce women to have children against their will, sometimes in barbaric circumstances. By denying the society the right to express these reactionary views, the SU is effectively giving up the defence of freedom that is central to any pro-choice argument.
Banning or restricting the tactics of anti-choice groups will do nothing to further political arguments for women's freedom. In Northern Ireland, the topic of abortion and women's bodily autonomy is still a contested political issue. Though legislation brought in last year by Westminster provides legal protection for limited abortion services, abortion provision remains under attack. The DUP's recent Severe Fetal Impairment Abortion (Amendment) Bill — which restricts abortion in cases of non-fatal disability, like Down's syndrome — has passed its second reading, thanks to cowardly abstentions from Sinn Féin. Supporters of the bill argue that giving women freedom of choice when it comes to abortion undermines the freedom of individuals with disabilities. Pro-choicers will not win this battle by allowing the other side to pose as persecuted freedom-lovers, on campus or in parliament.
Sometimes, we have to engage with ideas and views we find abhorrent – particularly at university, where many young people figure out their political views. By harassing and restricting the Pro-Life Society, QUB's SU is not only doing its own students a disservice – it is also failing those of us who understand that freedom is the key weapon in the pro-choice arsenal. We are the ones who believe that women should be free to make decisions about our own lives. Suggesting that we need social-media posts banned for our own protection undermines that defiant stance.
To enquire about republishing spiked's content, a right to reply or to request a correction, please contact the managing editor, Viv Regan.