Why Keir Starmer is no better than Corbyn
One year into his leadership, Labour remains a pointless, hollow party.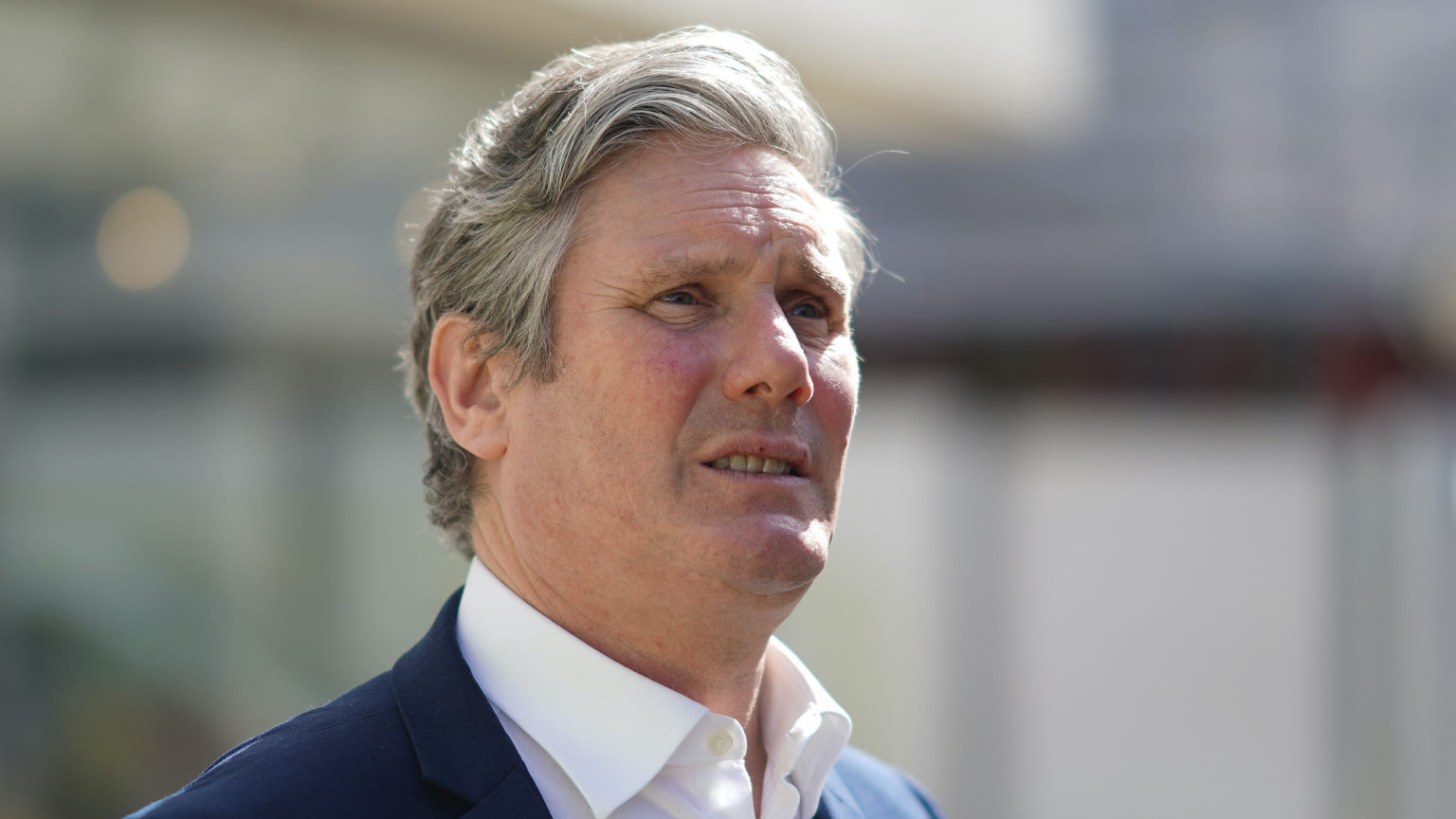 It appears that Boris Johnson's Conservative government has been rescued from the rubble of its Covid-19/lockdown disasters by two support-boosting factors: the success of the life-saving coronavirus vaccine programme, and the failure of Sir Keir Starmer's attempt to revive the corpse of the Labour Party.
This weekend marks the first anniversary of Starmer's election as Labour leader. A year ago, the anti-Tory media and social media were filled with hope, bordering on hubris, about how this charming man would ride to the rescue like a knight of yore, make good the damage done to Labour under Jeremy Corbyn, reclaim the political centre ground, and smite Boris's Tories low.
Yet Sir Keir's first, formative year as leader of Her Majesty's Opposition has turned out to be the biggest political flop since the Liberal Democrats vowed to win the last General Election and stop Brexit. Of course, many people have found it hard to do much of importance during the year of repeated purgatorial lockdowns. But Starmer has not even achieved the political equivalent of learning to bake bread or making 'hilarious' Facebook home videos.
Remarkably, in recent months he even seems to have gone backwards. Last November, an opinion poll of Red Wall voters put Starmer's Labour six percentage points ahead of Johnson's Conservatives, across 45 Midlands and northern parliamentary seats that the Tories took from Labour in 2019. By contrast, this week a repeat of that poll had the Tories four points ahead, having almost regained all the support they won in the Red Wall seats at the last election.
Opinion polls are no more than that, of course, and not to be confused with real election results. Nevertheless, they do offer a snapshot of the state of public opinion. And this one offers an ugly mugshot of Starmer's Labour.
Almost 16 months into its term in office, any UK government might normally expect to be trailing in the polls and suffering big setbacks in local and other elections – all the more so in the wake of the coronavirus crisis and the damage done to the economy. Yet today Johnson's Tories are approaching May's local and devolved elections in a relatively upbeat mood, even trying to dampen expectations, while Labour seems genuinely worried about holding on to the Red Wall seat of Hartlepool in the coming parliamentary by-election.
And whatever happens in those local elections, the overall national picture currently appears clear enough: another poll, asking voters in England and Wales who would make the best prime minister, has Johnson well ahead of Starmer in every region except London.
Sir Keir started his leadership by declaring that 'the Labour Party is under new management'. His preoccupation was to distance himself from Corbyn, who had just led Labour to its worst General Election results since the 1930s. Starmer has even suspended Corbyn from sitting as a Labour MP. Yet even if Starmer is clearly not Corbyn, it now appears that he is no better than Corbyn either, as far as Labour's standing is concerned.
The idea of Labour as the 'not Jeremy Corbyn party' inevitably has limited appeal. Starmer's Labour is apparently only being kept afloat in national polls thanks to the support lent to it by former Lib Dem voters who loathe Corbyn and Brexit. For everybody apart from these bitter losers, the question is: why vote Labour?
That Red Wall poll is instructive here. Asked to give their main reason for not voting Labour, the largest group of voters in those former Labour strongholds agreed that, 'It is unclear what Keir Starmer stands for'.
Labour's failure to establish a clear and independent political line has been obvious over the past year. When all else fails, the party's usual fallback position is loudly to demand more public spending. But that is hard at a time when the Tories have seemingly discovered a 'magic money tree' of their own and thrown billions at the coronavirus crisis; how productively those billions have been spent is another matter, but productivity is not Labour's strong suit.
On the crisis itself, Labour has become the 'lockdown left', simply parroting whatever the Tory government says while trying to be more strident and shrill about it. Starmer's party has backed all of the draconian lockdowns over the past year, while insisting they should have been imposed earlier and even harder, and only seriously questioning any attempt to loosen the lockdown.
Starmer has shown himself for what he is – not a radical politician but a lawyer and former head of the Crown Prosecution Service, with a penchant for locking people up. The politics of 'me too, but more so' during lockdown has not proved persuasive. Little wonder that only three per cent of Red Wall Tory voters polled suggested they would switch to voting Labour now.
But alongside the lack of distinctive politics, there are also issues on which it is clear what Starmer stands for. And on those, he is not trusted by working-class voters in seats such as the Red Wall. On Brexit, he has tried to say that the Leave v Remain debate is over, so it is time to move on and make the best of it. But Leave voters remember he was Corbyn's anti-Brexit spokesman, who pushed harder than anybody for a second referendum to overturn the result of the first one.
Nor is Starmer trusted on issues relating to the culture war. Labour's silence and equivocation over the Batley school crisis, its refusal to take a stand on the side of free speech and liberal education, will not have been lost on the many who value such things over identity politics. Those voters might also have noted Starmer's instant declaration that the government's race review is 'disappointing'. What, so the Labour Party is disappointed that the report failed to condemn Britain as a racist hellhole?
This is all much more than a problem of communication. The question 'What does Starmer stand for?' can be posed more fundamentally. What is the Labour Party for? What is its purpose? Who does it represent? And why should we care if it ceases to exist?
Labour's problems in the Red Wall seats are the latest manifestation of its long-term detachment from the working-class voters who formed its historical base of support. Labour has instead become a party run by and accountable to the Metropolitan Remainer middle-classes – of whom Starmer is an archetype.
Revealingly, those Red Wall polls show that the Tories have made significant gains among working-class voters on issues relating to 'values'. They are now level with Labour on the question of which party 'shares your values', and are even seen as more likely to 'address the issues that concern you'. That is a remarkable shift which will not be reversed simply by Starmer and his team insisting that Labour really, really are 'progressive patriots'.
Unlike many others from a left-wing background, I never supported the Labour Party, which was formed to represent the narrow interests of once-powerful trade-union leaders and has always been a deadweight on the working class. As a student I joined the Revolutionary Communist Party which, in 1978, at the apparent peak of trade-union power, published a pamphlet entitled 'Who Needs the Labour Party?'. That question seems even more pertinent 40-odd years later.
Of course, the Tories can always make a big enough mess of things for Labour to win some elections. But that will not make it the proper political opposition we need to stand up for democracy and liberty today. We don't need the Labour Party, whether it is led by a Jeremy Corbyn or by Sir Keir Starmer KCB QC.
Mick Hume is a spiked columnist. His latest book, Revolting! How the Establishment is Undermining Democracy – and What they're Afraid of, is published by William Collins.
To enquire about republishing spiked's content, a right to reply or to request a correction, please contact the managing editor, Viv Regan.