Is being offensive an offence?
In 21st-century Britain, thoughtpolicing is a very real and terrifying thing.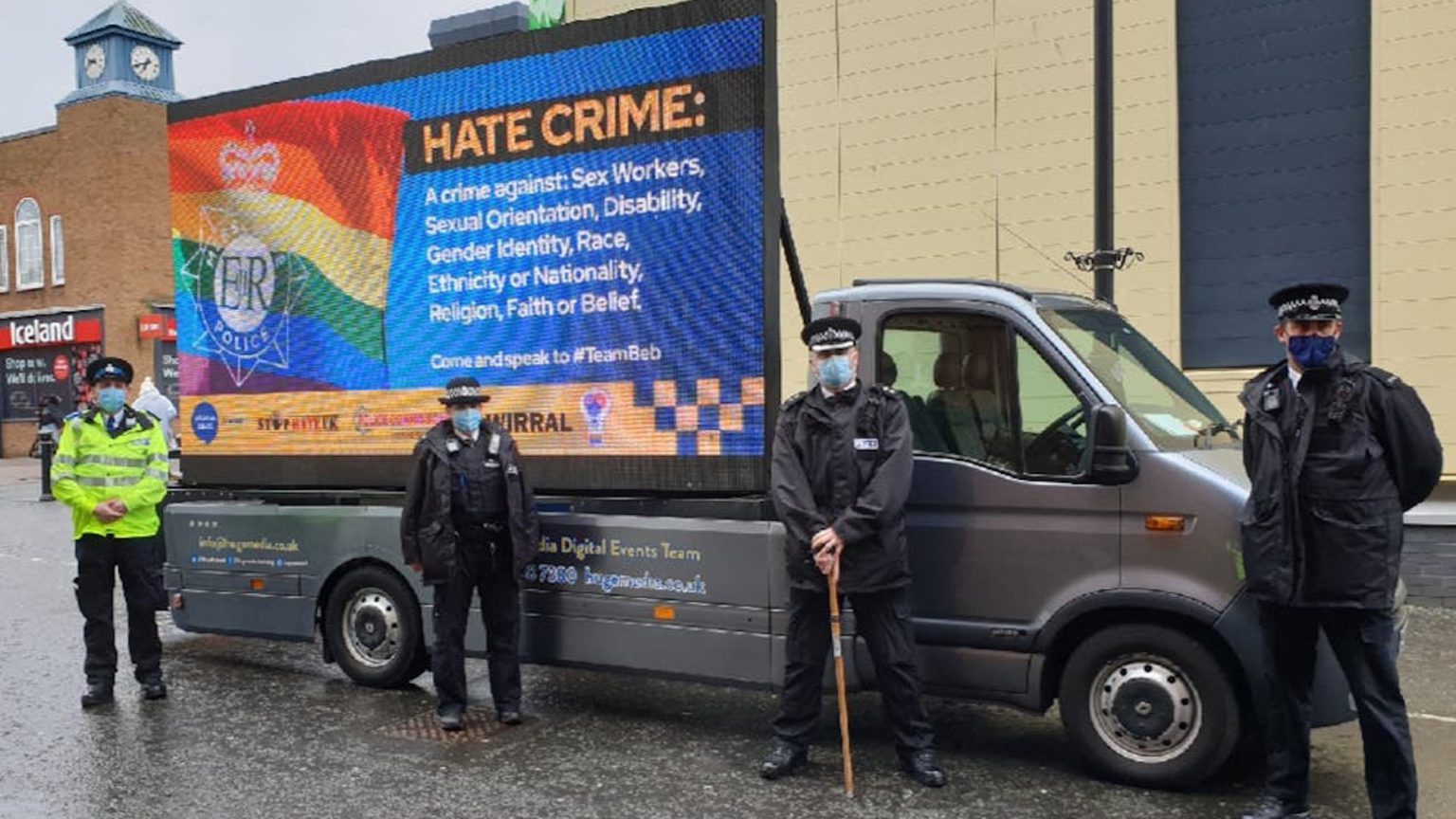 Not for the first time of late, the British constabulary seem to be making up the law as they go along.
Their apparent failure to understand our labyrinthine lockdown laws has led to police officers fining two women for going on a perfectly legal walk, carrying out checks at retail parks for allegedly illicit Easter eggs, and scrambling drones over the Peak District to film miscreants taking their exercise in the open air.
The cops' desire to go above and beyond actually enforcing the law – to enforcing what they apparently think the law should be – reached new heights in Merseyside this weekend. A group of officers showed up outside an Asda on the Wirral with a digital advan, proclaiming that 'Being offensive is an offence', accompanied by a rainbow flag. The stunt was also promoted by the Local Policing Team on social media, as part of an effort to urge LGBT people to come forward and report hate crimes.
Those posts have now been deleted, and after a huge backlash superintendent Martin Earl has had to put out a statement. 'We would like to clarify that "being offensive" is not in itself an offence', he said, which was not so much a clarification as the total opposite of what his officers had emblazoned in all-caps, foot-high lettering.
This is not the first time British police officers have given the phrase PC Police a whole new meaning. In 2016, Greater Glasgow Police tweeted: 'Think before you post or you may receive a visit from us this weekend.' Next to it was a little graphic, spelling out the word THINK, urging social-media users to ask themselves if their post was 'true', 'hurtful', 'illegal', 'necessary' or 'kind' before hitting send. In 2018, South Yorkshire police urged people to report 'offensive or insulting comments' as part of its 'Hate Hurts' campaign.
Perhaps the most bizarre case of this kind of thing was a Facebook post by Gwent Police in 2019. The force posted a mugshot on Facebook of a drug dealer – he had broken his license conditions and they were appealing for information on his whereabouts. After thousands of commenters piled in to mock said drug dealer's rather unfortunate haircut, the cops warned they may be investigated if they 'say something about someone which is grossly offensive'.
Why these forces didn't themselves THINK before they made these sinister statements is worrying. It seems a desperation to mend years of (well-earned) distrust of the police among certain groups – including, apparently, the poorly groomed drug-dealer community – has led some forces to stumble into some almost comically authoritarian behaviour.
But the issue is also the law. Our hate-speech and hate-crime laws are now so expansive that one could almost forgive these coppers their confusion. For instance, 'being offensive' may not be a crime as yet, but being 'grossly offensive' online can be, under Section 127 of the Communications Act. Under this law, Scottish YouTuber 'Count Dankula' was fined £800 for a comedy skit in which he taught his pug to do a Nazi salute; a teenage girl was given a curfew and an ankle tag for quoting 'grossly offensive' rap lyrics on Instagram; two teenage boys were arrested for re-enacting the death of George Floyd on Snapchat; and more recently a Twitter troll was arrested for tweeting something nasty about the death of Captain Tom Moore. All were essentially victimless crimes, and these are just the tip of the iceberg.
Then there is the Orwellian phenomena of 'non-crime hate incidents'. This is where, in the words of the College of Policing, a 'criminal offence has not taken place, but the victim or any other person perceives that the incident was motivated wholly or partially by hostility'. These are automatically recorded, with no need for any proof or further investigation, and can show up on an advanced background check of the alleged 'perpetrator'. Harry Miller, a businessman and former policeman, took the cops to court over this when he was investigated by police for retweeting a trans-sceptical limerick. Officers visited his workplace and one called him at home, saying 'we need to check your thinking'.
Merseyside Police deserve all the flak and mockery they are currently receiving. But when they said 'being offensive is an offence' they weren't as far off the mark as you might think.
Tom Slater is deputy editor at spiked. Follow him on Twitter: @Tom_Slater_
Picture by: Merseyside Police.
To enquire about republishing spiked's content, a right to reply or to request a correction, please contact the managing editor, Viv Regan.