Leave the metropolitan elite alone
Those who fly frequently and live for the arts have been hit hard by lockdown.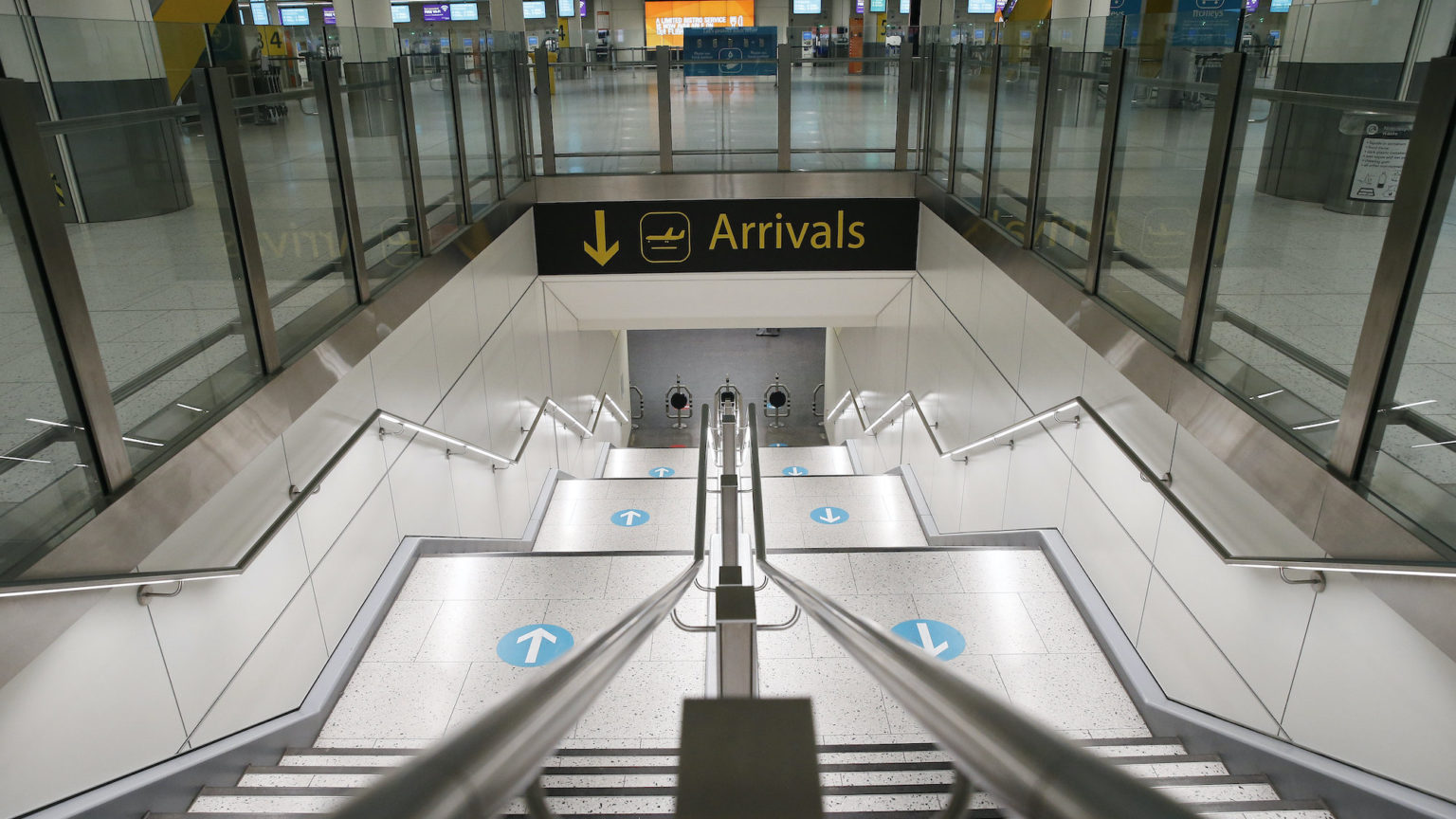 Is it me or was there a hint of glee in Matt Hancock's voice as he announced the most draconian lockdown measure to date: custodial sentences for those who try to avoid quarantine? Certainly the health secretary seemed quicker than usual to trot out that sorry government catchphrase about how he 'made no apologies' for crushing our liberties. Perhaps he really was enjoying it.
Given Hancock's history of slightly odd behaviour, it's hard to be sure. But taking pleasure in tightening quarantine would hardly be out of step with what we've come to expect from this government. For if there's one thing these 'reluctant' authoritarians enjoy most of all it's making life difficult for the young and cosmopolitan; or what we used to call the metropolitan liberal elite.
Of course, holding a frequent flyer card doesn't make you a member of the metropolitan elite, and nor does having family abroad. But we all know – Mr Hancock included – who will feel the sharp end of these measures. And that's the millions of UK residents – many living in larger cities with well-paid jobs – for whom international travel isn't about having a holiday, but about actually being able to see their family and loved ones.
As outrageous as this ban is, I'm not saying the cosmopolitan denizens of East London are the primary victims of lockdown. They haven't been imprisoned in care homes without family visits, or forced to go without urgent medical treatment. They're not being deprived of early-years schooling. But with all that said, I can't think of another group who's been so consistently singled out by the government for tougher treatment.
Just three weeks ago, we had the spectacle of Priti Patel using an evening press conference to announce a staggering 900 per cent increase in fines for anyone caught attending a house party. As with the travel ban, there was no evidence that this was a particular problem. But it was clear what the home secretary wanted us to think: that the young and reckless were once again endangering everyone else.
It's all a far cry from the first lockdown when we were – apparently – all in it together and when the government at least tried to foster a spirit of joint endeavour. Deep into Lockdown 3.0 and it's becoming increasingly clear that lockdowns aren't the great collective effort we were promised, but rather are a case of certain groups – the young, the working class, working mothers – being forced to carry disproportionate burdens for the benefit of others.
As with everything political, I suspect there's a degree of theatre to it. The government knows from its polling operation that, when pressed to apportion blame by telephone pollsters, a sizable chunk of the public holds younger people – whether it's ravers, students or 'influencers' – responsible for the spread of the virus. Downing Street is also desperate to be seen as 'tough' on those viewed to be breaking the rules.
At times, though, it feels like the entire enforcement strategy has been designed to appeal to a mythical Red Wall voter, albeit one who embodies all of the offensive stereotypes that we used to mock the ultra-Remainers for holding. Policies are chosen for how well they will play with this imaginary voter: a cantankerous would-be authoritarian who thinks that 'those youngsters' have it all too easy.
Every now and then the mask slips. Back in the summer, for example, Dominic Cummings was reported to have privately dismissed the idea of giving financial support to the arts (a sector which, let's not forget, has been forcibly closed for months on end now) by saying that the 'f**king ballerinas' should get to the 'back of the queue'. Presumably on the assumption that all Red Wall voters have the artistic tastes of Billy Elliot's dad.
The ever-tightening travel bans are the high-point of this poisonous logic. The new insistence that returning travellers take multiple coronavirus tests is the travel equivalent of the now-abandoned 10pm pub curfew: epidemiologically useless, but intended to please those who can't stand to see anyone else enjoying themselves. That they'll place an undue burden on those with family abroad isn't a problem. It's a design feature.
Of course, there's one big irony in this, which is that many of the commentators who spent years concerned about Brexit and free movement have now emerged as the biggest cheerleaders for border closures. Prior to the pandemic, they worried about losing their right to 'live, work and fall in love' in Europe. But faced with a government banning millions of EU citizens (those from Spain and Portugal in particular) from seeing their family members, they don't offer a peep.
With cases in freefall and the vaccine rollout underway, it should be clear to anyone that, when it comes to Covid, the UK is finally turning a corner. Yet our lockdown fanaticism reaches new heights every week. We need to tone down the rhetoric – and the vindictive authoritarianism. It's time to leave the metropolitan elite alone.
Robert Jackman is a writer and critic with the Spectator.
To enquire about republishing spiked's content, a right to reply or to request a correction, please contact the managing editor, Viv Regan.