Matt Hancock's NHS power grab
His reforms provide enormous scope for ministers to meddle in our everyday lives.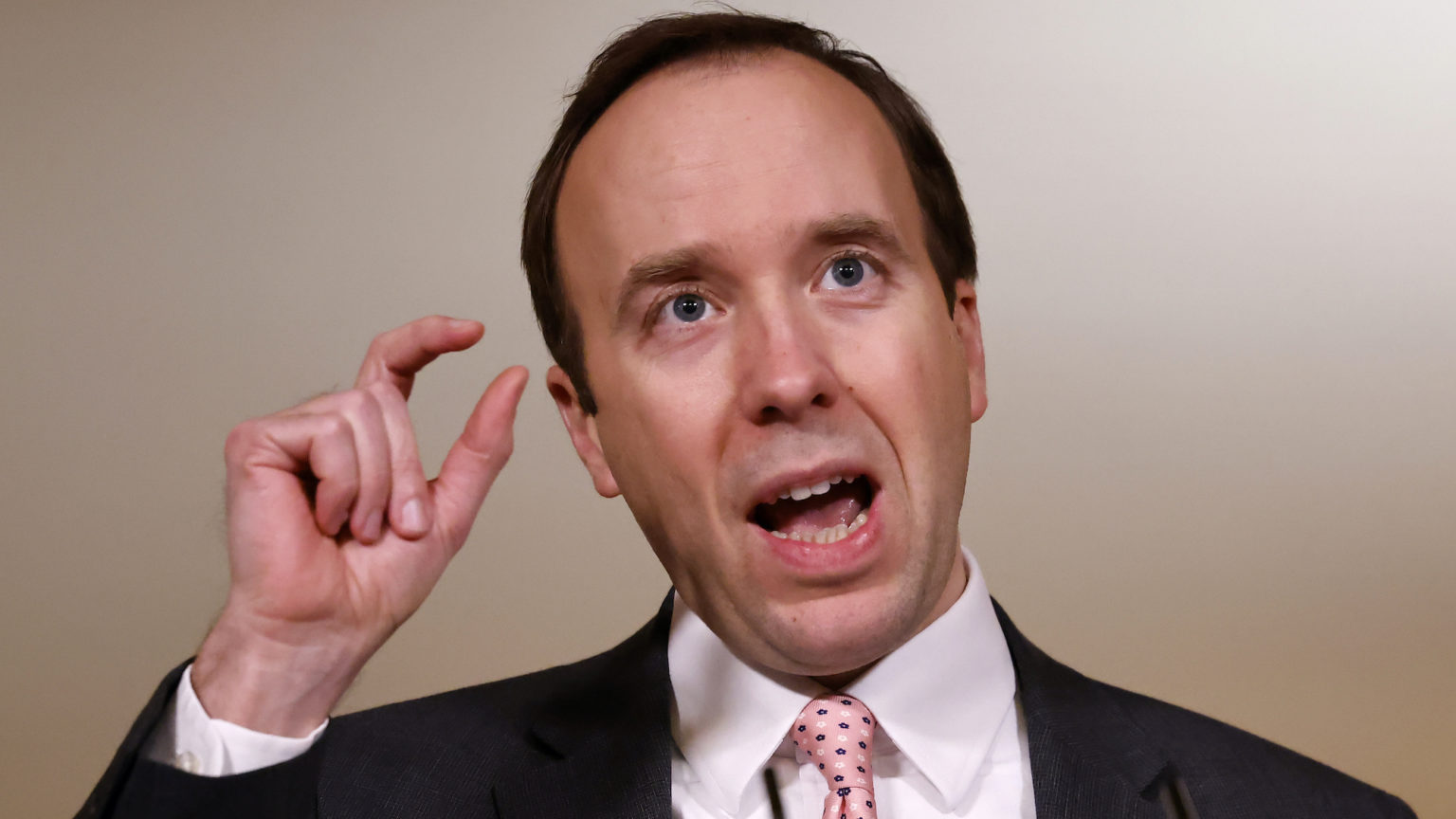 We're in the middle of Covid. Medical staff are severely stretched. But at just this time, when you'd think that the government has its hands full, it has decided to completely reorganise the NHS – leaving Matt Hancock more in charge than ever.
A leaked draft White Paper on health proposes to rid the NHS of competition between England's 200 NHS Trusts, and its 200 clinical-commissioning groups, which put healthcare out to competitive tender. Instead, the collaborative integrated care systems formed in the past two years, bringing together NHS organisations with local councils, charities and community groups, will be bulked up. And they will soon answer not, as everyone in the NHS currently does, to its CEO, Sir Simon Stevens, but to Hancock and his successors as secretary of state.
Now, 'integrating' care may well mean that, as the White Paper proclaims, more patients are seeing the benefits of 'joined-up care between GPs, home care and care homes, hospitals and mental-health services'. But why would the government choose this infectious moment to start out on a shake-up?
The answer is relatively simple. Especially in the medical field, there has long been a constant stream of agendas for, forecasts about and policy departures in healthcare. That these emerge so often doesn't mean they are right, or that they will actually produce any change in reality.
But the reorganisation now proposed is different. The government wants to capitalise on the crisis by assuming power over what is sometimes called preventative healthcare or 'health promotion' – which really means lifestyle control. Areas like obesity, smoking, hospital food, 'front-of-pack nutrition labelling' and 'alcohol [and] calorie labelling' – you name it – will become the responsibility of Hancock and other ministers. These issues are regarded as so pivotal by government that it wants to take back control of them.
Public-health services, mostly delivered by local authorities, will also be run by the NHS and Hancock – and he will have more power to intervene if he decides that a local authority is failing in its health duties. Altogether, the White Paper wants to tighten the reins it has over each of us and our 'healthy behaviours'.
The White Paper has 59 mentions of public health – but, tellingly, healthcare gets just 46. After all the talk about 'The Science' around Covid, there is no mention of science in the whole document. No mention of R&D, or even of vaccines. There is one mention of drugs (in brackets, about drug pricing). Interestingly enough, however, there are 20 outings for 'innovation', which is also in the working title of the White Paper.
Now in the NHS, bureaucratic and organisational 'innovation' has been an official war-cry since at least 2011. Meanwhile, the front end of genuine medical innovation, of our understanding of disease and our treatment of it, has been neglected. Much of Britain's innovation in healthcare has been about rearranging deckchairs, rather than of a scientific or technological character. At best, this can inspire cynicism among NHS workers. At worst, constant 'innovations' in healthcare hierarchies create a climate in which real innovation gets a bad name.
Between 1981 and 2010 alone, British governments made major structural changes to the NHS and the Department of Health every other year. They created, merged and abolished health bodies and redistributed responsibilities. Frequently, reorganisations followed the electoral cycle. Typically, they were also rapid, with changes often initiated 'in advance of formal legislative approval, the details of reforms being worked out as they are implemented, and the timetable for hasty consultation and implementation being a matter of weeks or months'. More recently, it has been argued that officialdom's 'obsession with new structures' could 'leave even seasoned policy-watchers baffled', while more expensive management consultants have been hired. And yet still Whitehall plunges on.
The White Paper will not be much contested, for it represents the climax of a wider, long-running medicalisation of society. Way back, as early as 1976, when a Labour government was in power, the then Department of Health and Social Security declared the prevention of disease 'everybody's business'.
Later, in the 1990s, Conservative ministers adopted 'healthcare promotion' as their mantra. As Ken MacLaughlin has shown in his important book, Empowerment, this was presented as the empowerment of individuals to make 'informed choices' – or at least the right choices. The general aim, however, was to moralise about, stigmatise and reform the irresponsible conduct of individuals, especially among working-class communities. (1)
Once the state had decided that all aspects of personal life required a medical approach, medicalisation became a force with its own dynamic. Indeed, it gained an influence that went beyond medicine: it became a tool of social control and for confirming who is in charge.
Thus, nearly 10 years ago, the UK government accepted a 26-page report whose top recommendation, made 26 times, was this: 'Every healthcare professional should "make every contact count": use every contact with an individual to maintain or improve their mental and physical health and wellbeing where possible, whatever their speciality or the purpose of the contact. To emphasise the importance of this responsibility, the secretary of state should seek to include it in the NHS Constitution.' Whatever the health worker's speciality, whatever the patient's first purpose in a visit, the category of healthcare was to be expanded – and, with it, the government's chance to attach more tentacles to each of us.
This is why the new White Paper's references to empowering patients – and empowering frontline staff – ring as hollow as its fondness for what it likes to call 'innovation'. More than ever, it wants to turn the NHS into a coercive arm of the state.
The NHS does need reform. In fact, we need a whole new NHS. Apart from anything else, the Covid crisis has shown the need for real integration between the NHS on the one hand and science and technology on the other. But don't be fooled: anything like that is not at all on the table. The White Paper will embolden Hancock and his successors to tell us what to do in our everyday lives – more than ever.
James Woudhuysen is visiting professor of forecasting and innovation at London South Bank University.
(1) Empowerment: A Critique, by Kenneth McLaughlin, Routledge, pp90-100.
Picture by: Getty.
To enquire about republishing spiked's content, a right to reply or to request a correction, please contact the managing editor, Viv Regan.