Virtue Hoarders: our scolding elites
How the professional-managerial class presents its power over the working class as moral superiority.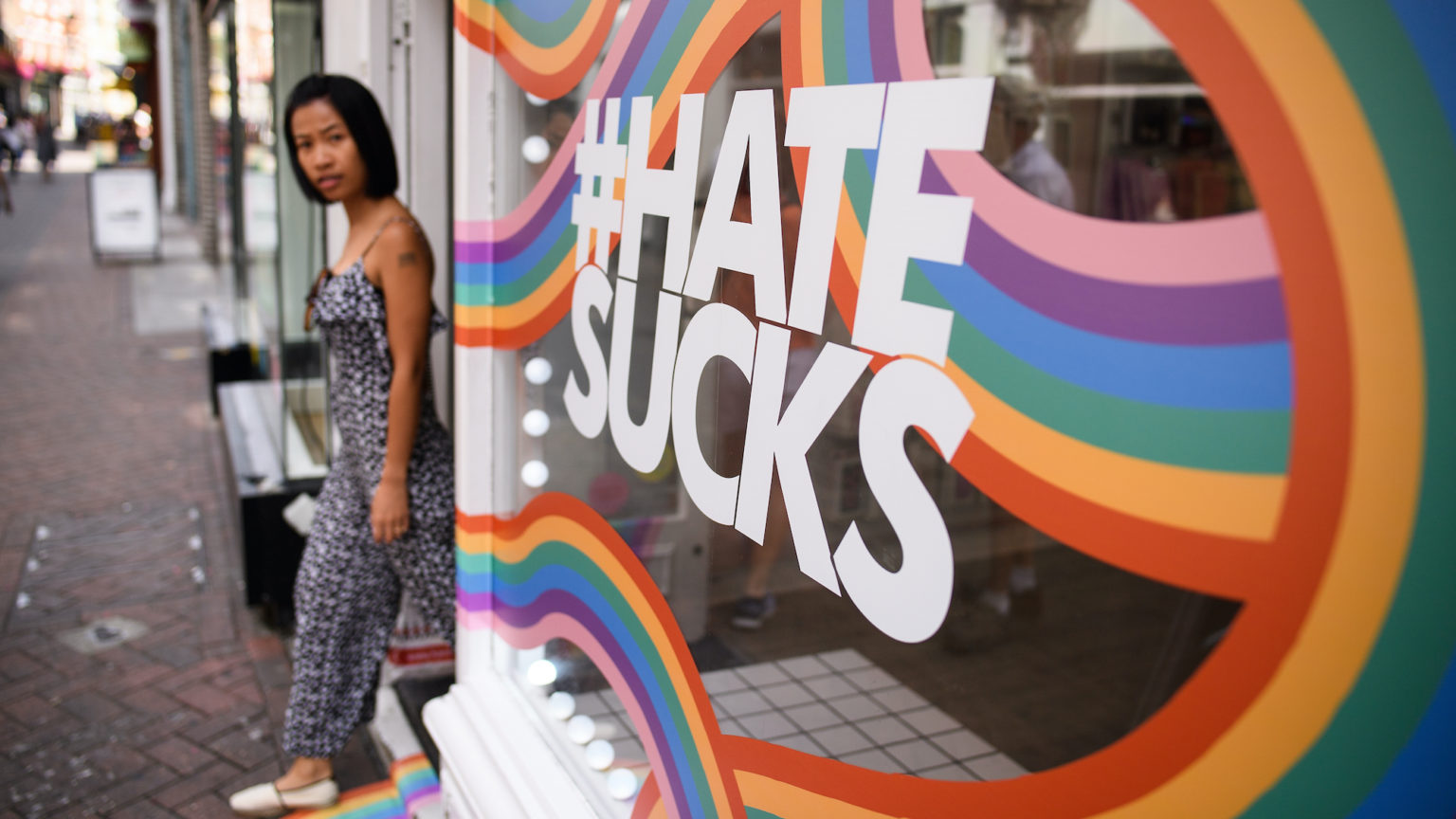 'We must be heretics', says Catherine Liu in her new book, Virtue Hoarders. 'We should blaspheme.' Her call for sacrilege is directed against the pieties of the professional-managerial class (PMC), which dominates 'political organisations, publishing, media, private foundations, think tanks, and the university'. This is a class 'convinced of its own unassailable position as comprising the most advanced people the earth has ever seen'; insistent on 'its ability to do ordinary things in extraordinary, fundamentally superior and more virtuous ways'.
Liu has some fun ridiculing the pretentiousness of PMC self-experimentation, observing that 'from returning to the "land"… to keto diets, only drinking sewage-laden raw water, and intermittent fasting, its self-indulgence is always a kind of sanctimonious austerity'. Her point, though, is a serious one: that this elite 'finds in its particular tastes and cultural proclivities the justification for its unshakable sense of superiority to ordinary working-class people'. As she puts it: 'PMC virtue hoarding is the insult added to injury when white-collar managers, having downsized their blue-collar workforce, then disparage them for their bad taste in literature, bad diets, unstable families, and deplorable child-rearing habits.'
Many of Liu's descriptions of middle-class 'progressives' looking down their noses at hoi polloi are familiar from recent discussions of the rise of 'woke' establishment orthodoxies. Two things give the Virtue Hoarders some extra spice, though. First, this is personal. As a professor of film and media studies at the University of California, Liu describes herself as partially belonging to the PMC, and as engaging in 'political self-criticism'. She intends her book as 'a guide to identifying PMC values in ourselves, the better to liquidate them'. It is an act of self-excommunication.
Second, and most significant, is the book's timeliness. Published in the month that President Joe Biden took office, Virtue Hoarders is part of a larger discussion that has rumbled on over the past four years, particularly in the US, about the political role of the PMC. Frustrated hopes for a left-wing populist movement centred around Bernie Sanders' bid for the Democratic Party nomination – defeated in 2016 by Hillary 'deplorables' Clinton, and then again, in 2020, by Biden and his woke authoritarian running mate, Kamala Harris – prompted debate on the American left about whether the PMC is an ally or an enemy.
To some extent, this debate has been a rerun of the same discussion that has arisen periodically since the 1970s, when Barbara and John Ehrenreich first coined the term 'professional-managerial class'. Their analysis was mainly concerned with whether a class, whose 'major function' they identified as 'the reproduction of capitalist culture and capitalist class relations', could nevertheless act as an ally of the working class in, as the Ehrenreichs hoped, a 'mass radical alliance for social change'.
Rereading the Ehrenreichs' original two-part essay (available here and here) with the benefit of hindsight, their hopes look misplaced — particularly given their account of how 'the "New Left", the anti-war movement, the ecology movement, [and] the women's-liberation movement' that emerged in that era all 'defied "the system", but often with moralistic contempt for the working class'. A simpler explanation of such moralistic elitism might be those movements' flawed politics, rather than their adherents' objective relationship to the means of production. Oddly, that sort of deterministic thinking can end up exculpating people of responsibility for their political choices. Liu's 'exfoliating and brutal' reassessment of her own 'values, sensibilities, and affects' is not some alternative version of PMC-style introspection but a deliberate rejection of one political outlook in search of something better.
A kind of economic determinism also seemed to underpin later attempts to find a positive role for the PMC. Returning to their theme in 2013 in the aftermath of the Occupy Wall Street protests, the Ehrenreichs again offered an optimistic case for a working-class alliance with the PMC. Noting that economic and technological changes had eroded the security and autonomy of the liberal professions, they forecast that 'in the coming years, we expect to see the remnants of the PMC increasingly making common cause with the remnants of the traditional working class', and suggested that Occupy had already initiated such a project. Yet as Liu argues, 'Occupy was squarely a PMC elite formation', not just demographically but also politically, dominated by 'PMC/New Left ideas' that led to a 'fanatical commitment to proceduralism' and 'suppressed real discussion of priorities or politics'.
By 2019, Barbara Ehrenreich was dismayed that the term 'PMC' had begun to be used as an 'ultraleft slur', though she acknowledged the truth of the PMC's image as 'a bunch of scolds, telling people that they're racist, that they're homophobic'. (Ehrenreich herself was the target of such scolding earlier that year, when she was denounced as a xenophobe for a jokey tweet about the de-cluttering guru Marie Kondo.) A much-discussed 2019 essay by historian Gabriel Winant made a similar point, bemoaning the way that the term 'PMC' had been 'turned into an epithet and hurled like a missile'. Winant's argument was that 'the contradictions between official ideologies of professionalism and the material reality of existence' would allow 'the PMC to glimpse broader solidarity with the working class'.
Yet as Liu observes, at least in some fields, the 'vanguard corps of PMC elites' have been actively undermining professional integrity and standards rather than, as the Ehrenreichs put it, acting as 'a "liberal" force, defending the values of scholarship and human service'. She presents a robust defence of Angela Nagle, whose 2017 book Kill All Normies pointed out the corrosive effects of the type of 'subcultural fetish politics' pursued in academia and elsewhere, and lays into those who sought to 'blacklist and deplatform' Nagle in response. Liu also attacks the New York Times' revisionist 1619 Project, noting that 'powerful financial and media interests' have promoted this 'attempt to change the way we understand American history and historical research itself'.
Liu says the 'endgame' for her critique is 'a return to socialist politics', but as she is no doubt aware, this raises as many questions as it answers. As Sean Collins argued on spiked last year, one problem for the Sanders campaign after 2016 was that it 'increasingly took on board the identity politics and cultural views of the woke left', becoming 'more in tune with the upper middle-class' than with the masses. But as Collins also suggested, another problem was the intrinsically limited appeal of Sanders' retro brand of welfare socialism. Left populism has little prospect of success unless it can connect with people's aspirations for agency and democratic control. As Liu notes, 'the credentialed classes love to use the word empower when they talk about "people", but the use of that verb objectifies the recipients of their help while implying that the people have no access to power without them'.
As things turned out, the more pessimistic alternative scenario outlined by the Ehrenreichs in the 1970s is closer to what happened: 'the possibility exists', they warned, 'for the emergence of what may at first sight seem to be a contradiction in terms: anti-working class radicalism'. Looking at today's version of 'progressive' politics, it is not hard to recognise what they described as 'the PMC radicals' recurring vision': a 'technocratic' society run by 'bureaucrats, planners, and experts of various sorts'. Today's managerial elites are asserting their supposed virtue to shape just such a future, and to push back against the populist hopes of recent years. Virtue Hoarders amplifies a discussion that still needs to be had out. We need more heretics.
Philip Hammond is professor of media and communications at London South Bank University.
Virtue Hoarders: The Case against the Professional Managerial Class, by Catherine Liu, is published by University of Minnesota Press. (Buy this book from Amazon(UK).)
To enquire about republishing spiked's content, a right to reply or to request a correction, please contact the managing editor, Viv Regan.