A victory for women in Argentina
The success of the 'green wave' movement is an inspiration to pro-choicers across the globe.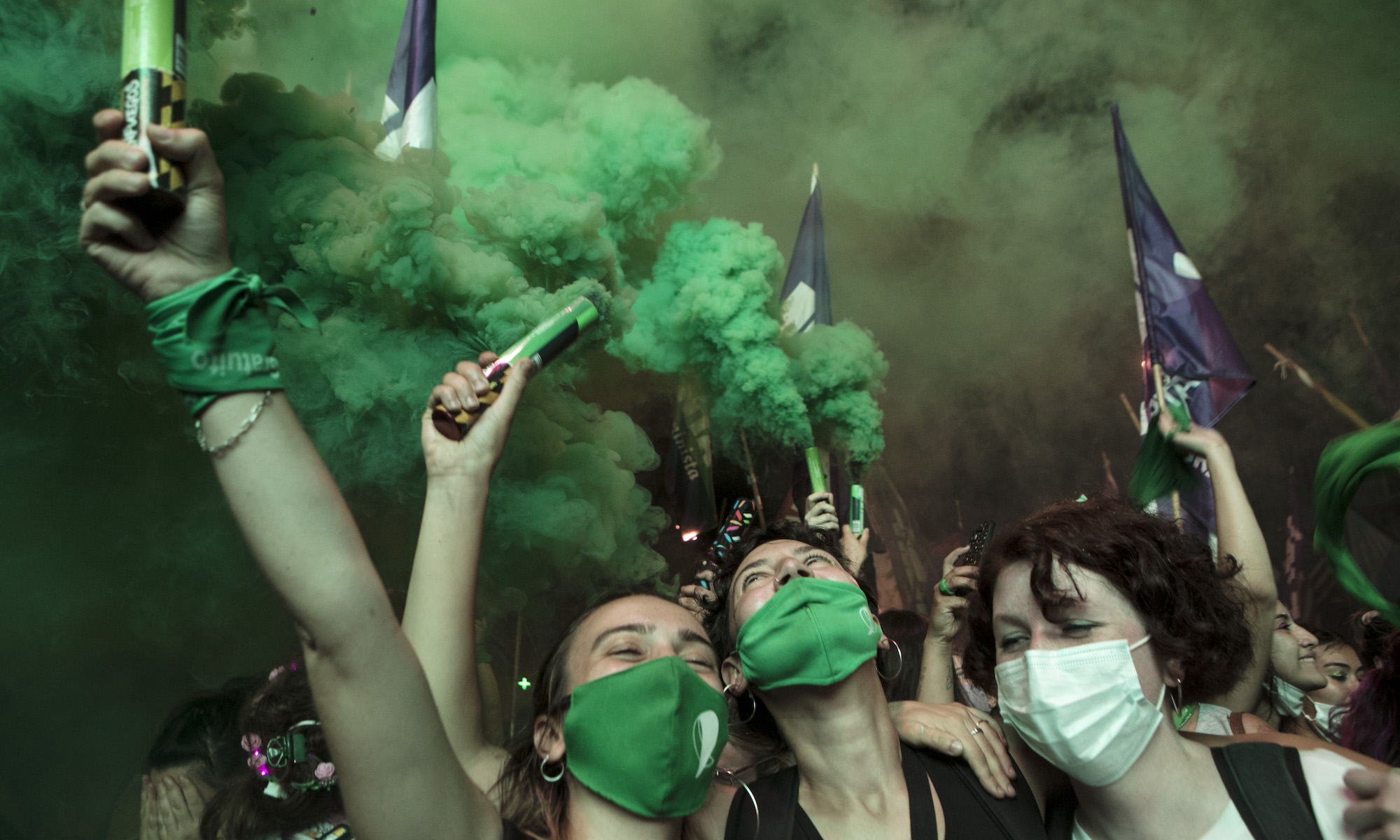 So much of 2020 was terrible that it's easy to forget the little victories. With just two days to go before the worst New Year's Eve ever, Argentine women celebrated the passing of a bill which legalises abortion in the first 14 weeks of pregnancy.
It's hard to overstate what a big deal this is. Argentine women have been campaigning for a change in the law for years. Just as in Ireland and other predominantly Catholic countries, Argentine law prevented women from accessing abortion services, on pain of years of jail time, except in cases of rape, incest and a threat to life.
The 'green wave' of protesters who celebrated the bill in their thousands in Buenos Aires began as a hashtag campaign against gender violence called #NiUnaMenos (#NotOneLess). It was sparked by the murder of young pregnant women. As Giselle Carino writes in the Guardian, the campaigners' use of green scarves was a moving nod to the 'grandmothers of the Plaza de Mayo', who protested against the disappearance of their children under Argentina's military dictatorship wearing white headscarves.
The green-wave protests secured a wonderful win for women and will no doubt serve as an inspiration to pro-choice movements around the world. But, as one tearful campaigner put it: 'Today is historic… but we are going for more, this has just begun.' Celebration of a historic shift in favour of women's freedom is welcome, but cries of 'Es Lay' (it's law) celebrating the 'legalisation of abortion' should be put into context. Women in Argentina can now access abortion – but only for the first 14 weeks of pregnancy. In the UK, abortion is technically illegal – but even we can access services up to 24 weeks (providing we convince two doctors that it is necessary). After 14 weeks, Argentine women can only access abortion if they have been raped, have a life-threatening illness or if their child is at risk of stillbirth.
This is why many pro-choice campaigners, like the women marching and cheering in Argentina over the Christmas holidays, are not stopping here. Because legalising abortion only under certain conditions is always going to be a block on women's freedom. Decriminalising abortion, on the other hand, is the only way to grant women full autonomy over their bodies. Removing abortion from criminal law and regulating it like any other medical procedure – so that it is safe and can be carried out based on informed decisions made between a patient and her doctor – would grant women the ability to make full and free decisions about when and if they want to become mothers.
Some will be shocked by this suggestion. Any time spiked defends the idea of women being given the same freedom to decide their future as men, anti-choice campaigners become hysterical. Some argue that decriminalisation would lead to a more cavalier approach to abortion. But this reveals an underlying sexism about women's capacity to make rational decisions.
Making abortion available for free on demand, as early as possible and as late as necessary, would not lead to a rush of women in their third trimester suddenly deciding this whole motherhood thing isn't for them. There is a callous and ignorant view of how women approach the serious prospect of becoming a parent – those who do need to have late-term abortions are making rare and deeply personal decisions. There is no medical, moral or biological difference between a woman needing an abortion at 14 weeks and one at 14 weeks and two days – why, then, would we accept a law to arbitrarily cut off women's freedom at a date deemed to be acceptable by lawmakers?
Victories like the green wave in Argentina are important. Pro-choicers should be inspired by Argentina, and buoyed to carry on arguing for women's freedom in its entirety. This is just the beginning.
Ella Whelan is a spiked columnist and the author of What Women Want: Fun, Freedom and an End to Feminism.
To enquire about republishing spiked's content, a right to reply or to request a correction, please contact the managing editor, Viv Regan.