It is Suzanne Moore who's bullying the Guardian
She grassed on her co-workers too. There are no good guys in this unseemly bourgeois battle.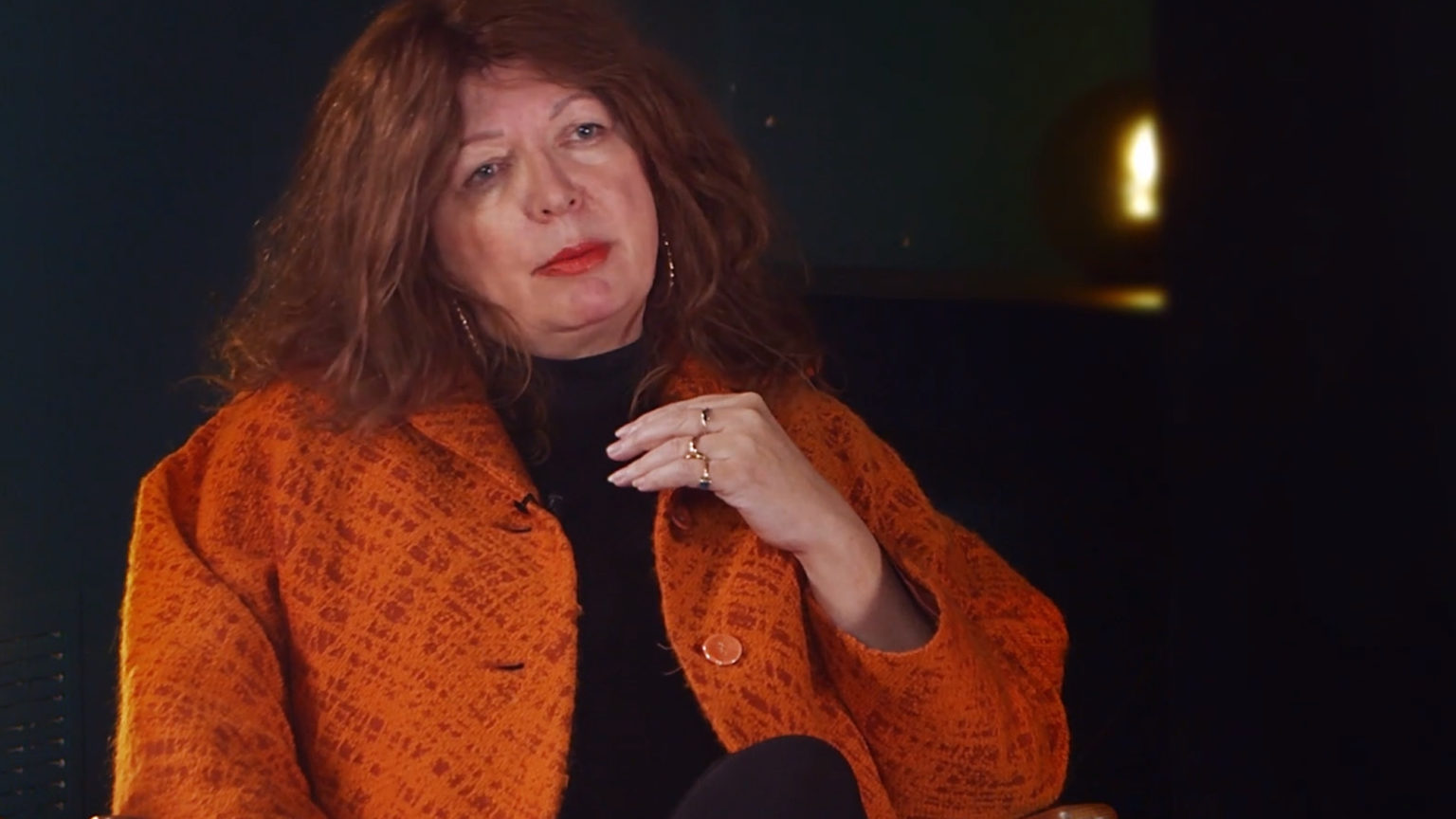 'The revolution devours its children', was the hot take of 1793. But it's news to Suzanne Moore, who's scarpered from the Guardian screaming bloody murder.
'I will tell you about it one day', she threatened on Twitter, before doing so via the Daily Mail:
'Suzanne Moore's "unwoke" views on trans rights were often edited out of her column before she was bullied out of her job. Now she writes a blisteringly powerful riposte that Femail proudly publishes in the name of free speech.'
And UnHerd:
'Maybe they were steering me away from certain subjects because they thought they were dealing with some mad old bint…'
And the Daily Telegraph:
'What happened was [Guardian editor Kath Viner] offered to take me out to lunch. I said I didn't want a lunch. I'm not five, I don't need to be patted on the head and given a veggie burger.'
For anyone interested in reading anything rational about this storm in a moon-cup, let me make it clear: at no point has the Guardian 'bullied' Suzanne Moore. Suzanne Moore is bullying the Guardian.
* * *
It's true Moore is in trouble for airing her views on trans rights, but she has not been cancelled – by the Guardian or anyone. ('It was entirely my choice to go', she tweeted.)
According to her own version of what's gone wrong here, in 2013 she wrote an essay (published in the New Statesman) which contained the line: 'We are angry with ourselves for not being happier, not being loved properly and not having the ideal body shape — that of a Brazilian transsexual.'
'Suddenly', Moore recalls, 'I was inundated with tweets about the murder rate of Brazilian transsexuals which is appallingly high…'
This backlash, she now explains, 'hit me, online and offline, like nothing else. And you have to understand I have been threatened in the past by the fascist group Combat 18 for my columns.' So, she got straight back on the blower to the rozzers to report that 'Twitter was full of people telling me how they were going to rape me, decapitate me, ejaculate inside my head, burn me. This was all somehow to do with the Brazilian transsexual remark. The police came round but they didn't really get Twitter. They said things like: "Don't email them back, love"…'
Great advice, I thought. Works for me every time. But then I don't have a hundred-thousand Twitter followers who love my pantomime of victimhood. Moore does. And she clearly thought it wise to encourage comments from people with psychiatric problems ('[they] said that they would give my then 11-year-old a good fisting') by dignifying them with answers.
The Guardian newspaper (boo hiss!) finally intrudes on this ugly scene in 2018 when Moore fires off an email to a colleague 'about being civil' at the Christmas do, to which Owen Jones (for it was he!) replies: 'You've prompted the most sickening transphobia, for which you have never apologised, you called islamophobia a myth and you publicly abuse leftwingers.'
If I'm following Moore's chronology correctly, all she's implied (trans-wise) by this point is that she's angry at herself for not having the body of a Brazilian transsexual. So you might imagine that she'd screw her courage to the sticking-place, and prepare for handbags at last orders. ('Brush your hair, Suzanne.'
'Tell that to my armpits, Talcum X'.
Etc.)
In reality, she reports Jones to Kath Viner, her editor, only to be 'told that as neither of us were on staff, nothing official could be done. Really?'
If I'd been Viner I'd have sacked her on the spot for sending prissy emails and ratting on her colleagues.
But, no, the Guardian continues to pay, promote and nurture Moore and she wins the Orwell Prize the following year. (Dear old George, who never gets to complain about being spit-roasted in his grave on an annual basis, by the latest crop of Cadwalladrs not fit to spit on it.)
By her own admission, Moore couldn't cope with the fall-out from a single sentence published in a small-circulation magazine, so it's not hard to understand why her random allusions to trans matters were removed from her Guardian columns. (Judging by her new Substack account, Guardian subeditors may feel the Orwell medal should have been pinned to their breasts, for services to the English language.)
Still, Moore demanded her right to re-enter the trans fray and was given it – in March – when the Guardian let her dash off another of her blistering ripostes when a 'professor of working-class history' called 'Selina' was 'disinvited' from making a 'polite two-minute speech of thanks at an event at Exeter College commemorating 50 years since Ruskin College's inaugural National Women's Liberation Conference'.
Considering the hue and cry she's made about the Guardian ever since ('Oh yes I am going to have my say. When I am out of contract…'), I was expecting, at the very least, that the Novara New Kids on the Block had set up a guillotine in the canteen, as the chapel stood by with handkerchiefs to mop up the blood.
But no.
All that happened was Suzanne Moore used her platform to write whatever she wanted about trans issues for the newspaper's 35.6million online readers, and afterwards 338 Guardian employees signed a letter – that didn't name her and doesn't appear to have been exclusively about her – saying they were both 'deeply distressed by the resignation of another trans colleague' and 'disappointed in the Guardian's repeated decision to publish anti-trans views'.
The current definition of 'anti-trans views' is standing by the dictionary definition of the word 'woman', so I can't understand why Moore's quibbling. As a newspaper columnist, she's paid to have an opinion, and if she's doing her job properly she should be upsetting vastly more than 338 people. To me, all her fussing reads like a fireman bitching about getting smoked on by a burning building.
Especially as Moore is an author of the ideology that's now eating us all alive. As she wrote in the column: 'The radical insight of feminism is that gender is a social construct – girls and women are not fated to be feminine, boys and men don't have to be masculine.' The vast majority of us dealt with being fated to be 'feminine' or 'masculine' thanks to our biological parts and assumed tendencies. But if you want to argue all that was just a 'construct', it's a hop, skip and a jump to 'feeling' not fated to be female or male.
'How did we arrive at a situation where there are shocking and rising numbers of teenage girls presenting at specialist clinics with gender dysphoria, while some who have transitioned are now regretful and infertile?', Moore demands. Maybe, just maybe, it's because people like you told them 'femininity' isn't real and so they felt they could opt out of being 'female', too, if only they ditched their baby-making equipment in time.
What worries me about Moore's dramatic entrance into the trans debate is that all she cares about is women. What about stating what many believe, but are reluctant to say for fear of being cancelled — that no one should be changing sex before they've had it? How are we living in a society that thinks it is okay for a mother to have her child's penis cut off as a 16th-birthday present? There are less savage penalties for burglary under Sharia law.
Like any other decent human being, I don't want to be a transphobe. However, it's obvious I am one, so I must now defend to the death the right of anyone to call me such while threatening to chop my head off to make a pissoir.
We're spiked – the Guardian hates us – but if no one else is going to stick up for it, we will. Viner is just as entitled to change her paper's political stance as any other editor. Moore's refusal of Viner's offer of lunch so they could talk it over was rude and disrespectful. What more did Moore want? An Owen Jones baby blimp flown over a King's Place women's march? A 'Suzanne's Safe Space' sign and the keys for Polly Toynbee's Tuscan villa?
As far as I can make out, none of this is about free speech. It's a rebranding exercise… Suzanne Moore's views on 'trans' are right; the Guardian's are wrong, and it is downright offensive – on all our parts – to think anything else.
Emily Hill is author of the short-story collection, Bad Romance, and publishes at Substack: https://emilyhill.substack.com/
Picture by: YouTube / UnHerd.
To enquire about republishing spiked's content, a right to reply or to request a correction, please contact the managing editor, Viv Regan.