Democracy is being strangled in Hong Kong
And many in the West are now incapable of understanding what is at stake.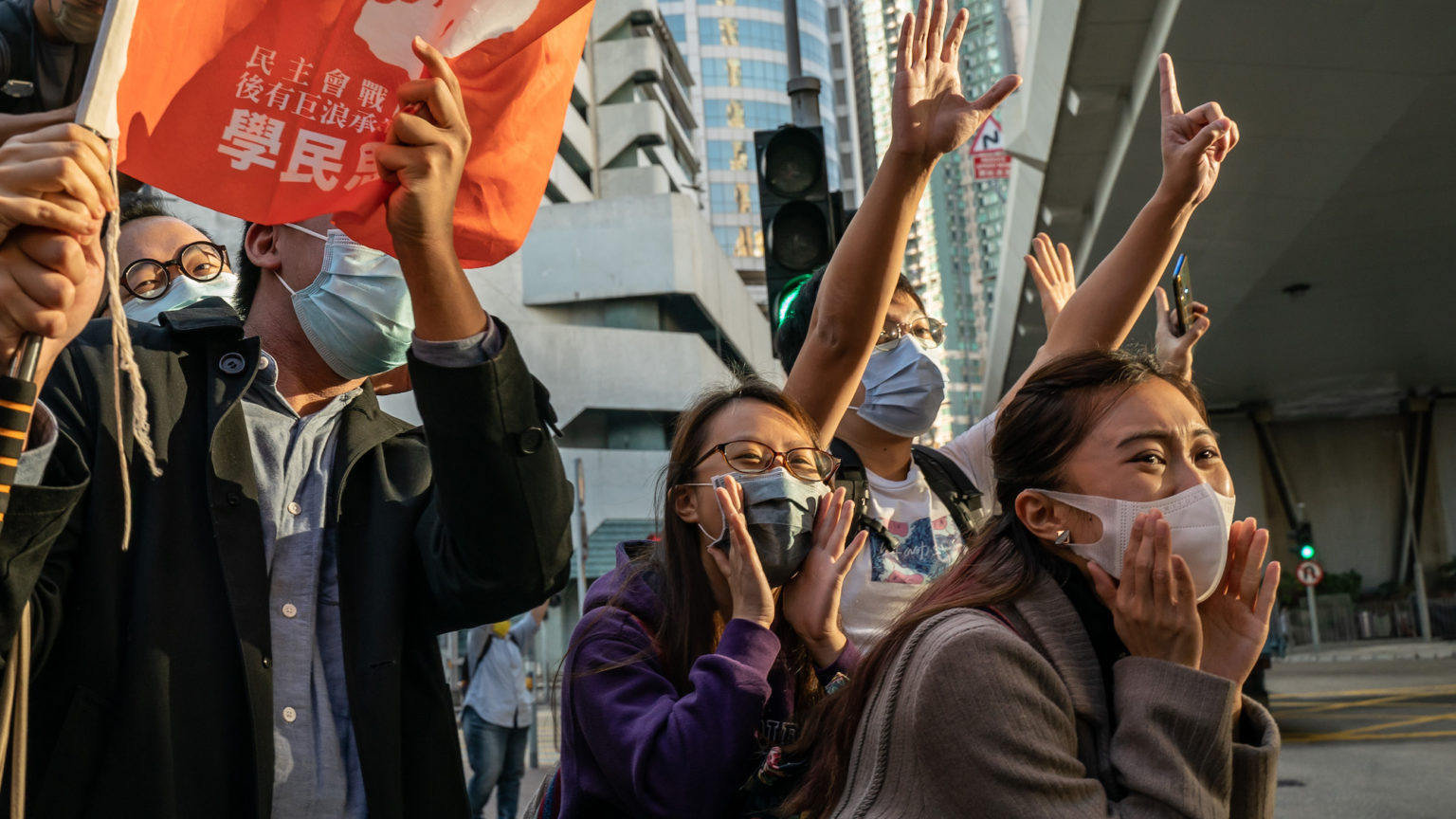 In Hong Kong right now, dreams of democracy, not to mention real freedoms, are slowly but surely being extinguished.
More than 10,000 of those involved in protests against the Chinese Communist Party's increasing encroachment on Hong Kong's semi-autonomy have been arrested under assorted laws over the past couple of years. And the National Security Law, which the CCP says it imposed on Hong Kong to restore 'stability', has extended the state's power to clamp down on dissent, so broadly does it define terrorism, subversion, secession, and collusion with foreign powers.
Even Hong Kong's elected Legislative Council, for so long a bulwark against its Beijing-vetted and appointed chief executive, has now been neutered by the CCP after it passed a measure barring any legislators refusing to recognise Beijing's sovereignty over Hong Kong. On 11 November, four of its 19 pro-democracy legislators were subsequently disqualified, which prompted the 15 remaining to resign on principle. Now, for the first time in its history, the legislature lacks any opposition to CCP diktat.
This week, matters took an even darker turn after one of the most prominent members of the pro-democracy movement in Hong Kong was imprisoned. Twenty-four-year-old Joshua Wong was sentenced to 13-and-a-half months in jail, alongside his fellow activists, 23-year-old Agnes Chow and 26-year-old Ivan Lam, who received 10 and seven months respectively. Their crime? A 15-minute 'unauthorised' protest outside a police station in June 2019.
Within hours of their sentencing, Hong Kong authorities announced that Jimmy Lai, a pro-democracy media owner, had been denied bail, and will remain on remand until his trial next April. His crime? Breaching land-lease terms by using his company Next Digital's office space 'for other purposes' – in other words, for disseminating the 'wrong' message.
Hong Kong has never enjoyed democracy in any substantial sense. Certainly not under British colonial rule, nor after 1997, when it was returned to China. Yet, under the post-1997 'one country, two systems' settlement, Beijing's power was meant to be limited for 50 years to defence and foreign policy, while Hong Kong retained some degree of self-governance and civil liberties, including an independent judiciary and free-ish press. Moreover, as part of Hong Kong's de facto 1997 constitution – the Basic Law – it was supposed to be able to elect by universal suffrage its legislative council and its chief executive by 2017.
Not only has that democratic promise remained unfulfilled — we are now also seeing the existing liberties of Hong Kongers crushed under the boot of the CCP. Hong Kongers have been far from acquiescent, of course. In 2003, many protested the CCP's anti-subversion bill, a weaker prototype of this year's National Security Law. In 2014, many, many more protested the CCP's failure to honour the democratic pledges of the 1997 Basic Law, while famously carrying umbrellas to protect themselves from security forces' tear-gas canisters. And last year, Hong Kong was gripped by the largest protest movement yet, as the CCP attempted to tighten its grip over the city. But right now those protests increasingly look like the last gasps of a citizenry being slowly strangled, rather than signs of the democratic future to come. All in all, this is a slow-motion tragedy that ought to outrage democrats everywhere.
Yet that is precisely what it has not done. Western liberals' response to events in Hong Kong has been remarkably muted. Damning lip service has sometimes been paid to the authoritarianism of the CCP. And sometimes, a high-profile hand has been wrung. But beyond that, there is little broader recognition of the democratic principles at stake in Hong Kong, let alone a sense of solidarity with the likes of Joshua Wong. That this task has largely been left to Wong's exiled friends and the other members of the Hong Kong diaspora tells its own story.
Indeed, media outlets that have spent recent years pompously pontificating about the threat posed by Trump or Brexiteers to democratic and legal norms have remained tellingly quiet, or worse, on Hong Kong. The Financial Times reassured readers recently that Hong Kong would continue to be a vital hub for the financial sector. The New York Times even carried an op-ed by a pro-China Hong Kong legislator, who accused pro-democrats of 'stirring up chaos and disaffection toward our motherland', before concluding that 'democratic development in Hong Kong has brought about nothing but chaos, polarisation and anti-China sentiment' – this, remember, in a publication so virtuous that its staff revolted after it published an op-ed by a Republican senator calling for the military to restore order to riot-riven US cities.
But then, this absence of solidarity, this lack of genuine democratic sentiment, should surprise no one. Over the past few years, we've seen ostensible democrats seek to overturn the result of the Brexit referendum, American liberals refuse to accept a presidential election result, and the long-term devaluation of popular sovereignty throughout the European Union. It seems that just as surely as democratic sentiment in Hong Kong is being suffocated by the Chinese state, so it has been slowly, sneakily abandoned by the political and media class in many parts of the West, too.
Tim Black is a spiked columnist.
Picture by: Getty.
To enquire about republishing spiked's content, a right to reply or to request a correction, please contact the managing editor, Viv Regan.