Trump has a point about the media
The media's partisan hostility to Trump led to the abandonment of objectivity and truth.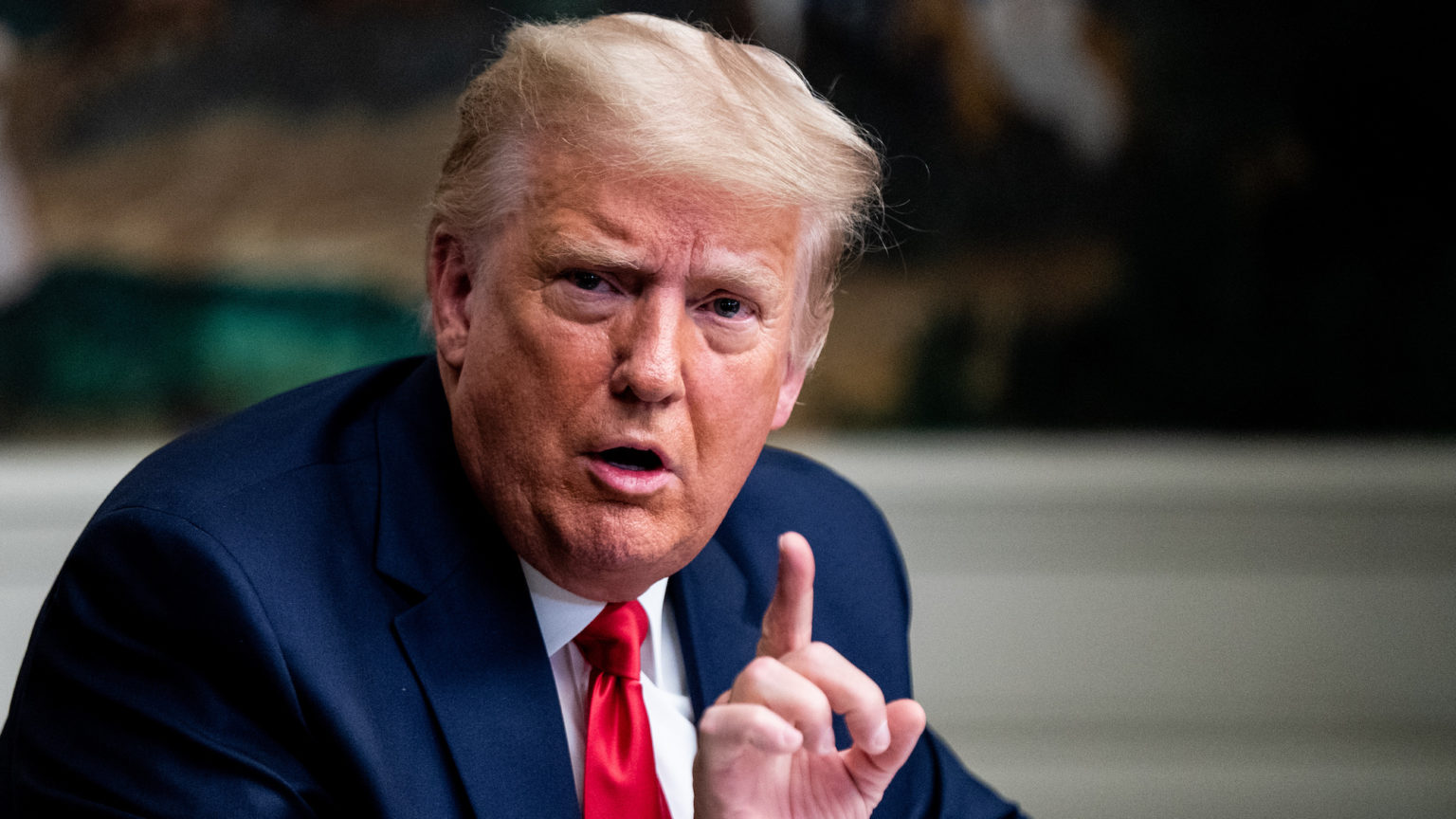 Donald Trump is right that 'they' interfered with the 2020 presidential election. However, he's picking on the wrong 'them'. While it remains theoretically possible that some of Team Trump's lawsuits could succeed, it is highly unlikely that any serious court will toss out enough votes to overturn Joe Biden's margins of 12,670 votes in Georgia (which has already certified the election), 45,673 votes in Pennsylvania, and roughly 150,000 votes in Michigan. Whatever cynics might suspect occurred during a hotly contested election night in (say) Detroit, no evidence has yet been presented that would truly justify the disenfranchisement of hundreds of thousands of Americans.
However, Big Orange is correct that an implacable opponent continually tried to undermine his attempt at re-election: the mainstream media. This was illustrated most remarkably just weeks before the election. In mid-October, the New York Post – one of America's most-read newspapers, originally founded by Alexander Hamilton – published a frontpage story revealing that Joe Biden's son, Hunter, had introduced his then-VP father to top executives of Ukraine's Burisma Holdings, something Biden senior had previously denied. This meeting was, according to the Post, 'less than a year before the elder Biden pressured government officials in Ukraine into firing a prosecutor who was investigating the company'. The laptop also included dozens of explicit adult images, most notably a 12-minute video of Hunter Biden smoking crack cocaine while receiving a 'foot-job' from a prostitute.
The US media are rarely shy about exploiting scandals like this. Take, for instance, the coverage of a potentially incriminating tape of Trump which might not even exist: 'A tape might exist of Trump doing something in an elevator, though it's not exactly clear what that something might be' (emphasis mine). But the mainstream media treatment of this potential Biden blockbuster could not have been more different.
Within days of the Post's piece, major media players either downplayed or cast doubt on the story. 'New York Post publishes Hunter Biden story [amid] newsroom doubts' was the New York Times's headline. 'The anatomy of the New York Post's dubious Hunter Biden story' was how CNN covered it. On social media, Facebook moved to 'reduce the distribution' of the frontpage story, while Twitter blocked users from posting links to it. Twitter even suspended a number of accounts which linked to the story. The remarkable list of those temporarily banned included the White House press secretary, Kayleigh McEnany, and the official account for the Post itself.
Notably, this concerted censorship effort occurred in the absence of any proof that the Hunter Biden story was false. John Paul Mac Isaac, the computer repairman who originally turned Hunter Biden's laptop over to Rudy Guliani's team, is a real person who can be tracked down online. He identified the individual who left the fateful laptop at his shop as 'probably' being Hunter.
Fox News' primetime interview with former Biden associate Tony Bobulinski confirmed many of the details suggested in the Hunter Biden emails. Bobulinski flatly stated that he himself met twice with Joe Biden to discuss business deals with potential clients, including the government of China. Perhaps most notably, while Joe Biden has denied meeting with Hunter's Ukrainian associates, he has not addressed the other allegations put forward by the Post. Nor did Joe or his campaign deny the veracity of the Hunter Biden materials at any point.
Nevertheless, Trump's October Surprise was essentially 'disappeared' from the respectable press and from the major tech platforms. And, while an extreme example, this was simply one of a series of major stories which was covered, or not covered at all, according to how it would affect Trump's election chances.
The list of this selective reporting is quite literally too long to provide here, but a few highlights do stand out. For instance, Trump was accused of referring to 'a group of Latinos' or 'some people' as animals, when he was actually talking specifically about the MS-13 gang. He was called racist for referring to Downtown Baltimore, home of political rival Elijah Cummings, as rat-infested. But in truth, the area has so many rats that there is a well-known movie about them called Rat Film.
Perhaps most notably, in March 2019, the Washington Post ran a major article claiming that 'counties that hosted a 2016 Trump rally saw a 226 per cent increase in hate crimes'. The piece opened by endorsing Senator Tim Kaine's view that Trump was 'emboldening white nationalism'. It cited the hate attack that killed 50 Muslims in New Zealand. It also listed the Unite the Right rally, the Tree of Life synagogue shooting and alleged support for Trump by white-nationalist leaders, 'including Richard Spencer and David Duke', as evidence.
Then came the meat: the authors pointed to the '226 per cent' figure from an academic study. They argued that the criminals responsible for 'a considerable number' of contemporary hate crimes actually 'reference Trump'. This piece was then tweeted by major commentators like Vox's Ezra Klein, fact-checked by PolitiFact, and followed up by serious academic pieces with titles like 'Expanding on the Trump Effect', apparently cementing the idea that there is such a phenomenon.
But, of course, no 200+ per cent increase in a serious criminal category ever occurred. Firstly, the researchers claimed only that the average increase in hate crimes in 'Trump' counties was greater than the increase in non-Trump counties. To put this in context: an increase of just three crimes would be 200 per cent greater than an increase of one crime.
When two stats-savvy writers for Reason magazine, Matthew Lilley and Brian Wheaton, replicated the original study's methodology while adding a control for county population, all significant effects associated with Trump rallies vanished. As they pointed out, it is no surprise that Orange County, California (population 3.19million) has both more visiting politicians and more hate crimes than Orange County, Indiana (population 19,840). Perhaps most entertainingly, the Reason writers found that rates of reported hate crime increased across the country between 2016 and 2017 – mainly as more departments reported them to the FBI – and counties that hosted Hillary Clinton rallies actually experienced larger increases in hate crime than those that hosted Trump rallies. For all that, however, the original Washington Post story remains live online under the same headline without any caveats or corrections.
While the many bust-ups between the Bad Orange Man and the media were often hilarious to watch, the final result of the mainstream press's obvious bias against Donald Trump was deadly serious. A study by the Media Research Center found that Trump had received some of the 'most hostile coverage of a president in TV news history' – with 92 per cent of the coverage on ABC, CBS and NBC deemed negative. It is almost impossible to imagine that the Hunter Biden story would not have trended globally if the alleged crack-smoking power-broker's name were 'Eric Trump'. More broadly, it is surely the case that four years of this sort of coverage will have cost Trump electorally to some extent.
Though many of Trump's absurd antics are inexcusable, he is almost certainly correct that powerful figures tried to undermine his re-election, by behaving with unprecedented bias and partisanship.
Wilfred Reilly is a spiked columnist and the author of Taboo: 10 Facts You Can't Talk About, published by Regnery. Follow him on Twitter: @wil_da_beast630
To enquire about republishing spiked's content, a right to reply or to request a correction, please contact the managing editor, Viv Regan.