Trans ideas are a menace to children
Growing up is hard enough without being told you're born in the wrong body.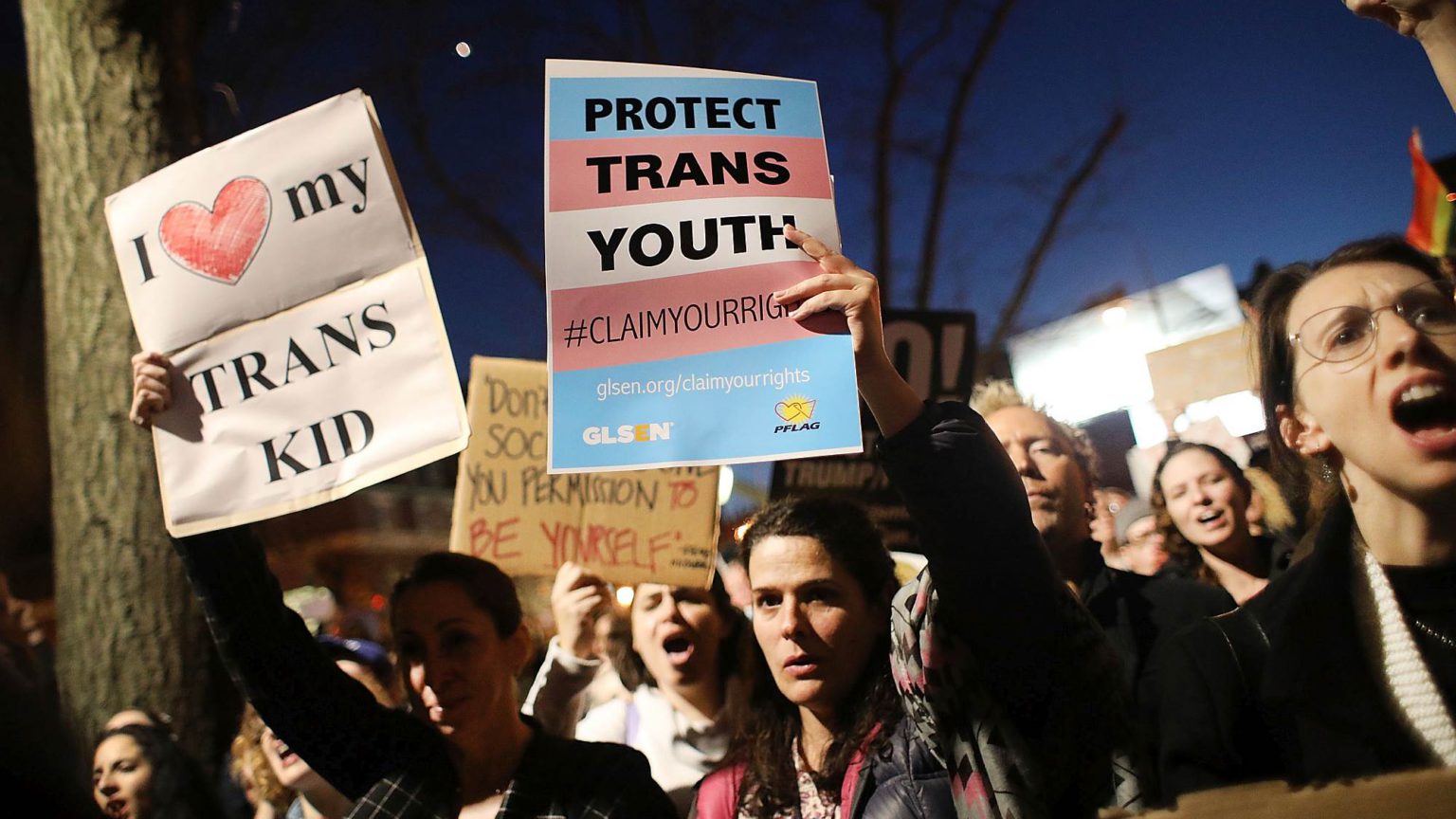 I don't think anyone is born into the wrong body. Bodies are neither right nor wrong. It's really not a case of Mother Nature, like a tired factory worker towards the end of her shift, accidentally matching a male psyche with a female body. Your body is you and you are your body. There are a thousand different reasons why you might not feel this to be the case, but being a soul dropped into the wrong container is not one of them.
Yet, as we know, over the past decade or so – and for a variety of political, cultural and ideological reasons – there has been an apparent explosion not just of adults seeing themselves as trans, but of children seeing themselves as trans –a shouty, swelling yell of more and more young people worrying they were born into the wrong body, and demanding liberation from their biological prisons.
And instead of the adults in their lives gently but firmly telling them they are beautiful and right as they are, and that there is nothing wrong with their bodies, some, often in positions of considerable power and influence, have colluded with and indulged children in this pursuit of the trans fantasy. Children as young as 10 are fed NHS-approved drugs to block their puberty while they 'make up their minds'; at 16, in the UK, they can start taking cross-sex hormones, which can have some irreversible effects; at 18, no longer deemed a child, they can have life-changing surgery.
Born in the wrong body. It is such a simple explanation. The normal anguish of growing up and the genuine, often psychologically traumatic consequences of abuse and neglect and adult-induced harm, are pushed away. And in their place stands this simple, compelling, righteous explanation for one's pain and problems.
I doubt there are many children of school age in the UK today who haven't been pushed, prodded or pressured at least to consider whether they themselves have been 'born into the wrong body'. As if it isn't already enough that almost all will inevitably and normally question their attractiveness, sexuality and sexual orientation, they increasingly now wonder whether they should also be questioning their sex and gender. Never mind the old-school worries of falling in with the wrong crowd, now they and their parents have to worry they've fallen into the wrong body.
I have five children, three girls and two boys. When my first girl, now 25, was at school, my nightmare for her was a nose-ring, anorexia and mind-altering drugs. Now my youngest daughter is 14 and my fears for her and her peers are all of the above, plus self-harm, self-hate, rejection of her sex and body-altering drugs.
In our culture, girls in particular have for decades seemed set on self-destruction. It is as though they are trying to disappear themselves. And not many acts could demonstrate that wish to erase yourself as much as attempting to change your sex; to efface your very essence. And this one is increasingly prescribed by those who might previously have been expected to help right adult wrongs on behalf of children. And so there are ever-increasing numbers of very troubled and confused children, born with unambiguous sex, who think, believe and insist that they must have been 'born into the wrong body'.
Except in very rare intersex cases, you're born male or female. Your psychology, your brain, your genes, the multiplicity of social and environmental factors that make us who we are, and which can make us feel so wrong and so unhappy, all interact within and upon a biologically predetermined body.
Yet merely stating this fact can be dangerous. It can get you hate mail, threats of violence, cancelled, fired, ridiculed, even a visit from the police. The message that it is both possible and 'normal' to be born into the wrong body – and that we should condemn anyone who denies this – spreads relentlessly outwards from the middle-class social-media bubble. It is there in the Mermaids-Starbucks collaboration, in the well-meaning school assemblies, on sanitary-protection packaging, and throughout the media. It has led to the backlash against JK Rowling, the resignation of Suzanne Moore from the Guardian and the cancelling of Graham Linehan. Go against the trans dogma and you will almost certainly be shunned, ostracised or cancelled. Hell hath no fury like a certain kind of new-wave trans activist challenged.
This madness is presented as a battle for inclusivity, justice and human rights, and a celebration of diversity. Yet it demands we pretend all feelings and beliefs trump biological reality. Your 'real' sex is whatever you feel it to be, which may or may not be congruent with your physical state.
According to many, there are not just two genders/sexes. There are 72 – 72 genders. No healthy society needs 72 genders. We have enough division, hate and misunderstanding already. Is it not the case that the more we try to be inclusive by constructing and adding more and more sets and subsets, the more divisive and othering we become?
I'm so glad this madness wasn't around to addle my brain when I was nine. I absolutely hated being a girl. I was the biggest tomboy ever. My mother and her extended family (Middle Eastern Jews), like those from so many cultures, openly valued and favoured boys way above girls. The options for girls from my social class, religion and background seemed so limited, so crushing. Boys in my class could be thick-as, yet still insist they were better than you just because they were boys. I desperately wished I had been born a boy. When I hit puberty a couple of years later and began to attract vile attention from so many men on the streets, I would happily have taken some puberty-blockers had they been offered to me.
But the problem wasn't my body. The problem was frustration and indignation at being treated in ways that were patronising, limiting or predatory just because I was a girl. The problem was the adults and the cultures around me that demanded I fit into certain gender roles.
I have the greatest sympathy for the horrible, invidious situation of those contemporary parents whose child declares himself to be 'trans'. They are trapped in a sort of vicious, virtuous circle. Parents and other adults in the children's lives want to be sympathetic and understanding, tolerant and accepting. So, afraid of making the child feel 'rejected', they feel compelled to buy into the powerful pro-trans ideology, and inadvertently compound it all by accepting kids as they 'truly are'. The trouble is, most adults, let alone young people, never know who they 'truly are' or what that actually means. I know I don't. What we can know, however, is our sex. And our sex is fixed.
We need to stop confusing and unwittingly exploiting children. Puberty is already discombobulating. Children don't just need protection and boundaries in the spheres of social behaviour – they also need boundaries and protection in the intellectual and emotional sphere, too. If they tell us they think they might have been born into the wrong body, then it is our job to put them straight and then help them deal with the chaos of growing up.
Objectively, factually, scientifically, you are male or female. And that is fixed. Your thoughts and feelings and where you stand – where you choose to stand – in society are another matter entirely. That stuff is complex, murky and often unfathomable even to ourselves. Perhaps especially to ourselves.
Misha Mansoor is a writer based in London.
To enquire about republishing spiked's content, a right to reply or to request a correction, please contact the managing editor, Viv Regan.